Whether you are trying to eat less processed foods or looking for a way to make a healthier lunch for the kids, this Air Fryer Chicken Nuggets recipe is a huge hit!
Moist and juicy pieces of chicken, with a light, crunchy coating, that will have you begging for more!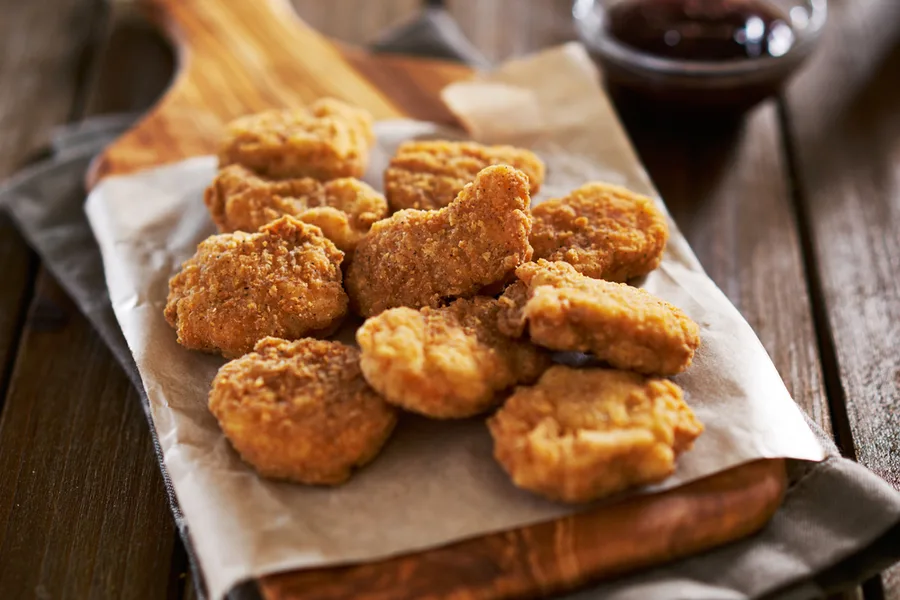 And the best part of all, is that there is no need to turn on your oven. They are ready to eat in a fraction of the time when cooked in your Air Fryer.
However, just like when making Air Fryer Chicken Tenders, there are a few secrets to making these homemade chicken nuggets turn out perfect.
How to Make Air Fryer Chicken Nuggets
First of all, you can either use chicken thighs or chicken breasts for this recipe. However, I would recommend purchasing boneless, skinless chicken.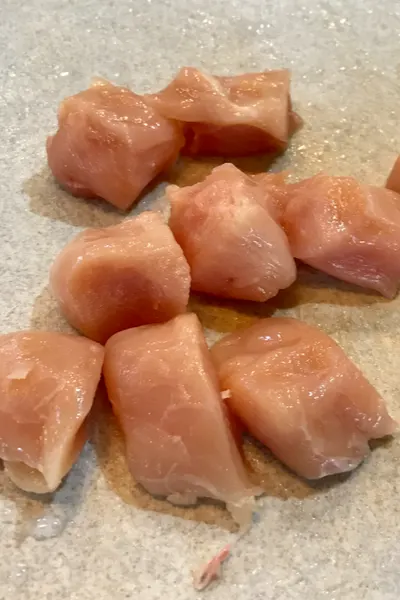 It just makes it easier to cut the chicken into uniform, bite size pieces. In order to make the chicken into nuggets, slice the chicken into 1 inch long chicken tenders. Then cut across, in the opposite direction, to make each tender into chicken nuggets.
Brine the Chicken
Next, it is time to make the brine. Although you can certainly make nuggets without brining the meat, I would highly discourage doing so.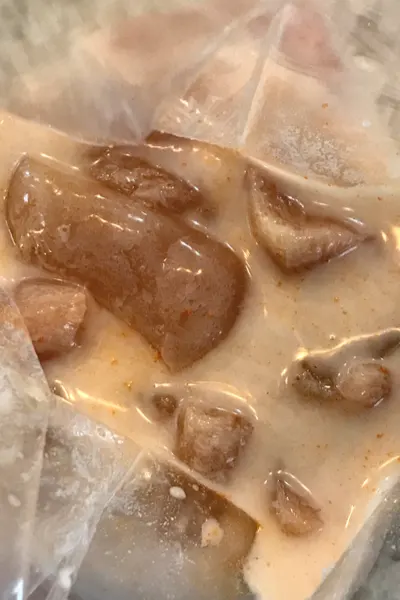 The brine helps the chicken remain nice and juicy when cooked. Plus, it is very simple and easy to make.
Most chicken recipes call for soaking chicken in buttermilk before baking. I don't know about you, but I hardly ever have buttermilk in my refrigerator. So instead, we are using the simple substitution of combining milk with either apple cider vinegar or lemon juice.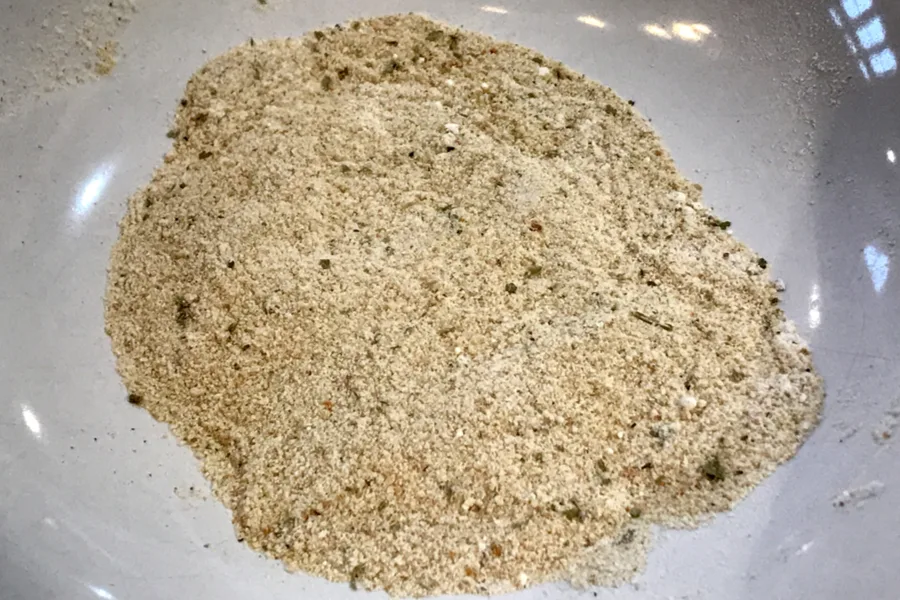 We then add in a little salt and Tabasco sauce to give it a little flavor. And if you are worried about the Tabasco making the chicken too hot, don't worry! It only adds a hint of flavor, without the heat.
Let the chicken soak in the brine for 1-2 hours. This will ensure that the milk penetrates into the chicken fibers to make it nice and juicy.
Cooking Instructions
When you are ready to bake your Chicken Nuggets, preheat the Air Fryer for 3 minutes. We use the Emeril Lagasse's Power 360 XL Air Fryer and it automatically preheats your Air Fryer for you. However, not all brands are the same.
Then mix together the breading ingredients and dredge each piece of chicken in the mixture. Pat each piece lightly so that the coating sticks.
Working in batches as needed, place the chicken in the basket and spray the tops with a high smoking point oil (olive, avocado, or grapeseed oil).
Cook for 8 minutes, then carefully flip and spray the other side with the oil. Continue to cook for an additional 4-6 minutes or until the internal temperature reaches 165°F.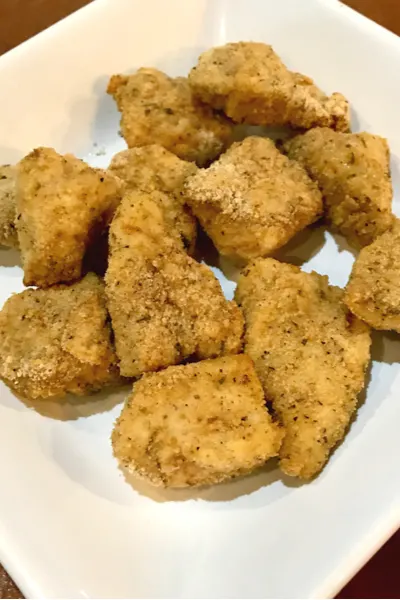 Remove the Chicken Nuggets from the Air Fryer and serve immediately with your favorite dipping sauce! We love to dip ours in Yum-Yum sauce!

To receive our 3 Recipe Articles in your inbox each week, sign up for our free email list located in the middle of each recipe or email me at contact@makeyourmeals.com. You can also follow us on Facebook and Pinterest. This article may contain affiliate links where a small commission is paid if you purchase a product at no additional cost to you.
Yield: 4
Air Fryer Homemade Chicken Nuggets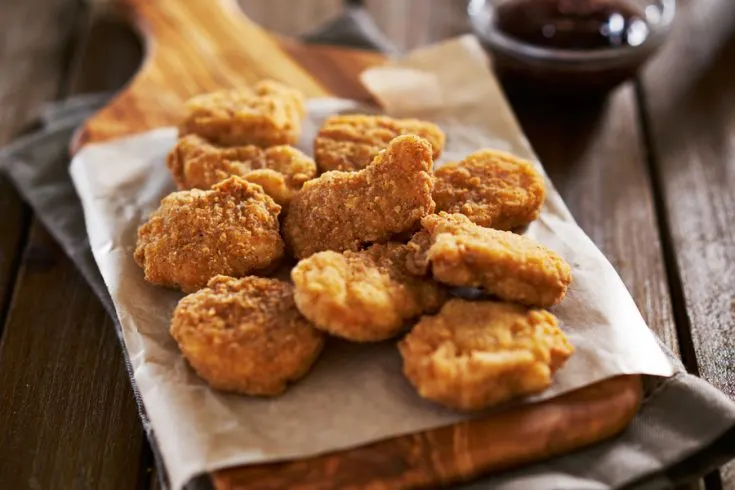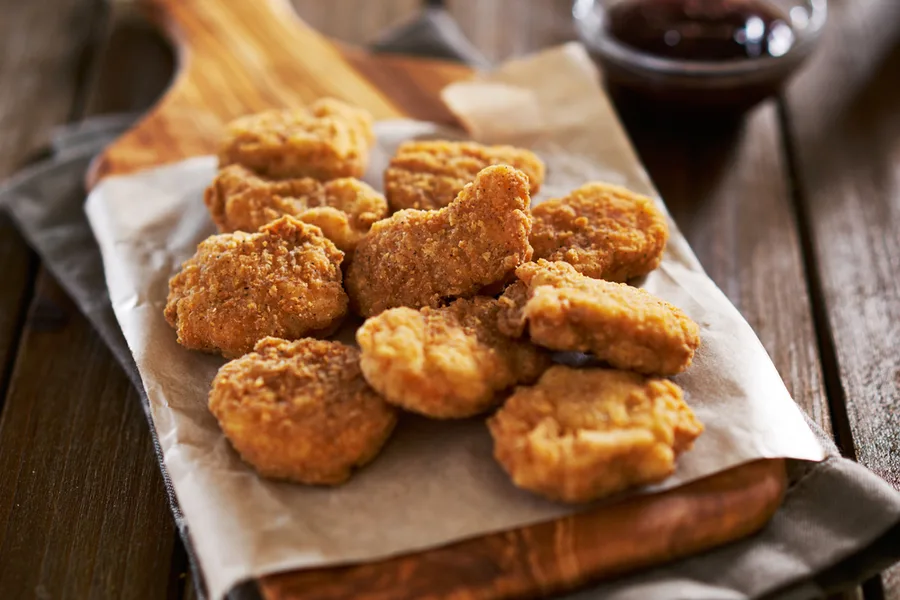 Easy to make, juicy on the inside, crispy on the outside homemade chicken nuggets. Cooked even faster in the Air Fryer.
Ingredients
1 pound boneless chicken thighs or breasts, cut into 1 inch square pieces
1 cup milk, or almond milk
2 teaspoons apple cider vinegar or lemon juice
1 teaspoon salt
Tabasco sauce, optional
Breading
2 cups Italian seasoned breadcrumbs
½ cup all-purpose flour
salt and pepper, to taste
Instructions
In a medium size bowl, mix together the milk and apple cider vinegar or lemon juice and set aside for 5 minutes. *Note - you could use buttermilk as a substitute for these two ingredients.
Add salt and Tabasco sauce to the milk mixture and whisk until incorporated. Pour the mixture in a large, gallon size resealable plastic bag and add chicken to the mixture. Refrigerate for 1-2 hours.
Preheat your Air Fryer at 390° F for at least 3 minutes.
In a shallow container, mix together the breadcrumbs, flour, salt and pepper.
Working with 2-3 pieces of chicken at a time, remove from the brine and dredge in the breadcrumb mixture. Lightly press the breading so it sticks to the chicken and place in the Air Fryer basket. Repeat until the basket is filled, leaving a little room between each chicken nugget. *A second batch may be necessary depending on the size of your Air Fryer basket.
Lightly spray the top of each piece with olive oil or avocado oil cooking spray so that the breading is lightly moist.
Bake at 390° F for 8 minutes then flip and coat the other side with olive oil spray. Continue to cook for an additional 4-6 minutes or until internal temperature reaches 165° F.
Serve immediately.
Notes
*As with all Air Fryer Recipes, the cook time will be based on the brand and capacity of your Air Fryer. Adjustment of cooking times may be necessary. Recipe provided by Make Your Meals
Nutrition Information:
Yield:
4
Serving Size:
1 grams
Amount Per Serving:
Unsaturated Fat:

0g