These Air Fryer Pizza Sticks have become all the rage in our house. Pepperoni and cheese wrapped in pizza dough and baked to perfection in the air fryer.
They make for a great afternoon snack and a quick and easy appetizer that everyone loves. And to be honest, we have even made them for breakfast before when we were short on time!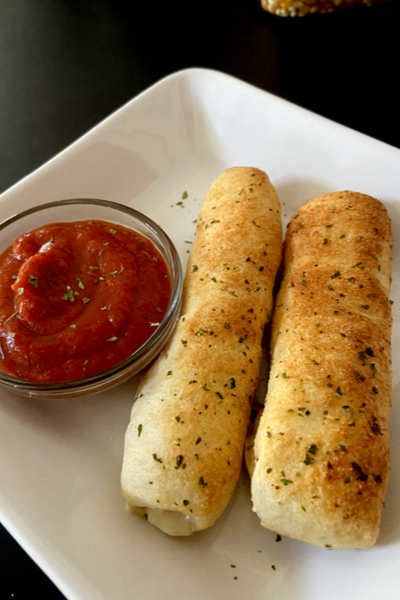 When I first started making them, I baked them in my oven. But that required me to wait for the oven to preheat and they required a longer baking time to get the dough cooked all the way through. Not to mention, on a hot summer day, turning on the oven would heat the entire house and cause everyone misery.
However, ever since I purchased my Power Air Fryer 360, I have converted many oven based recipes to become Air Fryer Recipes. From homemade French Fries, Onion Rings, Chicken Nuggets to Calzones, I make them all in this handy appliance!
So when the youngest asked me to make Pizza Sticks for a snack in the middle of summer, I decided to cook them in the Air Fryer instead.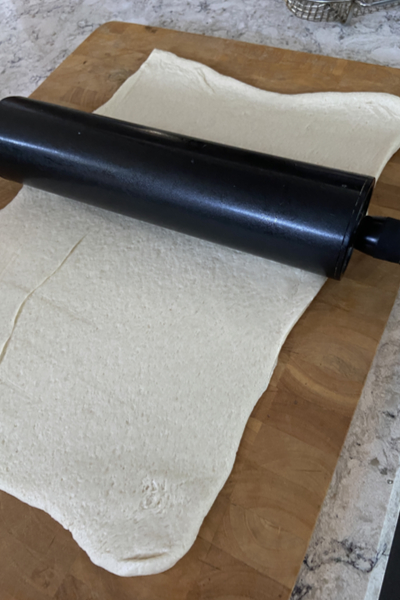 And I couldn't be happier with the results! A delicious snack that takes minutes to prepare and no need to heat up the kitchen.
Air Fryer Pizza Sticks Recipe
Before I go into the details about how to make the recipe, I first have to give you a fair warning. The ingredients that we use in this recipe consist of store-bought shortcuts.
From refrigerated pizza dough to cheese sticks, there is nothing 'all natural' about this recipe. However, that is why it can be prepared in minutes.
However, if you want to use homemade pizza dough, you can certainly do that. Although we make our own Thin Crust Pizza Dough from scratch, there are times when you just need a snack in a jiffy and there is no time to proof dough.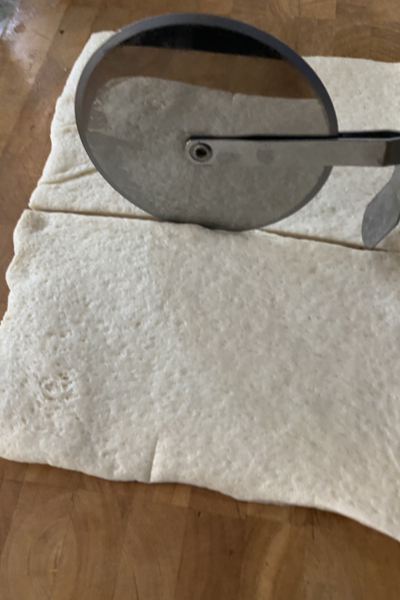 So that is when a refrigerator can of pizza dough comes in handy! You can find the pizza dough in the same section as the crescent rolls, biscuits and cinnamon rolls.
In fact, while you are at the grocery, pick up some cinnamon rolls as well. You can make Air Fryer Cinnamon Rolls in the morning and continue to spread the love!
Open the roll of pizza dough and spread it on a clean, dry surface. Using a rolling pin, flatten the dough just a bit to make an even rectangle.
Then, using a pizza cutter, cut the dough into 10 equal rectangles. First cut through the center of the long side of the dough. Then cut 5 even sections parallel to the short side, leaving you with 10 rectangles.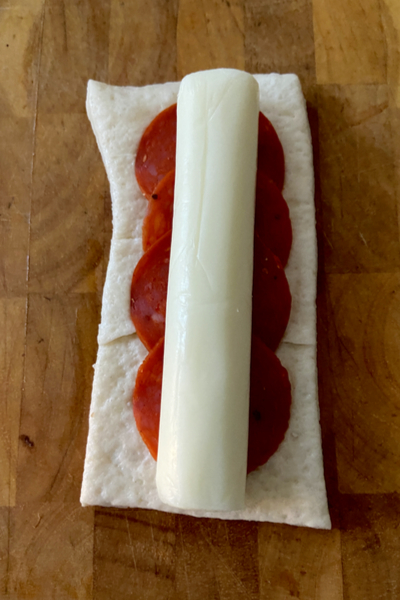 On each piece of dough, place 4 slices of pepperoni down the center. Next, place a mozzarella cheese stick on top of the pepperoni. Now roll the dough to cover the cheese and pinch at the seams.
Be sure to pinch the dough in the center, as well at each end so the cheese doesn't melt while the pizza sticks are in the air fryer.
Next, melt the butter and mix in the garlic powder and parsley. Using a pastry brush, apply the butter mixture on top of each rectangle and set aside.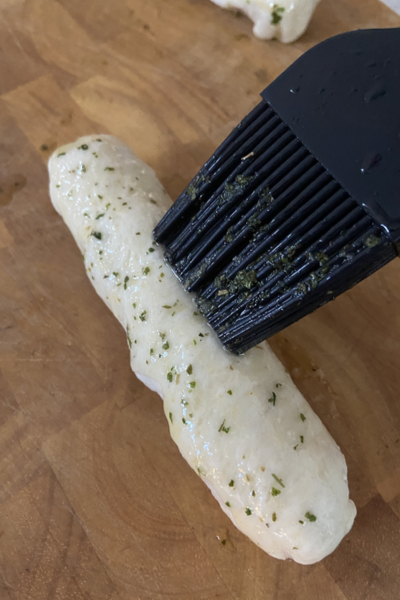 Now it is time to start cooking! Spray your basket with a high heat oil to prevent the dough from sticking. Preheat your Air Fryer as recommended per your manufacturers instructions.
Air Fry at 400°F for 8-10 minutes, or until the pizza sticks have turned golden brown. Remove them from the oven and let them sit for a few minutes before serving.
We like to serve these pizza sticks with our homemade Instant Pot Marinara Sauce or Ranch Dressing. Enjoy!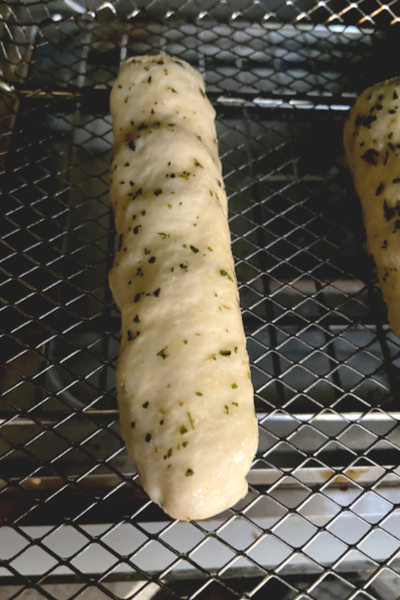 To receive our 3 Recipe Articles in your inbox each week, sign up for our free email list located in the middle of each recipe or email me at contact@makeyourmeals.com. You can also follow us on Facebook and Pinterest. This article may contain affiliate links where a small commission is paid if you purchase a product at no additional cost to you.
Yield: 10 sticks
Air Fryer Pizza Sticks Recipe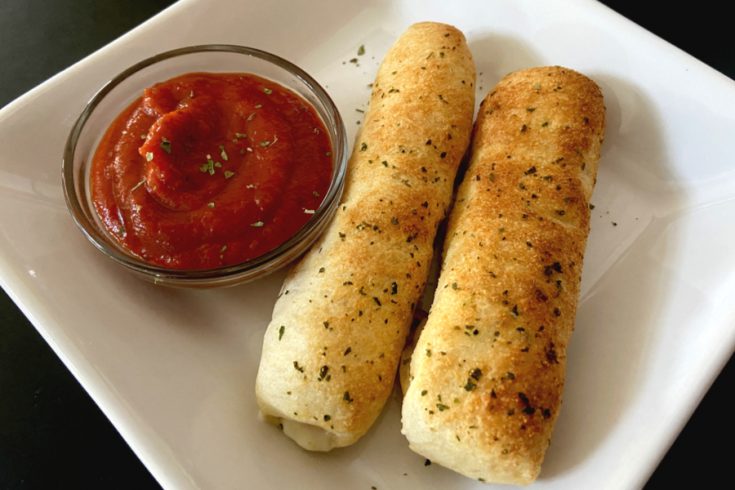 Delicious Pizza Sticks made with pepperoni and cheese wrapped in a refrigerated pizza dough and baked in an Air Fryer for the perfect snack or appetizer.
Ingredients
1 pizza crust, refrigerator tube
40 pepperoni slices
10 mozzarella cheese sticks
2 Tbsp butter
1/2 tsp garlic powder
1/2 tsp dried parsley
marinara sauce, for dipping (Optional)
Instructions
Spread pizza dough out on clean, dry surface. Cut the dough into 10 equal size rectangles by cutting through the center of the long side of the dough and then cut 5 even slices parallel to the short side.
One each rectangle place 4 pepperoni slices and top with a mozzarella cheese stick.
Starting on the long end, roll up the pizza dough over the pepperoni and cheese stick, pinching the seams, including each end closed. Be sure that the seams are well sealed so the cheese does not melt through when cooking.
Melt the butter and mix in the garlic powder and dried parsley. Brush the tops of the pizza sticks with the butter.
Preheat Air Fryer at 400°F.
Bake for 8-10 minutes or until golden brown.
Serve with a side of marinara sauce for dipping (optional).
Notes
Recipe provided by Make Your Meals
Nutrition Information:
Yield:
10
Serving Size:
1 grams
Amount Per Serving:
Calories:

230
Total Fat:

11g
Saturated Fat:

6g
Unsaturated Fat:

0g
Cholesterol:

24mg
Sodium:

574mg
Carbohydrates:

20g
Fiber:

1g
Sugar:

1g
Protein:

12g