At every potluck or party that we attend this time of the year, you can almost guarantee that someone is going to bring classic macaroni salad.
There is just something about macaroni salad and potato salad that screams summer time. A big bowl of elbow pasta or potatoes and diced vegetables coated in a creamy dressing that is served cold.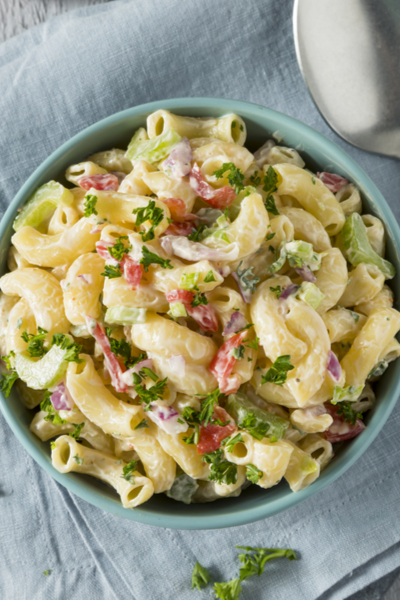 Not only are they both super easy to make, but they make for a great side dish that goes with just about everything.
But not all macaroni salad is the same.
In fact, there are so many variations, that it is hard to define what exactly should be in macaroni salad.
Classic Macaroni Salad Ingredients
If you asked 10 different people to make homemade macaroni salad, you will most likely get 10 different recipes.
Some people add eggs, and others add chunks of cheddar cheese to their dish.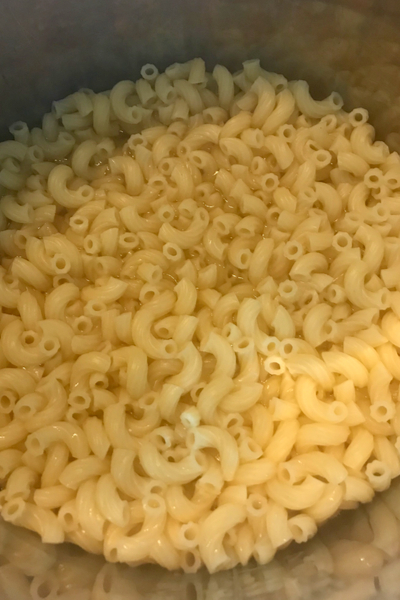 And the creamy dressing that you find on top could be a thick, mustard and mayonnaise based dressing.
Or the pasta could be covered in a light, Greek yogurt mixture.
However, one thing is for sure. Classic macaroni salad is made with elbow pasta and diced veggies that are tossed and coated in a creamy dressing.
When we serve this side dish for a crowd, we like to use basic, but delicious ingredients that provide the perfect amount of flavor that everyone loves.
Celery, onions, and sweet peppers provide a ton of flavor and also gives this dish a crunchy texture that balances out the soft pasta perfectly.
And as for the dressing, we keep it on the lighter side. The tart flavors of mayonnaise and sour cream are tamed down a bit with a little bit of sugar and vinegar.
Add in a few spices and you have the perfect dressing for classic macaroni salad!
How To Make The Pasta
But the very first step is to make the pasta. Macaroni noodles, aka elbow noodles, are the base to this side dish.
They should be cooked to al dente consistency so that they can hold up to being tossed in the dressing without falling apart.
Although you can follow the instructions on the box on how long to cook the noodles on the stove top, we prefer a quicker, less maintenance cooking method.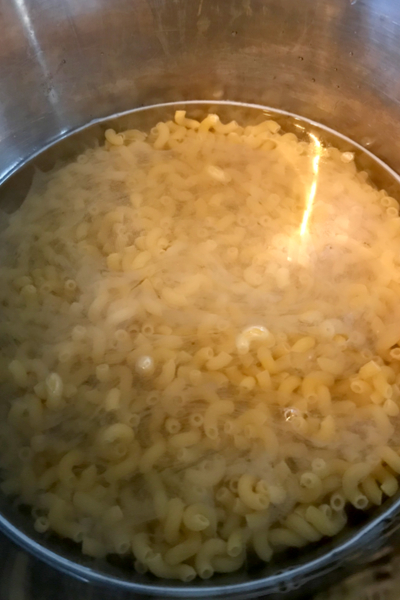 Of course, I am talking about pressure cooking the noodles for classic macaroni salad in the Instant Pot Pressure Cooker.
Not only does it cook the noodles in half of the time, it also is a 'fix it and forget it' type of cooking method.
That means there is no more waiting for the pot to boil before adding the noodles.
Also, there is no need to stand in the kitchen to make sure the pot doesn't boil over.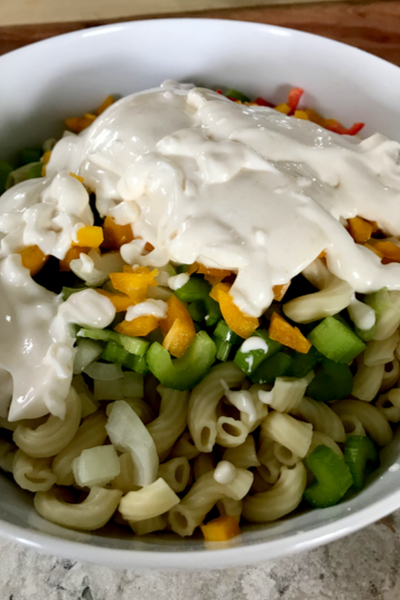 Simply place the noodles in the liner of the Instant Pot, add the pasta and water and set it to cook for half the time listed on the box instructions.
Once the cooking time expires, slowly release the pressure and drain.
It is that simple.
However, no matter the cooking method that you choose, be sure to rinse your pasta in cold water to stop the cooking process.
Serving Macaroni Salad
Once the pasta has cooled, add the diced veggies and toss them in the prepared dressing.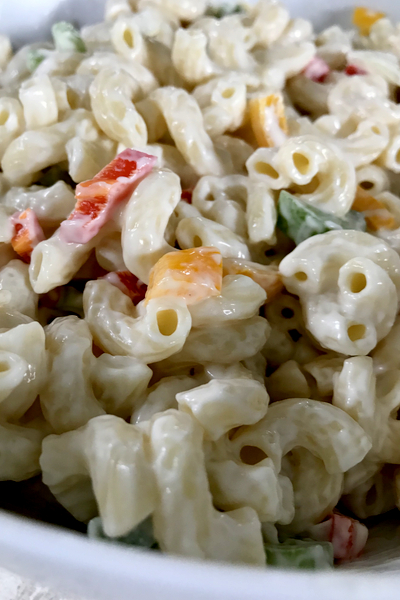 But it's not quite ready to eat yet.
The hardest part to this recipe is waiting to eat it! This classic macaroni salad needs time to cool so that they flavors can meld together and stick to the pasta.
Wait at least 2 hours before serving. In fact, if you can wait even longer, it will even be that much better!
To receive our 3 Recipe Articles in your inbox each week, sign up for our free email list located on the side and bottom of each recipe. You can also follow us on Facebook and Pinterest. This article may contain affiliate links where a small commission is paid if you purchase a product at no additional cost to you.
Yield: 10
All American Macaroni Salad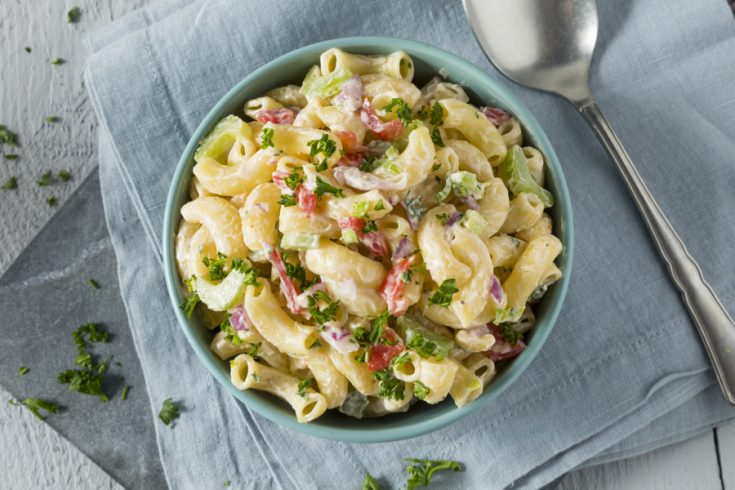 Classic All-American Macaroni Salad – pasta tossed in a light dressing and served with diced celery, onions and sweet peppers.
Ingredients
2 cups dry elbow macaroni
1/3 cup diced celery
1/4 cup diced sweet or red onion
1/4 cup diced sweet peppers
1 teaspoon dried parsley
1/2 cup mayonnaise
3 tablespoons sour cream
3/4 teaspoon dry ground mustard
1 1/2 teaspoons sugar
1 1/2 tablespoons apple cider vinegar
1/2 teaspoon sea salt
1/4 teaspoon ground black pepper
1/4 crushed red peppers, optional
Instructions
Cook macaroni based on package instructions for al dente texture. Rinse under cold water and drain. Let cool.
In a large bowl combine the macaroni, celery, onion, sweet peppers and parsley.
In a small bowl, whisk together the mayonnaise, sour cream, mustard, sugar, vinegar, salt, pepper, and crushed red peppers.
Pour the dressing over the salad and stir to combine. Season with additional salt and pepper to taste.
Refrigerate for at least 2 hours before serving.
Notes
Cover and store in the refrigerator. Recipe provided by Make Your Meals
Nutrition Information:
Yield:
10
Serving Size:
1 grams
Amount Per Serving:
Unsaturated Fat:

0g