One of the main reasons that I purchased my air fryer was to make onion rings.
I absolutely love the taste of thick onion rings like the ones that you get a a steakhouse. However, the thought of eating deep-fried foods would steer me away from ordering them.
So when I purchased my Ninja Foodi, I was so excited to try to make my own onion rings.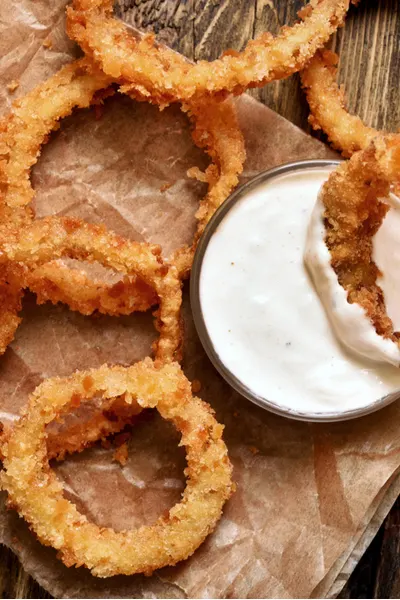 However, that all changed after reading horror stories of how homemade french fries and onion rings don't turn out well when cooked in the air fryer.
I kept searching for the best way to make them, and the most common answer was to purchase a bag of frozen onion rings instead of making them yourself.
In my attempt to eat healthier, I was sadden by this response as I don't like the amount of preservatives that are used in pre-packaged foods.
So instead of caving in to the recommendations, I was determined to find a way to make homemade onion rings in the air fryer.
How To Make Air Fryer Onion Rings
Therefore, I went to work and began experimenting with various ingredients and techniques.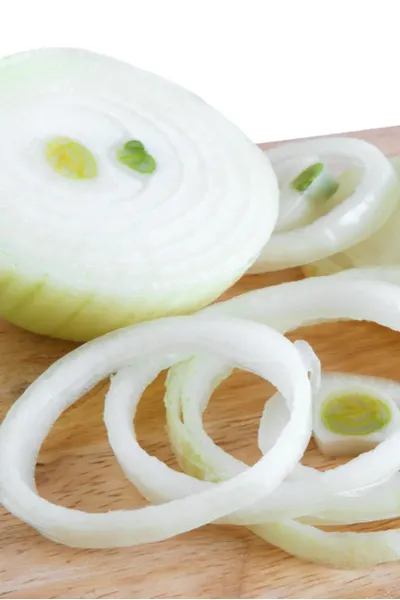 First I attempted to make a batter like restaurants do when they make onion rings.
I dipped the onion in the batter and put it in the air fryer basket.
Needless to say, that method didn't work out well at all. The batter slid down to the bottom of the air fryer and all I was left with was crispy pieces of onions and batter that stuck to the bottom of the pan.
Back to the drawing board I went!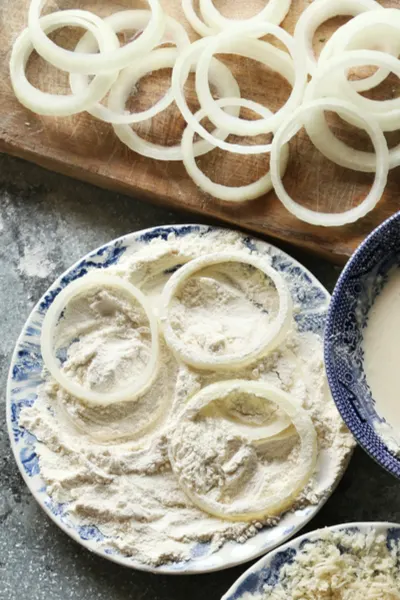 So I decided to use the same techniques that I do for my Air Fryer Chicken Fingers recipe.
Dredging the Onion Rings
I lined up three shallow bowls. The first was filled with all-purpose flour, salt and smoked paprika.
I absolutely love the taste of smoked paprika. It provides a slight, smoky flavor that takes your recipes to the next level.
We use it in all sorts of recipes, including our Smoked Chicken Wings, and Air Fryer Salmon recipes.
However, feel free to add in whatever seasonings that you prefer to your flour base. Sometimes we will add garlic salt or if it is just the two of us, a little cayenne pepper.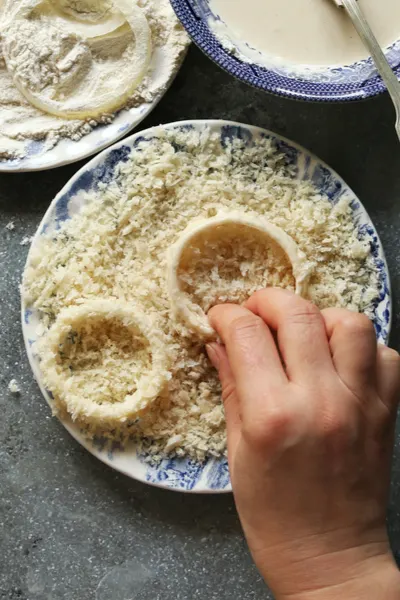 The next shallow bowl holds the beaten egg and water mixture that will bind the breading to the onions.
And finally, the third bowl is for the outer layer of the onion rings – Panko Breadcrumbs.
These breadcrumbs adhere nicely to the flour/egg base and make the onion rings turn out nice and crunchy every time.
Cooking Method For Air Fryer Onion Rings
Because I used my Ninja Foodi Air Crisper for this recipe, I had to cook my onion rings in batches.
You will want a single layer of onion rings in the bottom of the basket so that they cook properly.
However, if you have an air fryer with multiple racks, I am sure you could cook more at a time.
But before you cook them, be sure that you lightly spritz them with cooking oil. This will ensure that the outer layer turns out nice and crisp.
Place the onion rings on the basket or racks and cook at 375°F for 10 minutes. Then after 6 minutes of cooking, flip them over so they brown evenly.
That is all that there is to it! And they come out perfect every time!
So when someone tells you that you can't make homemade air fryer onion rings – don't believe them!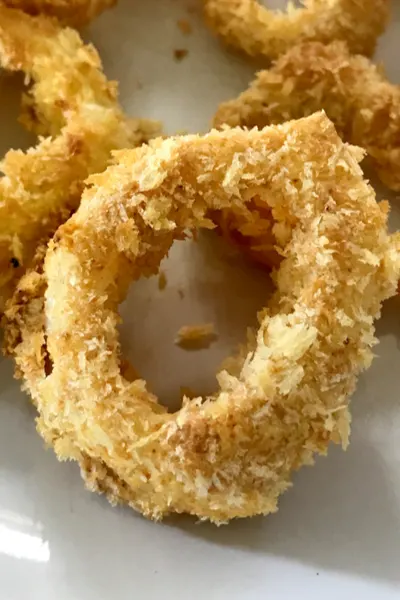 To receive our 3 Recipe Articles in your inbox each week, sign up for our free email list located in the middle of each recipe or email me at contact@makeyourmeals.com. You can also follow us on Facebook and Pinterest. This article may contain affiliate links where a small commission is paid if you purchase a product at no additional cost to you.
Yield: 4
Air Fryer Onion Rings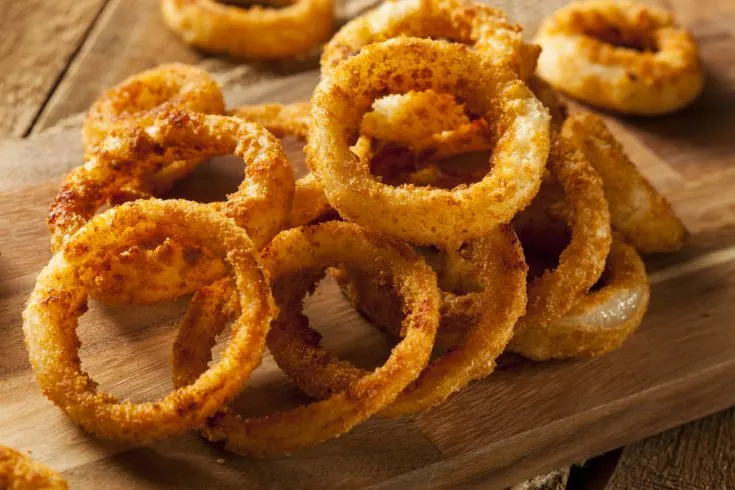 Crispy onion rings made in the air fryer for a healthier alternative to deep fried onion rings.
Ingredients
1/2 cup all-purpose flour
1 teaspoon smoked paprika
1/2 teaspoon kosher salt, divided
1 large egg
1 tablespoon water
1 cup panko breadcrumbs
1 large sweet onion, cut into 1/2-in.-thick rounds and separated into rings
Cooking spray
Instructions
Stir together flour, smoked paprika, and 1/4 teaspoon of the salt in a shallow dish.
In another shallow dish lightly beat egg and water.
Stir together panko and remaining 1/4 teaspoon salt in a third shallow dish.
Dredge onion rings in flour mixture, shaking off excess. Then dip in egg mixture, allowing any excess to drip off. Finally dredge the onion rings in the panko mixture, pressing the sides so that it sticks. T
Coat both sides of the onion rings with cooking spray.
Place each onion rings in the air fryer basket in a single layer. Cook at 375°F for approximately 10 minutes or until golden brown and crispy on both sides, flipping onion rings at the 6-minute mark. Cover to keep warm while cooking remaining onion rings.
Notes
If you prefer a thicker coating, dip your onion rings in flour, egg, flour, egg, then Panko breadcrumbs.
Recipe provided by Make Your Meals
Nutrition Information:
Yield:
4
Serving Size:
1 grams
Amount Per Serving:
Unsaturated Fat:

0g