State Fair Corn Dog Recipe
Every summer I can't wait to attend the local fairs to try out all of the food. As you walk down the strip filled with concession trailers, you immediately smell the aroma of fried food everywhere!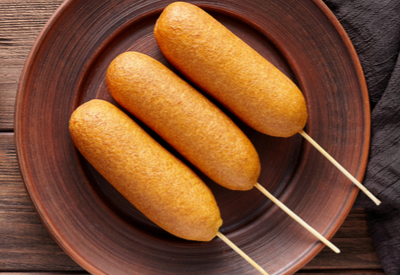 The hunger sets in and you must decide what you are going to try first. Hot, fresh-cut fries drenched in malt vinegar is usually at the top of my list.
But for some, soft pretzel bites with cheese or a classic corn dog is a must have.
Our state fair has the absolute BEST corn dogs that I have ever had! The soft outer coating has the perfect balance of a light crunch on the outside with a soft and sweet cornbread layer on the inside.
It makes for the perfect fair food! You have a built-in wooden skewer handle that makes it easy to walk around and see the sights while continuing to eat.
So when I was trying to find the perfect food for a kids outdoor party that required low maintenance, and that could compliment pigs in a blanket, I knew that corn dogs and mini muffin corn dogs were the answer!
Homemade Corn Dogs
I had a few packages of frozen hot dogs in the freezer and decided to make them myself.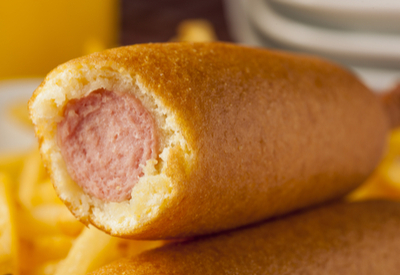 I used my sweet cornbread recipe to make the batter and with just 3 minutes of frying time, the corn dogs were ready!
After making these several time since then, I have learned a few tips to make the corn dogs look perfect!
First of all, make sure to pat the hot dogs dry with a paper towel before dipping them in the batter. This will help the batter stick to the hot dog better.
And if you want the batter to evenly coat the hot dog, pour the batter in a tall thin glass. Then dip the hot dog in and out of the batter 3 times.
This will allow the batter to evenly coat the entire hot dog and look like a State Fair Corn Dog!
And if you just love cornbread, try our Southern Cornbread Recipe!
Check out the printable recipe below and all of our recipes and let me know what you think!
To receive our 3 Recipe Articles in your inbox each week, sign up for our free email list. You can also follow us on Facebook, Twitter, Pinterest, and Instagram. This article may contain affiliate links.
Corn Dog Recipe - Even Better Than At The State Fair!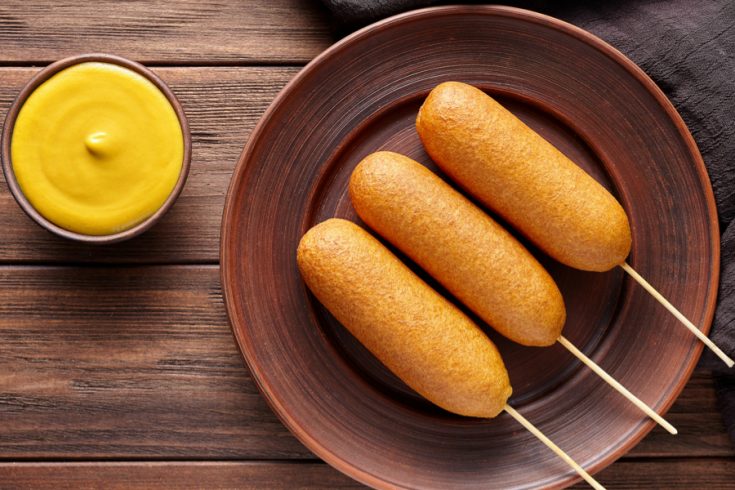 Ingredients
1/2 cup yellow cornmeal
1/2 cup all-purpose flour
2 tsp baking powder
1/8 tsp salt
1/8 tsp black pepper
2 Tbsp sugar
1 egg
1/2 cup milk
Vegetable oil, for frying
8 wooden skewers
Instructions
In a large bowl, whisk together the cornmeal, flour, baking powder, salt and pepper.
In a small bowl, whisk together the egg and milk.
Pour the wet ingredients into the cornmeal mixture, whisking until batter is well incorporated.
Transfer batter to a shallow pie plate or tall thin glass for easy dipping.
Remove hot dogs from package and pat dry with a paper towel. Insert wooden skewer into each hotdog, at least half way through.
Heat oil over medium-high heat until it reaches 360ºF.
Line a plate with paper towels.
Working in small batches, dip and roll each hot dog in the batter until it's completely coated. Shake off any excess batter and lower it into the hot oil.
Fry the corn dog until lightly browned, about 3 minutes.
Transfer it to the paper towel-lined plate and let drain.
Repeat the process for the remaining hot dogs.
Notes
Recipe provided by Make Your Meals
Nutrition Information:
Serving Size:
1 grams
Amount Per Serving:
Unsaturated Fat:

0g