There is nothing easier to make for lunch or dinner than this Air Fryer French Bread Pizza! Sections of baked French Bread loaded with your favorite pizza toppings and cooked in minutes in an air fryer!
In college, I ate my fair share of French Bread Pizza. However, instead of making them myself, I purchased them in the freezer section of the grocery store.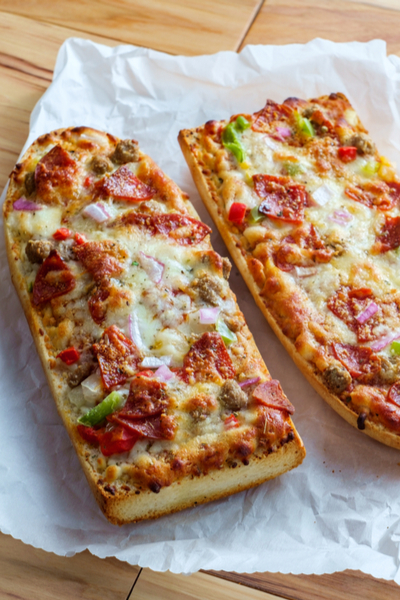 It was a cheap meal that was easy to heat up in a microwave. And best of all, if I ate one for lunch, I would stay full until dinner time. And when you are watching every penny as a college student, that was important!
However, after I graduated and began my career, I rarely ate them anymore. To be honest, I was pretty tired of eating anything pizza in general. From pizza bagel bites, pizza muffin bites, pizza rolls, and just plain old cheap college pizza, I steered away these type of meals for awhile.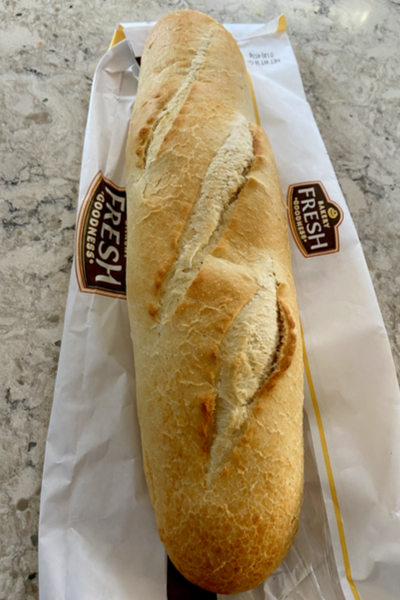 Instead, I began to experiment with other traditional dinners such as meatloaf and mashed potatoes, oven roasted chicken, and pot roast made in the slow cooker.
Back then, there were no air fryers or Instant Pots. I simply had to use the stove, oven or slow cooker to make dinner. And yes, I realize I am showing my age here.
Air Fryer French Bread Recipe
However, now that I am using my Air Fryer 360 several times a day, I decided to give homemade French Bread Pizza a try! It not only brought back so many memories, it was actually delicious!
And because you can add a variety of toppings, everyone in the family is happy! No picking off mushrooms, olives or peppers anymore from the picky eater.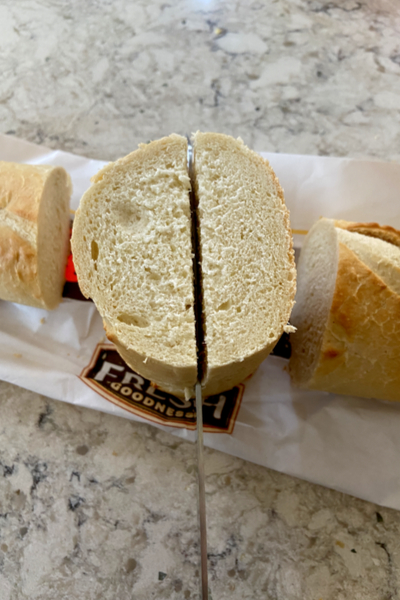 First start off with a loaf of either store-bought or homemade French Bread. Although you can make your own, most grocery stores carry fresh baked French Bread in the bakery section.
However, be sure to look for a soft loaf of bread. This is not the time to buy a French Baguette that is super hard on the outside. Although those are great for certain appetizers such as Bruschetta, they don't make great French Bread Pizza.
Cut the French Bread in 2-3 Sections
Depending on the size of your loaf, cut it in 2 or 3 sections. Then place each section on one end and slice down through the center of the bread. This will leave you with either 4 or 6 pieces.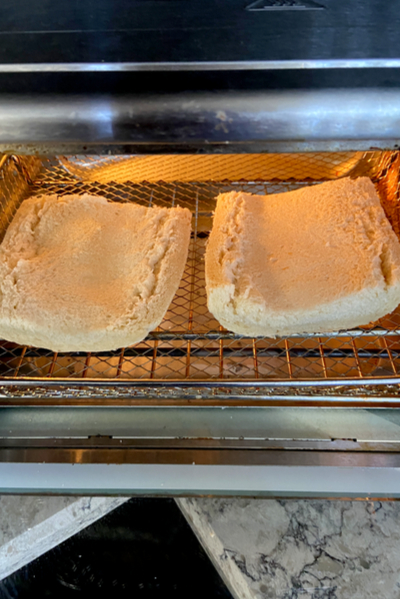 Now, because the bread is fairly thick, flip the cut side down on a cutting board and press the crust side with the palm of your hand to compress the bread.
Then put as many pieces as you can fit in your Air Fryer and bake in a preheated air fryer for 3 minutes. Remove them from the basket and add the pizza sauce and toppings of your choice.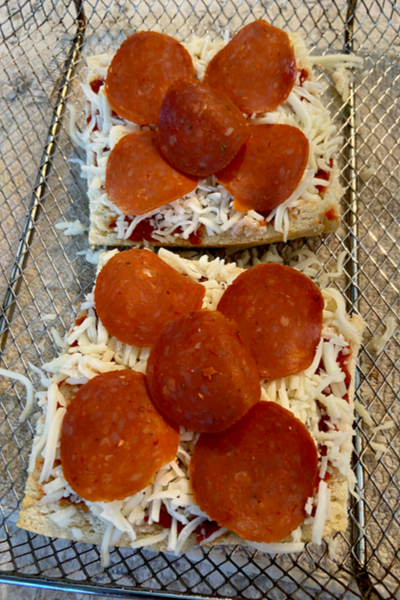 Next, place the French Bread Pizza back in the Air Fryer and continue to cook until the cheese is melted and begins to turn light brown. The actual time will depend on the amount of toppings and the brand and type of Air Fryer that you have.
Enjoy!

To receive our 3 Recipe Articles in your inbox each week, sign up for our free email list located in the middle of each recipe or email me at contact@makeyourmeals.com. You can also follow us on Facebook and Pinterest. This article may contain affiliate links where a small commission is paid if you purchase a product at no additional cost to you.
Yield: 6
Easy French Bread Pizza Recipe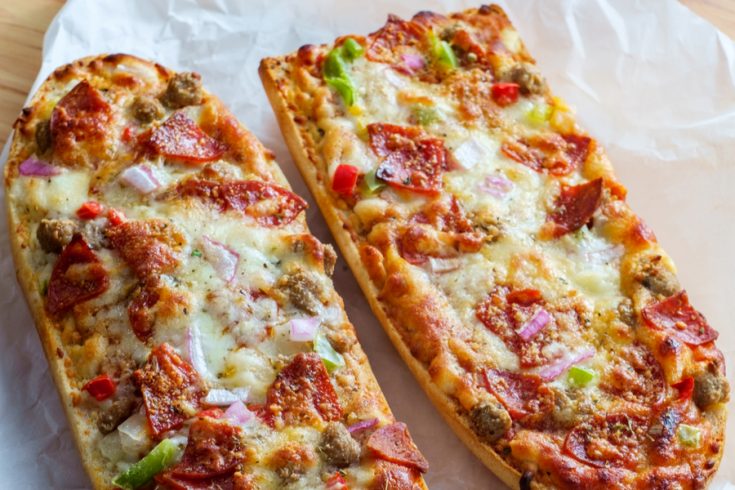 All the flavors of a pizza topped onto slices of French Bread for a quick and easy, budget friendly meal that everyone will love!
Ingredients
1 loaf French bread, soft
3/4 cup pizza sauce
1 cup part-skim mozzarella cheese, shredded
1/4 cup Parmesan cheese, grated
Toppings
Optional Toppings as desired: pepperoni, sausage, onions, green peppers, mushrooms, etc..
Instructions
Slice the loaf of French bread in thirds. Then cut each section lengthwise for a total of 6 pieces. Flip each piece over and compress with your hand to make the bread thinner.
Set the air fryer to 350ºF and preheat per manufacturer's instructions.
Place half of the bread slices in the air fryer basket, cut side up, and bake for 3 minutes. Remove basket from air fryer.
Top the toasted bread slices with half of the pizza sauce and half of the mozzarella cheese. Add your favorite pizza toppings.
Place air fryer basket back into the air fryer and bake an additional 5 to 7 minutes, until cheese is melted and golden brown.
Repeat with remaining bread slices.
Notes
Nutritional facts do not included toppings.
Recipe provided by Make Your Meals
Nutrition Information:
Yield:
6
Serving Size:
1 grams
Amount Per Serving:
Calories:

264
Total Fat:

5g
Saturated Fat:

3g
Unsaturated Fat:

0g
Cholesterol:

15mg
Sodium:

685mg
Carbohydrates:

40g
Fiber:

2g
Sugar:

3g
Protein:

14g