Instant Pot Potato Salad
This is one of those recipes that you are so thankful for that you want to go and tell everyone to buy an Instant Pot!
Homemade potato salad with only 4 minutes of cooking time!!!!
Okay, yes, you have to let your pot come up to pressure before the 4 minutes of cooking time begins. But, even with that, your Instant Pot Potato Salad takes a total of 15 minutes before it is cooling in the refrigerator.
There are various methods that you can follow when making your potato salad in the Instant Pot. You can cook your potatoes whole on the trivet (typically for 10 minutes depending on the size of your potatoes), and cut them after they cook.
This method would require you to hard boil and peel your eggs separately. I don't have time for that!
You could also follow the recipe below and place your fresh eggs (still in the shell) directly on top of your potatoes. They will still cook at the same time, but you would have to wait for your eggs to cool before peeling them.
It's a great method, but it still requires you to have unnecessary wait time.
One of the main reasons that I purchased my Instant Pot 6 quart Duo was to save time. And by all means, I am going to maximize that benefit!
So the best, and most efficient way to make Instant Pot Potato Salad is by cooking diced potatoes and raw eggs at the same time.
No waiting time for the eggs to cool and finishing cooking, and best of all, no peeling required!
Crack open the eggs into an oven safe dish (Pyrex, Corningware, or a mini loaf pan) and they eggs will become 'hard boiled' at the same time that the potatoes are cooked.
Just a word of caution. Be sure to grease/spray your egg pan generously. The egg whites like to stick to everything they touch.
And here is another time saving tip. Instead of taking several minutes to dice your eggs into little pieces, push them through a nonstick cooling rack and instantly you have diced eggs!
So in the middle of summer, don't heat up your stovetop to make potato salad. Make Instant Pot potato salad in half of the time and without increasing the temperature indoors!
Learn more time saving and delicious Instant Pot Recipes on our Instant Pot Recipe Page.
Check out the printable recipe below and all of our recipes and let me know what you think!
To receive our 3 Recipe Articles in your inbox each week, sign up for our free email list. You can also follow us on Facebook, Twitter, Pinterest, and Instagram. This article may contain affiliate links.
Yield: 8
Instant Pot Potato Salad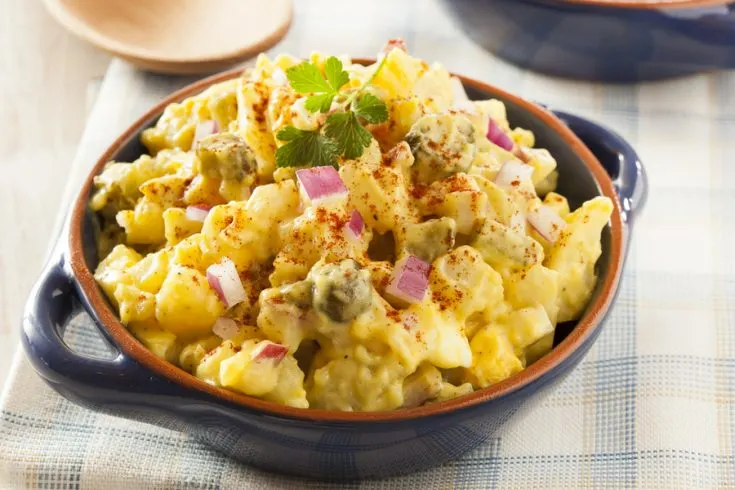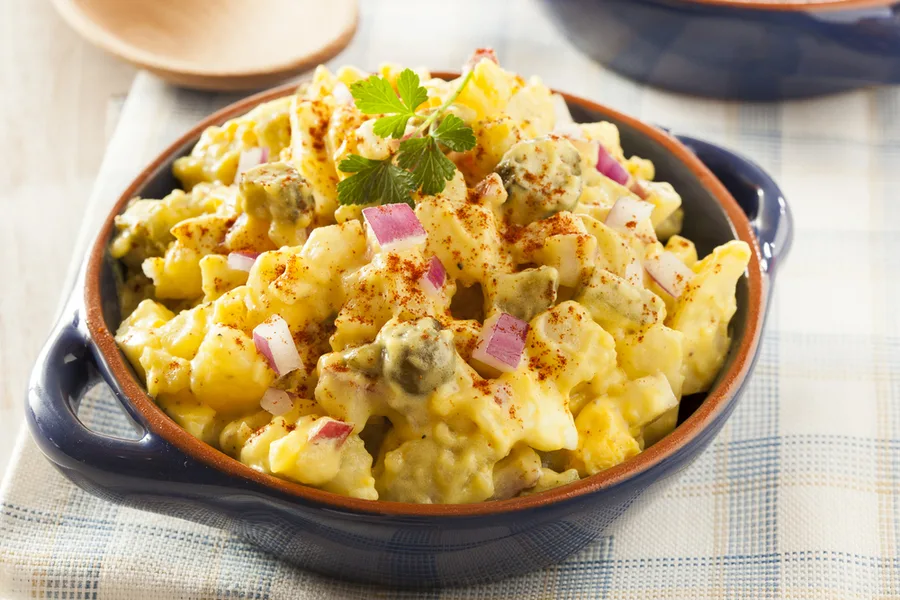 There is no better way to make potato salad than in the Instant Pot. Cook your potatoes and eggs at the same time and only for 4 minutes!
Ingredients
2 1/2 - 3 pounds russet potatoes
4 eggs
1/2 medium red onion, finely chopped
2 stalks celery, chopped
4 dill or sweet pickle spears, finely chopped
Dressing Ingredients
2 tablespoons dill or sweet pickle juice
3/4 cup mayonnaise
2 tablespoons yellow mustard
1 teaspoon salt
1 teaspoon finely ground black pepper
2 cloves garlic minced
1/4 teaspoon cayenne pepper, optional
paprika, for garnish (optional)
Instructions
Add 1 ½ cups of water into the liner of your Instant Pot.
Peel and dice potatoes into bite size pieces. Rinse with cold water 3-4 times to release the starches. Drain and place the potatoes in a steamer basket. Lower steamer basket into the liner of the Instant Pot.
Generously grease a bowl or loaf pan that will fit inside your pressure cooker. Crack the eggs in the bowl and place bowl directly on top of the potatoes.
Lock on lid and place valve in the sealed position. Pressure cook/Manual on High Pressure for 4 minutes. When the cooking time expires complete a Quick Pressure Release.
While the pot comes to pressure and cooks, mix together dressing ingredients and set aside.
Dice the onions, celery and pickles and set aside.
Once the potatoes and eggs have cooked, remove the bowl of eggs and set aside.
Place potatoes into large serving bowl.
Place the baking rack over top of the bowl of potatoes and remove eggs from bowl and place on top of the baking rack. Push the eggs through the grates.
Add the onions, celery, pickles and dressing, carefully fold them into the potatoes and eggs until well incorporated.
Sprinkle with Paprika for garnish (optional).
Cover and place in the refrigerator to chill, until ready to serve.
Notes
Recipe provided by Make Your Meals
Nutrition Information:
Yield:
8
Serving Size:
1 grams
Amount Per Serving:
Unsaturated Fat:

0g