At the beginning of every year I get tons of requests for Healthy Air Fryer Recipes. Although cooking typically fried foods in the Air Fryer are technically healthier than their counterpart, that is not what we are talking about here.
As much as I love making homemade, breaded chicken tenders and chicken nuggets in my Power 360 Air Fryer, those recipes are not what I would consider 'healthy'.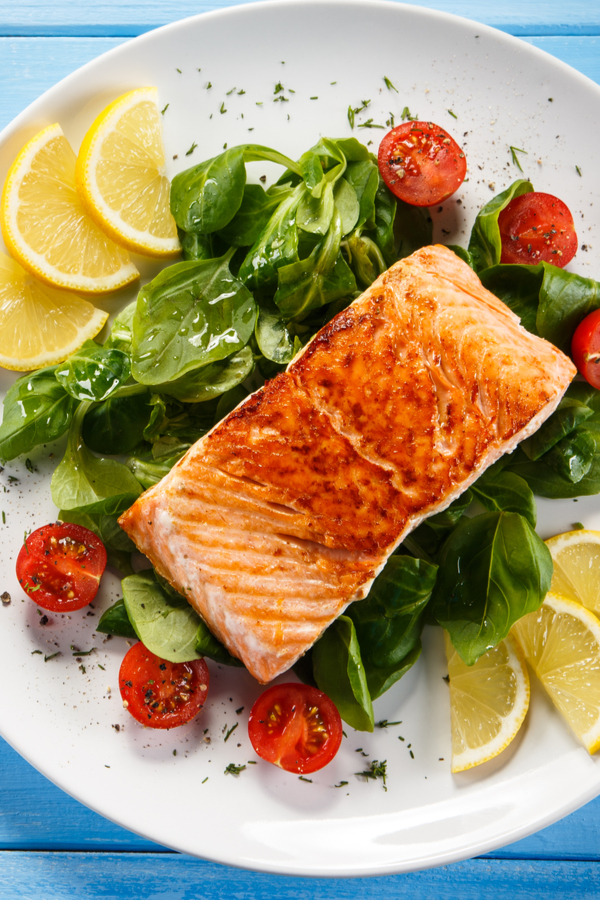 However, healthy eating may look different for many of us that follow specialty diets (Keto, WW, Paleo, AIP) as well. And by all means, I am not a nutritionist.
Therefore, I have decided to share what I would consider healthy air fryer recipes for me and my family. You can decide for yourself if any, or all of these recipes fit into your own healthy eating plan.
Healthy Air Fryer Recipes
Did you know that you can cook an entire chicken in your Air Fryer? No need to go to the store to pick up one of those store-bought rotisserie chickens any more.
Although they may taste delicious, most often they contain a ton of sodium that you can eliminate if you make your own.
When you cook a whole chicken in the air fryer the meat comes out nice and juicy and the skin crisps up beautifully!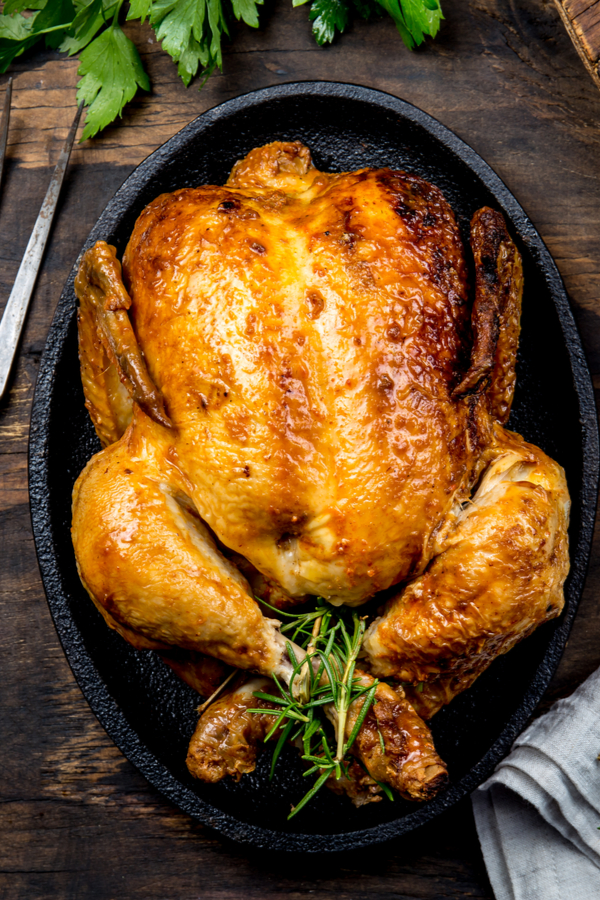 However, keep in mind, depending on the brand of air fryer that you have, you will need to purchase a bird that can fit into your basket. I would suggest starting with a smaller size chicken at first, and then you determine if you can go bigger next time.
But hey, if all else fails, you can always cut the chicken in pieces and cook it that way instead.
Speaking of chicken, why not add a few vegetables and diced chicken breasts onto skewers and make Kabobs in your Air Fryer?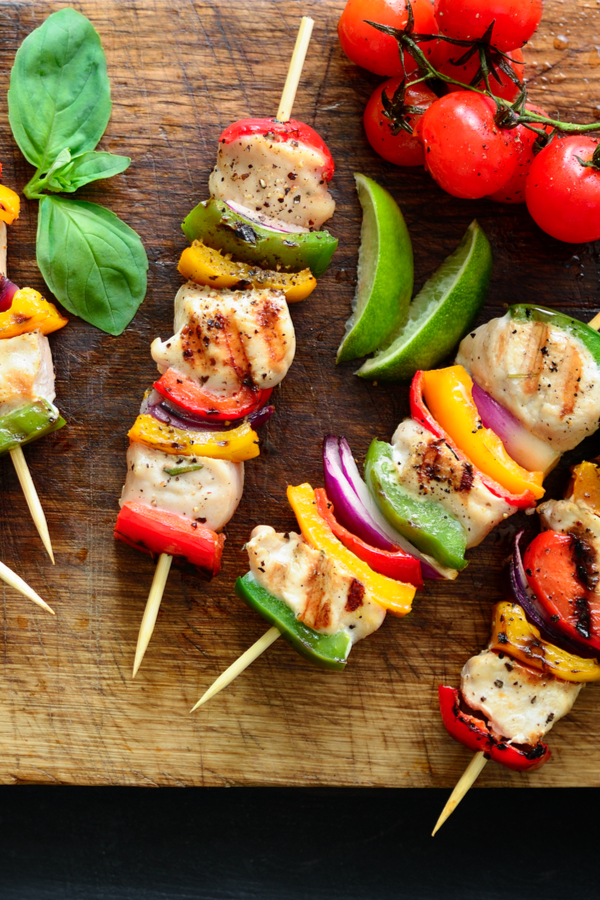 When diced, the chicken cooks quickly and at the same time the vegetables become soft and tender. Although there is an accessory for a Kabob rack and kit, I just cut down my wooden skewers so that they fit inside my air fryer basket.
It is a great way to have a complete meal of healthy protein and vegetables that is cooked all at the same time in your air fryer!
If you are on a protein kick, then pork chops might be a go-to main dish for you. Not to mention, it is a great budget friendly meal.
Skip the breading and season the boneless pork chops with your favorite dry rub. And within minutes, you will have moist and juicy pork chops to serve with your vegetables.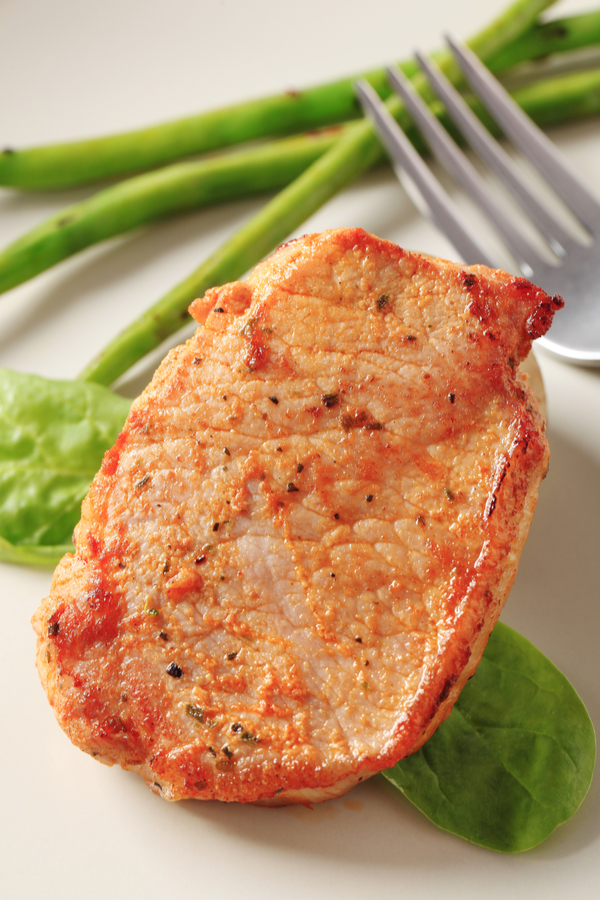 The key here is to remove the pork chops when the internal temperature reaches 145°F. Because pork chops can be thick or thin, a digital food thermometer is the key to getting them out of the air fryer at exactly the right time.
One of our favorite and most popular, Healthy Air Fryer recipes is Salmon. We make it at least once a week in our house.
Salmon is easy to cook in the air fryer. Add a little seasoning and within 10 minutes, dinner is on the table! Light and flaky salmon that is perfect to serve with a salad, your favorite green vegetable or even over a bed of rice!
And since we are talking about seafood, we can't forget to talk about Tilapia. This mild, white fish is one of the most popular seafood items sold at the grocery.
It is inexpensive and the filets will take on whatever seasoning you use. However, just a word of caution here. Tilapia is farm-raised, and most often overseas. Therefore they way the fish are raised and managed can determine how healthy, or unhealthy this fish is to consume.
Therefore when you purchase tilapia, look for the sustainable-farming sticker or eco-label on the package to make sure that it comes from a safe and sustainable farm.
Ever since the low-carb diets surfaced many years ago, baked potatoes have been a huge no-no for many people. However, they are low-calorie, have a ton of nutritional value, and when cooked in an Air Fryer the baked potatoes are actually healthy.
Just like oven-baked potatoes, the skins turn out nice and crispy and the inside is soft and fluffy. However, now you can have restaurant quality baked potatoes in a fraction of the time that it takes to bake in the oven.
We not only serve baked potatoes as a side dish with chicken breasts or steak. We make it the center of the meal by adding shredded chicken or ground beef, salsa, diced onions and peppers on top of the potato.
If you want a potato that is a little healthier for you, then cooking sweet potatoes in the Air Fryer might be your answer.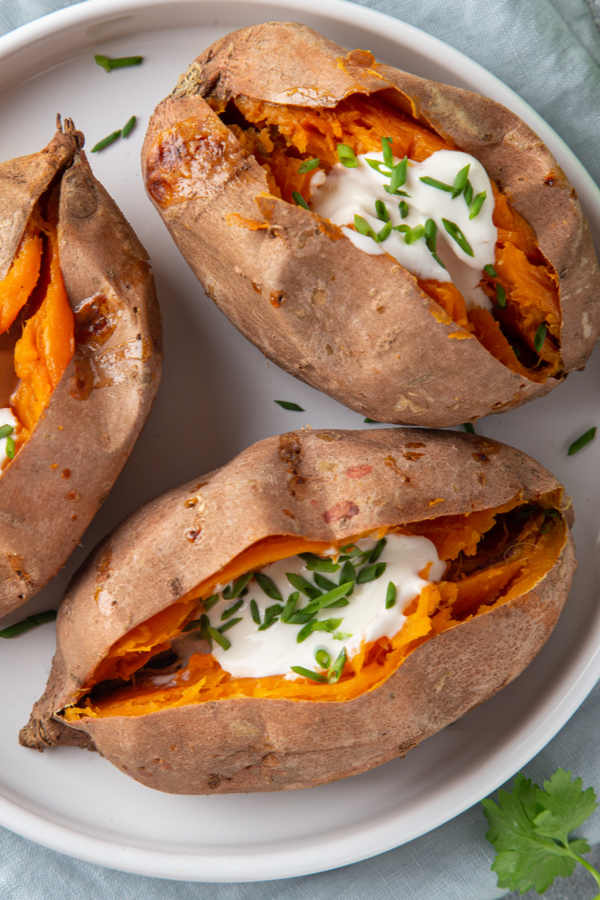 The best part about cooking sweet potatoes in the air fryer is that they are nice and soft on the inside, but still have that slight caramelization flavor.
You don't even need to put butter or brown sugar on top, they are that good!
Finally, if you are missing the taste of Buffalo chicken wings but want to keep things healthy, don't worry. Buffalo Cauliflower Wings are the healthy substitution that you can make in your Air Fryer.
I promise, you won't miss the taste of the chicken. Okay, maybe a tiny bit, but the cauliflower wings will help you fight off that urge of ordering 12 wings from your favorite restaurant.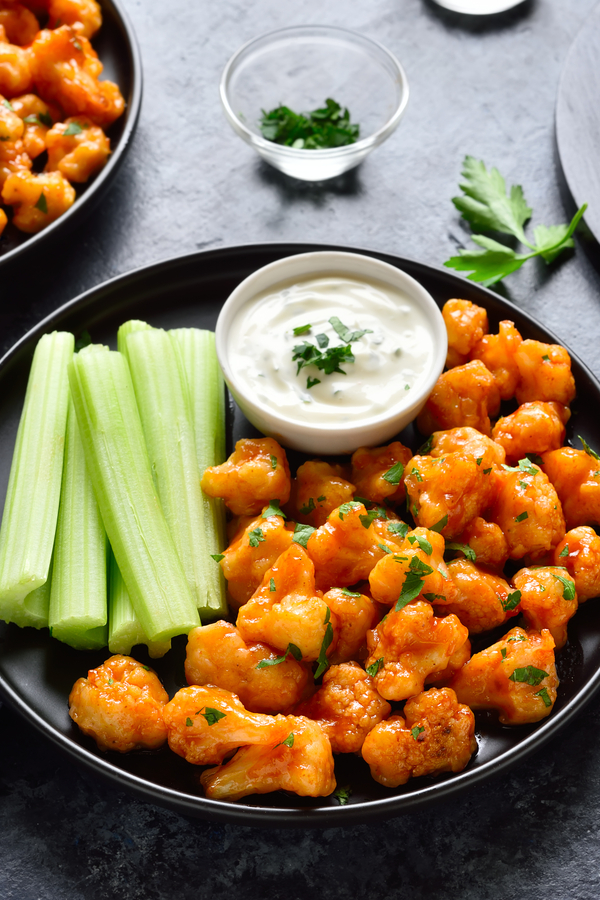 And if all else fails, make Air Fryer Buffalo Chicken Wings. At least they aren't deep-fried!
So there you have it! 8 Healthy Air Fryer Recipes to get your New Year started off on the right foot! Enjoy!


To receive our 3 Recipe Articles in your inbox each week, sign up for our free email list located in the middle of each recipe or email me at contact@makeyourmeals.com. You can also follow us on Facebook and Pinterest. This article may contain affiliate links where a small commission is paid if you purchase a product at no additional cost to you.