These 2 Ingredient Bagels have been a huge hit over the last several years. Especially for those that are on a Weight Watchers program because they only account for 3 points.
However, I like them because they are easy to make, don't require proofing, and can be made in a fraction of the time that it takes to make traditional bagels. And of course, they contain less calories than the ones that you buy at the bakery or grocery store.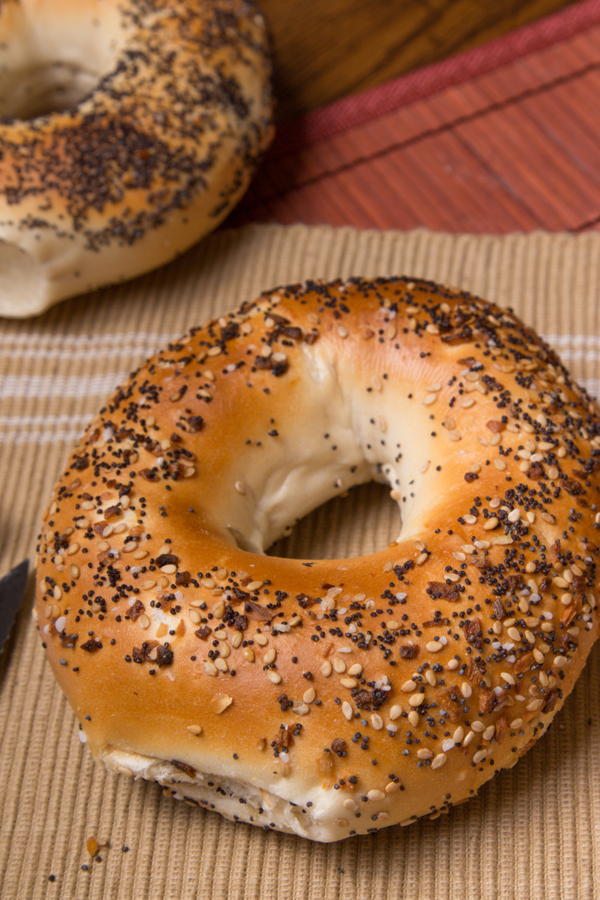 And now that our Air Fryer has taken center stage on our counter, we now air fry them instead of baking them in the oven. However, I have included instructions for both cooking methods below in case you don't have an air fryer yet.
How to Make 2 Ingredient Bagels
Ingredients
Greek Yogurt*
Self-Rising Flour**
Butter or egg wash, optional
Everything Bagel Seasoning, optional
Be sure to use a thick Greek Yogurt for this recipe. If your brand of yogurt is watery, it is best to strain some of the water out of the yogurt before proceeding to the instructions.
Also, speaking of yogurt, this recipe has been tested with both standard and non-fat Greek yogurt. The results were nearly identical. However, when I tried to make this recipe with store-bought, non-dairy yogurt, the recipe did not turn out as expected.
Although, maybe in the future, I will make my own homemade dairy-free yogurt and give that a try. When that happens, I will update you on the results.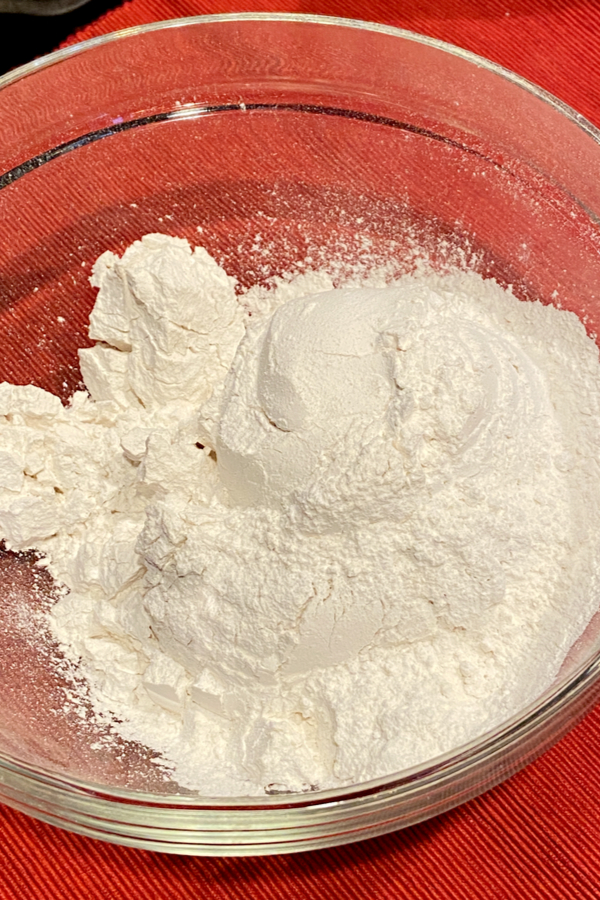 **If you don't have self-rising flour, it is easy to make your own. Combine 2 cups all-purpose flour, 1 tablespoon baking powder, and 1/2 teaspoon fine sea salt and whisk until well incorporated.
Instructions
The instructions for this 2 ingredient bagel recipe are quite easy. Simply mix the Greek yogurt and self-rising flour until the dough forms together.
You can certainly use the dough hook on a stand mixer, however, I find it easier to just mix it by hand. Plus, there are less dishes to do when you are finished!
Next, place some flour on a clean surface and knead the dough a few times to make sure that everything comes together appropriately. If your dough is too wet, add a little more flour.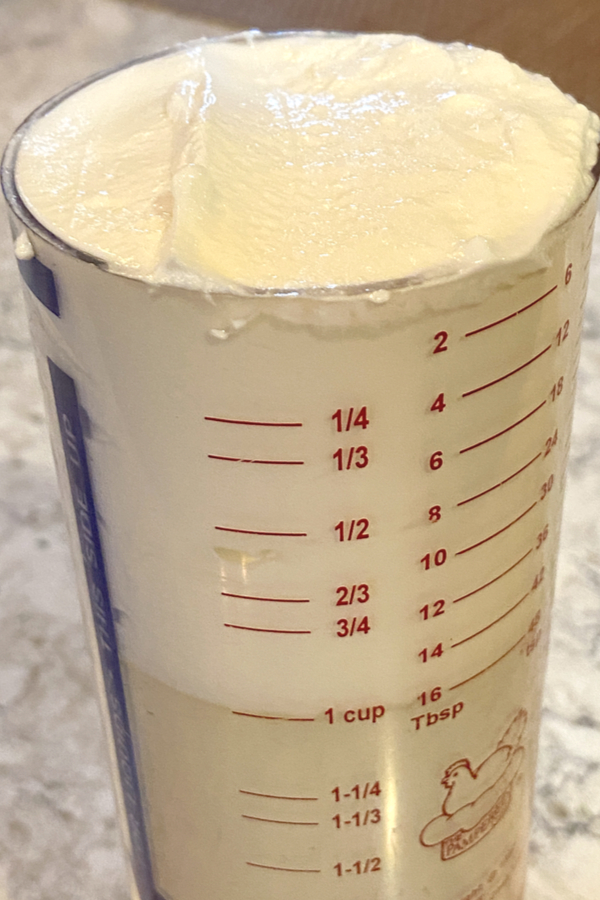 On the contrary, if the dough is too dry, add in a little more yogurt. Once the dough comes together, continue to knead and form a rectangular shape.
Cut and Form the Bagels
Now cut the dough into 4 equal sections. Each one of the these sections will form one bagel. Working with one section at a time, roll the dough with the palm of your hands into a 10 inch long rope.
Then place the rope on a parchment paper lined baking sheet or air fryer basket. Bring the two ends together and pinch to seal the seam.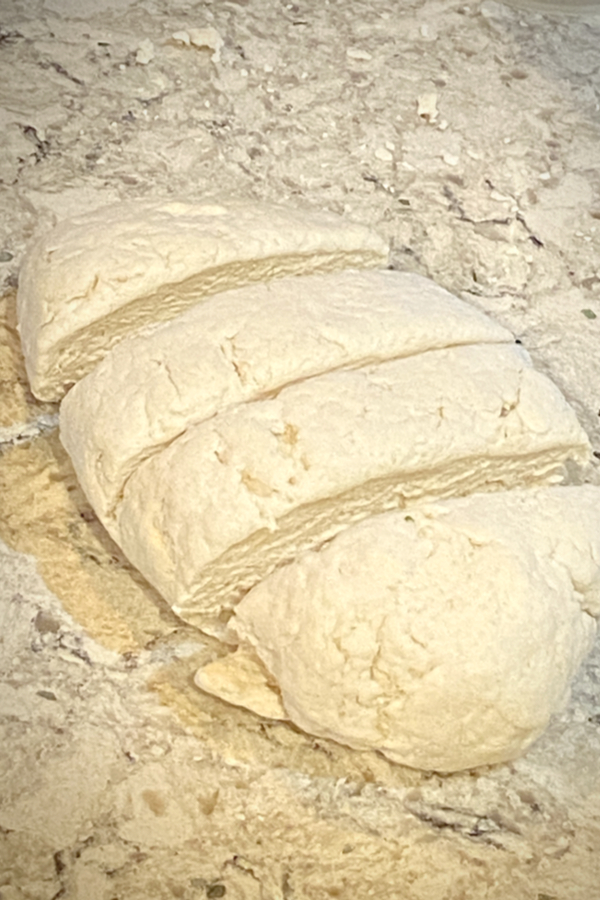 You can also roll the dough into a ball, press down, and tear open the center of 2 ingredient bagel dough to form it into shape. However, just a word of caution here, the dough will sometimes bounce back and leave you with little to no hole at all when baked.
Continue to form your other bagels and place on the baking sheet. Now melt your butter and brush the tops of each bagel using a pastry brush. *You could also use an egg wash if you prefer.
Sprinkle on your preferred seasoning. We prefer to use Everything Bagel seasoning. However, you can use poppy seeds, Parmesan cheese, sesame seeds, etc.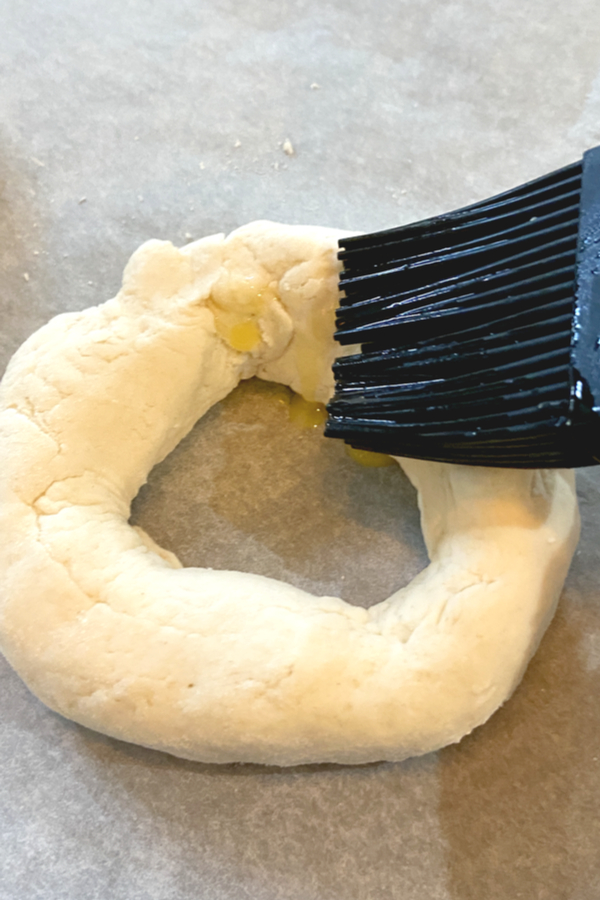 Oven Baking Instructions
If you are using the oven, preheat to 375°F. Once the oven is ready, bake your bagels for 20-22 minutes. You will notice that the bagels are barely turning light brown.
Therefore, in order to have that beautiful exterior gloss on your 2 Ingredient Bagels, you must increase the oven temperature. Turn the oven up to 450°F and continue to bake for an additional 3-5 minutes.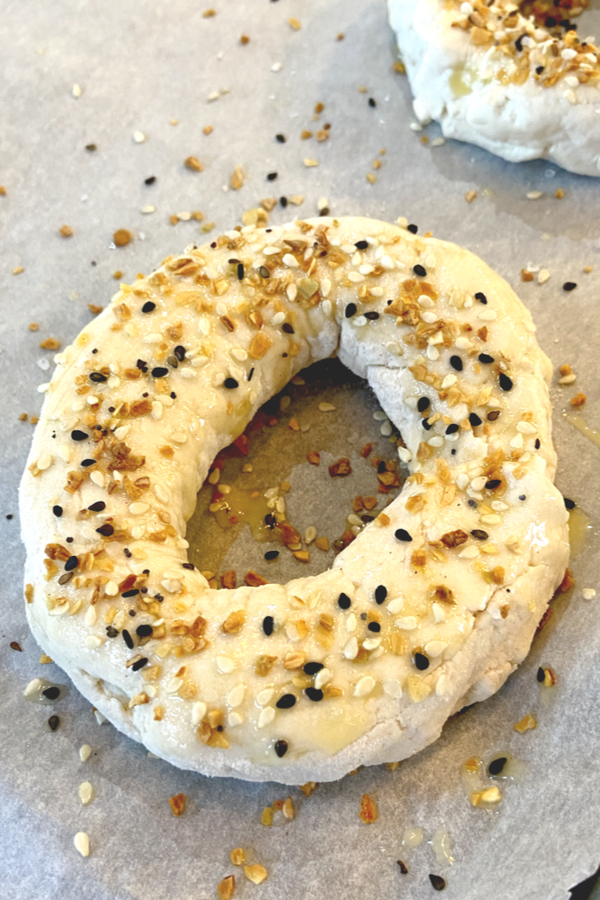 Be sure to watch them carefully at this point so they don't get too dark. Remove from the oven and let cool slightly before serving.
Air Fryer Instructions
If you want to cook your bagels in the air fryer, decrease the recommended oven baked temperature by 25°F. If you don't have parchment paper, spray the bottom of your basket with non-stick spray.
Follow your manufacturer's instructions for preheating. Some air fryers suggest preheating, and some don't require it at all. Air Fry for 18-20 minutes or until the tops are golden brown.
Using tongs, remove the bagels from the oven to a cooling rack. Serve slightly warm or at room temperature. Our favorite topping for bagels is Cucumber Cream Cheese spread.
Storing Bagels
These bagels can be stored at room temperature for up to 24 hours in an air-tight container. However, if you want to store them longer, you can keep them in the refrigerator for up to 3 days.
These 2 Ingredient Bagels also do well when stored in the freezer. Although, I would suggest to flash freeze them individually before storing in an air-tight container. This will allow you to pull one bagel out, rather than them being frozen and stuck together.
Enjoy!

To receive our 3 Recipe Articles in your inbox each week, sign up for our free email list located in the middle of each recipe or email me at contact@makeyourmeals.com. You can also follow us on Facebook and Pinterest. This article may contain affiliate links where a small commission is paid if you purchase a product at no additional cost to you.
Yield: 4 bagels
Easy 2 Ingredient Bagels - Baked in the Oven or Air Fryer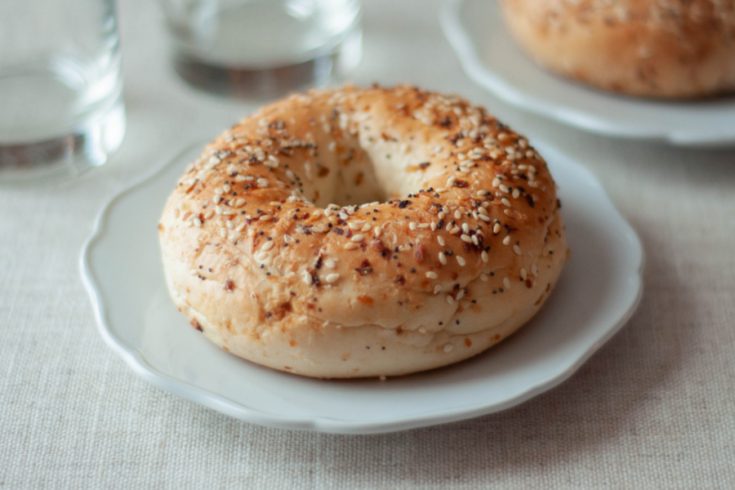 Make homemade bagels with just flour and Greek Yogurt! No yeast, no rising, no mixers!
Ingredients
1 3/4 cups self rising flour
1 cup Greek Yogurt
1 tbsp butter of choice, optional
2 tbsp. Everything Bagel Seasoning, optional
Instructions
Preheat the oven to 375°F (191°C). Line a baking sheet with parchment paper. Set aside.
In a large mixing bowl, combine the flour and Greek yogurt and mix until fully combined and a ball of dough forms.
Place flour on a clean surface and place the ball of dough on the floured surface. Top with a little extra flour.
Gently kneed the dough while forming it rectangular shape. Slice into 4 even pieces.
Use the palms of your hands to roll the dough into a thin, sausage shape. Join both ends of the dough to form a bagel shape and pinch the seams together. Repeat and place each bagel on the prepared baking sheet.
Lightly brush the tops of each bagel with either butter or water. Sprinkle 1/2 tablespoon of the Everything Bagel Seasoning on top of each bagel.
Bake for 20-22 minutes, then increase the temperature to 450°F (232°F) and continue to bake for 3-5 minutes or until the tops have browned. Remove from the oven and allow to cool completely.
Store in an air-tight container.
Notes
Recipe provided by Make Your Meals
Nutrition Information:
Yield:
4
Serving Size:
4 grams
Amount Per Serving:
Calories:

165
Total Fat:

1g
Unsaturated Fat:

0g
Cholesterol:

11mg
Sodium:

650mg
Carbohydrates:

21g
Fiber:

1g
Sugar:

2g
Protein:

9g