When I first purchased my air fryer, I knew that one of the first things that I wanted to make was Air Fryer Chicken Tenders and Air Fryer Chicken Nuggets. 
We eat chicken quite often in our house and although I loved grilled chicken, I sometimes miss the crispy taste of fried chicken.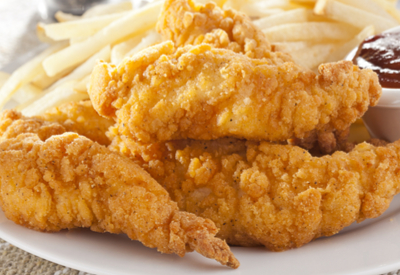 Knowing how bad fried foods are for your health, we have steered away from our deep fryer and continued to make grilled or baked chicken for several years now.
However, I finally jumped on the Air Fryer craze. Although there are several different types and brands of air fryers, I finally chose the Best Choice Products 5.5 quart air fryer.
After doing a ton of research, the common thread among consumer reviews and feedback was to purchase a large capacity air fryer.
So I weighed the options and purchased one that made the most sense for my family and my budget.
I have been experimenting with recipes ever since!
I have waited to post my experience and recipe with air fryer chicken tenders. That is because that there is such a variety of ingredients and methods that you can use to make them.
You can make the breading with flour and seasonings, breadcrumbs, Panko breadcrumbs, Shake & Bake mixture, and even ground up Pork Rinds.
Some people use an egg wash to help hold their seasonings, while others use mayonnaise, mustard, or even just plain water.
So in order to find out the best method that produced a nice and crispy texture but still retained that moist and juicy interior, some recipe experimentation was done.
The Best Type Of Breading For Air Fryer Chicken Tenders
Seasoned Flour – when cooked, the flour cooked unevenly and resulted in areas that weren't crispy.
Seasoned Breadcrumbs – provided a nice evenly coated, crunchy texture with lots of flavor
Panko Breadcrumbs – tended to fall off of the tenders most of all, and lacked flavor
Seasoned Pork Rinds – a great gluten-free alternative that adds flavor when you use the hot & spicy flavor
As for the binding agent, I found no difference when using an egg wash or a thick spread like mayo or Dijon mustard. The coating stuck to the chicken when each one was used.
However, using olive oil or Dijon mustard is a fantastic alternative when you have an egg allergy or intolerance.
So however you choose to make your Air Fryer Chicken Tenders, at least you know it is a lot healthier and in my opinion, tastes a lot better than when deep-fried!
Check out the printable recipe below and all of our recipes and let me know what you think!
To receive our 3 Recipe Articles in your inbox each week, sign up for our free email list. You can also follow us on Facebook, Twitter, Pinterest, and Instagram. This article may contain affiliate links.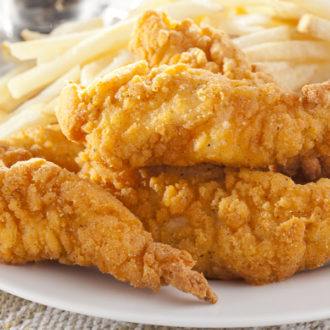 Air Fryer Breaded Chicken Tenders
Crispy chicken tenders that are moist on the inside and are healthier than deep fried tenders because they are cooked in the air fryer.
Ingredients
1

lb

chicken tenders

1/2

cup

Kentucky Kernel seasoned flour

*if gluten-free use gluten-free flour

1

egg, beaten

*if egg-free use Dijon mustard or egg-free mayo

1/4

cup

seasoned bread crumbs
Instructions
Heat air fryer to 370°F.

Place the Kentucky Kernel flour, beaten egg and breadcrumbs in 3 separate shallow bowls.

Pat thawed chicken tenders dry. Then brush them lightly with olive oil on both sides.

Working in small batches of 3-4 tenders, dredge the chicken tenders in the Kentucky Kernel seasoned flour, then dip them in the egg, then finally coat with seasoned bread crumbs.

Shake off excess breading and immediately place them in the air fryer.

Allow enough room between the tenders so that the air can flow adequately. Cook for 10 minutes, flip, and cook for an additional 10-15 minutes on other side or until internal temperature reaches 165 degrees F.
Notes
Cooking time may need adjusted based on the thickness of your chicken tenders.
Recipe provided by Make Your Meals
Air Fryer Chicken Tenders Recipe – Healthier And With Gluten Free Options