If you love Pasta Salad and love BLT sandwiches, then you are going to absolutely fall head over heels for this BLT Pasta Salad!
Every time that we have a backyard cookout, I always get asked to make my traditional Zesty Pasta Salad.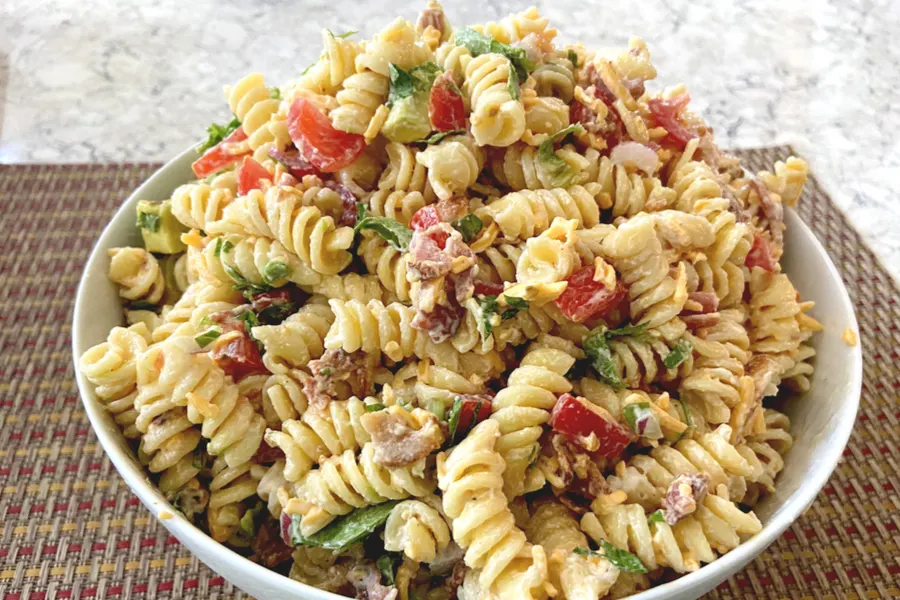 The tangy taste of the Italian dressing poured over the Rotini pasta and diced vegetables is the perfect side dish for any meal.
But sometimes I get tired of making the same recipes over and over again. So when I was asked to make pasta salad for our last family gathering, I decided to take a new twist on this popular recipe.
It all started when I had bacon that I cooked in my Air Fryer leftover in the refrigerator. Sometimes I will throw diced pepperoni in the pasta salad, but I had none on hand. That is when the bacon caught my eye.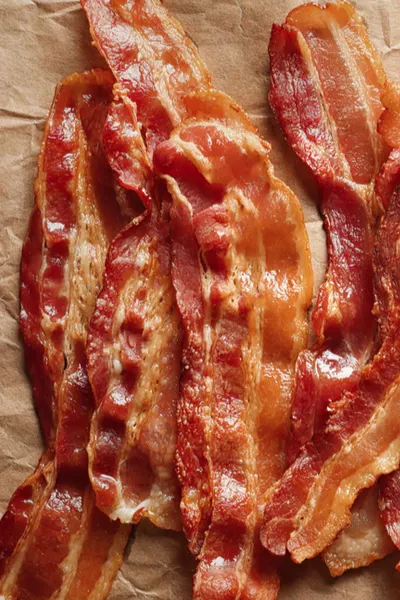 And because I have been on a BLT kick lately I decided to incorporate those ingredients into my pasta salad recipe.
How to Make BLT Pasta Salad
Just like with any pasta salad recipe, this one starts with cooking your Rotini pasta to al dente.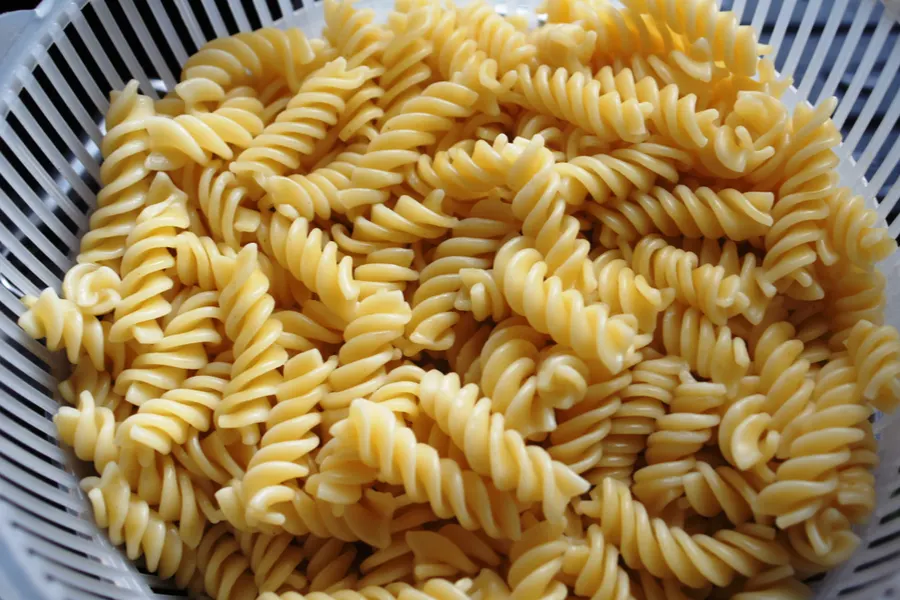 Although you could use penne pasta or even bow tie pasta, we prefer rotini pasta for this recipe. The spirals are the perfect vessel to hold the BLT ingredients.
Once the pasta has been cooked, drained and cooled, pour it into a large bowl and set aside.
The Dressing
Now it is time to make your BLT Pasta Salad dressing. For this recipe use the simple combination of Ranch Dressing and Mayonnaise. We prefer to use our own Dry Ranch Dressing mix. However, store bought salad dressing will work as well.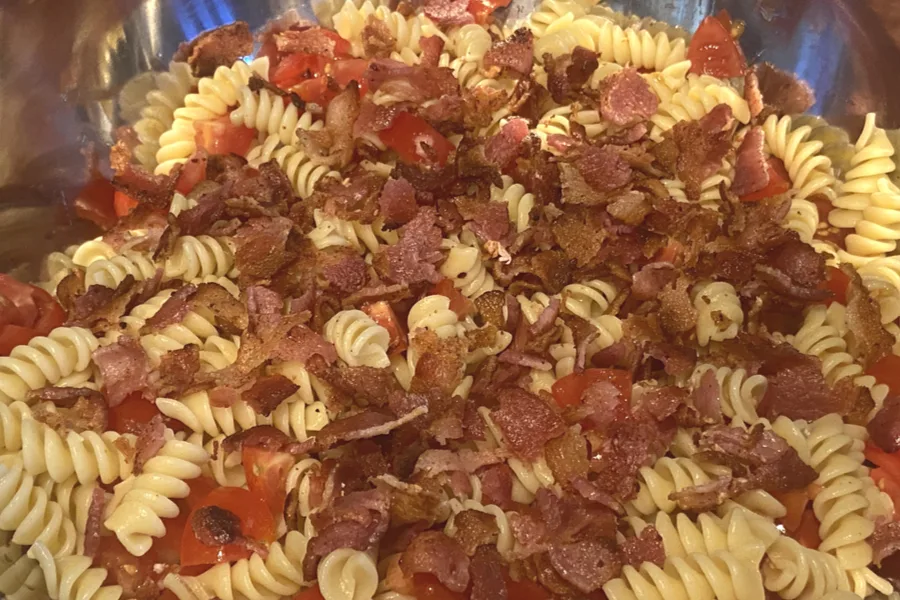 Next, add the diced tomatoes, bacon, cheddar cheese and onion to the noodles.
Here is where you need to decided whether or not to add the lettuce and avocado at this point or not. If you are going to serve the salad immediately, then mix them in right now.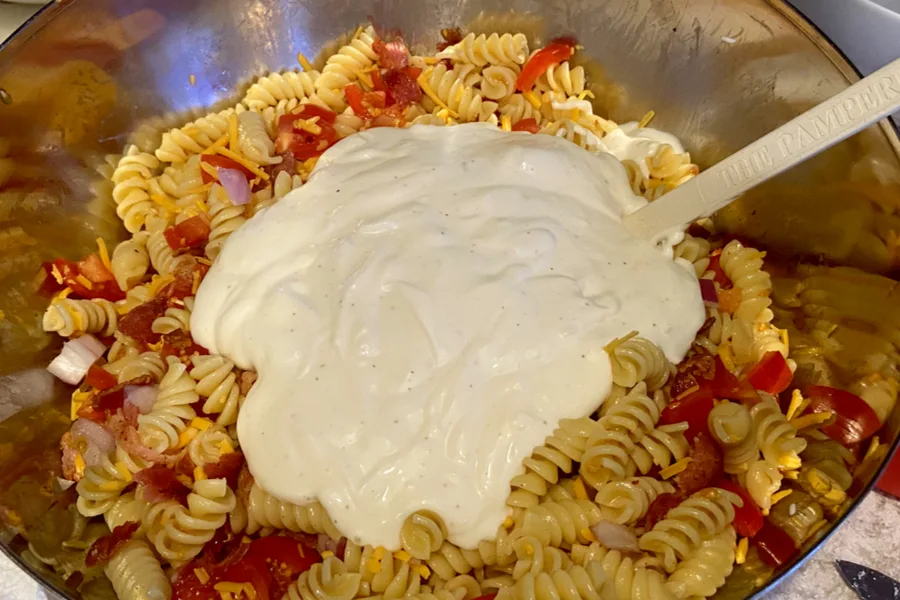 Then pour the dressing on top of the noodles mixture and toss to coat. Serve immediately.
If you are making this ahead of time, which I prefer, then do not add the lettuce or avocado until you are ready to serve. Simply pour the dressing over the noodles and refrigerate.
Right before you are ready to serve the BLT Pasta Salad, add the lettuce and avocado and toss to coat.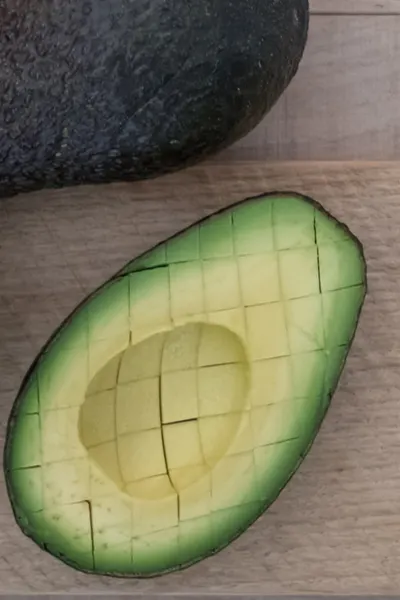 Because this is salad has mayonnaise and Ranch dressing, be sure to keep it cool when serving and refrigerate any leftovers.

To receive our 3 Recipe Articles in your inbox each week, sign up for our free email list located in the middle of each recipe or email me at contact@makeyourmeals.com. You can also follow us on Facebook and Pinterest. This article may contain affiliate links where a small commission is paid if you purchase a product at no additional cost to you.
BLT Pasta Salad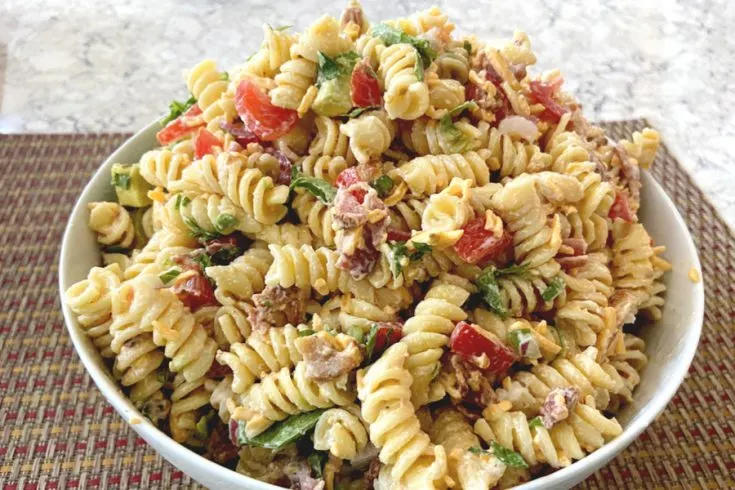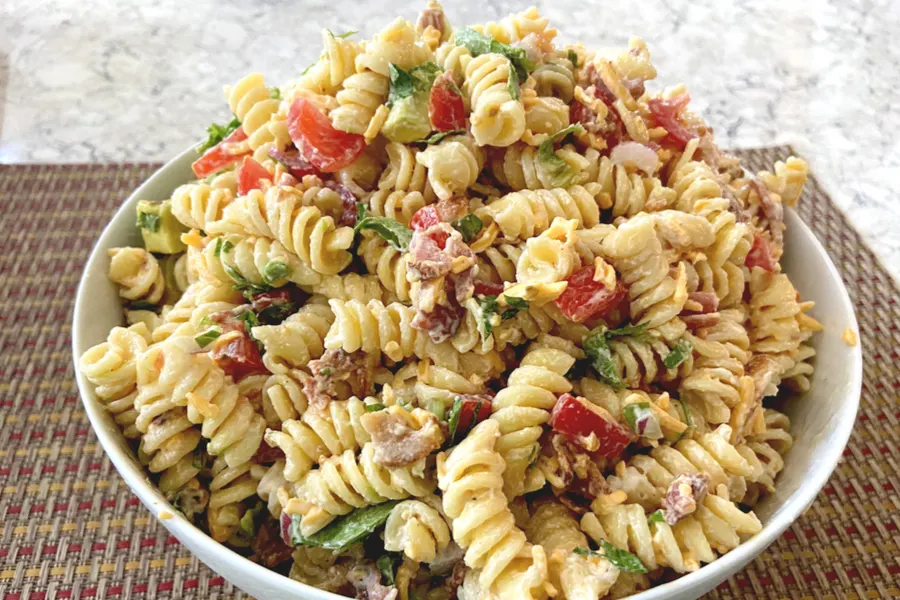 All the flavors of a BLT made into a delicious pasta salad. The perfect side dish for any occasion!
Ingredients
12 oz rotini pasta, cooked
1/2 cup mayonnaise
3/4 cup ranch dressing
1 1/2 cup diced tomatoes
10 slices bacon, cooked and diced
1 cup shredded cheddar cheese
1/3 cup red onion, diced
1 cup chopped lettuce
1/2 avocado diced, optional
Instructions
In a small bowl whisk together mayonnaise and ranch dressing, set aside.
In a large bowl add the cooled pasta, tomatoes, bacon, cheese, red onion, lettuce and avocado.
Pour the dressing over and toss to combine.
Serve immediately.
Notes
If making this ahead of time add all ingredients except the lettuce and avocado and refrigerate. Right before serving, add the lettuce and avocado and toss to combine. Recipe courtesy of Make Your Meals.
Nutrition Information:
Serving Size:
1 grams
Amount Per Serving:
Unsaturated Fat:

0g