This Instant Pot Dill Pickle Potato Salad recipe is not only extremely delicious, but it is also super easy to make.
Potato salad is a side dish that compliments just about every meal. It is served at almost every backyard barbecue, potluck, and sometimes even at Easter dinner.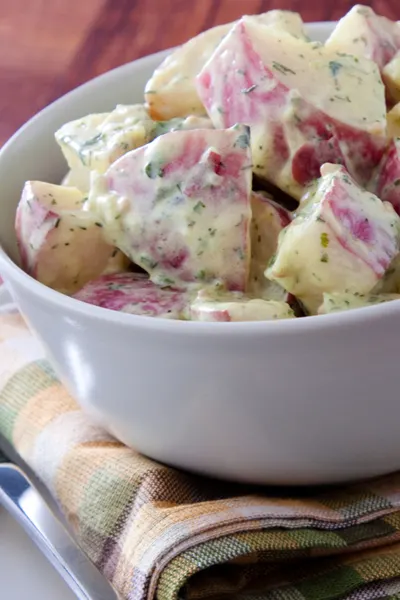 In fact, when we recently hosted a family reunion at our house, it was one of the most popular side dishes, along with pasta salad, macaroni salad and coleslaw.
But instead of running to the grocery store to buy a large tub of potato salad, we always prefer to make our own version.
We used to only make our famous Amish Potato Salad. Of course, the potato salad itself isn't Amish. We just called it that because it tastes just like the potato salad that is served in our local Amish Country community.
And once I learned how easy it was to make it in the Instant Pot, we made it for almost every picnic or potluck party.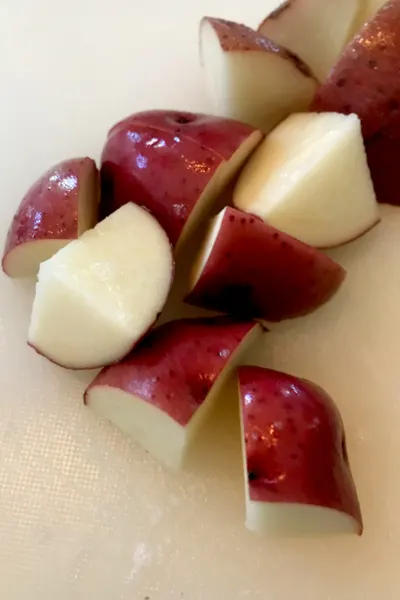 In fact, ever since I purchased my first Instant Pot several years ago, it is the only way that I will make it.
Instant Pot Potato Salad
So what is so great about making Potato Salad in the Instant Pot?
First of all, and probably the most important reason, is that you can make everything in ONE pot.
That means at the end of the day, there are less dishes to do. And I am all for that!
However the fact that you don't have to turn on our stove top is another benefit of making potato salad in the Instant Pot. Since most potato salad is made around the summer months, this is a huge bonus!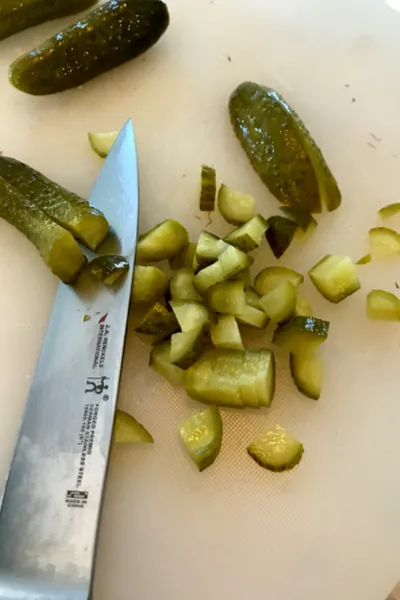 No more standing over a hot pot of boiling water testing the potatoes to see if they are tender.
And although boiling eggs is a fail-proof method to get the perfectly cooked hard boiled egg, it is much easier when done in the Instant Pot.
But the best benefit of all is that both the potatoes and eggs are cooked at the same time!
Simply dice your potatoes into one inch pieces and place the raw eggs on top.
Then you follow the 5-5-5 method for cooking Hard Boiled Eggs in the Instant Pot. This means that you pressure cook on high pressure for 5 minutes, allow for a 5 minute natural release, and then the eggs go into an ice bath for 5 minutes.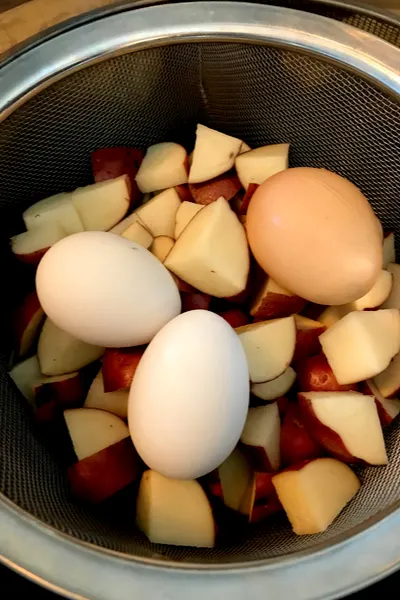 The results – perfectly cooked, fork tender potatoes and hard boiled eggs that are easy to peel!
It really can't get easier than that!
Steamer Basket Required
However, in order for your potatoes to cook to the proper consistency for potato salad, you must have a steamer basket that sits inside your instant pot.
You don't want the potatoes to sit in the water. Otherwise they will get too soft and will fall apart when tossed in the dressing.
There are two different steam basket options. You can use the collapsible version that is most often used to steam vegetables.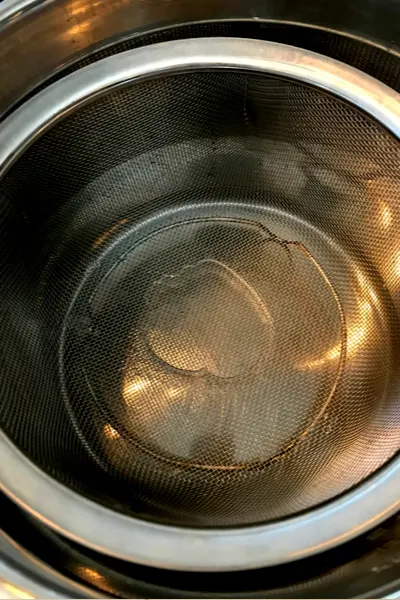 Or you can use the colander type of steamer basket.
Although I own both accessories, I prefer to use the colander steamer basket for this recipe.
I find it easier to remove the potatoes when cooked. Simply pull the entire basket out and let the potatoes cool while the eggs are in the ice water bath.
Dill Pickle Potato Salad
I had never heard of putting dill pickles in potato salad until a few summers ago.
I was at a bridal shower where potato salad was served along side of barbecue pulled pork sliders.
It was super light and refreshing. The little pieces of dill pickles provided a nice crunch to the potato salad. And the dill flavor complimented the mayonnaise perfectly.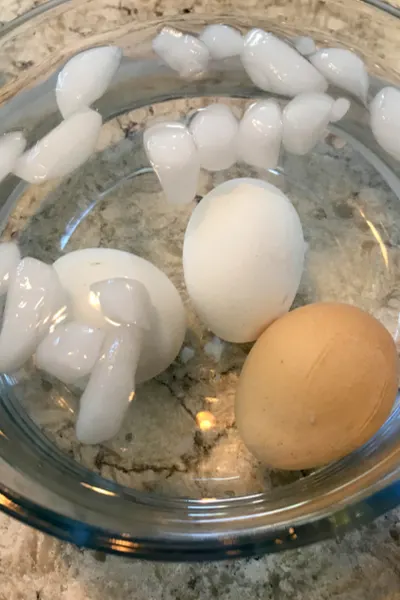 I knew then that I would have to make my own version of Dill Pickle Potato Salad.
After a few attempts, I finally devised a recipe that replicated the exact taste. And of course it has become our Instant Pot Dill Pickle Potato Salad recipe.
The Ingredients
When making this recipe I prefer to use the mini dill pickles. Because they are smaller, they add more crunch than the large diameter pickles.
And you definitely want to use whole dill pickles, not spears or slices.
As for the potatoes, feel free to use whatever potatoes that you have on hand. You don't have to use red potatoes.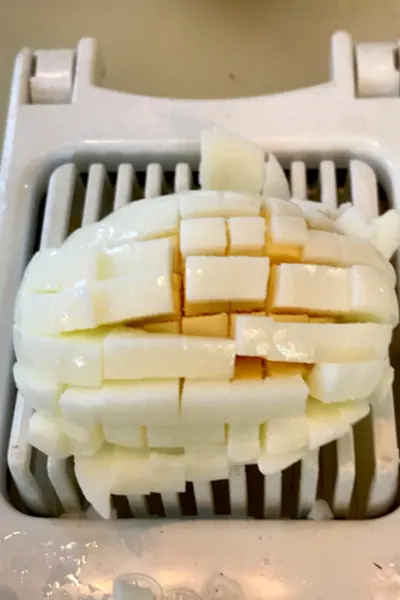 In fact, we often make this recipe using our favorite Yukon Gold Potatoes. Their natural buttery flavor provide another layer of flavor to this dill pickle potato salad recipe.
But just a word of caution if you are opting to use Russet potatoes. I would recommend peeling the potatoes.
The skin is much thicker and tougher than the skin found on red or Yukon gold potatoes. This makes the potato salad a little more difficult to eat and it gives it a weird texture in my opinion.
And one last hint – be sure to refrigerate the dill pickle potato salad for at least an hour before eating.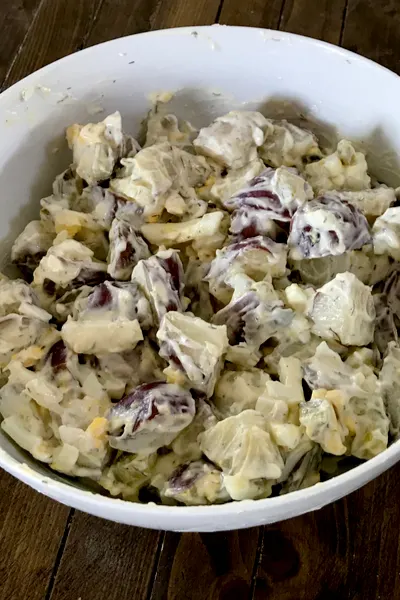 This allows enough time for the dressing to penetrate the potatoes.
However, if you have time, making it the day before you eat it is even better!

To receive our 3 Recipe Articles in your inbox each week, sign up for our free email list located in the middle of each recipe or email me at contact@makeyourmeals.com. You can also follow us on Facebook and Pinterest. This article may contain affiliate links where a small commission is paid if you purchase a product at no additional cost to you.
Yield: 6
Instant Pot Dill Pickle Potato Salad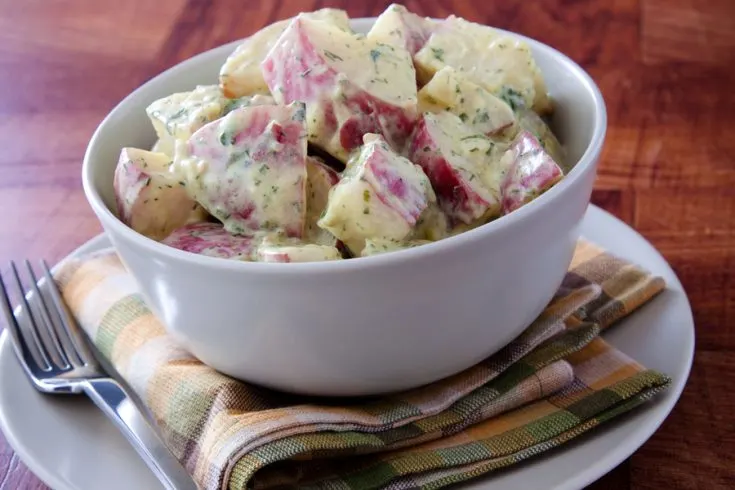 Creamy and delicious potato salad with diced dill pickles for the perfect light and refreshing side dish.
Ingredients
2 pounds red skin potatoes, cut in 1-inch chunks
4 small dill pickle spears, diced
3 large eggs
1/2 cup mayonnaise, or Greek yogurt
1/4 cup sour cream
2 tablespoons dill pickle juice
1 1/2 tsp dried dill weed
1/2 tsp salt
1/4 tsp pepper
Instructions
Add one cup of water to the liner of the Instant Pot.
Place a steam basket inside pot and add the cut potatoes in the basket.
Place eggs on top on the potatoes.
Lock the lid and set valve to the Sealing position. Pressure Cook/Manual on HIGH pressure for 5 minutes. When the cooking time expires allow for 5 minutes of Natural Pressure Release. Then quick release any remaining pressure.
Using a slotted spoon remove the eggs and place in a bowl of ice water and let sit for 5 minutes. Remove potatoes from Instant Pot and let cool for 10 minutes.
In a medium size serving bowl, mix together mayo, sour cream, pickle juice, dill, salt and pepper and set aside.
Peel the eggs and dice.
Add the potatoes, eggs and diced pickles to the bowl with the dressing. Gently toss the potatoes until well coated.
Cover and chill in the fridge for at least 1 hour before serving.
Notes
Recipe provided by Make Your Meals
Nutrition Information:
Yield:
6
Serving Size:
1 grams
Amount Per Serving:
Unsaturated Fat:

0g