This Slow Cooker Beef and Broccoli recipe has become one of our favorite weeknight meals. As much as we love our Stove Top Beef and Broccoli recipe there are times when a crock pot is the better cooking option.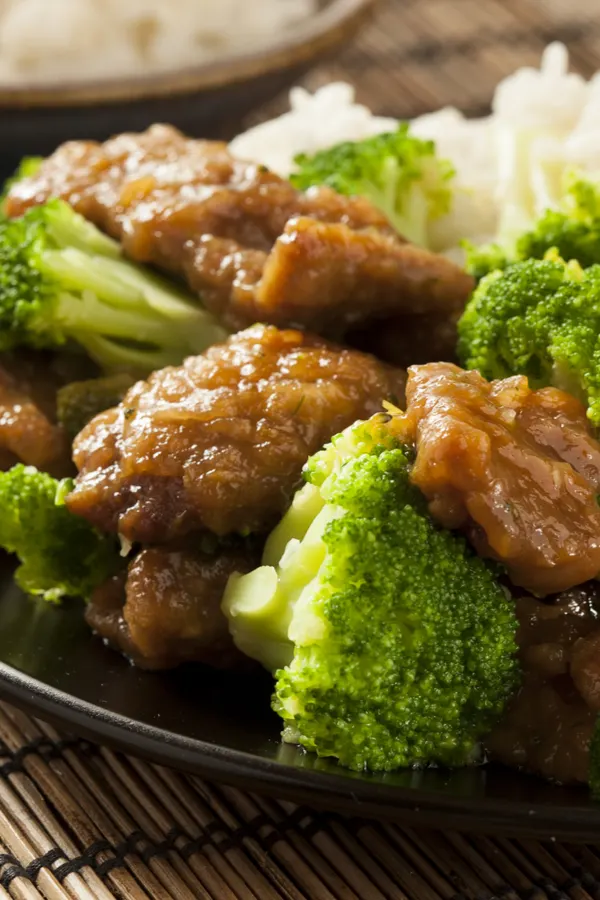 Just throw the meat and sauce ingredients in the crock pot and let it cook. Go about your day and then 20 minutes before dinner, add the broccoli so that it can become tender, but not mushy.
This recipe can serve as a stand alone main dish or be served over a bed of rice or cauliflower rice for a complete meal! We have even served it over pasta for a true comfort meal in the middle of winter!
But the biggest question I get when I mention any type of Beef and Broccoli recipe is what type of beef should be used. My answer, you have a few great choices.
What Type of Beef To Use
Traditionally, this recipe is made with slices of flank steak. It is a very flavorful cut of meat that is also very lean. However, when cut into thin slices, this tough section of beef can become nice and tender.
Another option would be a flat iron steak. It is the second most tender cut of beef with lots of fat marbling throughout. It makes for a great option when cooking beef and broccoli on the stove, but it is a waste to use such a tender cut of meat when using the slow cooker.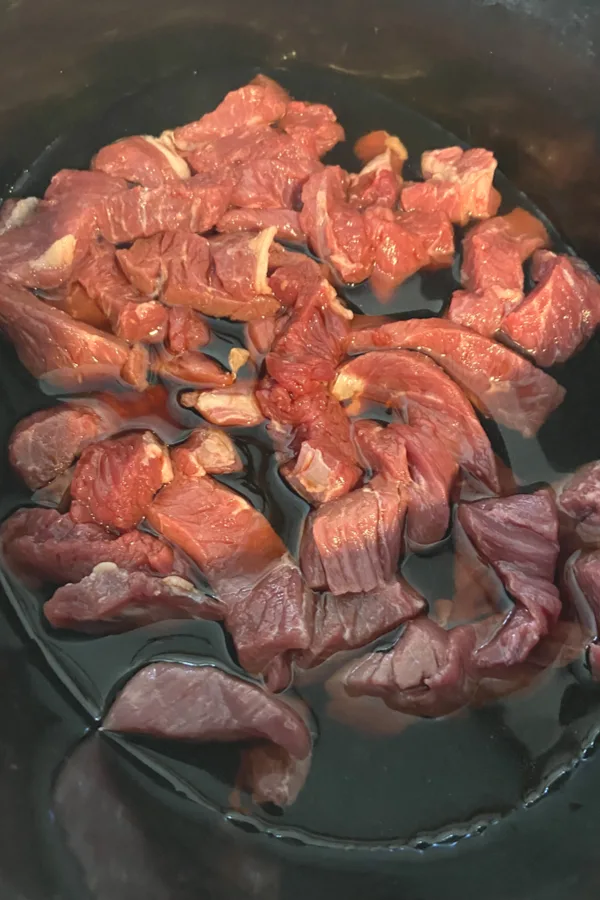 However, what I have found to be the perfect steak to use for this recipe is Top Round Steak. Top round is very lean and tough, and thus it's one of the less expensive cuts of beef.
However, when cooked low and slow, it makes the perfect meat to use in Slow Cooker Beef and Broccoli. When sliced thin and cooked in a crock pot for hours, the meat becomes nice and tender and takes on the flavors of the sauce.
In addition, it is a great option for those who are on a budget because it is one of the cheapest cuts of beef. It is most often used to make roast beef slices for sandwiches, but is also fantastic to use as the star attraction in this recipe!
How to Make Slow Cooker Beef and Broccoli
Ingredients
Top round steak
Beef broth
Soy sauce
Brown sugar
Sesame oil
Sriracha sauce*
Garlic
Green onions
Cornstarch
Broccoli florets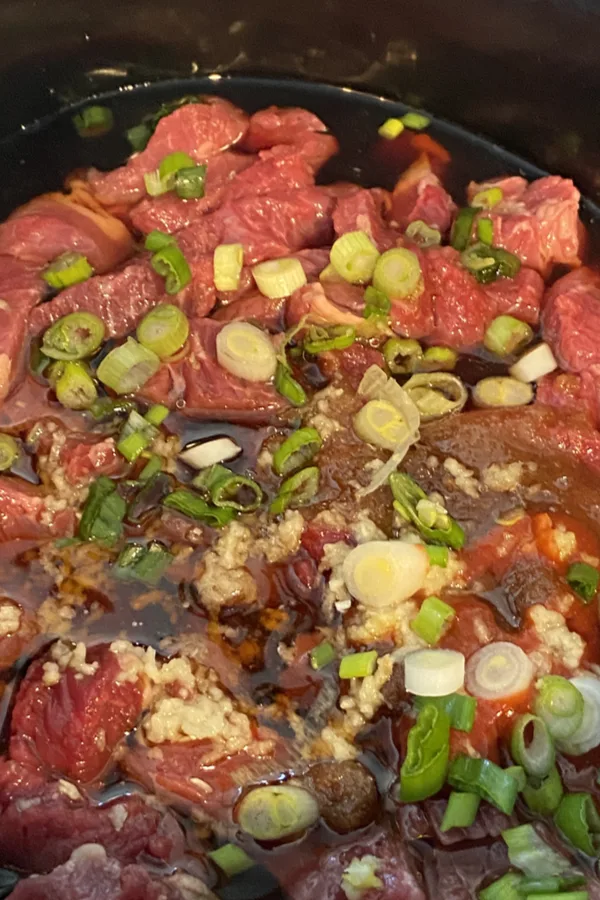 If you aren't a fan of spicy food, no worries! This Beef and Broccoli recipe is not spicy at all. The Sriracha sauce is included to balance out the sweetness in the recipe only. It does not add any noticeable heat.
Instructions
The first step is to slice your top round roast into thin slices. Using a sharp knife, slice against the grain of the steak and cut the steak into thin strips.
Then put the steak slices into a 5 or 6 quart slow cooker. Next, add the beef broth, soy sauce, brown sugar, sesame oil, Sriracha, garlic and sliced green onions in with the beef.
Stir the mixture. Set the slow cooker on low heat for 4 hours. If you have a programmable Crock Pot, set the timer and when the cook time is up, the slow cooker will automatically turn to the keep warm setting.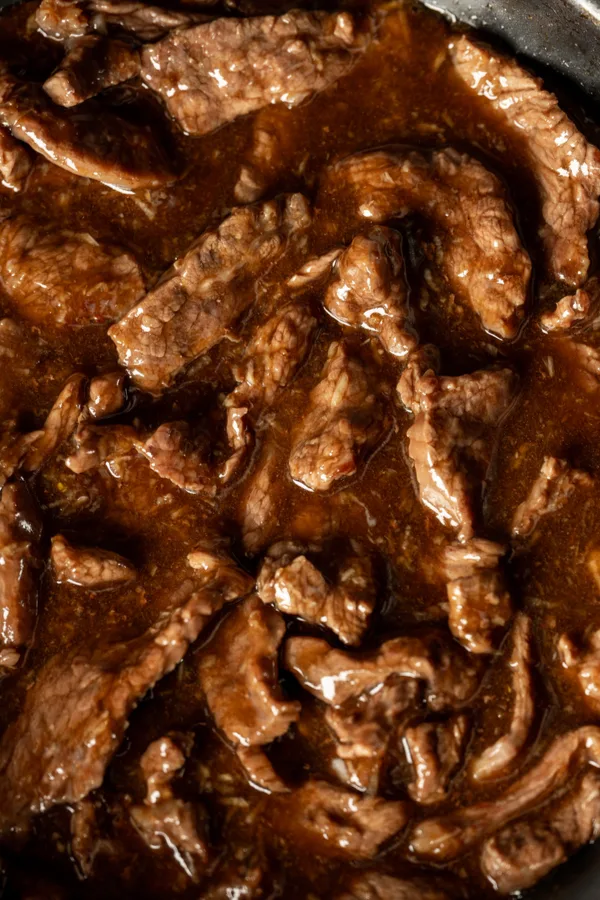 Then 20 minutes before you are ready to eat, remove some of the hot liquid into a bowl and stir in the cornstarch to make a slurry. Return the mixture to the slow cooker and stir. This is what will help the liquid thicken as it continues to cook.
Now add the broccoli florets and stir well so that they are coated in the hot liquid. Continue to cook on the low setting for 20-30 minutes or until the broccoli has become tender, but not mushy.
Most often Beef and Broccoli is served over a bed of cooked white rice. However, for a lower carb option, you can serve it over a bed of cauliflower rice or as a stand alone main dish.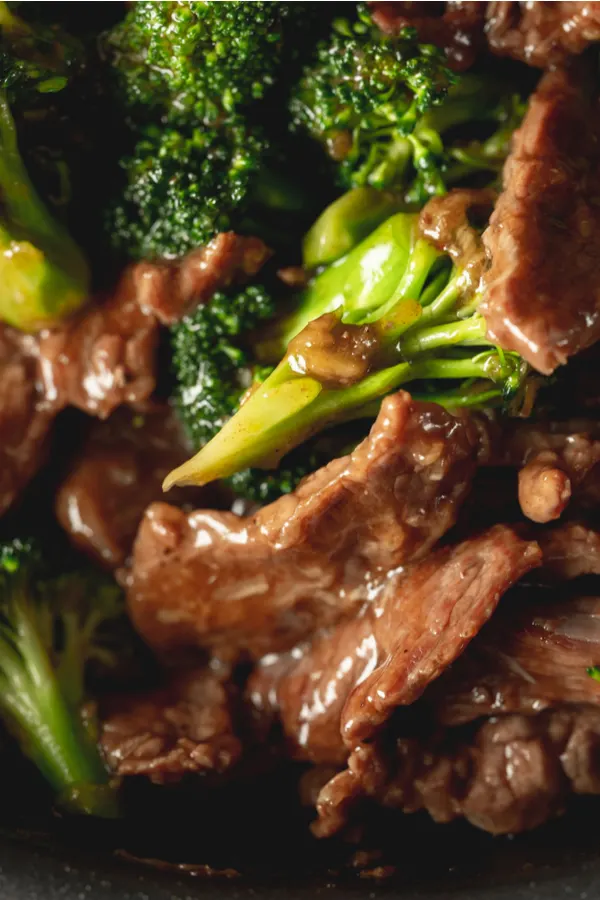 Enjoy!

To receive our 3 Recipe Articles in your inbox each week, sign up for our free email list located in the middle of each recipe or email me at contact@makeyourmeals.com. You can also follow us on Facebook and Pinterest. This article may contain affiliate links where a small commission is paid if you purchase a product at no additional cost to you.
Yield: 6
Slow Cooker Beef and Broccoli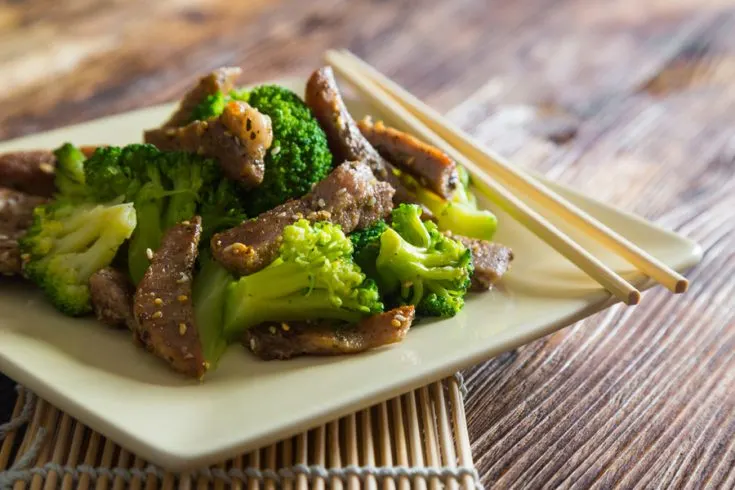 Tender slices of beef cooked in a thick brown sauce in a crock pot with broccoli added towards the end of the cook time for a delicious, low-carb main dish. Make it a complete meal by serving it over rice.
Ingredients
1 1/2 lbs. top round roast, thinly sliced
1 c. beef broth, low sodium
1/2 c. soy sauce, low sodium
1/2 c. light brown sugar
3 Tbsp. sesame oil
1 Tbsp. sriracha sauce
3 cloves of garlic
3 green onions, thinly sliced
2 Tbsp. cornstarch
2 c. broccoli florets
Instructions
In a 5 or 6 quart slow cooker, add the sliced meat. Add broth, soy sauce, brown sugar, sesame oil, Sriracha, garlic and green onions.
Cover and cook on low heat for 4 hours, or until beef is cooked through and tender.
Remove the lid and spoon 3 tablespoons of the broth into a bowl and add the cornstarch. Whisk until no clumps remain and pour into the slow cooker and toss to combine. Add the broccoli to the slow cooker and cover and cook for an additional 20 minutes.
Serve as a stand alone main dish or serve over rice.
Notes
Recipe provided by Make Your Meals
Nutrition Information:
Yield:
6
Serving Size:
1 grams
Amount Per Serving:
Calories:

205
Total Fat:

8g
Saturated Fat:

1g
Unsaturated Fat:

0g
Sodium:

1346mg
Carbohydrates:

31g
Fiber:

2g
Sugar:

21g
Protein:

5g