Homemade Ice Cream Sandwich Recipe
Do you remember the days of running towards the music of an ice cream truck and being handed an ice cream sandwich in the middle of a hot summer?
How excited did you get when you realized that you could buy an entire box of them at the grocery store?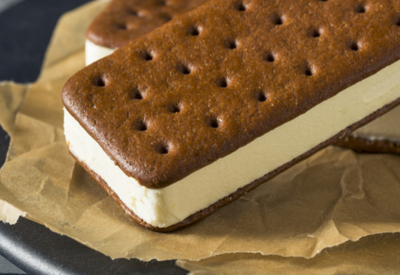 Well, it's time to get excited again!!! Now you can learn to make your own with this homemade ice cream sandwich recipe.
Although this recipe has some wait time, it is totally worth it!
This recipe calls for vanilla ice cream, but you can actually use whatever ice cream that you prefer. My personal favorite – Mint Chocolate Chip!
The key to getting the ice cream to fit perfectly in between the two chocolate sandwich cookies is to first soften the carton of ice cream.
This allows you the ability to spread the ice cream in a 9 x 13 baking dish. This pan is the perfect size for cutting the ice cream into 4 x 2 inch rectangles (the same size as the cookies).
When rolling out the cookie dough, it is important to use a ruler to get the exact size cookies that you need for everything to come together perfectly.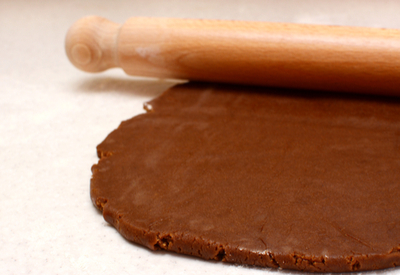 And if you want your homemade ice cream sandwich to look like the classic one of your childhood, then be sure to poke holes in the dough prior to baking.
You could use a plastic toothpick to make the holes, but I usually only have wooden ones on hand.
The unbaked dough will stick to wooden toothpicks, so instead, I use the end of my digital food thermometer to make the indentions.
It works perfect!!!
One last tip – if you want the classic, soft and sticky exterior of the homemade ice cream sandwich, be sure to let them sit in the freezer overnight.
This helps let the cookie absorb some moisture from the ice cream and it becomes nice and soft.
But if you don't like the texture of the softer cookie, you can eat it right away for a crunchier version of the homemade ice cream sandwich.
Either way, be sure to wrap them in parchment paper or wax paper for individual servings that won't stick to each other. Plus, they are easier to hold!
Check out the printable recipe below and all of our recipes and let me know what you think!
To receive our 3 Recipe Articles in your inbox each week, sign up for our free email list. You can also follow us on Facebook, Twitter, Pinterest, and Instagram. This article may contain affiliate links.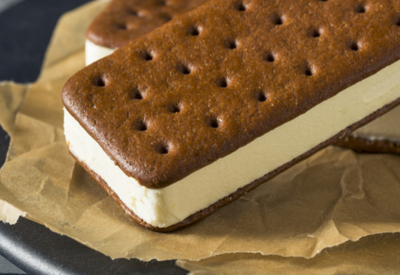 Homemade Ice Cream Sandwiches
Classic homemade ice cream sandwiches with a chocolate cookie exterior with soft vanilla ice cream in the center.
Ingredients
1/2

gallon

ice cream

2 2/3

cups

all-purpose flour

1

cup

cocoa powder

minus 2 tablespoons

3/4

teaspoon

salt

1

cup

granulated sugar

1 1/4

cup

unsalted butter

2

egg yolks

2

teaspoons

vanilla extract
Instructions
Slightly soften ice cream by leaving it out at room temperature for 30 minutes. Line 9x13-inch pan with parchment paper, allowing paper to overhang the sides. Press ice cream into pan and smooth top. Freeze for at least one hour or until completely solid.

Preheat oven to 350°F. Line 2 baking sheets with parchment paper.

In a medium bowl add flour, cocoa, and salt and whisk together until well incorporated. Set aside.

In the bowl of a stand mixer add sugar and butter on place on medium speed for at least one minute using the paddle attachment.

Mix in yolks and vanilla.

Slowly add in dry mixture until just combined.

Divide dough in half and form each piece into a 5-inch square.

Wrap dough with plastic wrap, and chill at least 30 minutes or until firm.

On a lightly floured surface roll each dough piece into an 8 x 12-inch rectangle. Along the 12 inch side, cut the dough into 2-inch lengths so you have 6 pieces. Cut each piece in half down the center so you have 12, 4x2 pieces.

Use a flat spatula to place cookies onto prepared baking sheets. Using a plastic toothpick or the tip of a thermometer, poke 15 holes into each cookie. Bake for 10-12 minutes or until cookies are firm, rotating baking sheets half way through the cooking process.

Remove cookies from the oven and let them rest on the baking sheet for 5 minutes before transferring them to a cooling rack. Cool completely.

Using the edges of the parchment paper remove ice cream from pan. Trim the edges to make a neat rectangle.

Using the same technique as with the dough, cut the ice cream into 12, 4x2-inch rectangles.

Place each rectangle of ice cream on top of a cookie and place another cookie on top. Repeat the process.
Notes
Wrap each cookie with parchment or wax paper and store in the freezer overnight to soften for a softer cookie or serve immediately for a crunchy cookie.
Recipe provided by Make Your Meals
Homemade Ice Cream Sandwich Recipe – A Great Summer Treat!