One of my favorite things about attending a potluck is that there is a chance that Cold Ramen Noodle Salad will be one of the items brought to the table.
I first had this delicious Asian inspired salad at one of our work potluck events.
Each member of my department was asked to bring a different type of salad to the party.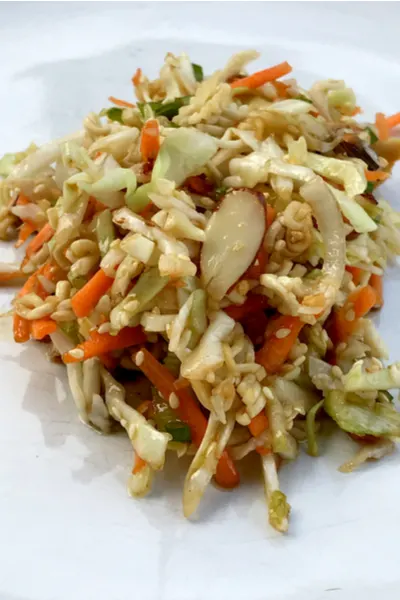 So when I was trying to decide what type of salad that I was going to bring I went to the sign up sheet to see what was already taken.
Garden salad, caprese salad, pasta salad and macaroni salad were already on the list.
So I quickly signed up to bring Amish Potato Salad. I knew that it would be super easy to make and I could make it the day before the potluck.
However, there was one salad that I had never heard of that was on the list, Ramen Noodle salad.
Therefore, curious as to what this was, I went straight to the person who volunteered to bring it.
Cold Ramen Noodle Salad
To be honest, I was confused by the name of the salad. You see, I have had Ramen noodles before, but always right after they had been cooked.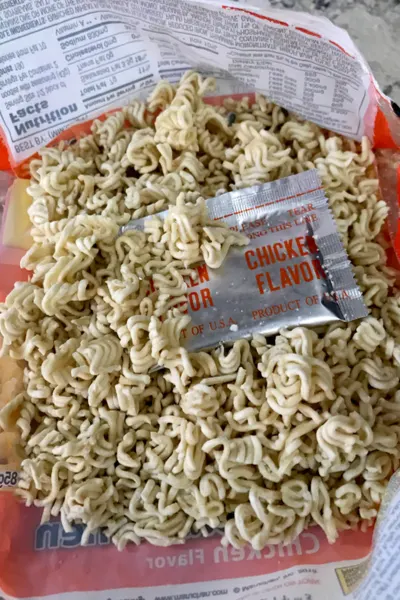 You know the kind that I am talking about. Those inexpensive, individual packets of compressed noodles that have a flavored seasoning packet inside.
Yes, the kind that I lived on in college. And the same kind that now I wouldn't even consider making into a meal.
And just the thought of eating cold, cooked, ramen noodles sounded absolutely disgusting to me.
So I asked my coworker what this Cold Ramen Noodle Salad was all about.
She laughed and told me that I would just have to try it. And she guaranteed me that I would love it.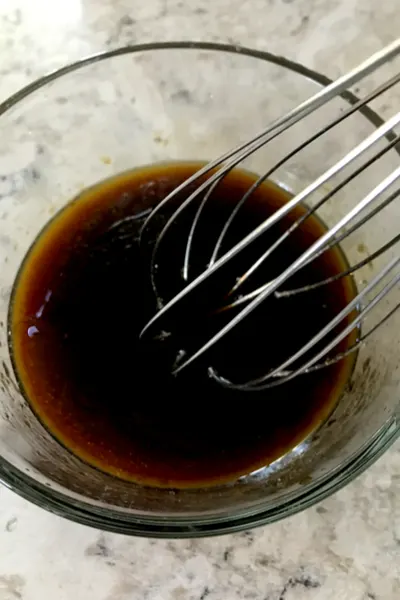 So on the day of the potluck, she reminded me that I needed to try her salad.
She took me to a glass bowl filled with what looked like coleslaw tossed in an Asian dressing.
However, this was not the type of salad that I was expecting based on the name alone.
It actually looked delicious. So I decided to give it a try.
The Element of Surprise
I really enjoyed the taste of the cold coleslaw coated in the tangy dressing.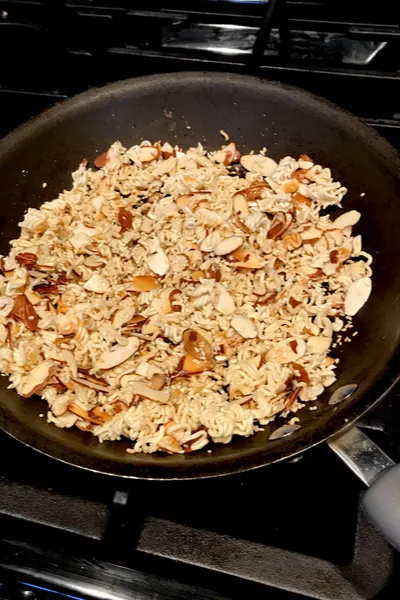 But what I wasn't expecting was the crunch of the tiny bits of ramen noodles that was tossed within the salad.
They weren't cooked at all! The noodles were crushed and put in the salad straight out the package.
And they couldn't have given this Cold Ramen Noodle Salad a better balance of flavors and textures!
Plus, there was one more bonus. The salad also contained slivered almonds which provided an additional layer of flavor that I wasn't expecting.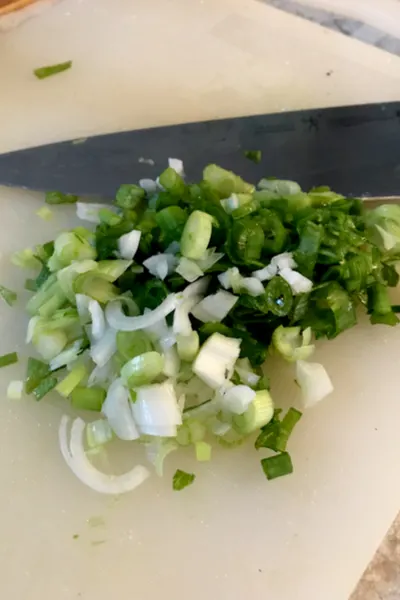 I truly was amazed. So much, in fact, that I went back for a second helping.
My coworker laughed and handed me an index card with the recipe. She said that every single person that has tried it, has asked her for the recipe.
Now I could make it any time I wanted!
Two Keys To Making Cold Ramen Noodle Salad
But there are two important steps to not forget when making this Cold Ramen Noodle Salad.
First, be sure to toast the noodles, almonds and sesame seeds.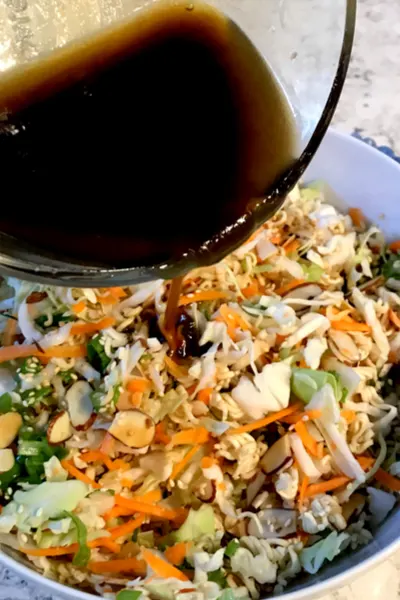 Of course you could just add them into the salad without sauteing them. But you are going to be amazed at how much flavor it adds when you do toast them.
Believe me, the extra few minutes that it takes is well worth it in the end!
And second, do NOT assemble the salad until you are ready to serve it.
This is not one of the salads that gets better with time. You want to make sure that the noodles and almonds don't have too much time to sit in the dressing and become soggy.
Remember, it is the crunch that helps balance everything out. Just toss everything together and serve.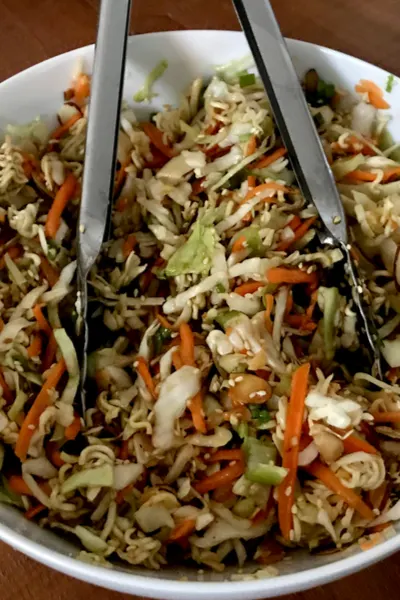 To receive our 3 Recipe Articles in your inbox each week, sign up for our free email list located in the middle of each recipe or email me at contact@makeyourmeals.com. You can also follow us on Facebook and Pinterest. This article may contain affiliate links where a small commission is paid if you purchase a product at no additional cost to you.
Cold Ramen Noodle Salad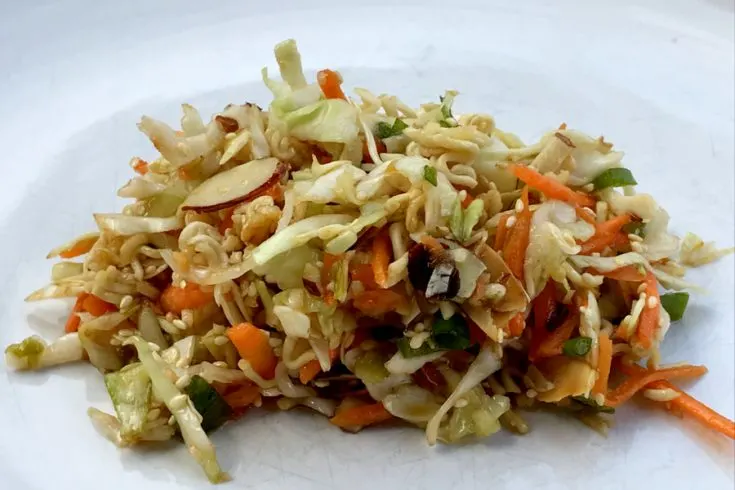 Sweet and tangy, Asian inspired salad with a little crunch that is perfect for parties, potlucks, backyard barbecues.
Ingredients
Dressing Ingredients
1/2 cup extra virgin olive oil
1/4 cup distilled white vinegar
1/2 cup granulated sugar
2 tablespoons low-sodium soy sauce
Salad Ingredients
2 tablespoons butter
3 ounce package ramen noodles
1/2 cup slivered almonds
3 tablespoons sesame seeds
1 12 ounce bag of coleslaw mix
1 bunch green onions, sliced thin, about 1/2 cup
Instructions
Prepare the Dressing
In a small bowl add the oil, vinegar, sugar, and soy sauce and whisk until the sugar has dissolved. Set aside.
Prepare The Salad
In a large skillet over medium heat melt the butter.
Crush the ramen noodles inside the package. Open and discard the seasoning packet. Add the noodles, almonds, and sesame seeds to the skillet.
Stirring frequently, sauté until the mixture is golden brown. Transfer to a plate and let cool.
In a large mixing bowl add the coleslaw mixture and onions. Add the cooled noodle mixture.
Right before serving, pour the dressing over the salad and toss well to combine.
Serve immediately.
Notes
It is important to not add the dressing until you are ready to serve the salad to prevent the noodle mixture from becoming too soggy. Recipe provided by Make Your Meals
Nutrition Information:
Serving Size:
1 grams
Amount Per Serving:
Unsaturated Fat:

0g