If you are searching for the best Christmas cookie recipes to make this holiday season, look no further.
Here you will find a comprehensive collection of recipes that you can include in cookie swaps, holiday cookie trays and of course, cookies that are perfect to leave for Santa.
This list includes 18 classic cookie recipes that are popular to make this time of the year. From cut out sugar cookies, gingerbread, shortbread, and thumbprint jam cookies and everything in between.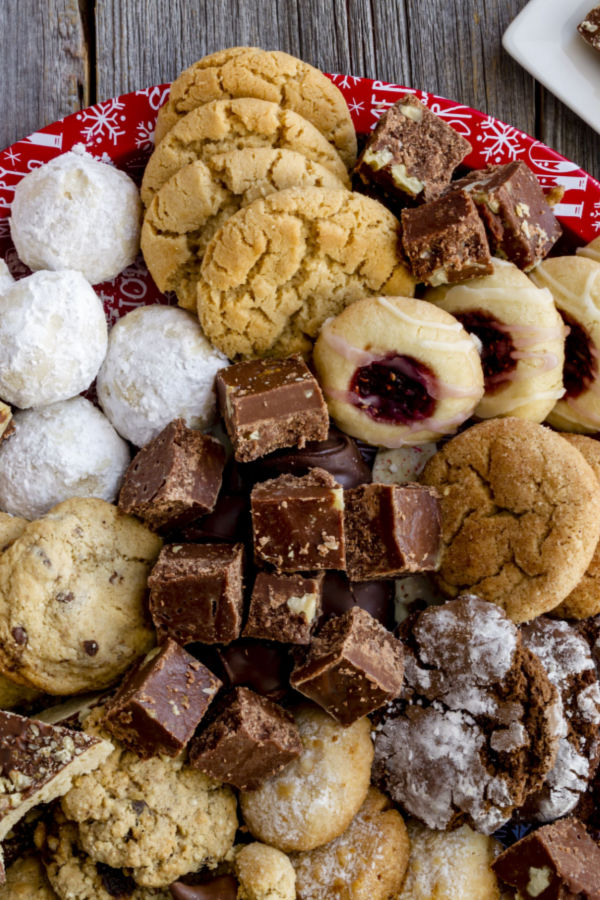 But the recipe list doesn't stop there. I have also included 10 of my favorite candy recipes that always make the perfect addition to any Christmas gathering.
Of course, it all starts with fudge. No cookie tray would be complete without the addition of chocolate, peanut butter or Christmas fudge.
And who would leave the peppermint bark, peanut brittle, and chocolate nut clusters out of the mix? So this year, as you are searching for a great cookie or candy recipe to share with your family and friends, take a look at these recipes and I am sure you will find a new favorite!
Classic Christmas Cookie Recipes
If you are looking for the best sugar cookie recipe that makes the perfect cut-out cookies, here it is! This easy to make cookie dough holds the cut out shape when baked.
Then when the cookies cool you can decorate them with your favorite icing and sprinkles. It is a great recipe to make with the kids!
Chocolate Peanut Butter No Bake Cookies are an easy to make, classic cookie recipe that is a favorite among many. Included in this recipe is the key to making the cookies set up perfectly every time.
This is a quick and easy recipe that yields 2 dozen cookies with only 15 minutes of your time! Best of all, there is no baking required.
You can't go wrong with a classic Christmas cookie recipe that requires only 3 ingredients to make. These shortbread cookies taste amazing and come together quickly.
Gingerbread cookies are a must have this time of year. It is the staple for cookie trays and screams Christmas.
This recipe is easy to make and it is the same recipe we use to make a gingerbread house every holiday season.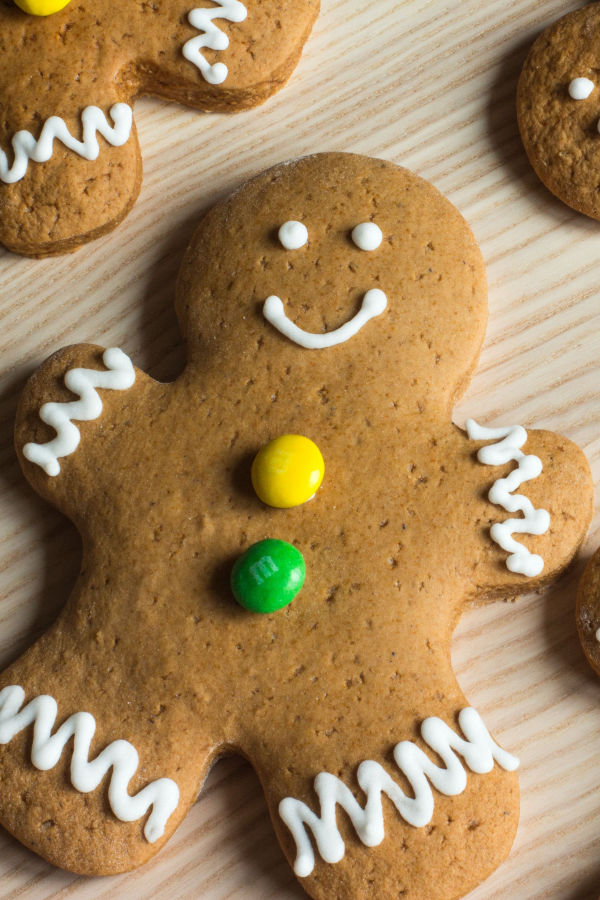 As much as I love traditional Christmas cookies, I would be hard pressed to find a cookie that I like more than these Peanut Butter Kiss Cookies.
Classic peanut butter cookies with a chocolate kiss nestled in the center of each one. It provides the perfect balance of chocolate and peanut butter.
Soft and chewy oatmeal cookies filled with raisins in every bite. An old-fashioned cookie recipe that Grandma used to make.
Do you love those round and fluffy frosted sugar cookies that you find at the grocery store? If so, this recipe is for you!
But instead of buying them you can make them right in your own home! Add whatever frosting and sprinkles that you prefer and set them out on your Christmas cookie tray for all to enjoy!
A special cut out sugar cookie recipe that was made by Aunt Sis every year. Now we make it every year to pass down the tradition of making Santa Claus cookies.
An old-fashioned cookie that is not only delicious but soft, chewy and easy to eat. A must make recipe for your Christmas cookie trays.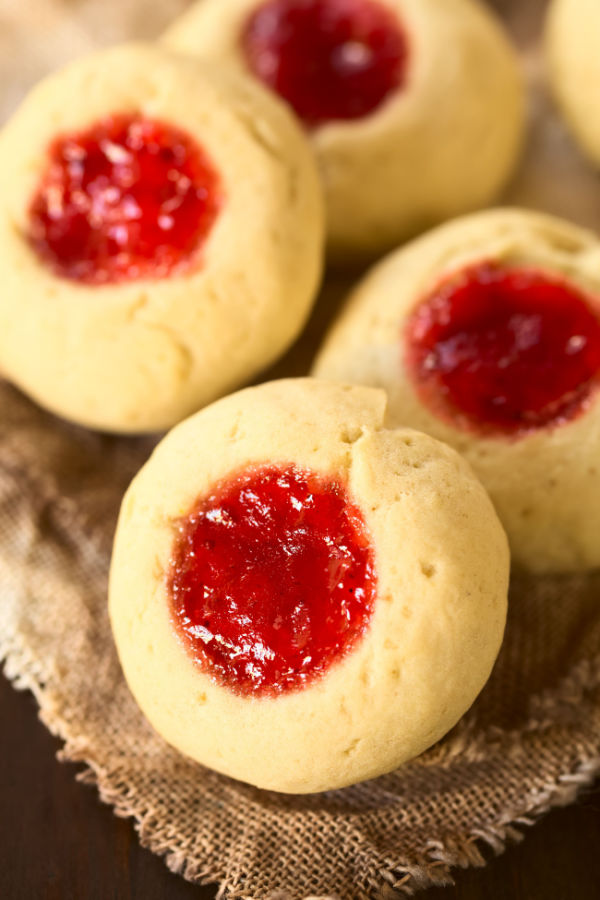 Who can resist the look of butter style cookies filled with a glossy jam in the center? With just one bite you will wonder why you only make them once a year.
Chocolate and peppermint go hand in hand when it comes to the holiday season. Now you can have them both in a delicious cookie recipe.
Another classic sugar cookie recipe that always find its way to our Christmas cookie tray. They are coated in a sugar cinnamon mixture and puff up perfectly when baked.
Not only do you get the classic taste of an old-fashioned oatmeal cookie, you also get the added flavors of both chocolate and dried cranberries scattered throughout each one.
However these cookies are slightly different than soft and puffy traditional cookies that you bake. Instead, they are slightly crunchy on the edges with a soft and moist center.
A surprisingly delicious no bake cookie recipe that will have you begging for more! In fact, in my family these are the first cookies to disappear.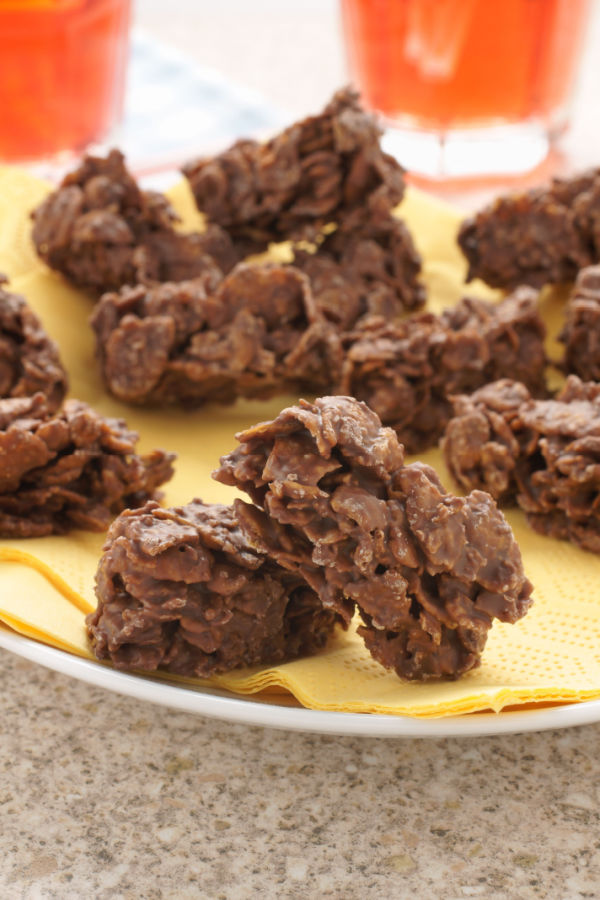 For those who crave sweet and salty, this cookie recipe is for you!
A soft and chewy red velvet cookie cooked in cake pan that makes for a delicious treat for any special occasion.
For those who prefer to make no bake cookies, you have to add this to your Christmas Cookie Tray! Peanut butter Ritz cracker sandwiches dipped in melted chocolate.
This is a classic short-cut recipe that requires you to purchase only 2 Ingredients. Seriously, you can can make great tasting cookies with just a simple cake mix and a can of pumpkin puree.
Other Popular Holiday Dessert Recipes
White chocolate melted with crushed peppermint candies and peppermint extract that is then broken into individual candy pieces. A light and refreshing recipe addition to any Christmas cookie tray.
No need to buy those chocolate peppermint candies when you can make your own!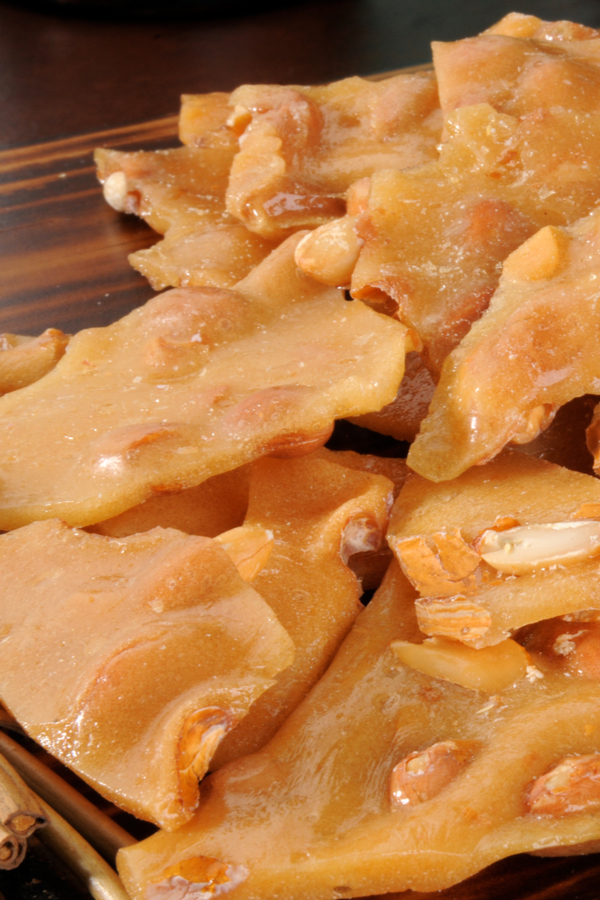 Add a little interest to your cookie trays with these broken pieces of hard sugar candy embedded with peanuts. They have become a must make during the holiday season.
For all you chocolate and peanut butter lovers, you will love this easy to make recipe. Peanut butter balls dipped in melted chocolate.
If you are looking for a quick and easy dessert or Christmas cookie tray recipe, then you will love this quick and easy toffee bars recipe. A sweet and crunchy dessert made with just a few common ingredients.
Best of all it is a simple recipe that even the novice baker can master. Simply mix everything together and spread it in a baking dish.
Let your slow cooker to do the work for you. Three types of chocolate coat mounds of nuts for a special and easy to make treat.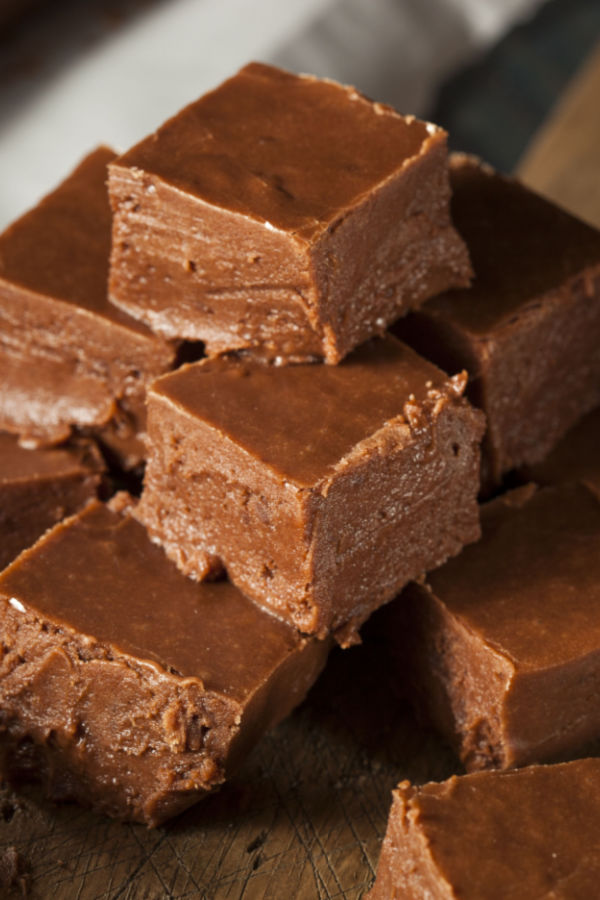 Make creamy and delicious chocolate fudge with just 3 basic ingredients. An easy to make recipe that takes only minutes to prepare.
Chocolate fudge topped with a layer of white chocolate fudge that has either red and green sprinkles or bits of peppermint candies scattered throughout.
No worries with this recipe because it is quick, easy and nearly fail proof! Best of all, you can make this creamy homemade fudge with just 6 common ingredients and no candy thermometer!
Think outside of the box and make these delicious no bake Monster bites. It is a favorite among both kids and adults!
There you have it! A complete collection of Christmas Cookie Tray recipes. I am sure you will find your next favorite recipe that will become a tradition in your home around the holidays!
Enjoy! Mary

To receive our 3 Recipe Articles in your inbox each week, sign up for our free email list located in the middle of each recipe or email me at contact@makeyourmeals.com. You can also follow us on Facebook and Pinterest. This article may contain affiliate links where a small commission is paid if you purchase a product at no additional cost to you.