No Christmas cookie tray would be complete without Thumbprint Jam Cookies.
Every year when we visit family, friends, and neighbors, you can be sure that on their buffet of desserts will be Christmas Cookies.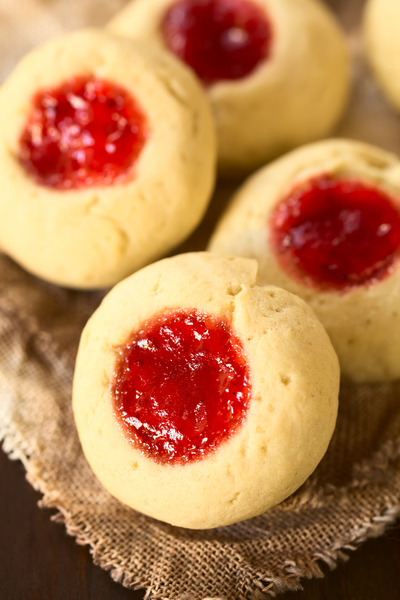 From classic Christmas Cutout Cookies, Chocolate Peppermint Cookies, Snickerdoodles, Peanut Butter Blossoms and more, you can be sure that will be there.
But more often than not, there will also be the classic, jam filled Thumbprint cookies as well.
I always like the look of the the little cookies. The butter cookies looked so festive with jam sitting in a well in the center of the cookie.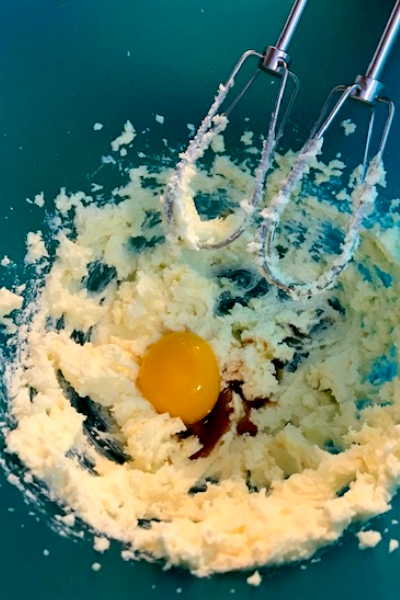 However, I was always afraid that it would take too long, or be too difficult to make them.
Oh how wrong I was!
Making Thumbprint Jam Cookies
These cookies are actually very simple to make!
Just like most cookie recipes, this starts off with creaming together the butter and sugar. However, this recipe is made more like a butter cookie recipe.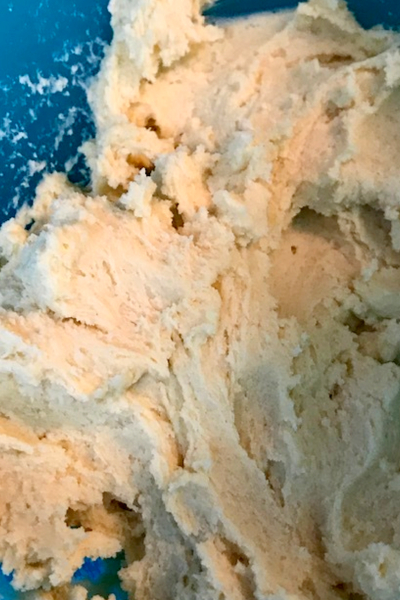 Therefore, add two egg yolks, one at a time to the butter mixture. There is no need to use the entire egg, just the egg yolks.
Next add in the vanilla and mix until incorporated. And then slowly add your dry ingredients to make your cookie dough.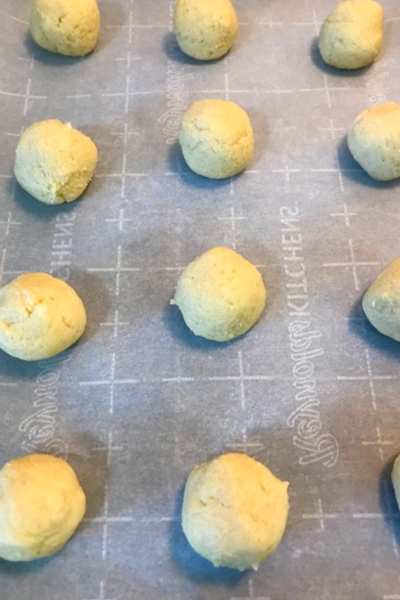 Once the dough is ready, refrigerate for 30 minutes. Keeping the dough chilled helps you roll and form the Thumbprint Jam Cookies.
Although, if you are in a hurry, you can skip this step.
Next, use a medium cookie scoop and portion out the dough into individual sections. Then roll the dough in the palm of your hands until you form a ball.
Place each ball on a parchment lined baking sheet. Then use a 1/2 teaspoon round measuring spoon, press down in the center of each ball to form an indention.
Bake The Cookies and Add The Jam
Bake for 8-10 minutes in a preheated oven. Now comes the fun part!
Add a little bit of jam to the center of each cookie. You want the jam to be level with the top of the cookie rim.
Then bake the Thumbprint Jam Cookies for an additional 3-4 minutes until the jam melts slightly against the indention of the cookies.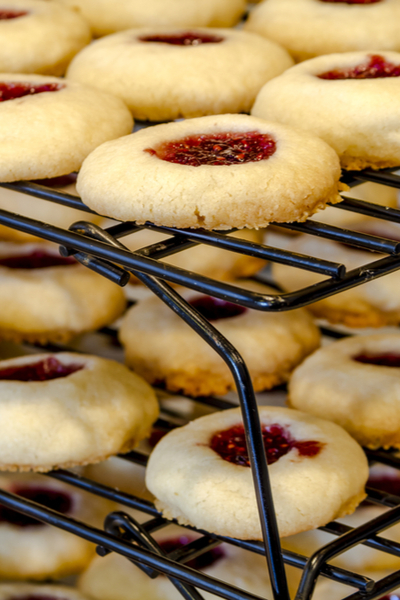 Finally, let the cookies sit on the baking sheet for a couple of minutes before transferring to a wire cooling rack.
Store in an air-tight container or freeze for later use!
To receive our 3 Recipe Articles in your inbox each week, sign up for our free email list located on the side and bottom of each recipe. You can also follow us on Facebook and Pinterest. This article may contain affiliate links where a small commission is paid if you purchase a product at no additional cost to you.
Yield: 3 dozen
Thumbprint Jam Cookies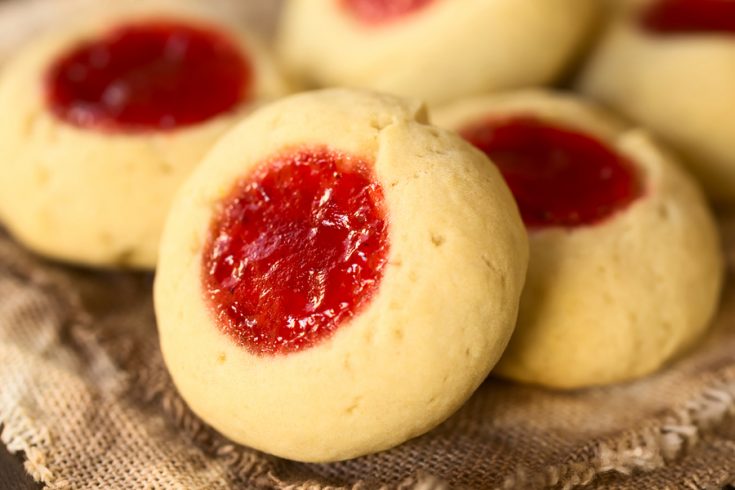 A classic Christmas Cookie recipe - butter cookies with an indented center and filled with jam.
Ingredients
1 cup butter, softened to room temperature
2/3 cup granulated sugar
2 egg yolks
1 tsp. vanilla extract
2 cups all-purpose flour
1/2 tsp. salt
Instructions
Preheat oven to 375 degrees F. Line a cookie sheet with parchment paper and set aside.
In a medium mixing bowl, beat together the butter and sugar on medium-high speed until light and fluffy (approximately 2-3 minutes).
Add in egg yolks, one at a time and add in the vanilla and beat until incorporated.
In another medium bowl add flour and salt and whisk until incorporated. Slowly add the dry ingredients to the butter/egg mixture until the dough comes together in a ball. Chill the dough in the refrigerator for 30 minutes.
Form dough into 1-inch round balls. Place each ball on the prepared cookie sheet and make a deep circular indentation in the center of each dough ball with a ½ inch teaspoon circular measuring spoon or something similar.
Bake cookies for 8 to 10 minutes.
Remove cookie sheet from the oven. If indentations look too shallow, press the center of them down again, and fill each with jam.
Bake for an additional 3 to 4 minutes, or until jam melts slightly into the edges of the indention and edges of cookies are lightly golden.
Remove from oven and let the cookies sit on the cookie tray for 3 minutes before removing to a cooling rack.
Notes
Store in a single layer in a cool, dry place or freeze for later use.

Recipe provided by Make Your Meals
Nutrition Information:
Yield:
3
Serving Size:
1 grams
Amount Per Serving:
Unsaturated Fat:

0g