We have all seen the packages of Lofthouse Cookies at the grocery store. There are those soft and fluffy, round sugar cookies topped with icing and sprinkles.
They are packaged semi-upright in two rows and in a clear package container. And when you walk by them, you can hardly resist putting them in your cart.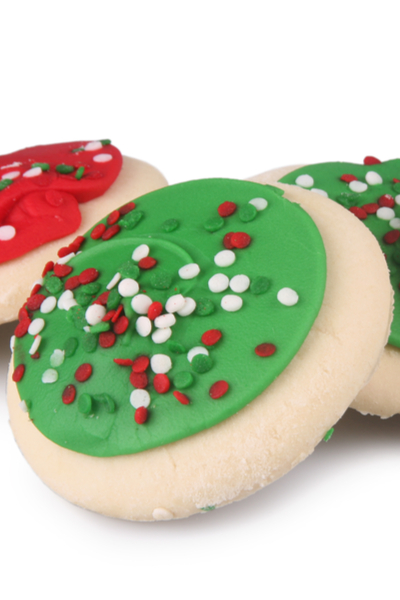 Throughout the year, the color of the icing and the sprinkles are geared for each holiday season. In December you will most often find them decorated with either red or green icing. However, a few months later, during the Easter season, you will most often find them decorated in pastel colors.
Regardless of how they are decorated the sugar cookies are always nice and soft to bite into. And the icing on top has the perfect amount of sweetness without being too sweet.
So when I was asked if I could make a recipe that tasted just like these famous cookies, I was up for the challenge. And after several attempts, I have come up with what I consider a great copycat recipe!
Lofthouse Cookies
Although it may seem like the ingredient list is a little longer than a traditional Sugar Cookie recipe made for cut outs, there is a purpose behind each ingredient.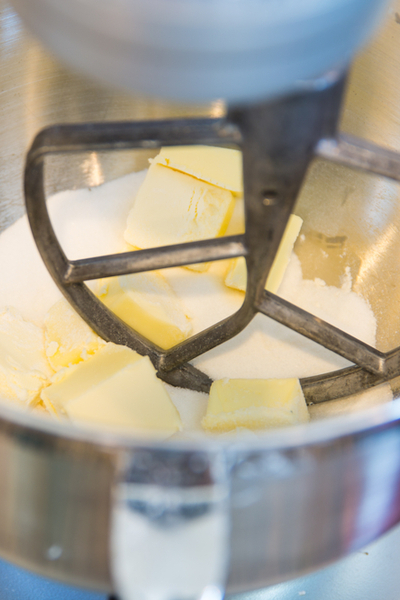 And if you are looking for a true soft sugar cookie that taste just like the ones you buy at the grocery, then you must use each one as described. However, I am also a realist. If I didn't have almond extract, I would probably skip it and substitute a little more vanilla extract instead of going to the grocery to buy some.
Cookie Ingredients
All Purpose Flour
Cornstarch
Baking Soda
Baking Powder
Cream of Tartar
Salt
Unsalted Butter
Granulated White Sugar
Egg
Pure Vanilla Extract
Pure Almond Extract
Sour Cream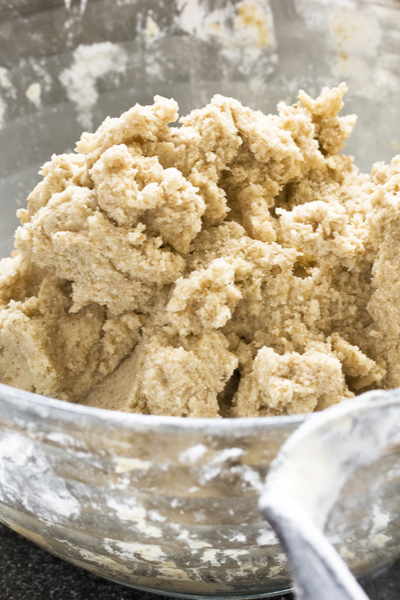 Icing Ingredients
Unsalted Butter
Pure Vanilla Extract
Powdered Sugar
Salt
Heavy Cream
Food coloring
Sprinkles
Cookie Instructions
The first thing that you need to do to make Lofthouse cookies is to make sure that both the butter and egg are room temperature.
Next, whisk together the dry ingredients and set aside. Once the butter is at room temperature, add it to a large mixing bowl.
Cream the butter with the sugar until it is light and fluffy. It is important here that you don't rush this process. It typically takes 3-4 minutes for this process to happen.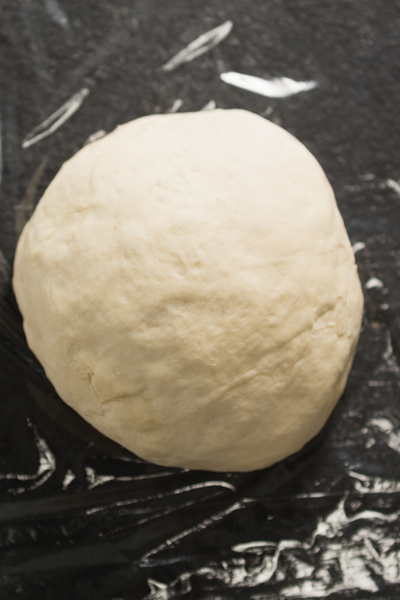 Next, add the egg and continue to beat until incorporated. Then add in the vanilla and almond extracts and sour cream and continue to beat on low speed until combined.
Then slowly add the dry ingredients to the wet ingredients, scraping down the sides of the bowl as necessary. Once everything has been combined you may notice that the dough is somewhat tacky.
This is completely normal! Go ahead and divide the dough into two sections and place on plastic wrap. Fold the plastic wrap on top and push each half into a flattened out oval.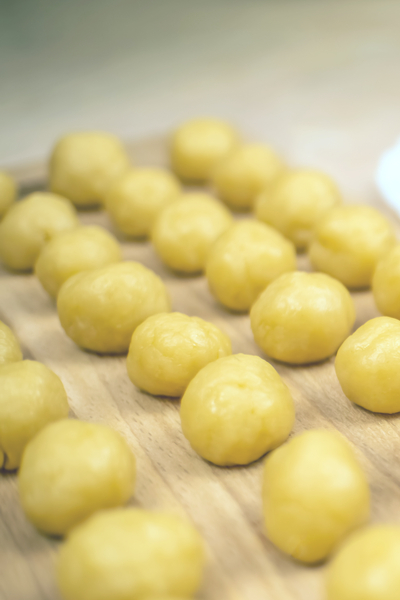 Refrigerate the Lofthouse cookies dough for at least an hour. You can make the dough up to 24 hours in advance, leaving it in the refrigerator to chill.
Form The Cookies
When you are ready to make your cookies, work with one section at the time, leaving the other one in the fridge.
Using a medium cookie scoop, place the dough in your hands and roll into one inch balls. Place on a parchment paper lined baking sheet. Repeat with the remaining dough, being sure to leave 2 inches between each cookie ball.
Using the bottom of a greased glass or measuring cup, flatten out the top of each dough ball. Then bake until the edges of the cookies begin to turn golden brown.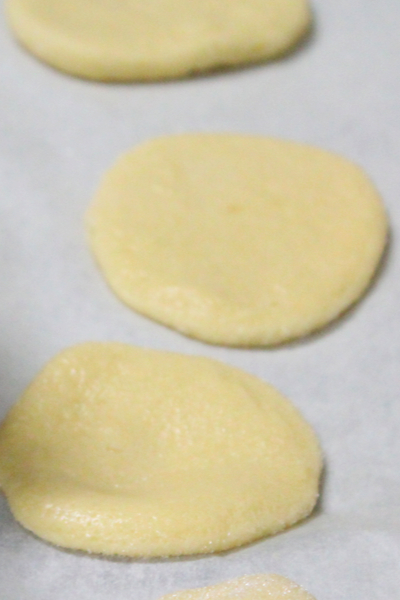 Do Not Over Bake
The important thing to remember when baking Lofthouse Cookies is to not over bake them. These sugar cookies need to remain soft.
Therefore, it is important that even though they don't look 'done' to you, that you remove them from the oven before the edges become fully golden brown. The first hint of the cookie turning colors is the absolute longest that you want these cookies in the oven.
Once you take them out of the oven, let them sit on the baking sheet for 5 minutes. Then remove them to a cooling rack to cool completely.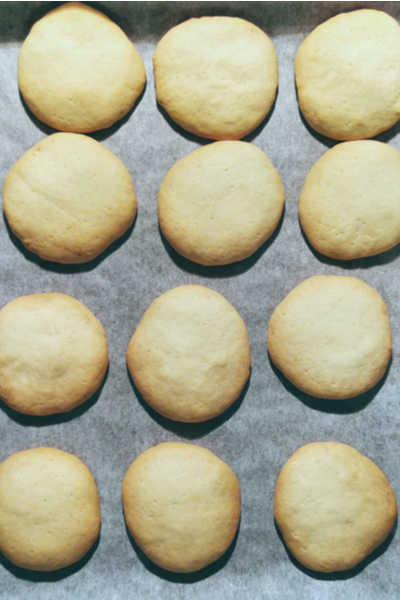 Frosting Instructions
Add the ingredients (minus the food coloring and sprinkles) to a stand mixer fitted with the paddle attachment. If you don't have a stand mixer, it is fine to use your hand mixer.
Beat the frosting until nice and smooth, being sure all clumps have been worked out.
Separate the frosting into bowls depending on how many colors that you want for your Lofthouse Cookies.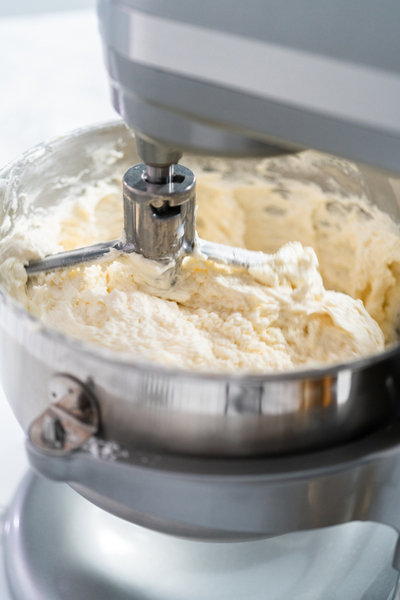 Add the food coloring and mix until the desired color is reached. Then spread on top of each cookie, leaving 1/4 inch edge around the top. Add sprinkles as desired.
Let the frosting set and then store in an air-tight container. And yes, you can also freeze them, placing a piece of wax paper between each layer.
Enjoy!

To receive our 3 Recipe Articles in your inbox each week, sign up for our free email list located in the middle of each recipe or email me at contact@makeyourmeals.com. You can also follow us on Facebook and Pinterest. This article may contain affiliate links where a small commission is paid if you purchase a product at no additional cost to you.
Yield: 24 cookies
Lofthouse Cookies Recipe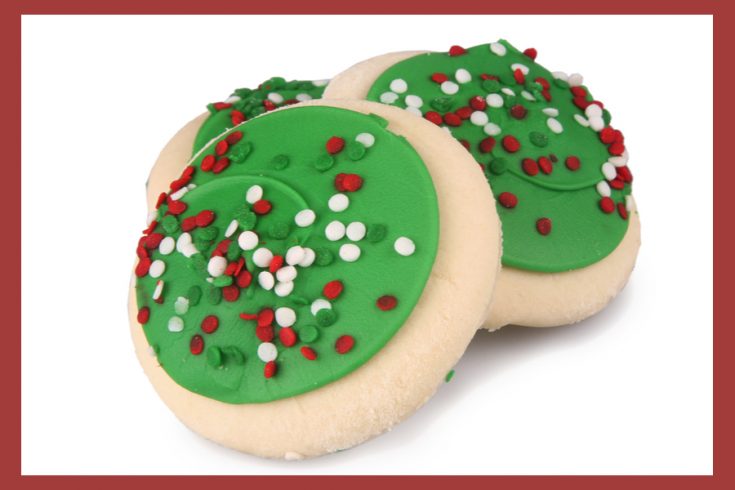 A soft sugar cookie topped with a delicious, mouth watering icing and sprinkles. The perfect cookie for any occasion!
Ingredients
Cookie Ingredients
1 3/4 cups all purpose flour
1 1/2 tablespoons cornstarch
1/2 teaspoon baking soda
1/2 teaspoon baking powder
1/4 tsp cream of tartar
1/8 teaspoon salt
1/2 cup unsalted butter, softened
3/4 cups sugar
1 large egg, room temperature
1 teaspoon pure vanilla extract
1/8 tsp pure almond extract
1/3 cup sour cream
Frosting Ingredients
1/2 cup unsalted butter, softened
2/3 teaspoon pure vanilla extract
2 1/2 cups powdered sugar
pinch salt
2-3 tablespoons heavy cream
food coloring to color frosting, optional
sprinkles to decorate, optional
Instructions
In a large bowl whisk together the flour, corn starch, baking soda, baking powder and salt. Set aside.
In the bowl of a stand mixer use the paddle attachment (or a standard hand mixer) to cream the butter and sugar together at medium speed until light and fluffy.
Add the egg beating until incorporated. Add the vanilla and almond extract and sour cream and beat at low speed until combined.
Slowly add the dry ingredients and beat at low speed until just combined. You may need to scrape down the sides of the bowl during the process. Dough will be a little sticky.
Divide dough into two sections. Flatten each section into an oval shape about 1½ inches thick, then wrap with plastic wrap. Chill in the refrigerator for at least 1 hour.
Preheat the oven to 375°F.
Work with one section of the dough at the time. Remove 1 tablespoon of dough and roll it between the palms of your hands. Place on a parchment paper lined baking sheet. Repeat leaving 2 inches between each dough ball.
Using the bottom of a glass, compress each dough ball into a flattened circle.
Bake for 9-11 minutes or until the edges just begin to turn golden brown. Do not over bake.
Remove from the oven and allow to cool for 5 minutes before transferring to a cooling rack.
While the cookies are cooling, make the frosting by using the bowl of a stand mixer fitted with the paddle attachment. Cream together the butter and vanilla extract. Slowly beat in powdered sugar and a pinch of salt. Once smooth and creamy, add in heavy cream, 1 tablespoon at a time, then beat at medium-high speed for a minute or two until light and fluffy. Add food coloring, if desired, and beat until combined.
Once cookies have cooled completely, frost and add sprinkles, if desired. Allow frosting to set, then store in an air-tight container.
Notes
Recipe provided by Make Your Meals
Nutrition Information:
Yield:
24
Serving Size:
1 grams
Amount Per Serving:
Calories:

190
Total Fat:

9g
Saturated Fat:

6g
Unsaturated Fat:

0g
Cholesterol:

31mg
Sodium:

51mg
Carbohydrates:

26g
Fiber:

1g
Sugar:

19g
Protein:

1g