When you want to make pumpkin cookies, but don't have a lot of time, energy or are looking for a quick and easy recipe, than you must make these Easy Pumpkin Cookies!
This is a classic short-cut recipe that requires you to purchase only 2 Ingredients. Seriously, you can can make great tasting cookies with just a simple cake mix and a can of pumpkin puree.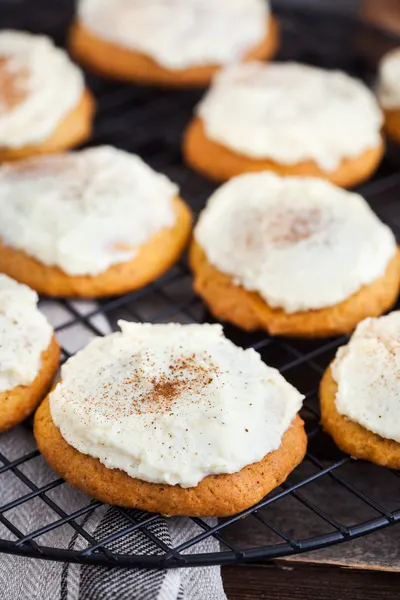 Of course, if you want icing on top, you will have to splurge and purchase an additional ingredient. Luckily, cream cheese icing is easy to find in the baking aisle. Therefore pumpkin cookies with icing can be made with a total of 3 ingredients.
However, there is just one issue that you might run across this year. This recipe calls for a Spice Cake Mix. However, for some reason, this specific cake mix is difficult to find in many areas.
I don't know if the word is out about Easy Pumpkin Cookies or what? I actually checked at 4 different grocery stores last week and the shelves were bare. But no worries! You can easily make your own Spice Cake Mix!
Make Your Own Spice Cake Mix Using Boxed Yellow Cake Mix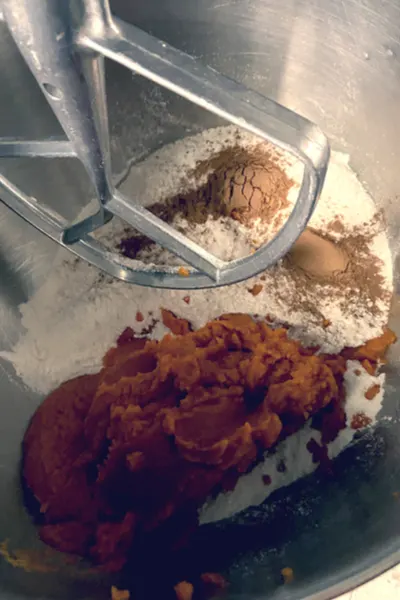 If you can't find a box of Spice Cake Mix, simply substitute a box of Yellow Cake Mix and 2 teaspoons of Pumpkin Pie Spice. Whisk the two together and you have yourself a semi-homemade Spice Cake Mix!
Now it is time to make the cookies!
Easy Pumpkin Cookies
Put your spice cake mix (or substitute ingredients) in a large mixing bowl. Add the can of pumpkin puree.
Be sure that you use Pure Pumpkin Puree and not Pumpkin Pie Filling. And if you find the grocery shelves missing this seasonal ingredient as well, follow our instructions on how to make Homemade Pumpkin Puree.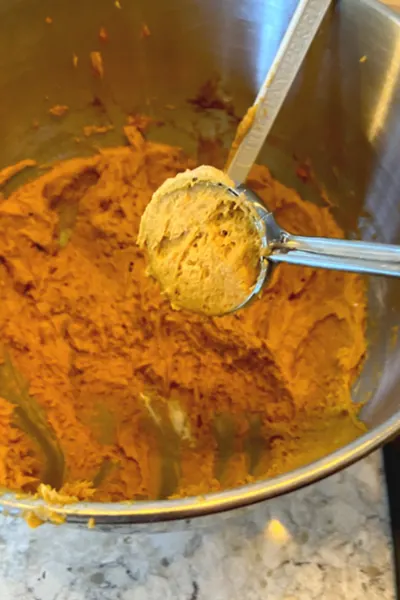 Use your hand or stand mixer to blend the ingredients until well incorporated. Just as a heads up, the mixture will be sticky! This is normal.
Line a baking sheet with parchment paper or a silicone baking mat. If you are using a well-seasoned baking stone there is no need to line the top.
Then using a small or medium size cookie scoop drop mounds of the dough onto the baking sheet about 1 inch apart.
Optional Step
These cookies do not spread out very much when baking. Therefore, instead of ending up with mounds of baked pumpkin cookies, we help them cookies expand during the baking process.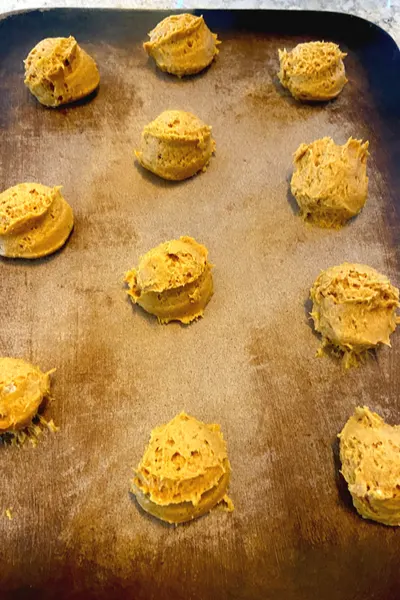 This is easily done by allowing the the cookies to bake for the first 5 minutes. Then spray the bottom of a round glass with non-stick spray and compress the top of each cookie slightly. However, remember this step is completely optional.
Continue to allow them to bake until a toothpick inserted in the center comes out clean. Then remove the baking sheet from the oven and allow the pumpkin cookies to cool on the pan for 5 minutes.
Now transfer them to a wire cooking rack and let them cool completely before adding the icing.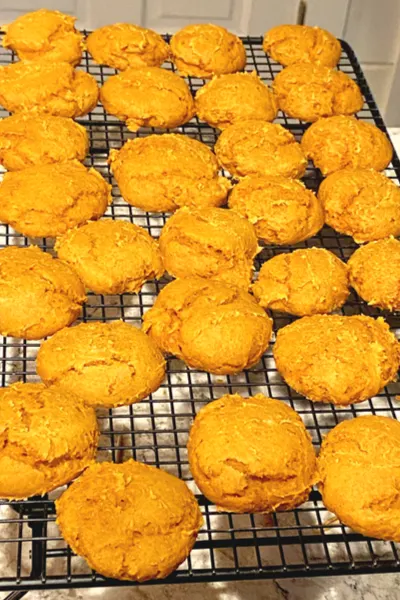 Storing the Cookies
Although you can store the cookies in an air-tight container at room temperature, we prefer to store them in the refrigerator.
There is nothing better than pulling a pumpkin cookie out of the fridge and taking a bite into that soft, cool cookie. Especially when there is a cup of hot apple cider in your other hand!
And because these pumpkin cookies are so easy to make, we like to make an extra batch and store them in the freezer. The intent is the save the cookies for our Christmas Cookie Trays. However, they rarely last that long!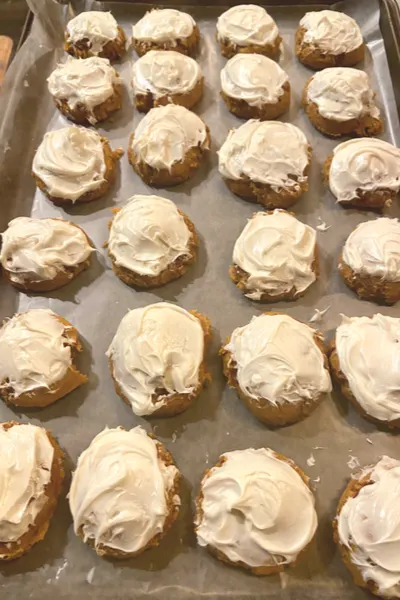 Either unexpected guests arrive, a last minute bake sale pops up, or late night cravings take over. And within weeks, the stored cookies are gone!
Good thing that these pumpkin cookies are so easy to make! Enjoy!

To receive our 3 Recipe Articles in your inbox each week, sign up for our free email list located in the middle of each recipe or email me at contact@makeyourmeals.com. You can also follow us on Facebook and Pinterest. This article may contain affiliate links where a small commission is paid if you purchase a product at no additional cost to you.
Yield: 3 dozen
Easy Pumpkin Cookies Recipe - Made With Just 2 Ingredients!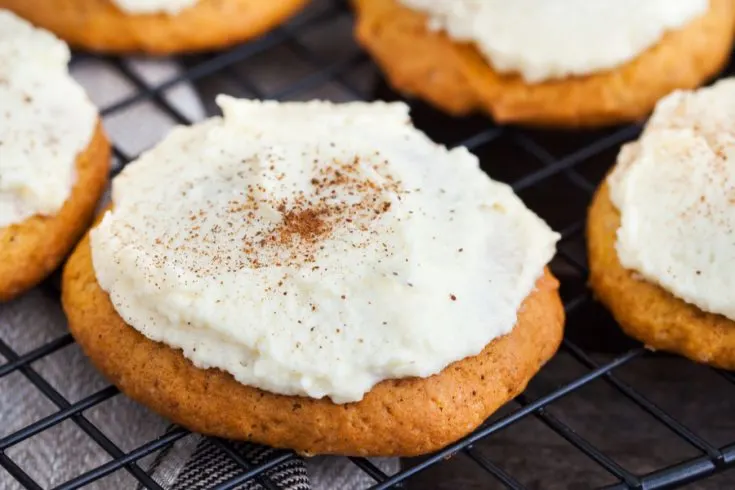 Mix together a box of spice cake mix and pumpkin puree and you have pumpkin cookies!! Top with cream cheese for an old fashioned pumpkin cookie taste!
Ingredients
1 box spice cake mix
1 15 ounce pure pumpkin puree, can
Optional
Instructions
Preheat oven to 350° F. Line a baking sheet with parchment paper or silicone baking mat.
In a medium bowl, mix together the dry cake mix and pumpkin puree just until incorporated.
Drop tablespoonfuls, or use a cookie scoop to place the sticky batter onto the prepared baking sheet, at least 1 inch apart.
Bake 12-15 minutes, or until a toothpick inserted in the center of a cookie comes out clean.
Remove from oven and let cookies cool on the pan for about 5 minutes, then transfer to a cooling rack.
Once completely cooled, spread cream cheese icing on top.
Notes
The cookies do not spread out very much. If preferred, after 5 minutes of baking, use the bottom of a round glass sprayed with non-stick baking spray to compress the tops of the cookies.
Cookies can be stored in the refrigerator or in the freezer.
Recipe provided by Make Your Meals
Nutrition Information:
Yield:
3
Serving Size:
1 grams
Amount Per Serving:
Calories:

1380
Total Fat:

50g
Saturated Fat:

13g
Unsaturated Fat:

0g
Sodium:

1421mg
Carbohydrates:

230g
Fiber:

3g
Sugar:

176g
Protein:

8g