This classic, chocolate peanut butter no bake cookies recipe has been a family favorite that we have been making for over 25 years!
It is always one of the first cookies to disappear at any holiday gathering. So quick in fact, that I always have to make extra to store in our own cookie jar just to be sure to have a few.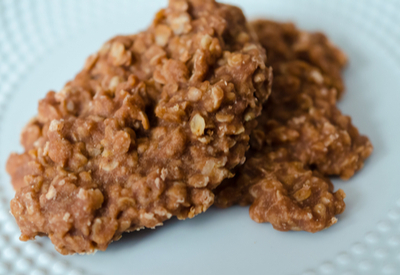 I remember eating no bake cookies at school. I was so excited when I saw them on the menu, every third Thursday of the month.
And of course, they were the first thing, along with chocolate fudge, that I would buy at any bake sale that I attended.
But to be honest, sometimes I was disappointed in the texture of the purchased no bake cookies. Sometimes they were so dry that they would fall apart as you tried to eat them.
Bits of chocolate covered oatmeal would tumble in my lap and I would end up throwing the rest of them away.
Then there was the opposite problem. Sometimes the cookies were so runny that it would have been better to have eaten them with a spoon.
So why all of the variations?
Was it the difference in ingredients?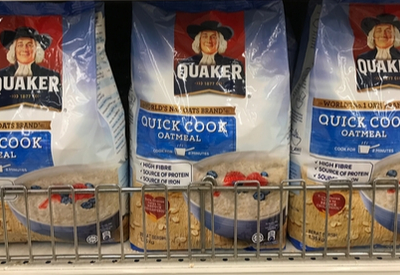 Come to find out, most chocolate peanut butter no bake cookies are made with the same list of ingredients. Peanut butter, cocoa powder, oats, milk, butter, sugar and vanilla extract.
The only thing that made sense to me as why there were different textures was possibly because different types of oats were used. Because there is no cooking of the oats, this recipe should only be made with quick cooking variety.
Because the oats have already been pre-cooked and dried, they are perfect to use.
However, that is not the only key to making no bake cookies. The boiling time of the liquid mixture must be precise. If you let it boil too long, your cookies will end up dry and crumbly.
And if you take it off the stove too soon, the cookies will be too runny and not set up properly. I always use a kitchen timer and start it once the mixture comes to a rolling boil.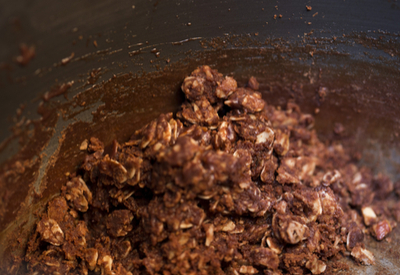 Don't start the timer when you first see bubbles surfacing to the top of the pot. Wait until the entire pot consistently boils and let the countdown begin!
**And one last IMPORTANT TIP
Do not make this no bake recipe on a rainy or very humid day. I have tried several times and they just don't set up properly.
I am not sure why, but trust me!
Check out another one of our favorite, easy to make desserts – No Bake Peanut Butter Pie, No Bake Mini-Cheesecakes and Slow Cooker Chocolate Nut Clusters.
Check out the printable recipe below and all of our recipes and let me know what you think!
To receive our 3 Recipe Articles in your inbox each week, sign up for our free email list. You can also follow us on Facebook, Twitter, Pinterest, and Instagram. This article may contain affiliate links.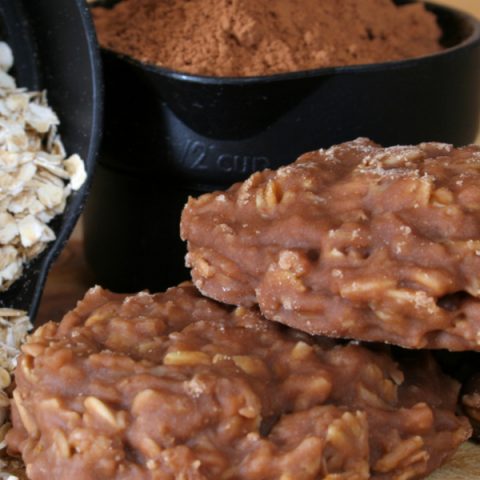 Chocolate Peanut Butter No Bake Cookies
Classic no bake cookie recipe that is always a crowd pleaser.
Ingredients
1/2 cup butter
2 cups sugar
1/2 cup milk
4 tablespoons cocoa
1 cup creamy peanut butter
3 cups instant oats, (quick oats)
2 teaspoons pure vanilla extract
Instructions
Prepare two baking sheets by lining them with wax paper and set aside.
In a medium sauce pan, add butter, sugar, milk and cocoa. Place on medium heat and stir frequently.
While you wait for the mixture to begin to boil, measure out your peanut butter and oats, set aside.
Bring the mixture in the sauce pan to a rolling boil - once it is at a full boil - boil for exactly 1 minute and 15 seconds.
Remove from the heat immediately.
Stir in the peanut butter. Then stir in the oats.
Finally, add in the vanilla and stir.
Drop by tablespoons onto baking sheets lined with wax paper.
Let cool for 30 minutes or until set.
Notes
Recipe provided by Make Your Meals
Nutrition Information:
Yield:

2
Serving Size:

1 grams
Amount Per Serving:
Unsaturated Fat:

0g
Chocolate Peanut Butter No Bake Cookies – A Crowd Favorite