There is nothing like taking a bite into soft oatmeal raisin cookies, especially if they have just come out of the oven.
Each bite that you take is soft and somewhat chewy. And the flavor of the oatmeal cookie paired with raisins that you find in every bite gives you a great variety of texture and flavor!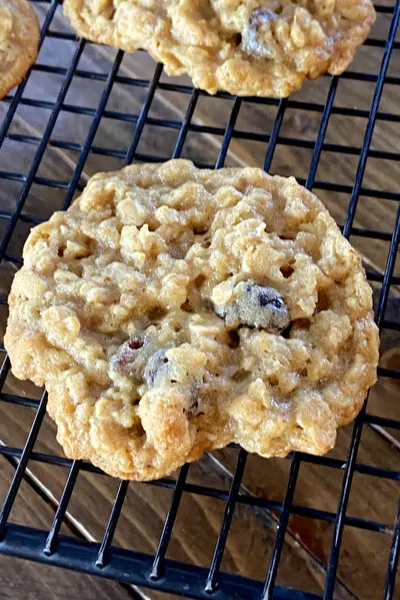 So I always wonder why I don't make these classic cookies more often. They are not only delicious, but they are extremely easy to make as well.
But it seems like I forget about making them until the Christmas baking season arrives. Then I when I pull out the oatmeal to make our famous Chocolate Peanut Butter No Bake Cookies, I always see a recipe on the canister for oatmeal cookies.
Then I am reminded that I should make this recipe as well. Although my recipe is a little different than the one posted on the package.
However, that is because I prefer a softer cookie. And the one that is listed, tends to lead to a more crunchy cookie. Both are delicious, it just depends on how you like the texture to turn out once they are baked.
Soft Oatmeal Raisin Cookies
*A full printable recipe card is located at the bottom of the page.
Ingredients Required
Butter
White & Brown Sugar
Eggs
Vanilla Extract
All Purpose Flour
Baking Soda
Salt
Rolled Oats
Raisins or Craisins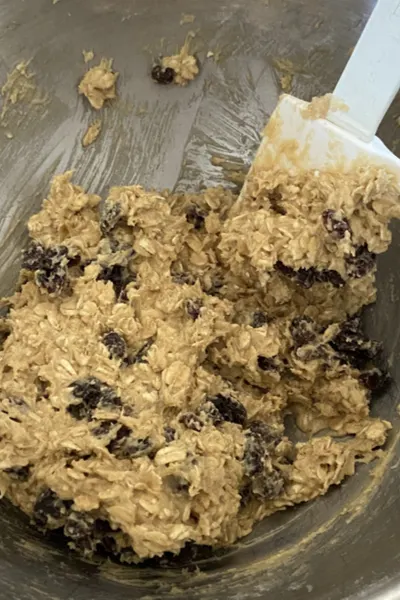 Instructions
Just like with any cookie recipe, start making your soft oatmeal raisin cookies by bringing the butter to room temperature. Once it is nice and soft, add the butter, white sugar and brown sugar to a large mixing bowl and beat until light and fluffy.
One of the biggest mistakes that many novice bakers make is that they don't cream the butter and sugar mixture long enough. When I use my KitchenAid stand mixer, I use the paddle attachment and mix on medium-high speed for about 4 minutes.
Then when the mixture is nice and fluffy, add the eggs, one at a time until each one is incorporated. *I prefer to use room temperature eggs, although this is not absolutely necessary.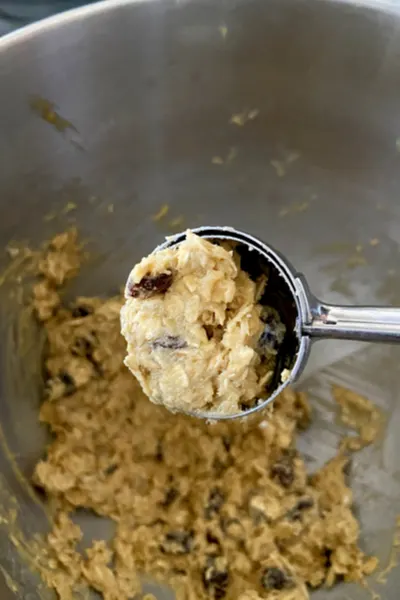 Next add the vanilla and mix one more time, scraping down the sides of the bowl as necessary. Set the mixture aside and gather your dry ingredients.
Prepare the Dry Ingredients
In another large bowl, whisk together the flour, baking soda, salt and rolled oats. It is important here to use rolled oats and not quick oats to achieve that soft and chewy consistency when the cookies are baked.
Now slowly add the dry ingredients to the wet ingredients. Mix on low speed until the flour and oat mixture becomes somewhat incorporated.Then continue to mix on medium speed until the dry ingredients are completely mixed with the wet ingredients.
Now it is time to stir in the raisins. I find it best to mix in 1/3 cup of raisins at a time rather than dumping the entire amount in at once. That way the raisins can adhere to the oatmeal raisin cookie dough rather than to each other.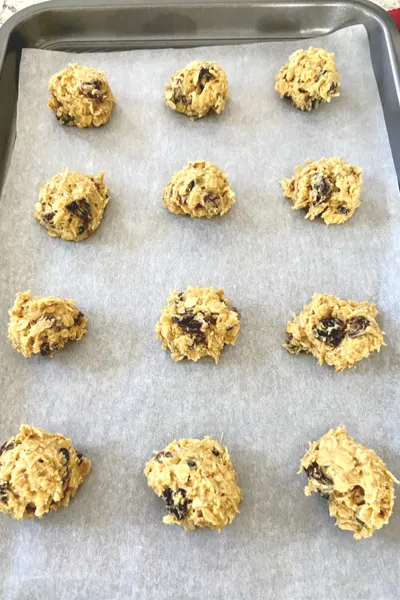 Once everything is mixed together it is time to form you dough balls!
Prepare To Bake
Using a medium size cookie scoop, place dough balls on a parchment paper lined baking sheet. Leave about 2 inches between each cookie dough ball.
Bake in a preheated oven for no longer than 9 minutes. WARNING – the cookies will look undercooked. However, once you remove them from the oven, they continue to sit on the hot baking sheet for 5 – 10 minutes.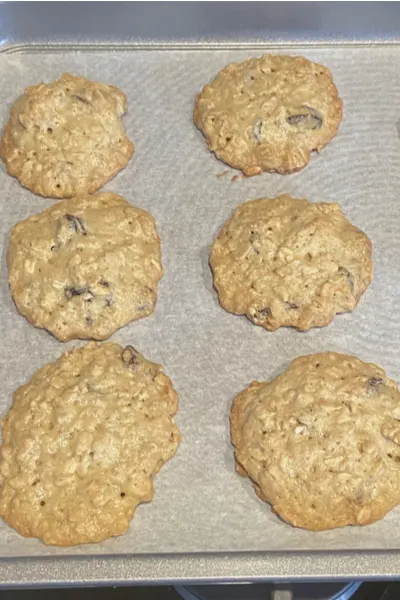 This allows the cookies to continue baking a bit but without becoming hard and crunchy. You will also notice that they will also continue to brown a little while they are resting.
After the 5 – 10 minutes are up, carefully transfer the soft oatmeal raisin cookies to a cooling rack. Allow them to completely cool before storing them in an air-tight container.
These cookies can be stored at room temperature, in the refrigerator or in the freezer.
Enjoy!

To receive our 3 Recipe Articles in your inbox each week, sign up for our free email list located in the middle of each recipe or email me at contact@makeyourmeals.com. You can also follow us on Facebook and Pinterest. This article may contain affiliate links where a small commission is paid if you purchase a product at no additional cost to you.
Yield: 36 cookies
Soft Oatmeal Raisin Cookies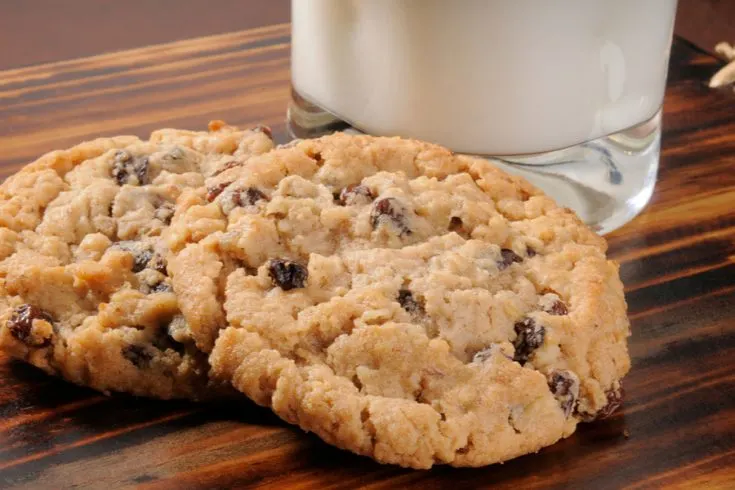 A delicious oatmeal raisin cookie recipe that provides nice and soft cookies. The perfect cookie recipe for any occasion!
Ingredients
3/4 cup butter softened
1/2 cup white sugar
1 cup light brown sugar
2 eggs
1 teaspoon vanilla extract
1 1/4 cups all purpose flour
1 teaspoon baking soda
1/2 teaspoon kosher salt
3 cups old-fashioned rolled oats
1 1/3 cups raisins
Instructions
Preheat oven to 350°F.
In a large bowl, beat the butter, sugar and brown sugar on med-high speed until light and fluffy, approximately 4 minutes.
Add the eggs, one at a time and beat until smooth. Then add the vanilla and beat until incorporated.
In a separate bowl, whisk together the flour, baking soda, salt and oats. Gradually add this mixture to the wet ingredients and mix until combined. Add the raisins and stir well.
Using a medium-size scoop, drop the dough onto a large baking sheet lined with parchment paper or a silicone mat.
Bake in the preheated oven for 8-9 minutes. HINT* Remove the cookies from the oven before the cookies are browned and when they still look soft in the center. Do not bake for longer than 9 minutes.
Let the cookies cool on the baking sheet for 5-10 minutes; this will allow them to finish baking without overcooking.
Move to a cooling rack to let cool completely.
Notes
Recipe provided by Make Your Meals
Nutrition Information:
Yield:
36
Serving Size:
1 grams
Amount Per Serving:
Calories:

129
Total Fat:

5g
Saturated Fat:

3g
Unsaturated Fat:

0g
Cholesterol:

19mg
Sodium:

104mg
Carbohydrates:

21g
Fiber:

1g
Sugar:

9g
Protein:

2g