Thin pork chops are one of my favorite things to cook for dinner. They are inexpensive and when cooked right, they are moist and delicious. But best of all, they can be on the table, ready to eat, in just 15 minutes!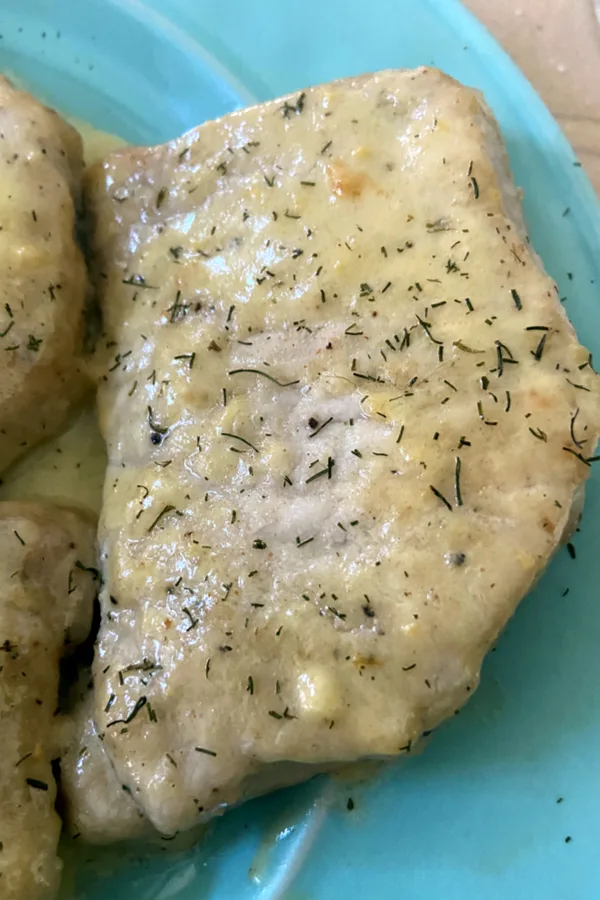 And we all can use a quick and easy recipe like that! As much as I love to cook Pork Chops in my Air Fryer and Instant Pot, there are some times that cooking them on the skillet makes more sense.
This is especially true when your Air Fryer or Pressure Cooker is already in use! And that was exactly the case for me this week. I already had Baked Potatoes in the Air Fryer and was just deciding how to make the pork chops. So I decided to pull out my skillet and make this delicious Honey Mustard Pork Chops recipe.
Because thin pork chops have very little fat, they can get overcooked very easily. However, by cooking them in the skillet, you can keep a close eye on them and remove them away from the heat just in time to make sure that they remain moist and delicious!
The Importance of a Digital Thermometer
In fact, I can't stress enough how important it is to use a digital food thermometer when cooking meat. And this is especially true when cooking pork. You want the center of the meat to reach an internal temperature of 145°F and no higher. Otherwise the meat will turn tough and become chewy.
And if you buy thin cutlets, this will only take minutes to happen! However, when cooked using the method described below, you will have a new favorite way to make this inexpensive cut of meat!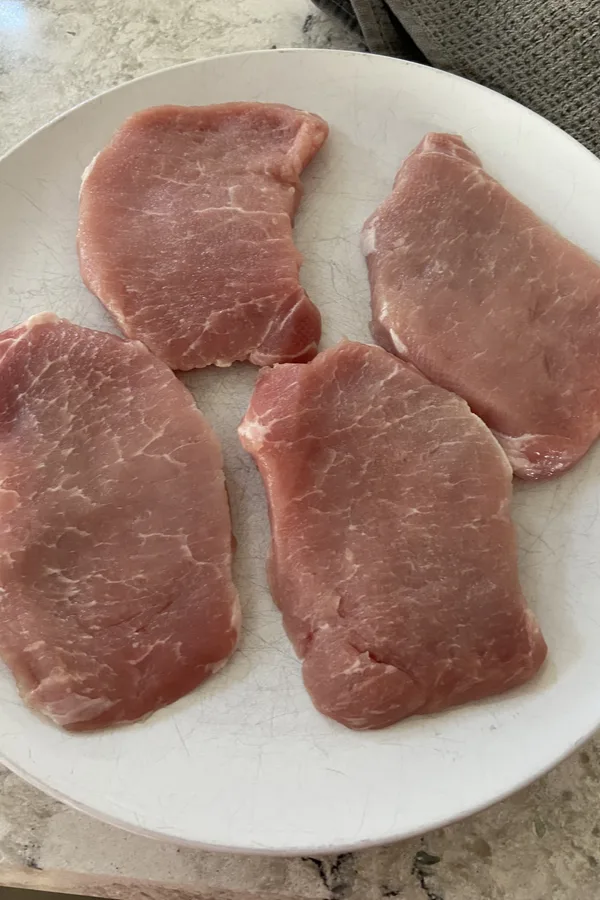 The Best Way To Cook Thin Pork Chops
Ingredients
Thin, Boneless Pork Chops
Flour
Salt
Pepper
Olive Oil
Butter
Heavy Cream
Dijon mustard
Honey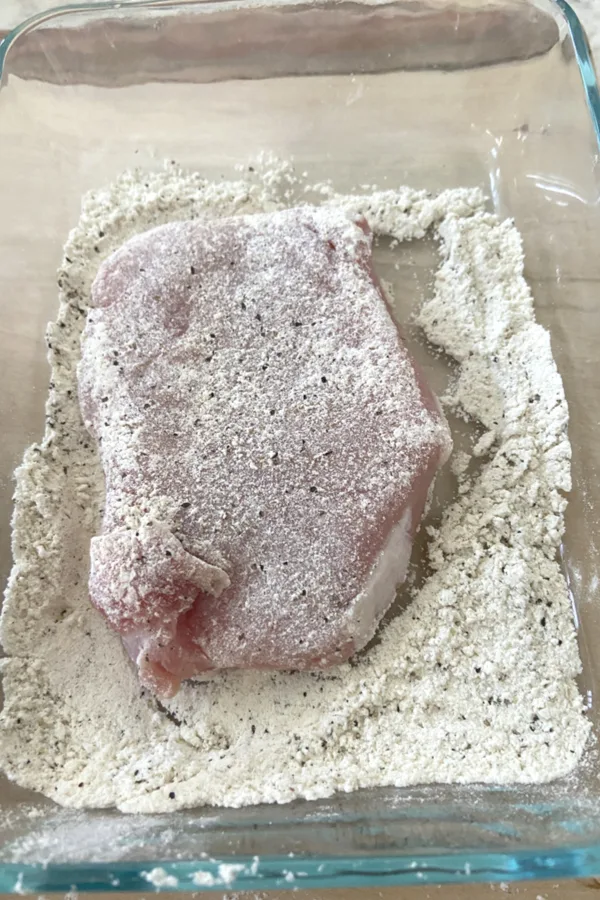 Instructions
The first step in making this recipe is to dredge the pork chops in a mixture of flour, salt and pepper. You can use standard, all purpose flour or a gluten free flour.
Whisk together the flour, salt and pepper in a shallow dish and then coat each side of the cutlets, shaking off any excess. Set aside.
Sear The Pork Chops
Now heat a large skillet over medium-high heat and add oil and butter. As soon as the butter is melted and the oil is nice and hot, add the thin pork chop cutlets.
Sear for 60-75 seconds then flip over and continue to sear for another minute. Remove the pork from the skillet to a plate and reduce the heat of the burner to medium.
Make The Honey Mustard Sauce
In that same pan, add the cream, mustard and honey and whisk to combine. I absolutely love my silicone coated whisks because I never have to worry about scraping the bottom of my non-stick skillets.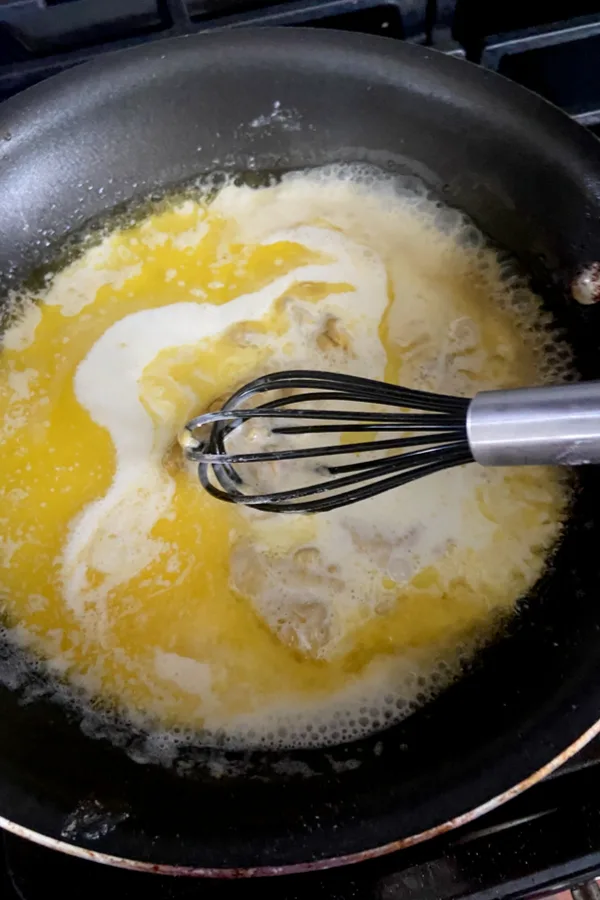 Bring the mixture to a simmer and then add the seared pork chops back into the pan. Be sure to push the pork chops down into the skillet so that they are submerged into the honey mustard sauce.
Once the pork chops have been added, cover and let simmer for 5-6 minutes. Although it is not necessary, I prefer to flip the thin pork chops half way through the simmering time so that the top has a chance to absorb the sauce as well.
Remove the pork chops from the skillet and drizzle with some of the remaining sauce.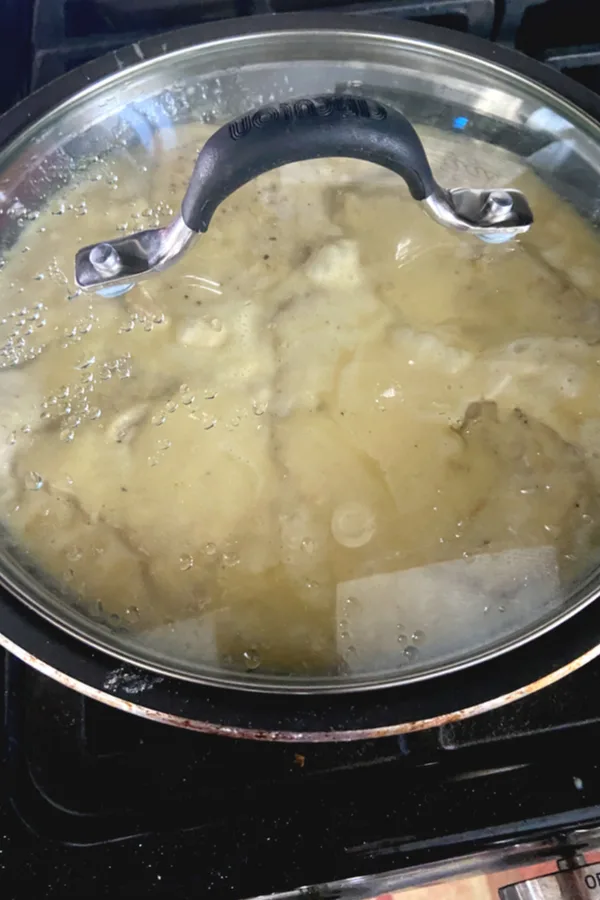 Serving Suggestions
So what can you serve with thin pork chops? Because pork chops are a very mild cut of meat, you can add just about any side dish to make it a complete meal.
However, here are some of our favorite side dishes that pair well with honey mustard coated pork chops.
Enjoy! Be sure to save this recipe or share to your favorite Pinterest board so you have it on hand whenever you need a quick and easy dinner recipe.

To receive our 3 Recipe Articles in your inbox each week, sign up for our free email list located in the middle of each recipe or email me at contact@makeyourmeals.com. You can also follow us on Facebook and Pinterest. This article may contain affiliate links where a small commission is paid if you purchase a product at no additional cost to you.
Yield: 4
The Best Way To Cook Thin Pork Chops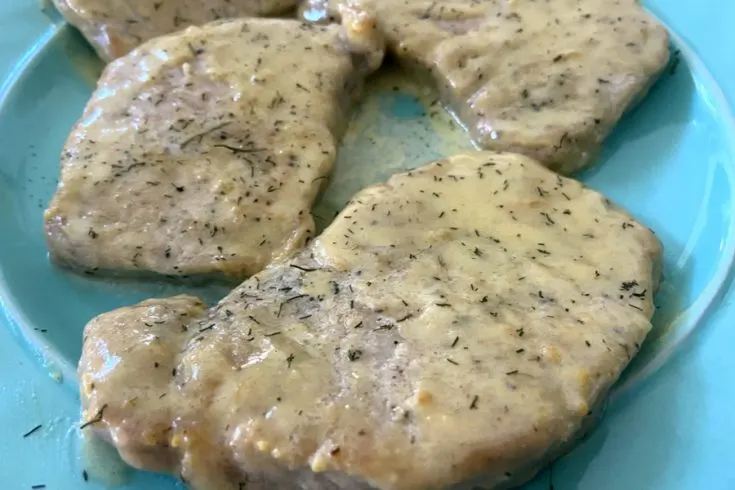 The secrets to cooking thin pork chops so that they are moist and juicy every time!
Ingredients
6-8 boneless thin pork chops
2 tbsp all-purpose flour
1 tsp salt
1/2 tsp pepper
1 tbsp olive oil
1 tbsp butter
3/4 cup heavy cream
2 tbsp Dijon mustard
2 tbsp honey
Instructions
Mix the flour, salt and pepper in a shallow dish. Dredge the cutlets in the mixture on both sides and shake off excess. Set aside.
Heat a large skillet over medium-high heat. Add 1 tbsp olive oil and 1 tbsp butter to the pan. Sear the pork chops for 60-75 seconds per side until they just begin to turn golden. Remove from pan and set aside.
Decrease the heat to medium and to the same skillet add the cream, mustard and honey. Whisk until combined and bring to simmer. Add the pork chops back into the skillet and nestle down into the sauce. Cover and simmer for 5-6 minutes or until the internal temperature reaches 145°F (63°C). Immediately remove from the skillet and serve.
Notes
Recipes provided by Make Your Meals
Recommended Products
As an Amazon Associate and member of other affiliate programs, I earn from qualifying purchases at no additional cost to you.
Nutrition Information:
Yield:
8
Serving Size:
1
Amount Per Serving:
Calories:

457
Total Fat:

29g
Saturated Fat:

12g
Trans Fat:

1g
Unsaturated Fat:

13g
Cholesterol:

161mg
Sodium:

496mg
Carbohydrates:

7g
Fiber:

0g
Sugar:

5g
Protein:

41g
Nutritional Information is to be used as a general guideline only . Nutritional calculations will vary from the types and brands of the products used.