It's apple season so that means it is time to share our easy to make, slow cooker cinnamon applesauce recipe.
Every year I make a trip to our local orchard. While I am there, I debate on not only what type of apples to buy, but also how many.
Granny Smith apples are good for baking. So I will bring some home to use them to make apple crisp and apple pie filling.
But I also come home with a bag or two of sweeter apples as well. They are not only good for eating, but they also are fantastic to use in other recipes.
Although I use my Instant Pot to make both applesauce and apple butter, I also like to to use my slow cooker to make cinnamon applesauce and apple butter as well.
The slow cooker allows the apples to slowly break down, filling your house with an amazing aroma that you just can't get when using the Instant Pot.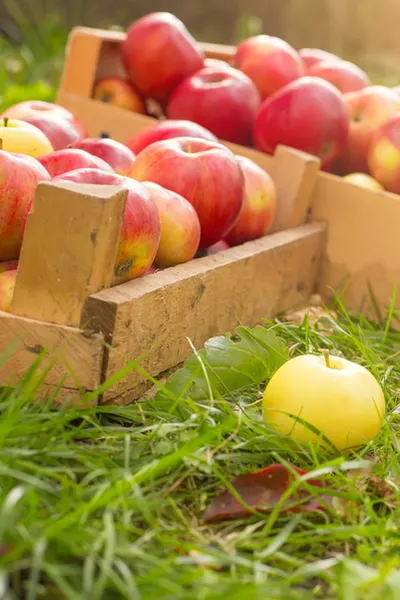 Yes, it takes more time, but sometimes it is okay not to rush things when you have the time.
Slow Cooker Cinnamon Applesauce
And it couldn't be easier to make this cinnamon applesauce when there is only 3 ingredients.
Well, actually two ingredients if you don't consider water as an ingredient.
Because we are using fresh picked apples from the orchard, there is no need to add any sugar to this recipe.
Certain varieties of apples are naturally sweet. We prefer to use Gala, McIntosh, or Jonathan apples for our slow cooker cinnamon applesauce recipe.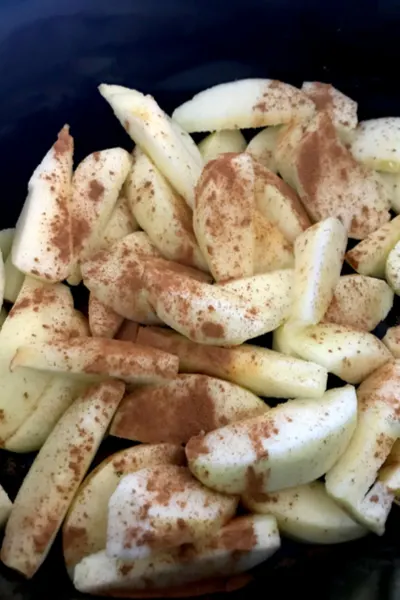 Although, there are a ton of other varieties that make great applesauce as well. Most orchards have a list posted somewhere in their market that will tell you which apples are best to use.
And if all else fails, ask the staff which apples that they grow and recommend for whatever recipe that you are making. They are the true experts!
However, if you buy your apples off season at the grocery store, or if you like your cinnamon applesauce super sweet, you can add some granulated sugar to the slow cooker as well.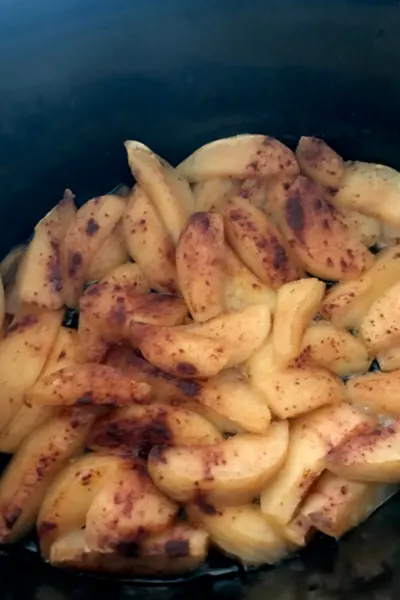 For the recipe below, add 1/4 cup sugar if desired. Then you can adjust by adding more or less based on your preference.
To Peel or Not to Peel?
Obviously you have to core your apples for this recipe. And the cooking process will go much faster if you slice your apples.
We use an apple corer/slicer that makes easy work of preparing the apples.
But the question we always get is 'Do I have to peel my apples?".
The choice is really up to you. We prefer to take the few extra minutes that it takes to peel the apples.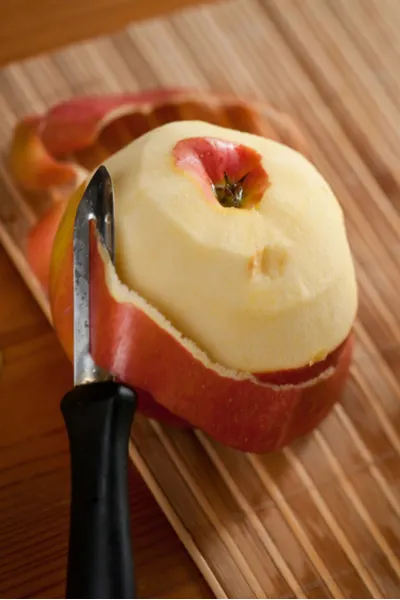 I personally don't like the texture of the apple skins floating throughout my cinnamon applesauce. This is especially true when we are making a chunkier applesauce.
However, if you are going to puree it to a thinner consistency, the apple peels basically disappear.
So you can decide if you want to peel them or not.
Serving Size
This slow cooker cinnamon applesauce recipe is a small batch recipe. Not everyone has large quantities of apples on hand.
However, feel free to double, triple or quadruple the recipe to make larger quantities.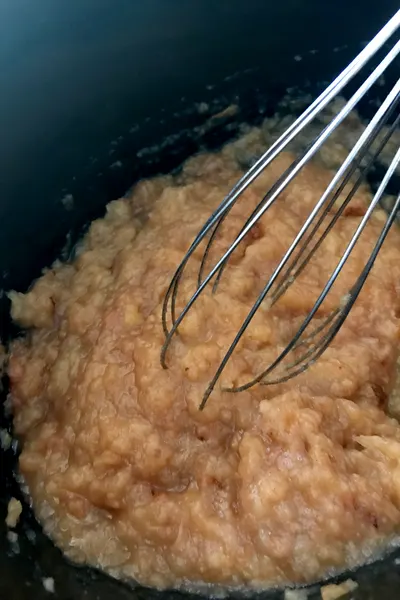 Although applesauce will only stay good in the refrigerator for about a week, it freezes well.
And in the middle of summer, there is nothing more refreshing than pulling out frozen applesauce and eating it as an icy treat!

To receive our 3 Recipe Articles in your inbox each week, sign up for our free email list located in the middle of each recipe or email me at contact@makeyourmeals.com. You can also follow us on Facebook and Pinterest. This article may contain affiliate links where a small commission is paid if you purchase a product at no additional cost to you.
Yield: 6
Slow Cooker Cinnamon Applesauce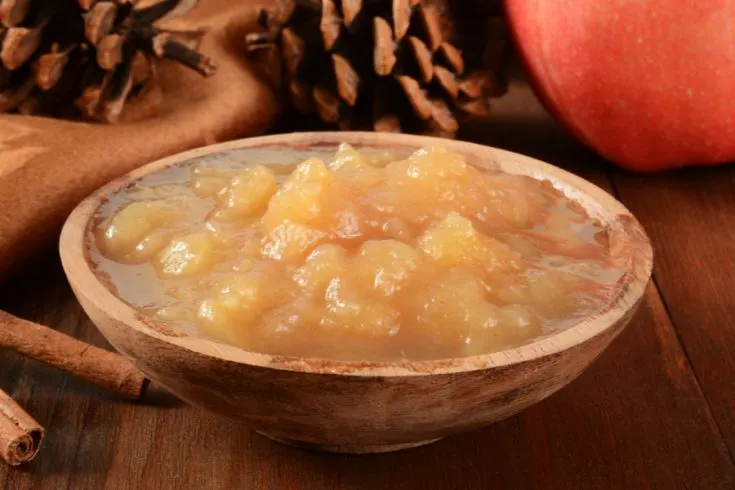 Easy to make homemade applesauce made in your slow cooker with no added sugar. A healthy snack that everyone loves!
Ingredients
6 medium sweet apples, peeled, cored and sliced
1/2 teaspoon ground cinnamon
1/2 cup water
Instructions
Place the peeled, cored, and sliced apples into your slow cooker.
Sprinkle cinnamon over the apples and mix well.
Pour the water down the side of the slow cooker. Cover and cook over high heat for 4 hours or low for 6-8 hours.
Remove the lid and mix the apples using a wire whisk, stirring until desired consistency. Or for a completely smooth applesauce use an immersion blender.
Serve warm or allow it to cool completely and store in an air-tight container in the refrigerator for up to 1 week or freeze for up to 6 months.
Notes
Slow cookers cook at different rates and temperatures. Adjust the cooking time as necessary.
Recipe provided by Make Your Meals
Nutrition Information:
Yield:
6
Serving Size:
1 grams
Amount Per Serving:
Unsaturated Fat:

0g