This Ham Casserole with Rice recipe is one of my favorite things to make with our leftover ham from Easter or Christmas. It is a quick and easy recipe that is made entirely on the stove top and requires only 5 simple ingredients.
And after spending hours in the kitchen over the past few days, it is a recipe that is a welcome sight. Simply boil the rice and as it cooks, add in broccoli florets or frozen peas.
Then stir in the cooked ham and shredded Cheddar cheese and dinner is served! It is a fantastic recipe to serve a day or two after the holiday when no one feels like cooking.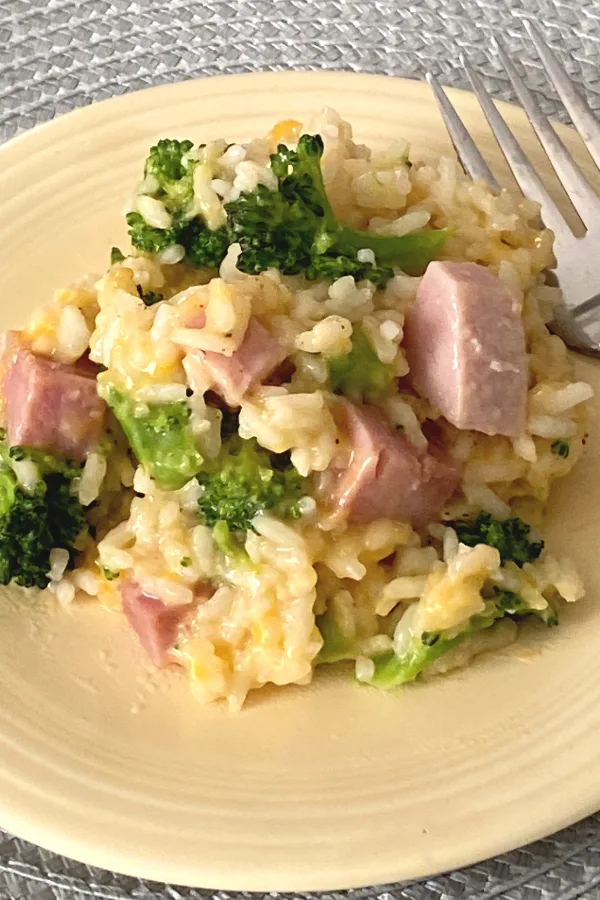 Although I love to eat the leftover ham straight off the plate in the refrigerator, I also try to find other, more creative ways to turn the leftovers into something delicious.
And just like with this recipe, it doesn't have to be difficult.
Leftover Ham Recipes
Therefore, when it comes to deciding what to make with the leftovers, the first thing that comes to my mind are to make soups and casseroles. However, as good as these are, there are also some other creative and delicious ways to use the leftover ham in recipes that everyone can enjoy.
Below I have listed some of my favorite recipes that takes advantage of leftover Holiday Ham:
As you can see, there are several delicious recipes that will help you use your leftover ham. But there is none easier, or made quicker than this casserole recipe!
Ham Casserole With Rice
*Specific measurements and complete recipe instructions are located in a printable recipe card at the bottom of this article. However, be sure to continue to read the tips and tricks to making this recipe below.
INGREDIENTS
2 1/2 cups Chicken Broth, low-sodium
1 cup Long Grain White Rice, dry
Broccoli Florets, small pieces (or frozen peas)
1 ½ cups of Chopped Ham, cooked
1 cup Shredded Sharp Cheddar Cheese
½ teaspoon Ground Black Pepper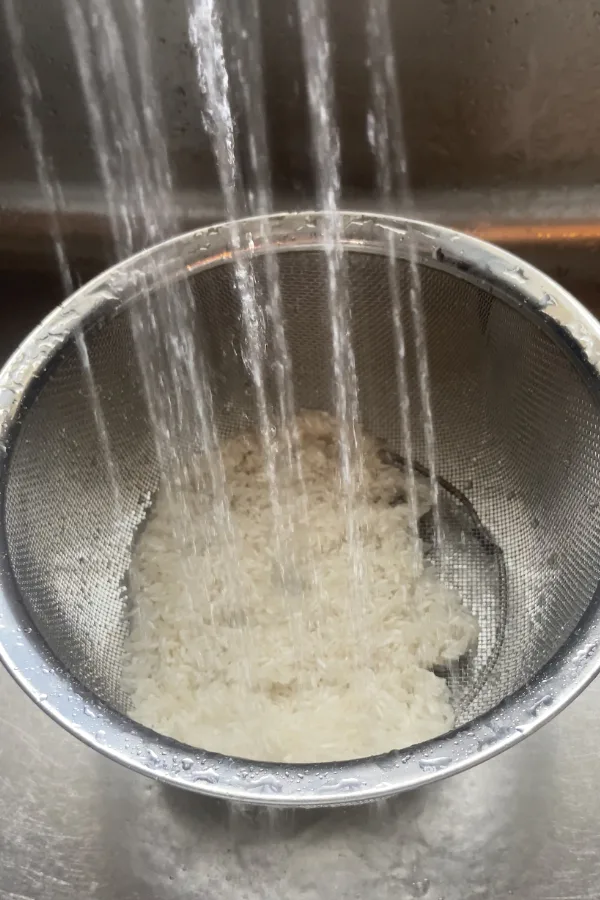 INSTRUCTIONS
The first step in making this Ham Casserole recipe is to prepare the rice. In a fine-mesh colander, rinse the rice until the water underneath turns clear.
Be sure to move the grains of rice around with your hand so that the rice on the lower surface can be rinsed as well. Removing the starch will help the rice cook without sticking in clumps.
Once the rice has been rinsed, allow it to drain in the colander. Then, in a medium size sauce pan add the rinsed and drained rice and chicken broth. Stir and turn the heat to medium-high.
Bring the liquid to a simmer. Then turn the heat down to the lowest setting and place a lid on top to maintain a very low simmer for 6 minutes.
Then add the broccoli florets or frozen peas on top of the rice and do not stir. Place the lid back on the pot.
Turn the heat to medium and keep the broth at a light simmer. Cook for 9-10 more minutes until the rice and broccoli are cooked through and tender.
Turn the heat source off, but keep the sauce pan on the warm burner. Then add the shredded Cheddar cheese to the pot and stir until melted.
Once the cheese is melted, stir in the ham. Cover and let the ham casserole sit until the rice mixture warms the chunks of ham. Serve immediately.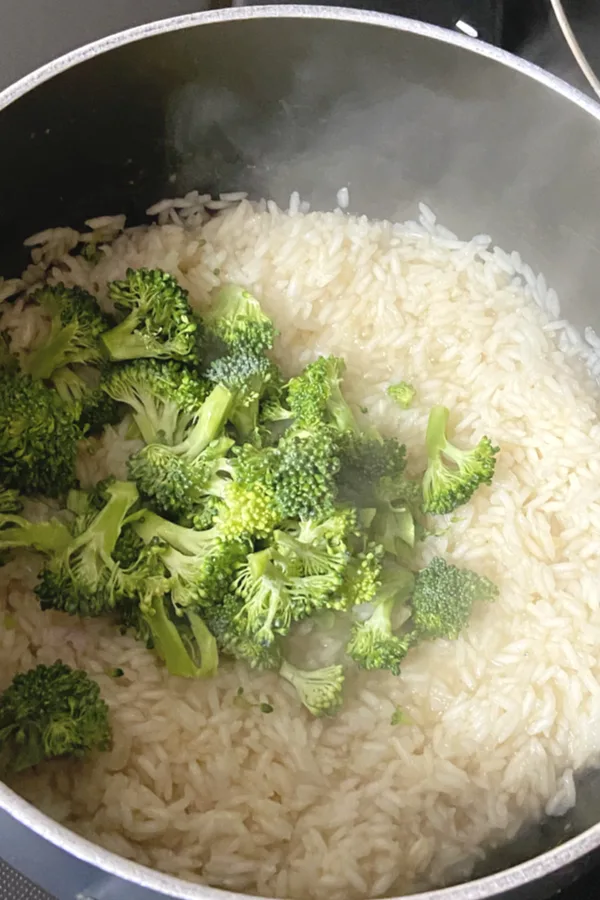 Helpful Cooking Tips & Frequently Asked Questions
1. Rinse The Rice
You may be tempted to skip rinsing the rice prior to cooking it. However, rinsing it will make a big difference in both taste and texture once it is cooked.
The rinsing helps release any excess starches that coat the rice, allowing it to cook to a light and fluffy consistency. Otherwise you risk the rice in this ham casserole from becoming a sticky mess.
Simply use a fine mesh colander and rinse the grains of rice under cold water until the water beneath runs clear. Then add the drained rice to the sauce pan.
And although not absolutely necessary, whenever possible, cook your rice in chicken (or vegetable) stock. It adds so much more flavor to your rice as compared to cooking it in plain water.
2. When To Add The Broccoli or Peas
In order for your broccoli or peas to be perfectly cooked through, they are added midway through the cooking process.
If you add the vegetables too soon, they would become too soft and mushy. However, you don't want to bite into hard and crunchy pieces either.
So when and how should you add your broccoli or peas to the pot? After about 6 minutes of the rice simmering on low, add the vegetables to the pan.
No need to stir it in with the rice. Just place it on top and close the lid. This will allow the broccoli or peas to steam rather than boil, resulting in the perfect consistency when cooked.
All that is left is to stir in the cheese and ham!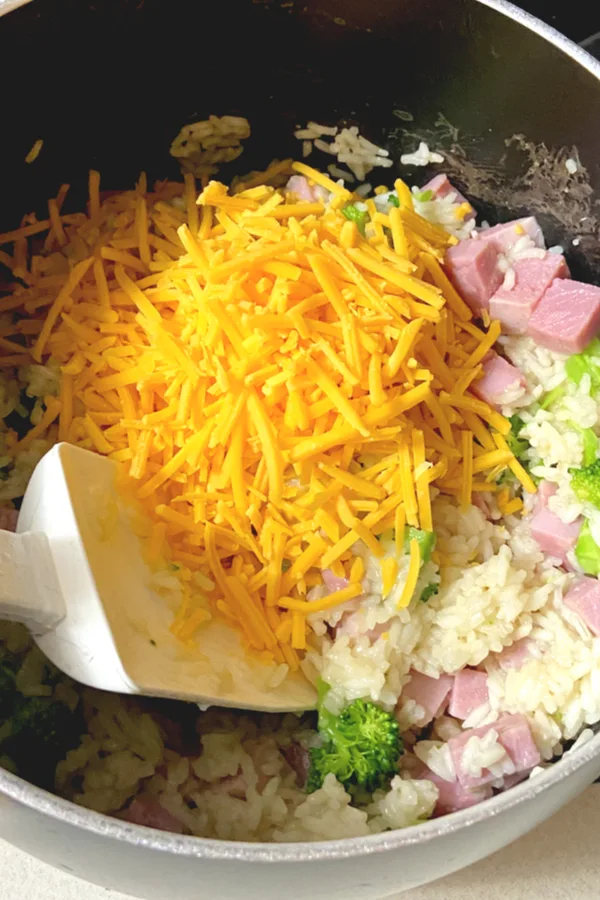 3. Can I Make This Ham Casserole With Instant Rice?
To make this recipe even faster, use Instant Rice. Cook the rice according to package directions and place in a medium serving bowl. Set aside.
While the rice is cooking, steam the broccoli or cook the peas just until tender. Add the cooked vegetables to the rice and stir.
Then quickly stir in the cheese and diced ham. Add the ground black pepper and serve immediately.
4. Add More Flavor To The Dish
As written, this recipe is a very mild in flavor so that everyone can enjoy the taste. However, it is easy to add more flavor to the Ham & Rice Casserole based on your preferences.
Some of my favorite ways to spice up this recipe is to add red pepper flakes, a dash or two of hot sauce, or a teaspoon of chili paste.
Although, if you don't like spicy foods, add Sweet Thai Chili sauce or even a teaspoon of Dijon mustard in the mixture. All of the flavors are perfect choices when serving this recipe.
And there you have it, the best Leftover Ham Casserole with Rice! An easy stove top recipe that is on the table in less than 30 minutes!
Enjoy! Mary

To receive our 3 Recipe Articles in your inbox each week, sign up for our free email list located in the middle of each recipe or email me at contact@makeyourmeals.com. You can also follow us on Facebook and Pinterest. This article may contain affiliate links where a small commission is paid if you purchase a product at no additional cost to you.
Ham and Broccoli Rice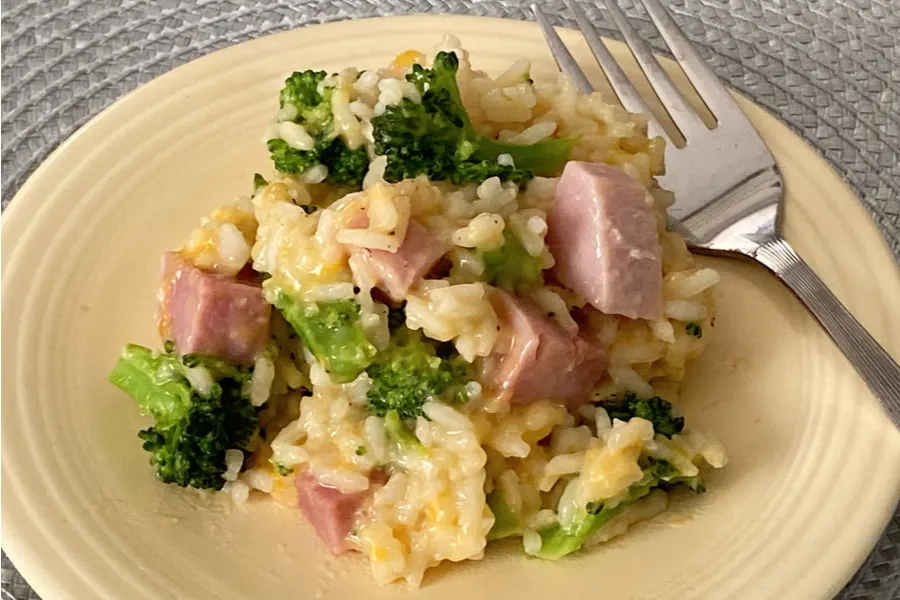 Delicious cheesy rice filled with ham and broccoli that makes for an easy weeknight meal. The perfect recipe to use your leftover ham!
Ingredients
2 1/2 cups chicken broth
1 cup long grain white rice, dry
1 cup broccoli florets, small pieces
1 ½ cups of chopped ham
1 cup shredded sharp cheddar cheese
½ teaspoon ground black pepper
Instructions
In a colander, rinse the rice until the water turns clear.
In a medium sauce pan add the rice and chicken broth and turn the heat to medium-high and bring to a simmer.
Turn heat down to lowest setting and place a lid on top to maintain a very low simmer for 6 minutes.
Add broccoli florets on top of the rice and do not stir. Place the lid back on top, turn heat up to keep broth at a light simmer, and cook for 9-10 more minutes until the rice and broccoli are cooked through.
Turn off heat but keep the pot on the warm burner. Stir in the cheese until melted and then stir in the ham until warmed.
Serve immediately.
Notes
Recipe provided by Make Your Meals
Nutrition Information:
Yield:
4
Serving Size:
1 grams
Amount Per Serving:
Calories:

389
Total Fat:

24g
Saturated Fat:

13g
Trans Fat:

1g
Unsaturated Fat:

8g
Cholesterol:

88mg
Sodium:

1533mg
Carbohydrates:

18g
Fiber:

2g
Sugar:

1g
Protein:

25g
Nutritional Information is to be used as a general guideline only . Nutritional calculations will vary from the types and brands of the products used.