With the kids being home from school, we thought it would be a great time to share out Homemade Pizza Hot Pockets recipe.
This recipe was inspired by the classic Hot Pockets that you would find in the freezer section of your grocery store.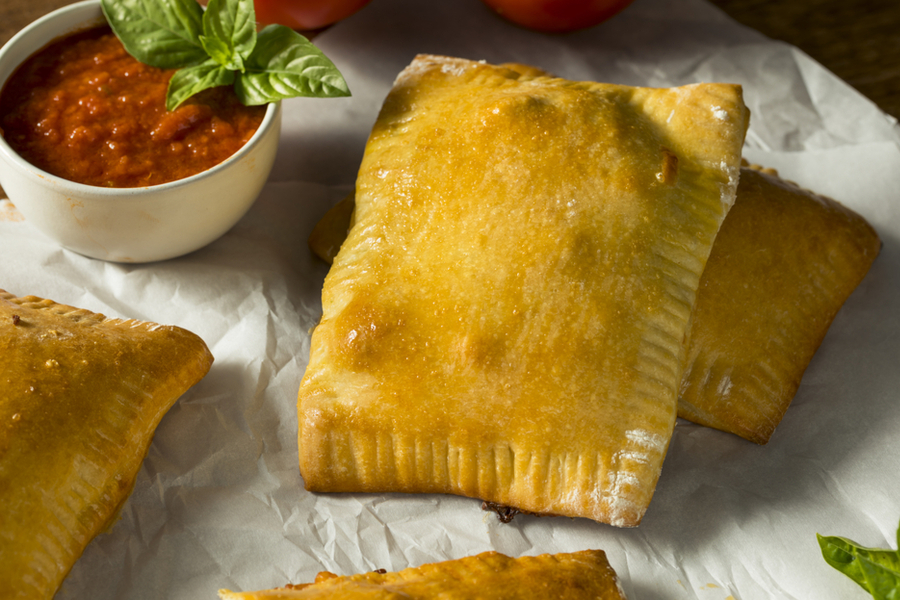 You know the kind. Pizza dough pockets filled with pepperoni and cheese, ham and cheese or even a Philly cheesesteak stuffed inside.
The same ones that you take out of the freezer, slide in a heat reactor and place in the microwave. And yes, the one that causes you to scald your mouth when you take your first bite.
Sound familiar?
However, instead of opening the freezer door, we decided to make our own Pizza Hot Pockets.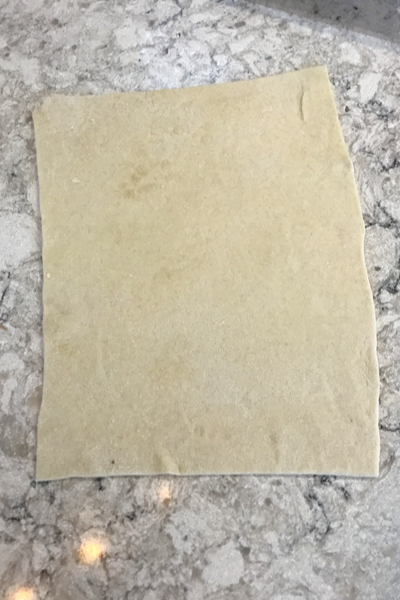 How to Make Homemade Pizza Hot Pockets
It all started when we had leftover Pizza Dough. We had made a few pizzas the night before, but had half of our homemade dough left in the refrigerator.
So we decided to put it to good use and make Hot Pockets. Although, you don't necessarily have to make your own pizza dough. Store bought refrigerator pizza dough will work just fine.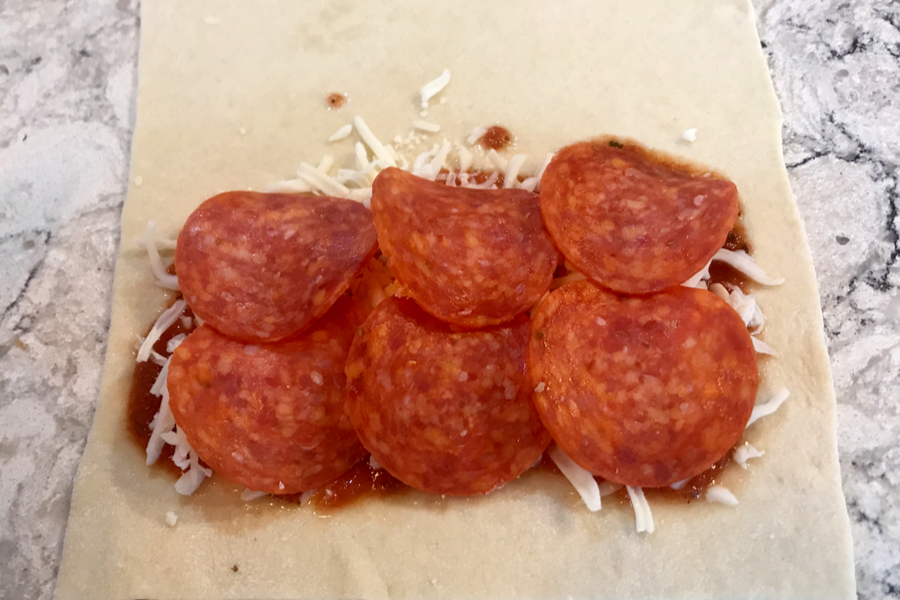 First, start by rolling your dough into a 9 x 13 rectangle. Then, using a pizza cutter, cut out even rectangles. We typically make our rectangles either 3×5 or 4×6 inches as a reference.
Next, spread your pizza sauce on one rectangle, leaving at least 1/4 inch edge around the entire rectangle.
Then add pepperoni and cheese on top. And if you are wondering if you can use other traditional pizza toppings such as sausage, mushrooms, etc. the answer is yes!
Seal The Dough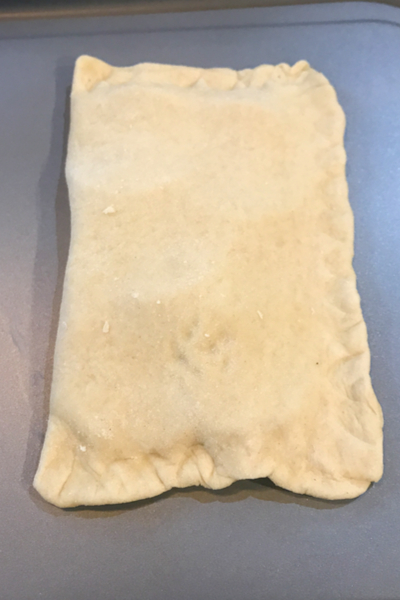 Using an egg wash, moisten the edges of the hot pocket dough and place another rectangle on top.
Now seal the edges with your fingers and then with a fork. Be sure to seal every edge so that the toppings don't seep out during the cooking process.
*Alternate method – double the size of your rectangle and place the filling on one side. Then fold the remaining dough over the top and seal.
Using a pastry brush, brush the tops with the egg wash and sprinkle a little dried Italian seasoning on top.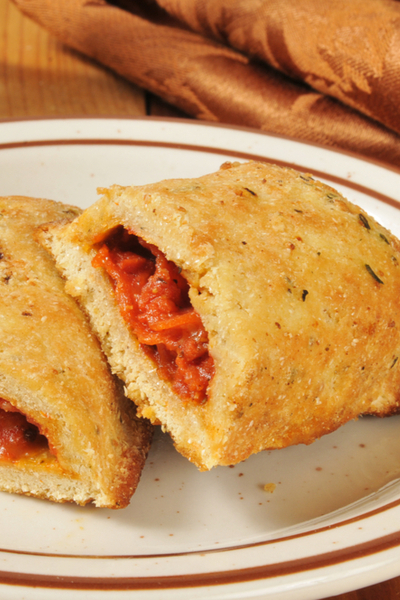 Repeat until all of the Pizza Hot Pockets are assembled.
Bake in a preheated oven for 25-30 minutes, or until golden brown. However, once they come out of the oven, be sure to let them cool for 5 minutes before serving.
Now it is time to enjoy your Homemade Pizza Hot Pockets!
Looking for something else to inspire you? Check out some of our latest recipes…
Homemade Pizza Hot Pockets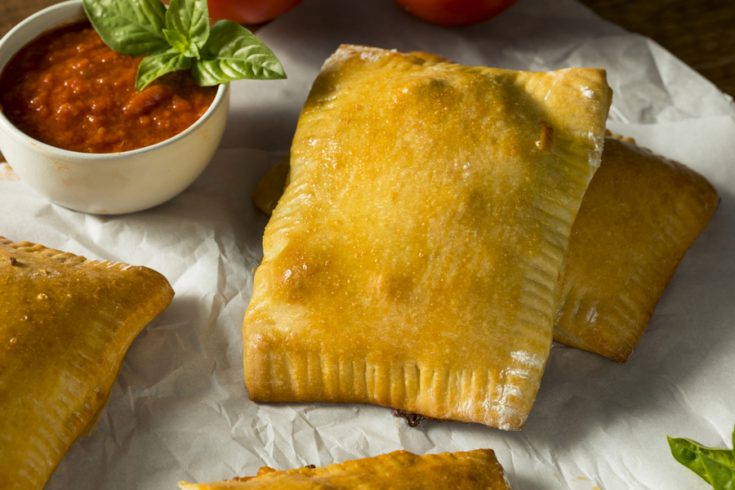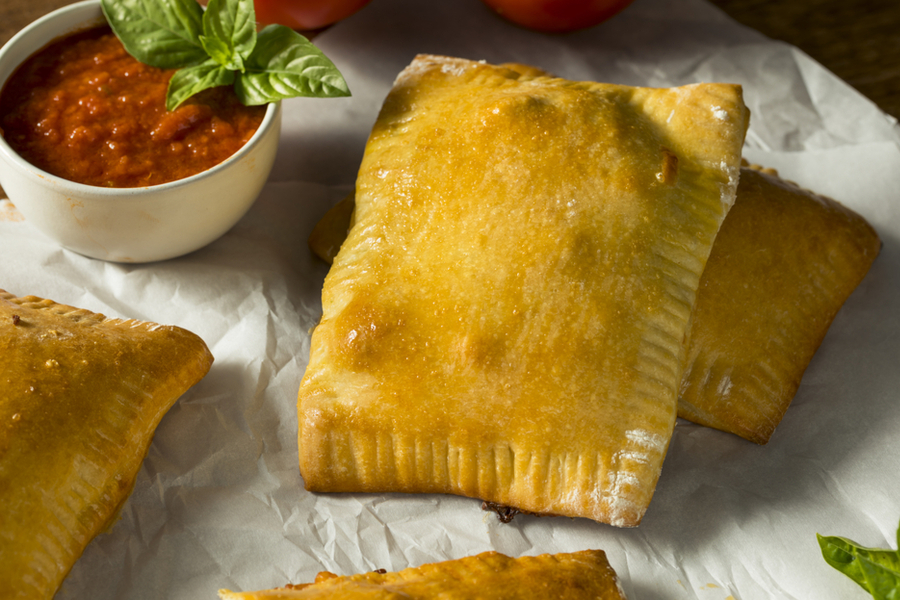 Pockets of pizza dough filled with your favorite pizza toppings and baked for an easy to eat meal that everyone loves!
Ingredients
1 large uncooked pizza dough
1 jar pizza sauce
2 cups shredded Mozzarella cheese
30 + pepperoni slices
1 large egg
1 Tbsp. water
2 tsp. dried Italian seasoning , (optional)
Instructions
Preheat oven to 400°F
On a clean, floured surface, roll out pizza dough into a 9 x 13 rectangle.
Cut the dough into uniformly sized, rectangular sections so that you have an even number of rectangles.
Spread pizza sauce on half of the rectangles, leaving at least 1/2 inch edge around the entire rectangle.
Next, evenly divide the Mozzarella cheese and pepperoni on top of the sauce.
In a small bowl, whisk together the egg and water until incorporated. Brush the edges of the dough with the egg wash.
Cover each rectangle that holds the sauce and toppings with a blank rectangle dough. Pinch the edges together and crimp the edges with the handle or prongs of a fork. Brush the tops of each hot pocket with the egg wash. Sprinkle with dried Italian seasoning (optional)
Place the hot pockets on a parchment lined baking sheet and bake in the preheated oven for 25-30 minutes. *Optional - you can make two slices in the top of the dough before cooking, if you prefer.
Once the hot pockets are golden brown in color, remove from the oven and let them sit for 5 minutes before serving.
Notes
Feel free to use whatever pizza toppings that you like.
We made this recipe with our homemade pizza dough, however, room temperature, refrigerator pizza dough will work as well.
Recipe provided by Make Your Meals
Nutrition Information:
Serving Size:
1 grams
Amount Per Serving:
Unsaturated Fat:

0g