If you asked me 5 years ago what my favorite type of pizza was, Barbecue Chicken Pizza would not have even been in my top 10.
I was more of the classic pepperoni and cheese type of pizza lover.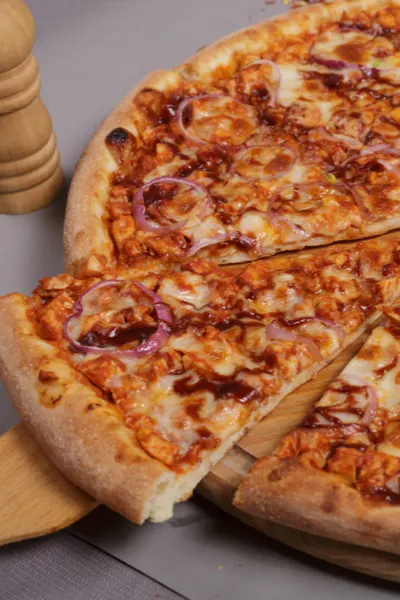 And on occasion I would splurge and order a meat lovers, supreme, or veggie pizza.
I never even thought about straying away from the classic red sauce and mozzarella cheese that is found on a traditional pizza.
However, that all changed when I went to a pizza buffet after a baseball tournament.
The baseball team arrived before we did and the restaurant was struggling to make pizzas fast enough.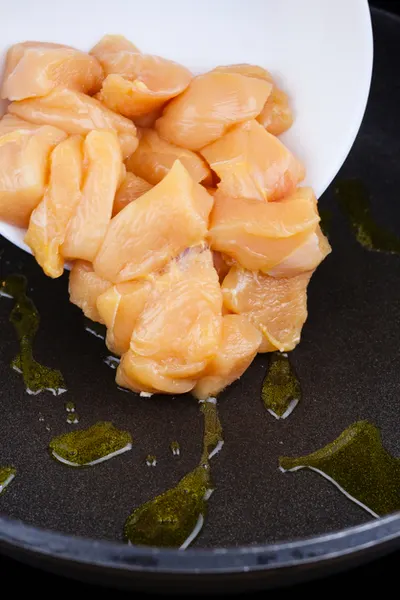 So by the time that I had gotten in line to fill my plate with pizza, my choices were limited.
I had two options. One, I could wait until fresh pizzas were made and brought out to the buffet.
Or I could eat what was still left on the buffet counter.
Seeing that I was already starving, and probably getting a little grouchy from being hungry, I choose to pick up a few pieces that I normally wouldn't have tried.
I chose a piece of Hawaiian Pizza, Barbecue Chicken Pizza, and couple of bread sticks.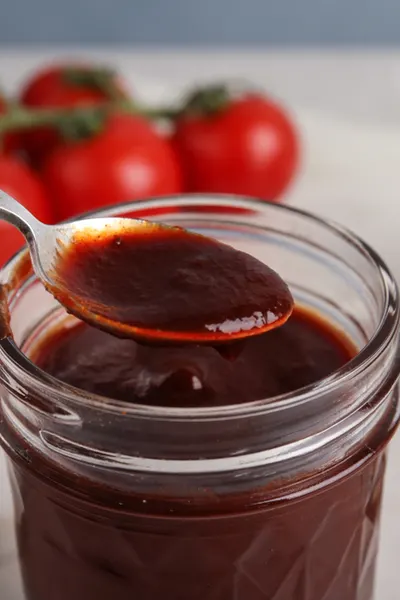 I was surprised that I enjoyed pineapple on the Hawaiian pizza. In fact, after a hot day at the ball fields, it was rather refreshing.
However, my life changed when I took a bite of the Barbecue Chicken Pizza!
Barbecue Chicken Pizza
I have always been a fan of chicken. In fact, I eat chicken at least 4-5 times a week.
And I absolutely love barbecue sauce. We even make our own homemade barbecue sauce and use it on our Barbecue Chicken Legs recipe.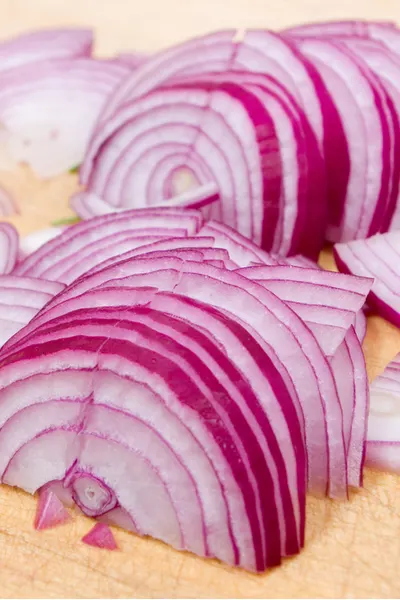 So it shouldn't have been a shock to me that I would love the combination on pizza.
But there was just something strange to me about using barbecue sauce instead of traditional marinara sauce on a pizza.
However, after just one bite, I was sold!
The tangy barbecue sauce was the perfect compliment to the layers of diced chicken and cheese.
But there was something else that made this barbecue pizza so delicious!
The addition of red onions and little pieces of crumbled bacon were hidden underneath the layer of cheese.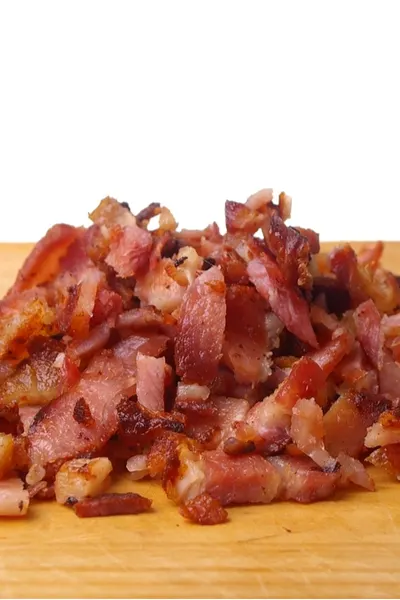 Those two ingredients added another depth of flavor to the pizza that took it from good to absolutely delicious!
That is when we decided that Barbecue Chicken Pizza would be added to our rotation at home for pizza night!
Pizza Night
Every week we have pizza night at our house. However, it doesn't have to necessarily be actual pizza.
We will make pizza casserole, pizza rolls and pizza muffin bites. We even make a cold veggie pizza on occasion.
However, at least twice a month we will have a traditional pizza night.
Sometimes we decide to keep things a little healthier by using a Cauliflower Pizza Crust.
But most often we use out Thin Crust Pizza dough to make individual pizzas.
And now I almost always choose to make my pizza a Barbecue Chicken Pizza.
The flavors meld perfectly with each other and it is a nice break away from the traditional marinara and Mozzarella cheese pizza.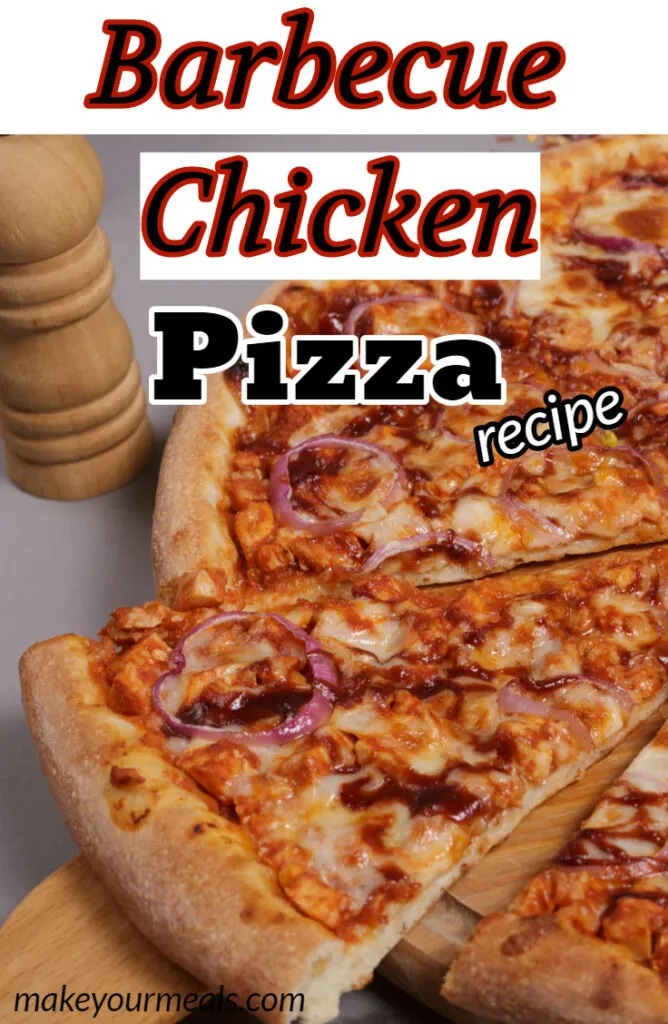 Although you can still use Mozzarella cheese for this recipe, I prefer to use Monterey Jack cheese.
The mild flavor of the cheese also has a slight sweetness to it that makes a great pairing with the barbecue sauce.
And we always add the red onion and bacon to give it that extra layer of flavor.
Because, everything is better with bacon!
So next time it's pizza night at your house, give this Barbecue Chicken Pizza a try. It might just become your favorite!
Barbecue Chicken Pizza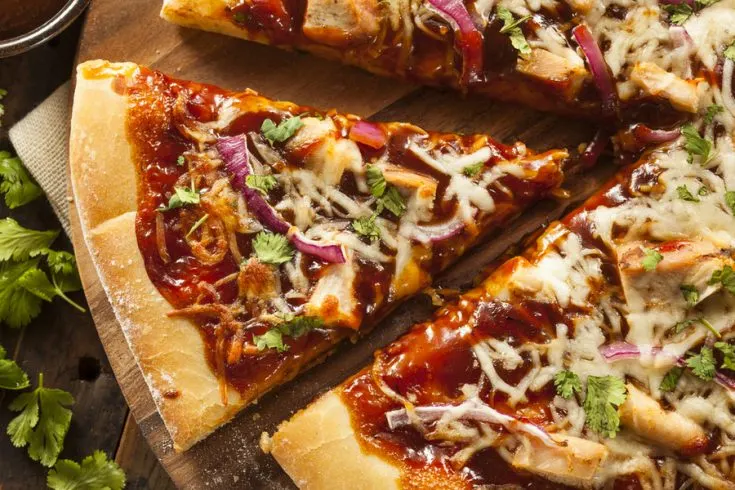 A delicious twist on standard pizza using your favorite barbecue sauce, chicken, red onions, bacon and cheese that will soon become your favorite pizza of all time.
Ingredients
1 12 inch pizza crust
1 cup barbeque sauce
2 skinless boneless chicken breast halves, cooked and cubed
1 cup diced red onion
½ cup diced cooked bacon
2 cups shredded Monterey Jack cheese
1/2 cup chopped fresh cilantro for topping, optional
Instructions
Preheat oven to 425 degrees F
Place pizza crust on pizza stone/pan. Place the barbecue sauce on the pizza and spread around the entire pizza crust with the back of a spoon.
Top with chicken, onion, bacon, and cheese.
Bake in the preheated oven until cheese is melted and bubbly and the crust is golden brown. 8-12 minutes for thin crust, 14-18 minutes for thicker crust.
Remove from the oven and sprinkle with cilantro (optional).
Let it sit 5 minutes before slicing.
Notes
Recipe provided by Make Your Meals
Nutrition Information:
Serving Size:
1 grams
Amount Per Serving:
Unsaturated Fat:

0g