I never knew how easy it was to make Lemon Curd until I made it in my Instant Pot.
And to be quite honest, I probably would have never made it if it wasn't so easy to make cheesecake in it.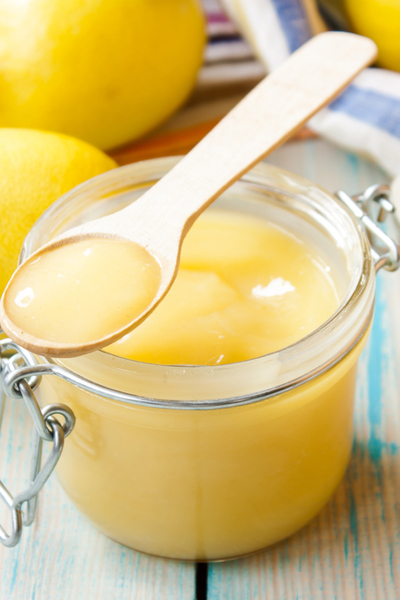 Ever since I got my first 6 quart Instant Pot Duo a few years ago, I have made more cheesecakes than I had my entire life.
We love to make Oreo cheesecake and pumpkin cheesecake. But our absolute favorite cheesecake of all time is Lemon Cheesecake.
It is so light and refreshing and makes for a perfect sweet treat after dinner.
But it is even better when topped with lemon curd!
What is Lemon Curd?
Lemon curd is a sweet preserve with a thick consistency made from lemons, butter, eggs, and sugar.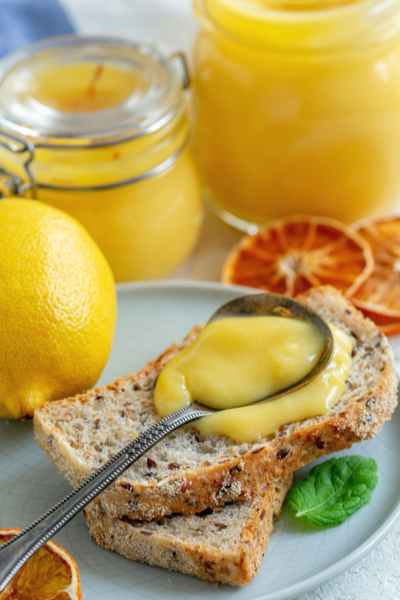 It is most commonly used in desserts as a topping or filling. Think lemon tarts, donuts filled with lemon curd, or a drizzle over yogurt for a sweet treat as a few examples.
In the grocery store, you can find lemon curd next to the jams and jellies.
And although it looks and sounds elegant, it is super easy to make!
In fact, the traditional method of making lemon curd is on the stove top. And it comes together in minutes.
Making Lemon Curd In The Instant Pot
So you may be wondering if it is so easy to make on the stove, why in the world would you make it in your Instant Pot?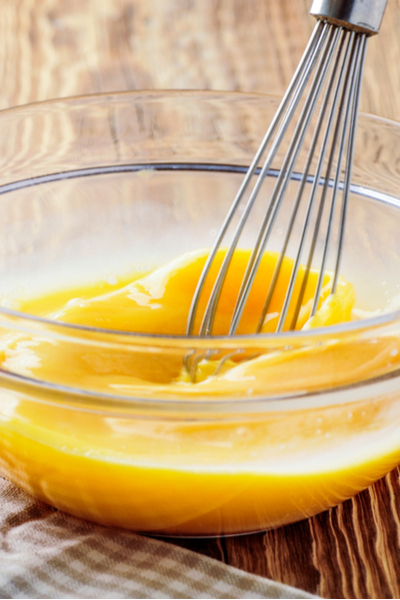 And the answer is simple…. Because it requires constant whisking over a hot stove top.
In the middle of summer, the last thing that I want to do is turn on my stove, let alone stand over top of it attending to a pot that needs constant attention.
When I make it in the pressure cooker, I set the pressure cook button and walk away.
No need to stand over the stove trying not to sweat when I can just walk away and come back when it is finished.
Okay, not completely finished, but you get the point.
The only thing left to do once the lemon curd comes out of the Instant Pot is to stir in the butter.
Then in the refrigerator it goes until it is cold and thickened!
A Couple of Hints To Making Smooth And Creamy Lemon Curd
However, in order to make sure that your lemon curd turns out perfect, here are a few hints to follow.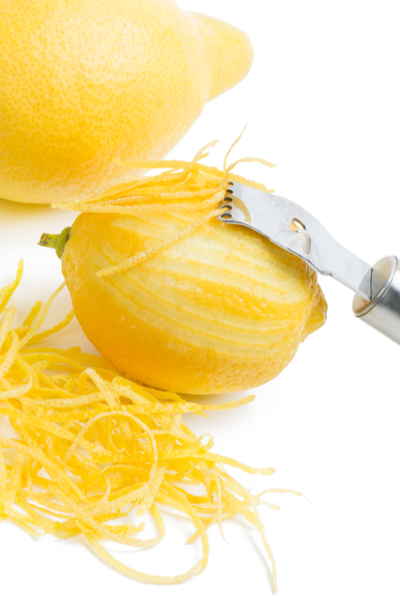 Be sure to zest your lemon before you squeeze the juice out of it. I know this sounds silly, but it is very difficult to zest a lemon that has been cut in half.
You could use a peeler, but I love to use a lemon zester. This prevents me from digging too deep into the skin of the lemon.
You only want the yellow portions, not the white pith area that lies beneath. The white portion would cause your lemon curd to become bitter.
Once you have your lemon zest, it is time to juice them.
Roll your lemon on the counter top with the palm of your hand pressing down. This will help release the juices inside.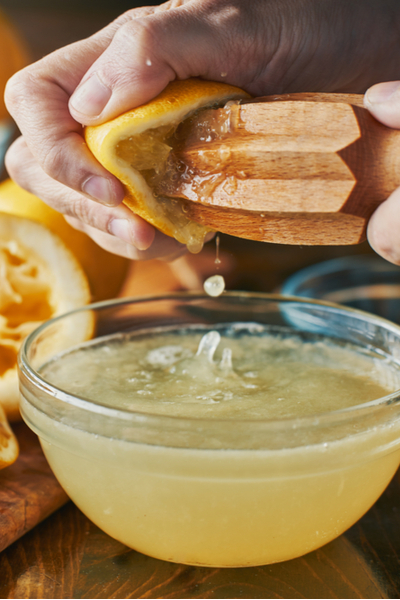 Then use your favorite juicer (we like to use a wooden reamer) to extract as much juice as you can.
Simply add the juice to the egg and sugar mixture and mix well.
Cover Your Bowl
Be sure to cover the bowl tightly with aluminum foil so no extra moisture is added to the lemon curd during the cooking process.
Add the bowl to a long handled cooking trivet and lower it into the liner of the Instant Pot.
Once the cooking and keep warm time expires, use silicone mitts to remove the bowl.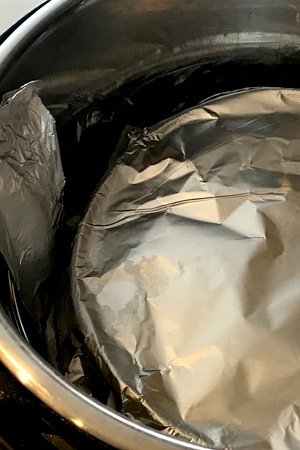 At this point, the curd will look more like a custard – don't panic! Simply whisk it and add the butter, one section at a time.
Within minutes, you will have smooth lemon curd that is ready to chill in the refrigerator.
And remember, the curd will thicken as it cools.
Now you can enjoy this delicious sweet treat on whatever your heart desires!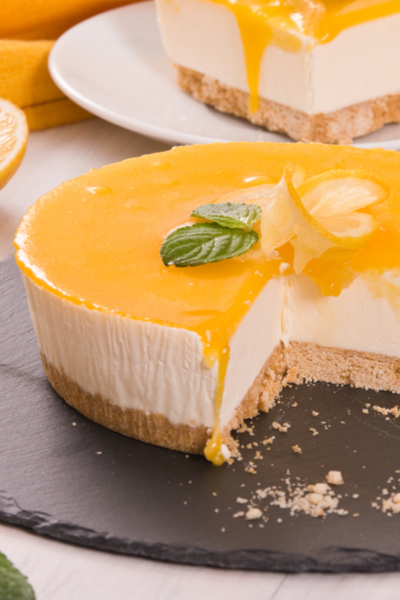 To receive our 3 Recipe Articles in your inbox each week, sign up for our free email list located in the middle of each recipe or email me at contact@makeyourmeals.com. You can also follow us on Facebook and Pinterest. This article may contain affiliate links where a small commission is paid if you purchase a product at no additional cost to you.
Yield: 4 cups
Instant Pot Lemon Curd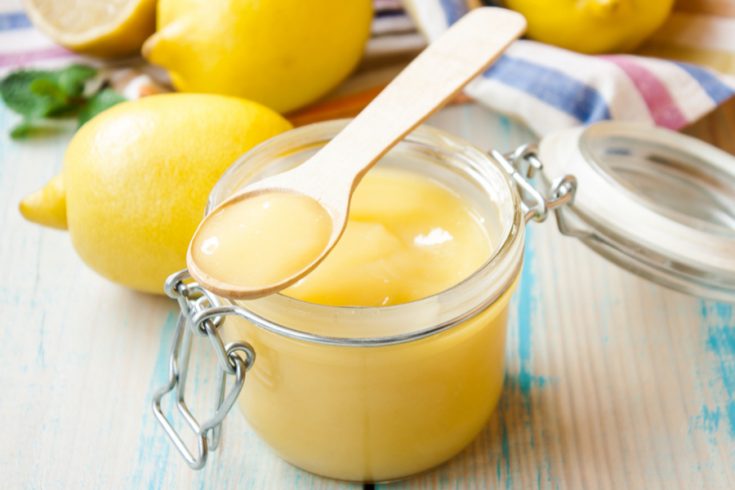 Lemon curd made easy in the Instant Pot. Use it as a topping for your cheesecake, pastries, or ice cream. Also makes for a delicious filling for donuts or a spread for toast.
Ingredients
4 large eggs
2 large egg yolks
1 cup granulated sugar
1 cup freshly squeezed lemon juice, approximately 6 large lemons
1 tablespoon lemon zest, finely chopped
1/8 teaspoon salt
7 tablespoons unsalted butter, room temperature cut in 3 sections.
Instructions
In a 7" round oven-safe glass container whisk together the eggs and egg yolks.
Add the sugar and mix well.
Add the salt, lemon zest, and lemon juice. Mix until combined.
Tightly wrap the top of the bowl with aluminum foil.
Pour 1 cup of water in the liner of the Instant Pot. Place the trivet in the water and carefully lower the bowl onto the trivet.
Lock the lid and place valve in the Sealing position.
Pressure Cook/Manual on HIGH for 2 minutes, then let it sit on KEEP WARM for 10 minutes.
Open the lid and carefully take out the glass container and remove the foil.
Wisk the mixture then add one section of unsalted butter, whisking as it melts. Continue to add each section of butter, one at a time.
Place mixture in the refrigerator for at least 4 hours. The mixture will thicken as it cools.
Notes
Use as a topping, spread, or filling for cheesecake, muffins, donuts, toast, pastries and ice cream.
Recipe provided by Make Your Meals
Nutrition Information:
Yield:
4
Serving Size:
1 grams
Amount Per Serving:
Unsaturated Fat:

0g