This low-carb, Keto-friendly, cauliflower pizza crust recipe is a great addition to your healthy recipe collection.
This time of the year many people are looking for healthier recipes to add to their diet.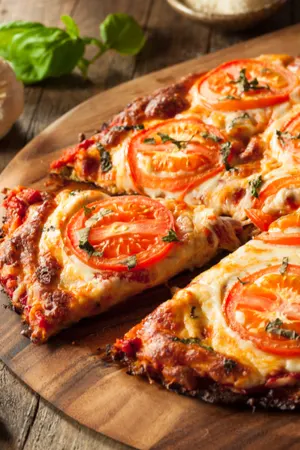 For some, it may be adding more fruit and vegetables during the day. And for others it may be the goal of eating less red meat throughout the week.
But for most people, a decrease in carbohydrates is on top of the list.
I don't know about you, but for me, when I begin my new healthy eating habits I do well for the first couple of weeks.
I make a large batch of Healthy Chicken Soup and Cauliflower Mashed Potatoes to eat throughout the week.
And I will bake or grill several chicken breasts that I can add to my lunch time salad or serve with vegetables for dinner.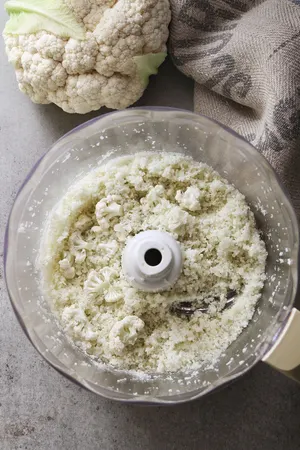 But after week 2, I begin to miss some of my favorite comfort foods.
I will continue to resist the urge to indulge in my favorite high-carb chicken and noodles over mashed potatoes recipe.
But I might stray off the chicken path and make some pulled pork to add a variation of protein to my diet.
However, the thing that I end up missing the most is pizza! Especially on the weekends.
So when the rest of the family is ordering pizza or making traditional pizza crust to watch the big football game or a favorite show, I turn to my cauliflower pizza crust recipe to save the day (or diet)!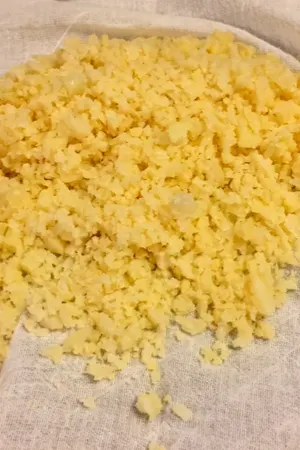 Cauliflower Pizza Crust Recipe
There are a few things that will make this cauliflower pizza crust recipe come together easily.
First of all, a food processor will make this recipe go so much smoother.
Of course, you could grate your cauliflower by using a hand grater. But that labor is tedious and you risk shaving off your knuckles each time that you use one.
I prefer to use my Hamilton Beach Duo Food Processor to grate my cauliflower.
All you have to do is break it up into florets and push pulse until you get grain like consistency.
In order to make this cauliflower pizza crust recipe, the grated cauliflower must be 'cooked' and drained of all liquid.
You can either use a microwave or a steamer basket to accomplish this task.
The important thing is to cook it enough that the liquid can be squeezed from the cauliflower clump.
To easily do this, I recommend using a tea towel. Place the heated cauliflower in the center of the towel and squeeze out the liquid.
You will be shocked at how much liquid that you will extract by using this process.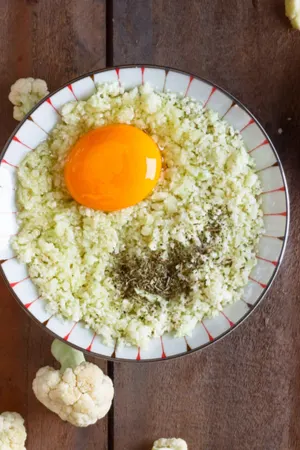 Keep squeezing until you can no longer see liquid dripping from the bottom of the towel.
Mixing The Ingredients
Now it is time to make the crust. Simply mix all the ingredients until a dough forms.
I like to add the egg in at the end to allow the seasonings to be well incorporated throughout the dough.
Place the dough ball on a lightly sprayed piece of parchment paper. The parchment paper will prevent the crust from sticking to your pizza pan.
Using your hands, flatten the dough either in a rectangular or circle shape. You will want the crust to be about 1/4 inch in thickness.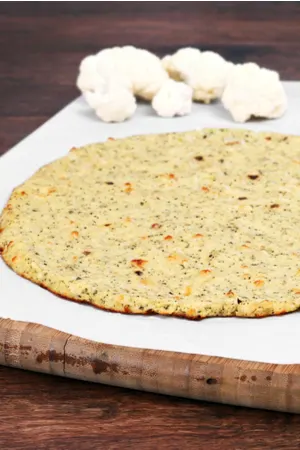 The Cooking Process
It is important to preheat not only your oven, but also your pan before cooking the crust.
If you use a hot pan the crust will immediately begin to cook when placed in the oven.
Otherwise you run a risk of the crust spreading out too much when placed on a cool pan and inserted in a hot oven.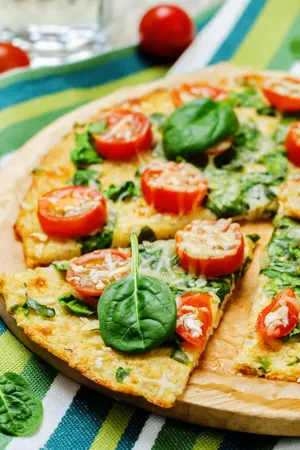 I will slide the rolled out crust that is on the parchment paper onto a large cutting board.
Then I can easily slide it on the hot pan in the oven.
The first cooking period is to allow the cauliflower crust recipe to set up properly.
Once it is golden brown, remove it from the oven and add your favorite toppings.
Then place it back in the oven until the cheese is melted and the toppings are cooked.
To Serve
Once removed from the oven, allow the pizza to cool for a few minutes before slicing and serving.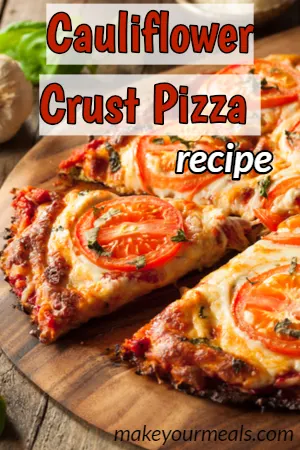 This allows time for the pizza to stop the cooking process and form into a solid unit.
You can slice it however you prefer. Sometimes I will slice it in triangles, and other times in small rectangles.
But no matter how it is served, it will definitely help eliminate that high-carbohydrate pizza craving!

To receive our 3 Recipe Articles in your inbox each week, sign up for our free email list located in the middle of each recipe or email me at contact@makeyourmeals.com. You can also follow us on Facebook and Pinterest. This article may contain affiliate links where a small commission is paid if you purchase a product at no additional cost to you.
Yield: 4
Cauliflower Pizza Crust
A healthier twist on pizza crust that is made from cauliflower, cheese, egg and spices.
Ingredients
1 small head cauliflower
1/4 cup Parmesan cheese
1/4 cup Mozzarella cheese
1/4 teaspoon Kosher salt
1/2 teaspoon dried basil
1/2 teaspoons dried oregano
1/2 teaspoon garlic powder
Red Pepper Flakes, optional
1 large egg
Instructions
Place a pizza stone or baking sheet in the oven. Preheat oven to 450ºF.
On a cutting board, place a large piece of parchment paper and spray it with nonstick spray.
Wash and pat dry a small head of cauliflower. Cut off the florets. Place in your food processor and pulse for about 30 seconds, until you get a grain like consistency. This will typically yield approximately 2 to 3 cups of ground cauliflower.
Place the cauliflower in a microwave safe bowl and cover. Cook for 4 minutes. Dump cooked cauliflower onto a clean tea towel and allow to cool until able to be touched.
Once cauliflower is cool enough to handle, wrap it up in the tea towel and wring out to release the liquid. Continue to wring out until no more liquid drips out of the towel.
Dumped squeezed cauliflower into a medium size mixing bowl and add parmesan cheese, mozzarella cheese, kosher salt, dried basil, dried oregano, garlic powder, and a few red pepper (optional).
Add egg and mix until well incorporated.
Use your hands to form the dough into a flattened ball on your oiled parchment paper.
Pat the dough down until you form a pizza crust.
Slide the parchment paper onto your hot pizza stone or baking sheet in the oven. Bake for 8-11 minutes, until the crust starts to turn golden brown. Remove from oven.
Add sauce, cheese, and any toppings you want. Slide the pizza (still on the parchment paper) back in the hot oven and cook for another 5 to 7 minutes until the cheese is melted and golden.
Allow it to cool for 3 minutes before cutting and serving.
Notes
Recipe provided by Make Your Meals
Nutrition Information:
Yield:
4
Serving Size:
1 grams
Amount Per Serving:
Unsaturated Fat:

0g