Cold Veggie Pizza is the ultimate party food recipe. It has been around for decades and is great to serve during those warm summer months for back yard get togethers or at bridal and baby showers.
When you think of a vegetable pizza, you probably immediately think of a cheese pizza topped with mushrooms, onions, peppers and maybe even artichokes. However this recipe takes pizza to a new and delicious level.
It all starts off with a rolled out, buttery crescent roll dough that is cooked on a large sheet pan. Then it is topped with a flavorful cream cheese spread and colorful diced vegetables.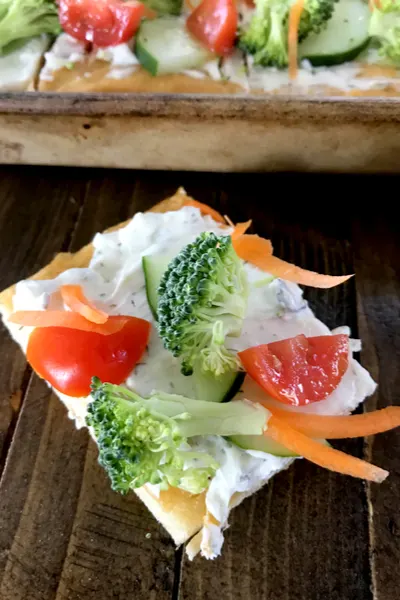 It is then served in small squares for an easy to eat, amazingly delicious appetizer or snack. Not to mention how beautiful this dish is when displayed.
Eat First With Your Eyes
You can't help but notice the bright colors of carrots, tomatoes, broccoli and cucumbers that are on the top surface. They are even more noticeable when contrasted against the white cream cheese that has specks of green throughout.
It truly is a recipe that catches your eye. And like they say, you eat with your eyes first.
I first had cold veggie pizza at a bridal shower many years ago. When I was walking down the buffet line, filling my plate with various appetizers, including my favorite Buffalo Chicken Dip, I came across this dish.
I was curious as I had never seen raw vegetables on top of a square slice of pizza. One bite and I was far from disappointed!
The soft baked crescent roll dough was balanced out perfectly with the crunch of the vegetables on top. And the cream cheese spread nestled in between held everything together perfectly.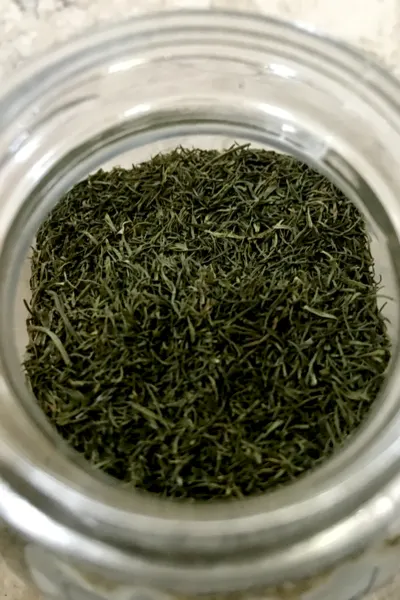 Not to mention the added flavor of a slight hint of dill and garlic that complimented the veggies and pushed my taste buds over the top. Everyone at the party loved it so much that the hostess passed out recipe cards to all of the guests.
And I have been making this recipe ever since and I am sure that after tasting it, you will too!
Cold Veggie Pizza Recipe
*Specific measurements and complete recipe instructions are located in a printable recipe card at the bottom of this article. However, be sure to continue to read the tips and tricks to making this recipe below.
INGREDIENTS
2 8 oz. cans refrigerated crescent rolls
1 8 oz. package cream cheese, room temperature
1/2 cup sour cream
1 teaspoon dried dill weed
1/8 teaspoon garlic powder
1/2 cup small fresh broccoli florets
1/3 cup quartered cucumber slices
1/2 cup grape tomatoes, quartered
1/4 cup shredded carrot
INSTRUCTIONS
Not only is cold veggie pizza delicious, it is super easy to make! However before you begin, be sure to bring the cream cheese to room temperature.
It typically takes 45-60 minutes for the cream cheese to become soft enough to be made into a spread. However, if you want it to soften even faster, read my tips and tricks in this Pepperoni Dip Recipe.
Once the cream cheese has been out on the counter for 40-45 minutes, you can begin making this recipe. Start by heating the oven to 375°F and gather a large, rimmed baking sheet.
While you wait for the oven to heat prepare the crust. Unroll both cans of refrigerated crescent roll dough and separate the dough into long rectangles.
Then place each rectangle of dough in the baking sheet, side by side. Keeping the dough flat, pinch the seams together and press the dough into the pan to fill the bottom surface.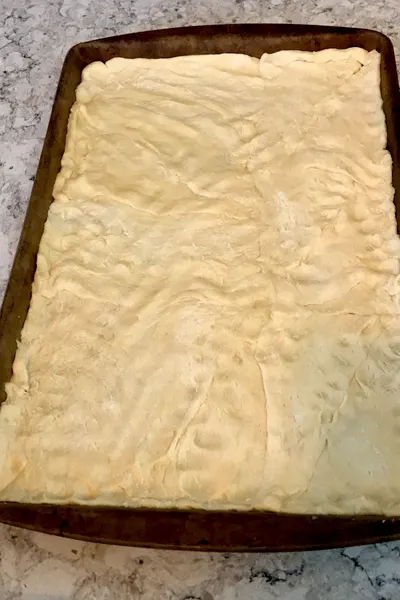 The edges of the dough can be pressed up the edge of the pan slightly to make an outer crust if you prefer. I typically do this so that the outer edges can be lifted out of the pan easier.
Bake The Crust First
Then when the oven heats up to temperature, place the baking sheet in the oven and bake until the crust is golden brown in color and cooked through.
Remove the baking sheet from the oven and let the crust cool completely. While the crust is cooling, prepare the cream cheese spread.
Again, it is crucial that you use room temperature cream cheese when making cold veggie pizza. This will allow you to mix the ingredients into a smooth spread that doesn't have lumps of cream cheese throughout.
In medium mixing bowl, add the cream cheese, sour cream, dill and garlic powder. Using a hand mixer or a silicone spatula, mix until well incorporated.
Then carefully spread the cream cheese mixture evenly over the crust. To prevent the crust from tearing, I find it easier to use a thin silicone spatula rather than a metal, offset icing spatula.
Cut Before Adding Veggies
Once the cream cheese is spread in an even layer across the crust it is time to cut it in serving size pieces. It is much easier to cut the crust before the veggies get placed on top of the pizza.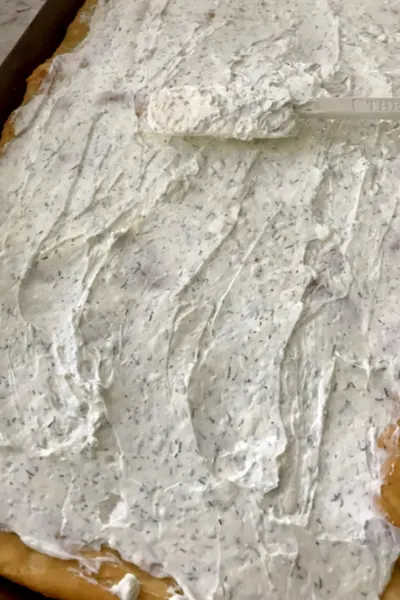 Using a large pizza cutter or a sharp knife, cut the crust into squares approximately 2 inches x 2 inches. With the sheet pan that I used I cut 4 rows and 7 columns, leaving me with 28 individual slices of the cold veggie pizza.
However, depending on the size of your pan and how large you want your slices, the quantity will vary. Now it is time to place the vegetables on top.
Scattered the prepared veggies on top. Then lightly press down on as many of the veggies as you can so that they adhere to the cream cheese a bit.
Remove the pieces with a small metal spatula and serve immediately. Or cover loosely with plastic wrap and refrigerate before serving.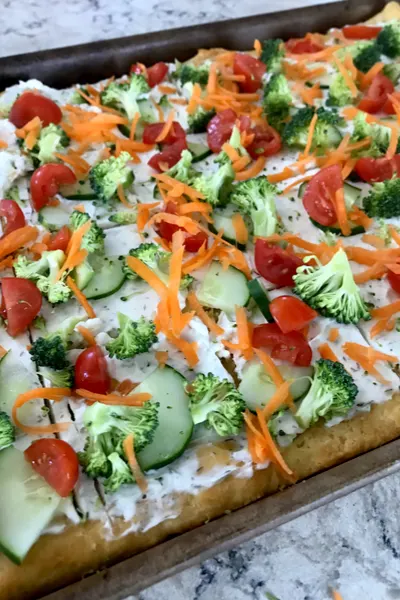 Customize The Ingredients
Although the recipe card located below gives you guidelines on the standard veggies used in this cold veggie pizza recipe, you can add in whatever vegetables that you prefer.
If you don't like tomatoes, then omit them and add in diced red peppers instead. Not a broccoli fan? No worries, add diced cauliflower instead.
However, be sure to have a variety of colors and textures for your veggie toppings for best visual and tasting results.
For example, this recipe uses carrots that were shredded in my Hamilton Beach food processor instead of diced carrots.
You don't want too many crunchy veggies on top as it would make it too difficult to eat.
And if you aren't a dill fan, use dry ranch dressing mix instead. The options really are endless with this recipe!
Enjoy! Mary

To receive our 3 Recipe Articles in your inbox each week, sign up for our free email list located in the middle of each recipe or email me at contact@makeyourmeals.com. You can also follow us on Facebook and Pinterest. This article may contain affiliate links where a small commission is paid if you purchase a product at no additional cost to you.
Cool Veggie Pizza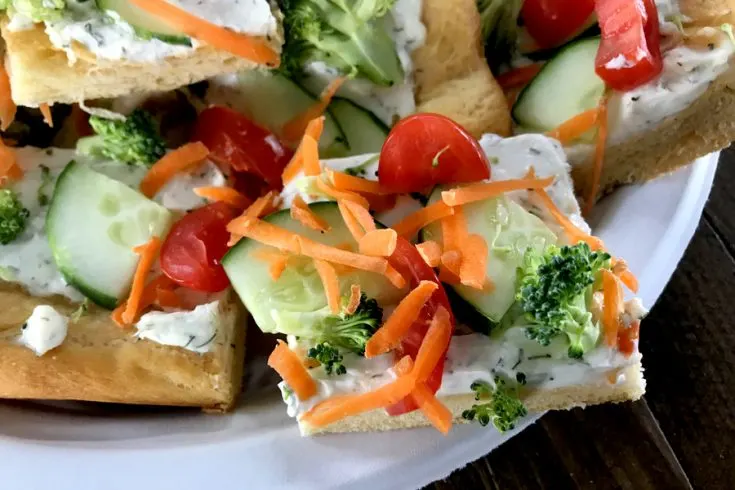 The ultimate party food recipe – crescent roll dough cooked and topped with a creamy dressing and colorful veggies and served in slices for an easy to eat appetizer or snack.
Ingredients
2 8 oz. cans refrigerated crescent rolls
1 8 oz. package cream cheese, room temperature
1/2 cup sour cream
1 teaspoon dried dill weed
1/8 teaspoon garlic powder
1/2 cup small fresh broccoli florets
1/3 cup quartered cucumber slices
1/2 cup grape tomatoes, quartered
1/4 cup shredded carrot
Instructions
Heat oven to 375°F (190°C)
Unroll both cans of dough and separate dough into long rectangles.
Place rectangles of dough in an ungreased large rimmed baking sheet. Pinch the seams and press the dough into the corners and up the sides to form a crust.
Bake 13 to 17 minutes or until golden brown. Cool completely, about 30 minutes.
In small bowl, mix cream cheese, sour cream, dill and garlic powder until well incorporated. Spread evenly over the crust.
Cut the crust into squares (7 rows by 4 rows).
Top with vegetables.
Serve immediately or cover and refrigerate before serving.
Notes
Recipe provided by Make Your Meals
Nutrition Information:
Yield:
16
Serving Size:
1 grams
Amount Per Serving:
Calories:

74
Total Fat:

7g
Saturated Fat:

4g
Trans Fat:

0g
Unsaturated Fat:

2g
Cholesterol:

20mg
Sodium:

58mg
Carbohydrates:

3g
Fiber:

0g
Sugar:

1g
Protein:

1g
Nutritional Information is to be used as a general guideline only . Nutritional calculations will vary from the types and brands of the products used.