This is the Best Thin Pizza Crust Recipe that cooks perfectly for oven baked, grilled or wood fire pizza oven pizzas.
This may sound crazy, but we make pizza at least once a week in the summer.
Not only do we make a Cauliflower Pizza Crust , we make traditional pizza crust as well.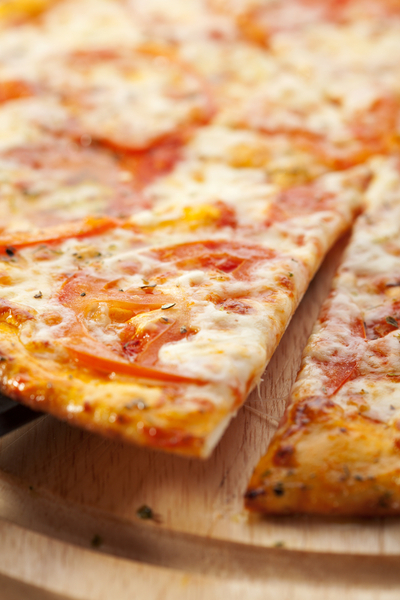 Several years ago we attempted to make pizza on our gas grill. They turned out so well that we have carried on that tradition every summer.
When we fire up the grill for almost any occasion, you can be sure that someone will ask if we can make a pizza.
And because this pizza dough recipe is so easy to make and holds up well, we usually have a batch in the refrigerator.
So it takes no time at all to roll it out and throw it on the grill.
The Ingredients In The Best Thin Crust Pizza Dough
However, because this is a yeast based dough recipe, there is some wait time before you can actually make the pizza.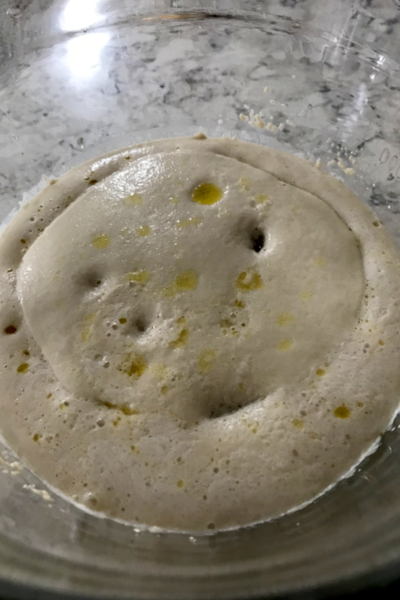 This recipe calls for 2 packets of rapid rise yeast. If you buy yeast in a jar, this equals out to 4 1/2 teaspoons.
It is extremely important to make sure that your yeast is fresh. Check the back of the package for the expiration date.
If it is expired, do not use it. Simply wait to make this thin pizza crust recipe until you have purchased new yeast.
What Type of Flour To Use
This recipe calls for bread flour as the main ingredient.
Although you most likely have all-purpose (AP) flour in your pantry, it is best to use bread flour for thin pizza crust.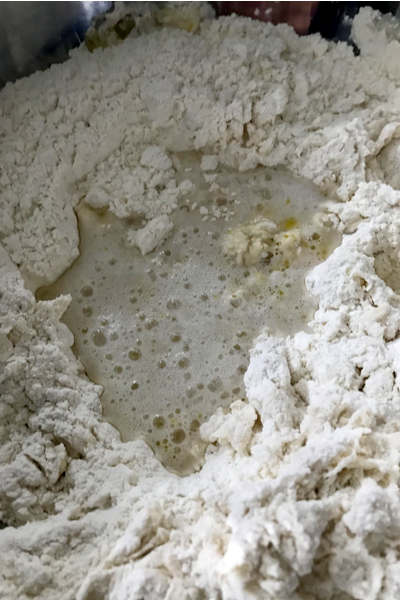 Bread flour contains more protein and when paired with yeast will contain and produce more gluten that is required to achieve the rise in the dough.
It also absorbs more liquid than AP flour which increases the ability of the dough to rise upward.
Therefore, using bread flour produces a more sturdy and elastic pizza dough that holds up well when rolled out into a thin crust.
Making the Dough
Now that you know the importance and what type of ingredients to use, it is time to make thin pizza crust dough.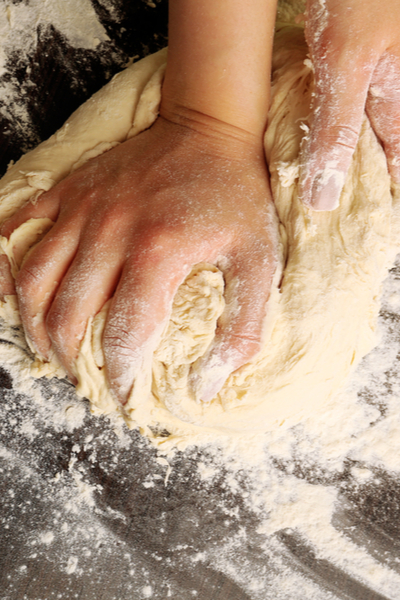 Start out by whisking your flour and salt in a large mixing bowl.
The whisking process not only allows the salt and flour to be evenly distributed. It also allows any clumps of flour to disperse.
Next, mix together your water, yeast, oil and sugar. Be sure to use lukewarm water between 100-110°F so that the yeast can activate.
We use a digital thermometer to make sure that we do not make the water too hot, which will kill the active yeast.
After about 5 minutes, you will notice the yeast bubbling at the top surface. That is when you know that you are ready to mix it in with the flour.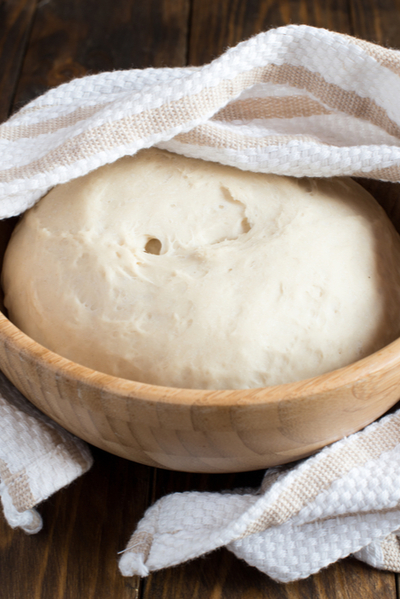 Make a well in the center of the flour and pour half of the water mixture in the well.
Slowly fold the edges of the flour into the center until the water begins to absorb.
Add the remaining water and begin to work the dough with your hands.
Move the dough to a floured surface and knead until a smooth dough ball forms.
This will most likely require you to add a little flour to the kneading surface to prevent sticking.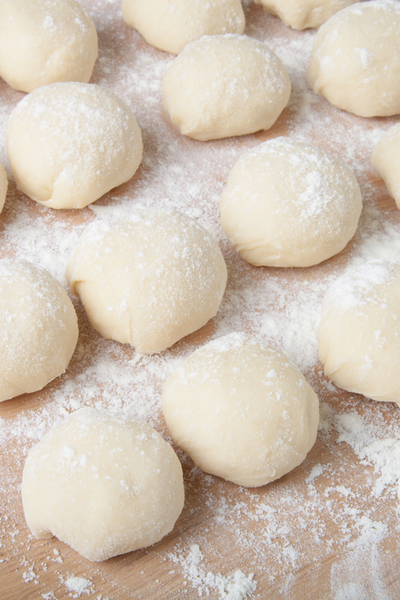 Once the dough ball has formed, place it in an olive oil brushed bowl and cover.
Place it in a warm place for about an hour or until the thin pizza crust dough doubles in size.
Rolling Out The Dough
Now the fun can begin!
Punch the center of the risen down and you will see the dough collapse.
Now it is time to make your thin pizza crust!
Simply pull off small sections of dough and make dough balls in the desired size.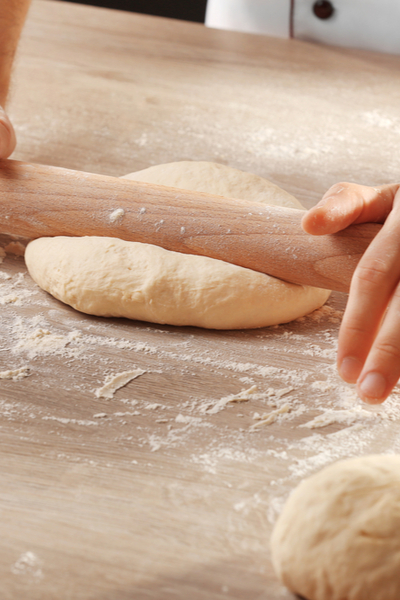 This recipe will make 6 medium size pizza crusts. However, we prefer to make individual size pizzas, especially our Barbecue Chicken Pizza, and can make at least 16 thin crust pizzas.
Storing The Thin Crust Pizza Dough
As mentioned earlier, we keep homemade pizza dough in the refrigerator until ready to use.
It will last for about a week in the refrigerator.
However, we often freeze individual dough balls to have them on hand whenever needed.
Simply roll the dough balls and wrap in olive oil lined plastic wrap. Place the dough balls in a freezer safe container.
Then when you are ready to use them, pull them out of the freezer and let them thaw.
If you love all things pizza – check out our Pizza Casserole and Pizza Muffin Bites recipe. They are both absolutely delicious and a family favorite!

To receive our 3 Recipe Articles in your inbox each week, sign up for our free email list located in the middle of each recipe or email me at contact@makeyourmeals.com. You can also follow us on Facebook and Pinterest. This article may contain affiliate links where a small commission is paid if you purchase a product at no additional cost to you.
Yield: 6 medium pizzas
Thin Crust Pizza Dough Recipe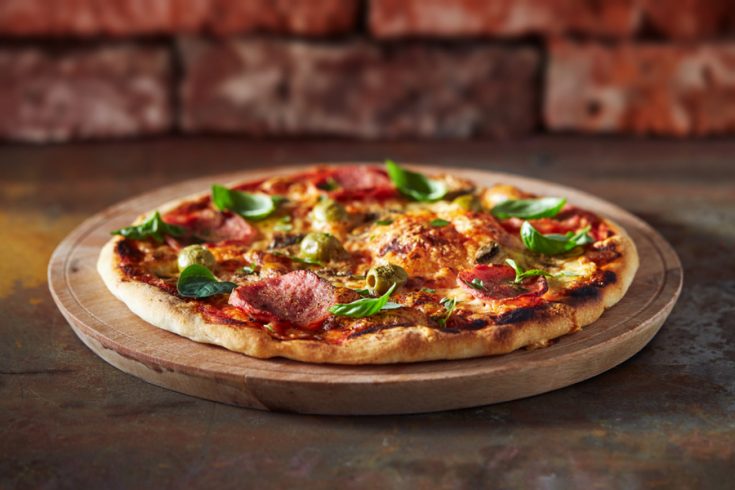 A thin and crispy pizza dough recipe that is perfect for pizza made in the oven, grill or in a wood fire pizza oven.
Ingredients
7 cups white bread flour, plus more for dusting
1 tablespoon fine sea salt
4 1/2 teaspoons active dried yeast, 2 packets
1 tablespoon sugar
4 tablespoons extra-virgin olive oil
2 ½ cups lukewarm water, 100 -110°F
Instructions
In a large bowl, whisk together the flour and salt and set aside.
In a medium bowl, add the water and mix in the yeast, sugar and olive oil and let sit for approximately 5 minutes until foamy.
Make a well in the center of the flour mixture. Slowly pour in half of the wet ingredients.
Using a fork, bring the flour in gradually from the sides and combine it with the liquid. Keep mixing and add in the remaining water mixture.
When it all starts to come together, bring the dough to a floured surface and knead it until you have a smooth, springy dough ball.
In a large bowl, coat the insides with extra virgin olive oil. Add the dough bowl to the bowl, then flip over so the top of the dough has been coated in the olive oil from the bottom of the bowl.
Cover the bowl with plastic wrap and place in a warm room for about 1 hour or until the dough has doubled in size.
Punch down the dough to release the air.
Divide the dough into little balls. On a floured surface roll out each dough ball to ¼ inch thickness.
Add your favorite sauce and ingredients and cook at a high temperature in a pizza oven, grill or in your home oven on a hot pizza stone.
Notes
Dough balls can be stored in plastic wrap in the freezer for 6 months
Recipe provided by Make Your Meals
Nutrition Information:
Yield:
6
Serving Size:
1 grams
Amount Per Serving:
Unsaturated Fat:

0g