Instant Pot Barbacoa Beef is the most flavorful, tender and juicy barbacoa beef that you will ever have.
The process of cooking the meat in a pressure cooker allows the meat to become super tender. And the favors of the spices makes this recipe a crowd favorite!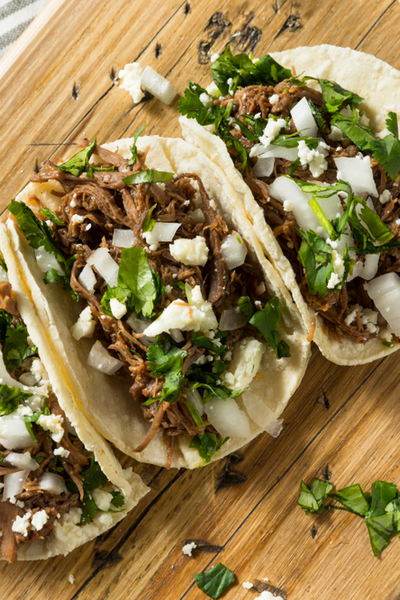 I am ashamed to admit that the very first time that I tried Barbacoa was in a Chipotle Restaurant.
I absolutely love Mexican food and often frequent authentic Mexican Restaurants.
However, I rarely stray away from ordering chicken or steak fajitas.
Although the menus at most Mexican restaurants are quite extensive, and I walk in determined to order something new, I always end up ordering the usual.
But when I started going to a fast food version of a Mexican Restaurant, Chipotle, I began to try various types of protein in my burrito bowls.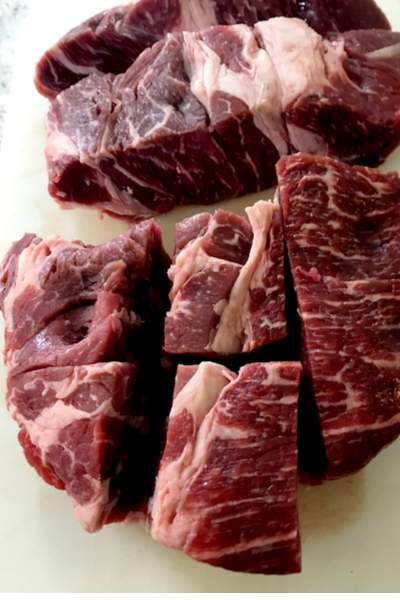 Yes, chicken and steak are my go-to menu items, but I have also tried the carnitas, sofritas, and of course Barbacoa.
So then I learned to order different menu items at the authentic, sit down restaurants.
Barbacoa
Traditionally, barbacoa is made from sheep, goat or beef. It is slow cooked for hours along with various seasonings until tender.
The meat is typically shredded and served as the main filling for tacos, burritos and more!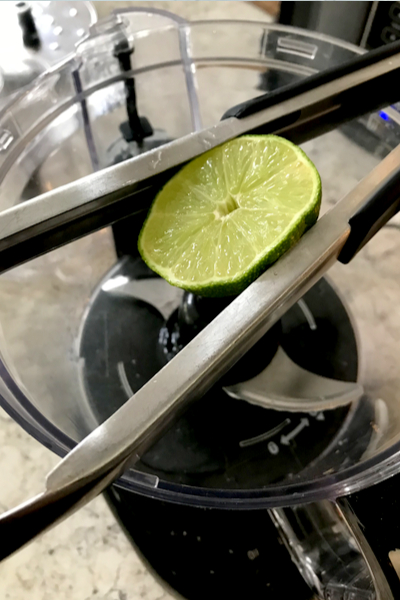 Typically, the entire process takes many hours to prepare but it is definitely well worth the effort.
The meat is super tender, flavorful and literally melts in your mouth!
However, because it takes so long for the meat to break down and cook to perfection, we rarely made it at home.
That, of course, was until we began making Instant Pot Barbacoa Beef.
Instant Pot Barbacoa Beef
Now it has become one of our favorite recipes!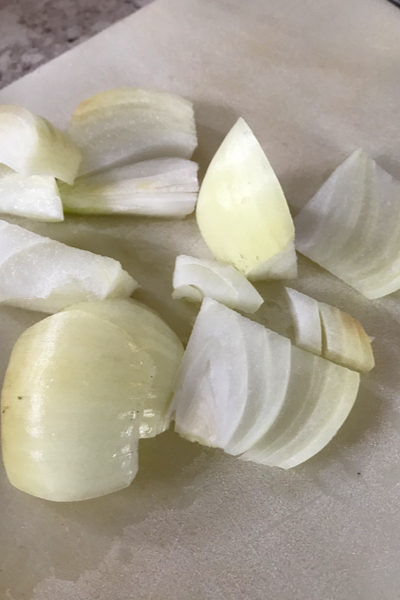 It is so easy to prepare and the meat is so flavorful that we not only use it for fillings for tacos and burritos, but also to serve it in a bowl with rice or on top of our salads.
We use a standard chuck roast for this recipe. Yes, the same cut of meat that we use for our Pot Roast recipe.
This chunk of meat comes from the shoulder and is typically slow cooked until fall apart tender.
It is the perfect cut of meat for Instant Pot Barbacoa.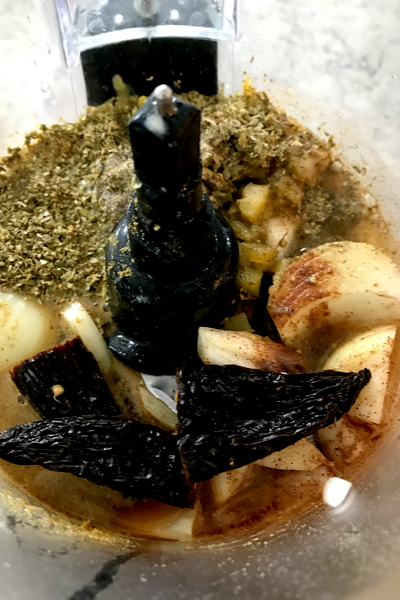 However, you must trim the exterior edges of fat so that you don't end up with chunks of fatty meat dispersed throughout the rest of the meat.
Barbacoa Marinade
But what makes this dish so flavorful is the marinade that you cook with the beef.
A combination of ingredients, spices and flavorful liquids becomes an amazing puree that truly makes this recipe magnificent!
And as always, you can adjust the taste to your liking.
We use beer instead of beef stock. Either one will provide a rich flavor to your dish.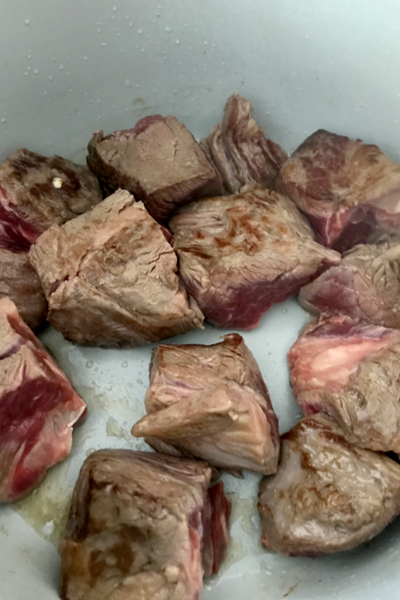 Therefore, if you don't like to cook with alcohol, stick to the stock.
And as for heat level in this recipe, we like it a little on the spicier side.
So we will use hot green chiles and a few extra chipotle peppers in adobo sauce to kick it up a notch.
However, if you like your meat with a little less heat, stick to the mild green chiles and just a couple of chipotle peppers.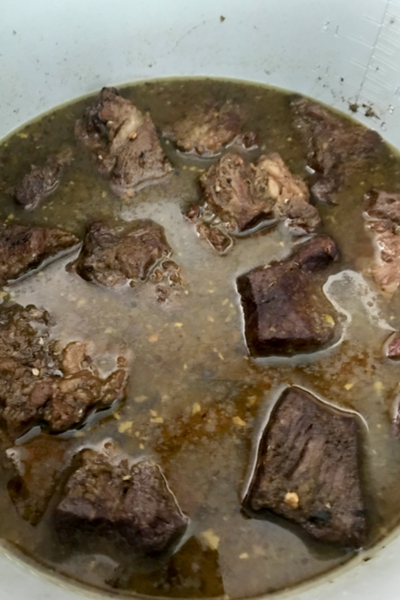 The best part is that this marinade is made in minutes using a food processor or blender.
No need to dice up your ingredients into small pieces. Simply throw chunks of the ingredients in the food processor or blender and puree until smooth.
The chunks of meat gets tossed and cooked in the liquid and becomes fall apart tender.
In fact, you can shred the meat in minutes with two forks.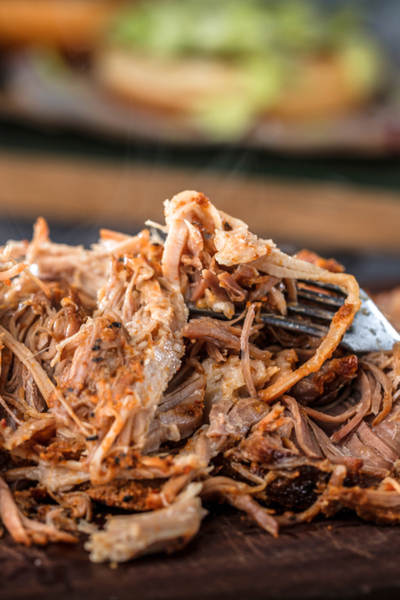 Serve on tortillas, salads, or with Mexican rice for a full meal.

To receive our 3 Recipe Articles in your inbox each week, sign up for our free email list located in the middle of each recipe or email me at contact@makeyourmeals.com. You can also follow us on Facebook and Pinterest. This article may contain affiliate links where a small commission is paid if you purchase a product at no additional cost to you.
Yield: 8
Instant Pot Barbacoa Beef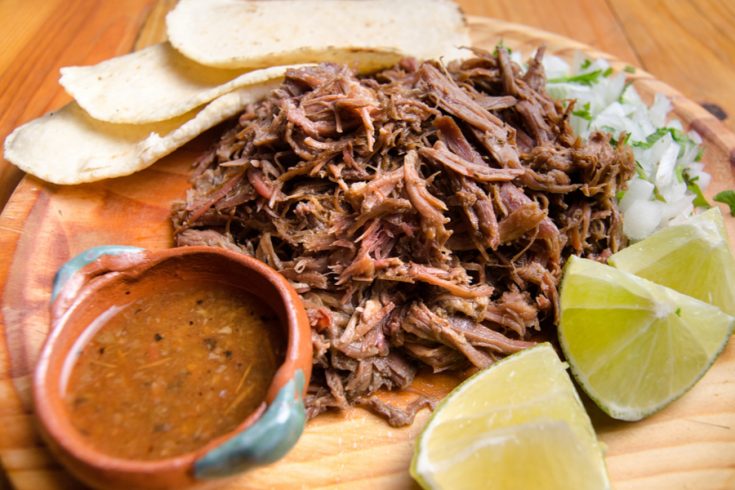 The most flavorful, tender, and juicy barbacoa beef made in the Instant Pot pressure cooker. Perfect for tacos, burritos, enchiladas, quesadillas and more!
Ingredients
3 pounds chuck roast, fat trimmed
2/3 cup beef stock or beer
4 cloves garlic, peeled
1 small white onion, peeled and roughly chopped
1 (4-ounce can) chopped green chiles, mild or hot
2-3 chipotles in adobo sauce
1/4 cup lime juice
2 tablespoons apple cider vinegar
1 tablespoon ground cumin
1 tablespoon oregano
2 teaspoons salt
1 teaspoon black pepper
1 tablespoon olive oil
4 bay leaves
Instructions
Cut chuck roast into 2 inch cubes, set aside.
In a food processor or blender add the stock/beer, garlic, onion, green chiles, chipotles, lime juice, apple cider vinegar, cumin, oregano, salt, and pepper. Puree until smooth. Set aside.
Press the SAUTE button. Once the display reads HOT, add the olive oil. Add the chunks of roast and sear until browned on all sides, working in batches if necessary.
Press CANCEL to turn off the heat.
Add the sauce and toss with the chunks of roast to coat the meat. Add the bay leaves to the pot.
Lock the lid in place and set the vent to the SEALING position.
Pressure Cook/Manual on HIGH pressure for 60 minutes.
After the cooking time expires, allow for 10 minutes of Natural Pressure Release. Then carefully quick release any remaining pressure by turning the valve to the VENTING position.
Remove the lid and by using two forks, shred the beef.
Remove the bay leaves and stir the shredded beef into the remaining liquid.
Serve immediately.
Notes
Refrigerate any remaining portions or freeze for up to 6 months.
Recipe provided by Make Your Meals
Nutrition Information:
Yield:
8
Serving Size:
1 grams
Amount Per Serving:
Unsaturated Fat:

0g