When I am asked what is the absolute easiest and most economical recipes to make in the Instant Pot, one of the first things that comes to mind is Instant Pot Barbecue Chicken Legs.
In its most simplest form, the only ingredients required are chicken legs and barbecue sauce.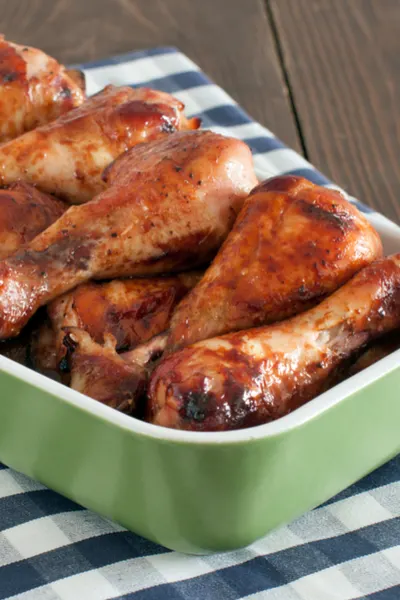 And as for the cost of this meal, it can be made for just a few dollars.
Chicken legs are one of the least expensive poultry items that you can purchase.
And depending on the type of barbecue sauce that you prefer for your Chicken Legs the cost for the portion used in this recipe can easily be under one dollar.
Chicken Legs vs. Drumettes
However, just to clarify, we are talking about using large chicken legs. Not the tiny drumettes that you will find when you order chicken wings.
Drumettes are actually part of the chicken wing. They are the upper part of the wing that contains the most meat and look a tiny version of chicken legs.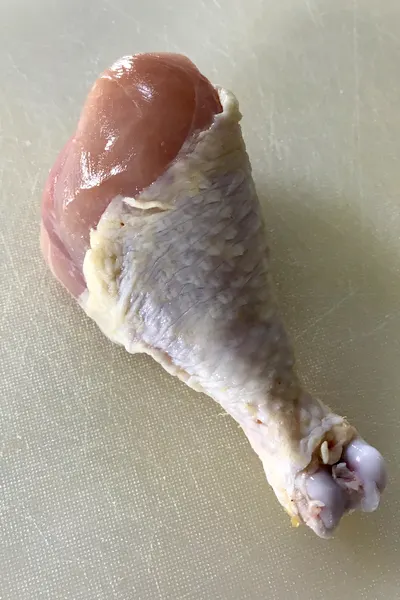 On the other hand, the actual chicken legs, which are also called drumsticks, are much larger.
Think about the size of chicken legs that you get when you order a meal at KFC.
These are the same size portions that we are going to make into Instant Pot Barbecue Chicken Legs.
How To Make Instant Pot Barbecue Chicken Legs
If you are truly looking for a simple barbecue chicken leg recipe here it is.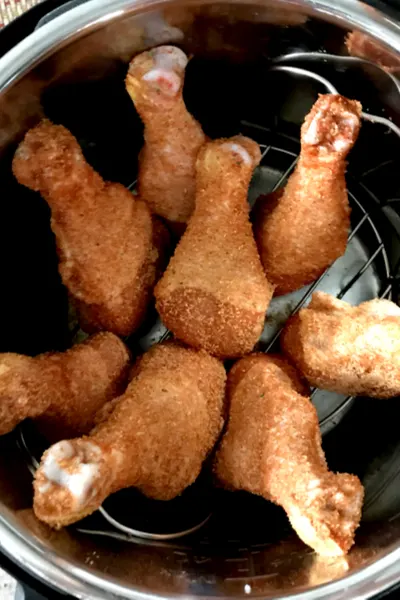 Simply add water to the liner of the Instant Pot. Add the trivet and place your drumsticks with the thick, top side on the trivet. The bone should face upward and against the side of the liner.
Pressure cook for 18 minutes and then after 5 minutes of natural pressure release remove the legs to a foil lined baking sheet.
Coat the legs with your favorite barbecue sauce using a pastry brush and place under a broiler until crispy.
Seriously, that is it!
Add A Dry Rub To Improve Flavor
However, if you really want the BEST and EASIEST Instant Pot Barbecue Chicken Legs, add a dry rub before cooking.
The dry rub requires just a few ingredients and it is super easy to make.
In fact, I make this dry rub recipe at least once a week and put it on not only chicken legs, but steak, ribs and even baked potatoes!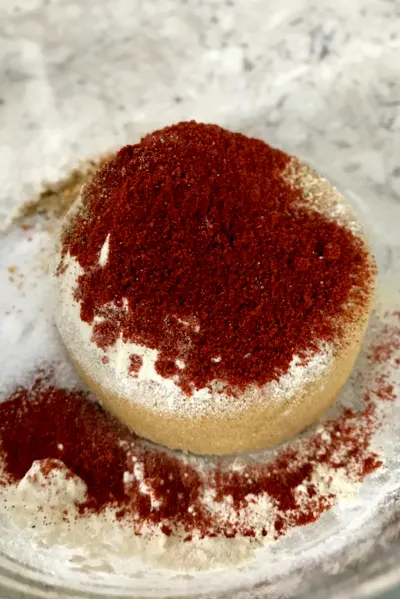 But most importantly, the key to this dry rub recipe is the smoked paprika.
Unlike it's sweeter counterpart, smoked paprika provides a barbecue flavor that makes the chicken taste like it has been cooked on a smoker for hours.
I highly recommend you keeping smoked paprika in our spice cabinet at all times. We use it not only for this recipe but also in our Air Fryer Salmon and Steak Fajitas recipes as well.
Simply add the smoked paprika and the rest of the dry rub ingredients into a large gallon size ziplock bag and shake the legs until well coated.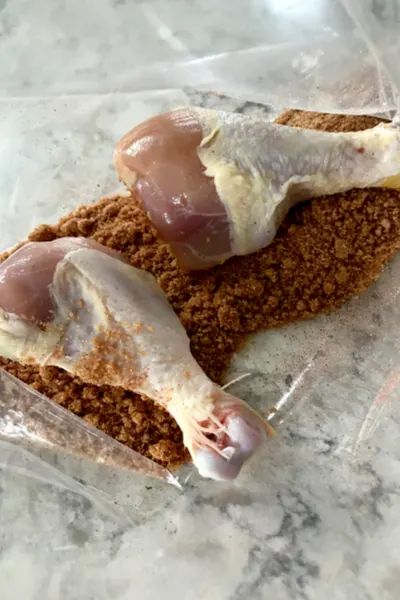 Then cook them in the Instant Pot just like you would for plain Barbecue Chicken Legs.
It adds so much additional flavor to the chicken that we never skip the dry rub process.
And you if you like a little heat you can always increase the amount of cayenne pepper that you use.
On the contrary, if you prefer things a little sweeter, skip the cayenne all together!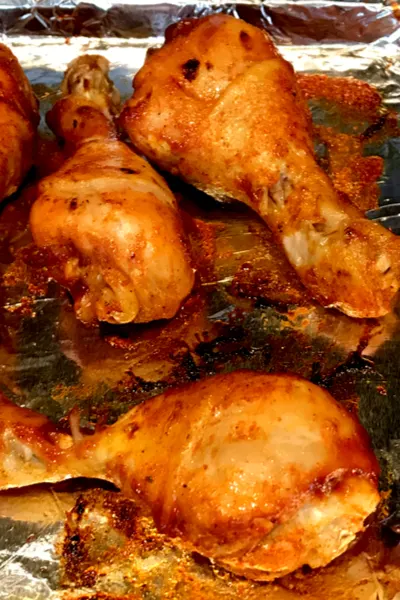 Either way, you will find that Instant Pot Barbecue Chicken Legs will become one of your favorite, go-to recipes!
Serve it with Classic Macaroni Salad (with the noodles made in the Instant Pot) and you have a full meal ready to go in minutes!
Check out how to make Instant Pot Chicken Leg Quarters as well.

To receive our 3 Recipe Articles in your inbox each week, sign up for our free email list located in the middle of each recipe or email me at contact@makeyourmeals.com. You can also follow us on Facebook and Pinterest. This article may contain affiliate links where a small commission is paid if you purchase a product at no additional cost to you.
Yield: 6
Instant Pot Barbecue Chicken Drumsticks/Legs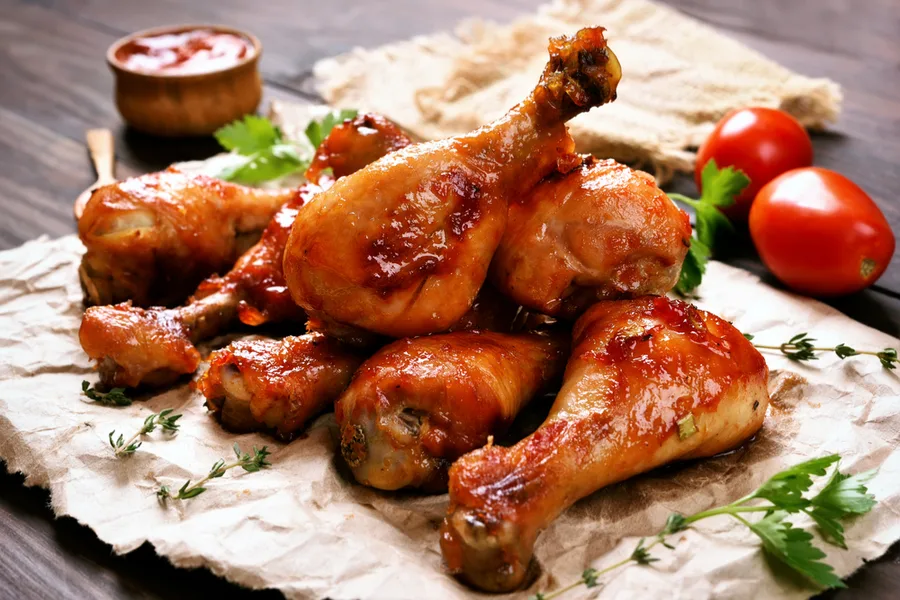 Full size chicken legs coated in a delicious dry rub and cooked in the Instant Pot and then coated in your favorite barbecue sauce and crisped under the broiler.
Ingredients
8 Chicken Drumsticks/Legs, full size
Dry Rub Ingredients
1/2 cup brown sugar
1 tablespoon onion powder
1 tablespoon garlic powder
1 tablespoon smoked paprika
1 teaspoon sea salt
1/2 teaspoon ground black pepper
1/4 teaspoon cayenne pepper, optional
Barbecue Sauce
Instructions
Pat chicken drumsticks dry with a paper towel and set aside.
In a ziplock bag add the dry rub ingredients and shake to mix.
Add 2 chicken legs at a time to the bag and shake to coat and repeat until all drumsticks have been coated in the dry rub.
Add 1 cup of water to the liner of the Instant Pot and insert trivet. Arrange chicken standing up, meaty side down, on the trivet.
Lock lid and move valve to the sealing position. Pressure Cook/Manual on HIGH pressure for 18 minutes.
When the cook time expires, allow for Natural Pressure Release for 5 minutes. Quick release any remaining pressure.
Check the chicken using a meat thermometer to ensure the internal temperature is at least 165°F.
Position the top oven rack approximately 4 inches below the broiler and turn on the broiler on HIGH.
Prepare a baking sheet with foil and then spray the foil with non-stick cooking spray.
Remove chicken legs and place on the prepared baking sheet. Coat each leg with barbecue sauce.
Broil the chicken 2-3 minutes on each side until crispy, watching it closely to prevent burning.
Transfer chicken drumsticks to a serving plate and serve warm.
Notes
Recipe provided by Make Your Meals
Nutrition Information:
Yield:
6
Serving Size:
1 grams
Amount Per Serving:
Unsaturated Fat:

0g