Air Fryer Calzones are easy to make and are a favorite snack or dinner among all family members!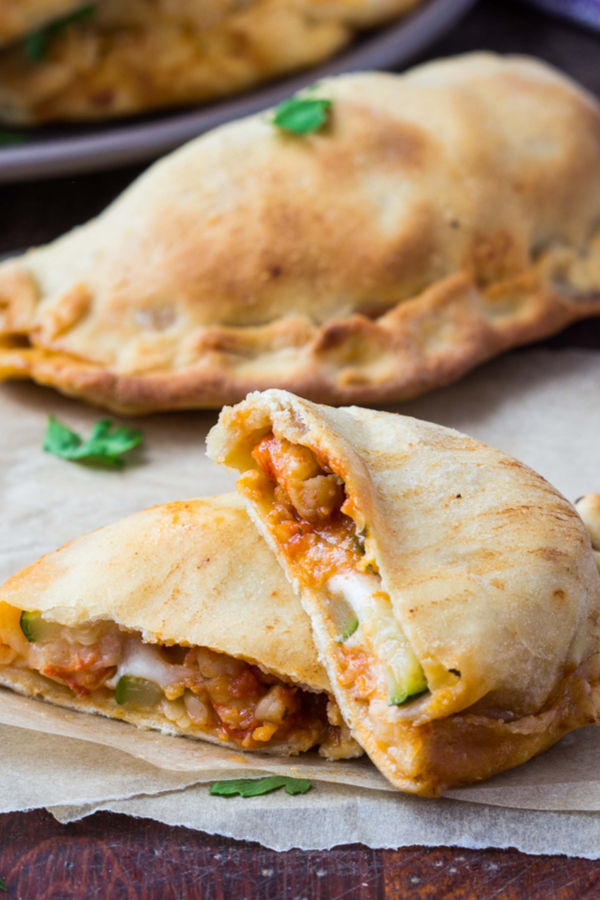 But first, let me explain what the difference is between a Calzone and Stromboli.
In the most simplest form, Calzones are pizza pockets filled with all of your favorite toppings and folded into a semi-circle shape.
Although the fillings may be the same in Stromboli, they are folded in a circular, burrito-like shape.
Both are delicious, however, because each member of my family likes different pizza toppings, we decided it would be best to make Calzones.
How to Make Air Fryer Calzones
The first time I tried to make Air Fryer Calzones, the results were less than desirable.
First, I put way too many toppings in each pizza pocket. As they cooked in the basket, the toppings oozed out and made a complete mess.
So the next time that I made them, I backed off the amount of fillings that I used.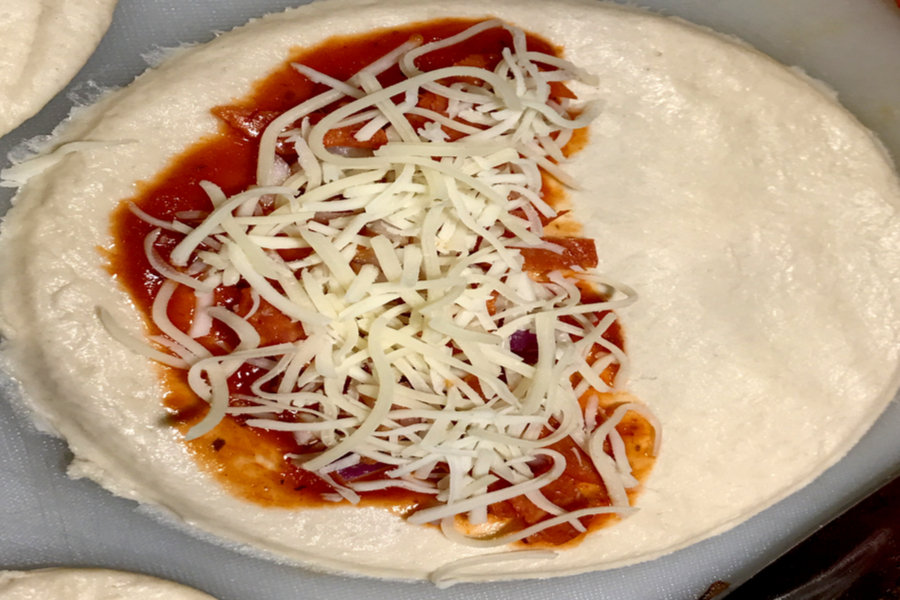 Although the fillings didn't fall out, the homemade dough that I used was rolled too thin and cooked way faster than expected.
This resulted in an overcooked crust, and undercooked fillings.
But I was determined to make this work! So finally, in my third and final attempt, I made Air Fryer Calzones that turned out perfect!
Use Refrigerator Pizza Crust Dough
This time I used store-bought refrigerated pizza dough. The kind you find in the long slender rolls, next to the cans of cinnamon rolls and biscuits at the grocery.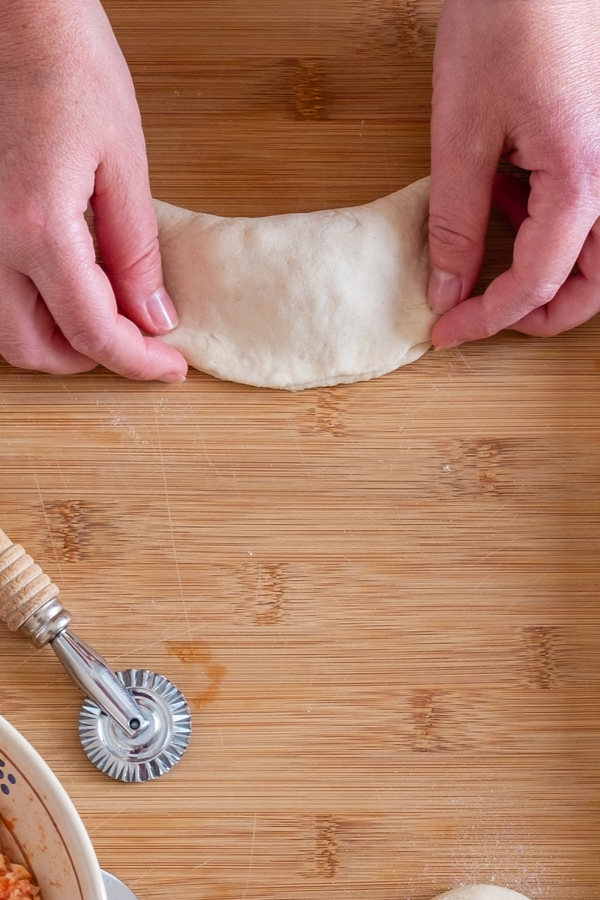 I rolled out the large rectangular piece of pizza dough and slightly rolled it out to be a little thinner.
Then I used a biscuit cutter to cut out large circles to make Air Fryer Calzones. Don't worry, if you don't have a biscuit cutter you can use a large round cookie cutter or even a wide rimmed mouth of a drinking glass.
Once you have your circles cut out, add 1-2 teaspoons of pizza or marinara sauce on one side of the circle.
And yes, if you don't like traditional pizza sauce, you could use Alfredo or Garlic sauce instead.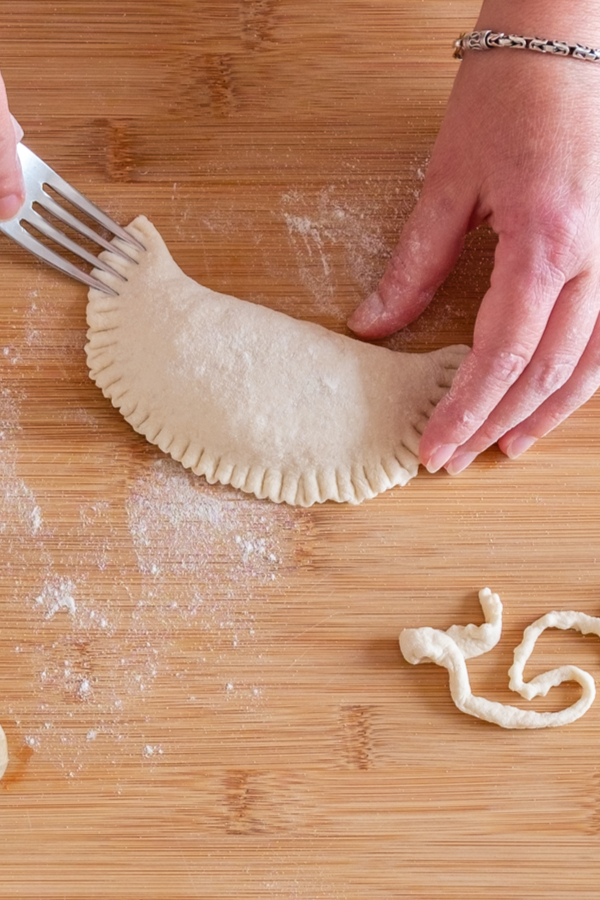 Next, add any toppings that you prefer. Just remember – don't overfill the Calzones!
Once you have all of our toppings on the circle, carefully fold into a semi-circle shape. Seal the edges of each Calzone by pinching them together or pressing them with a fork before putting them in the Air Fryer.
Air Fryer Instructions
Preheat your Air Fryer for 3 minutes at 400 degrees F. Then spray your basket with a little olive oil non-stick spray.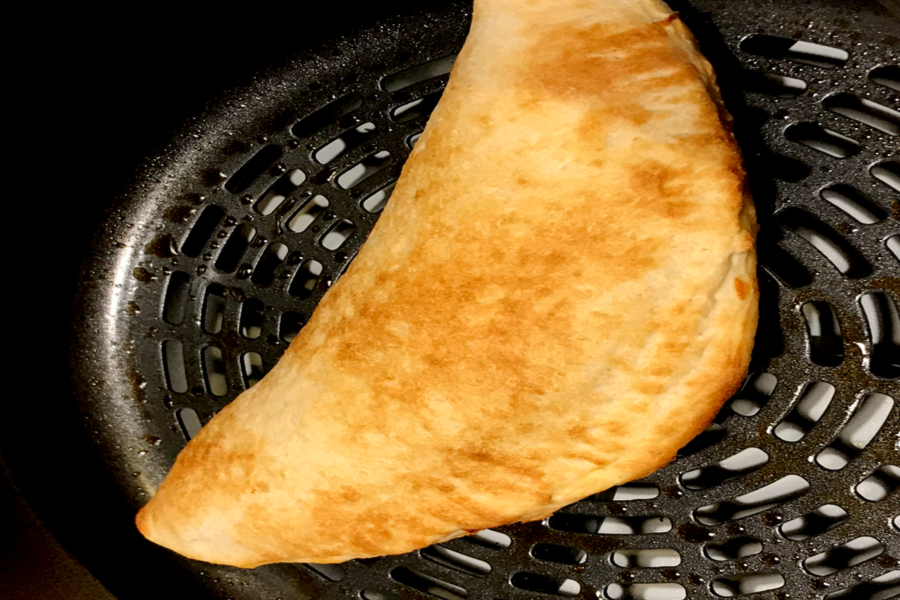 Place as many Calzones as you can in the basket, in a single layer. However, be sure to leave at least 1/2 inch space between each one so that they can cook properly.
We used our Ninja Foodi 6.5 quart Multi-cooker and could fit 4 Calzones in the basket.
Cook for approximately 6 minutes. However, as always, keep in mind that all Air Fryers cook at different rates. Be sure to check them frequently to prevent the crust from burning.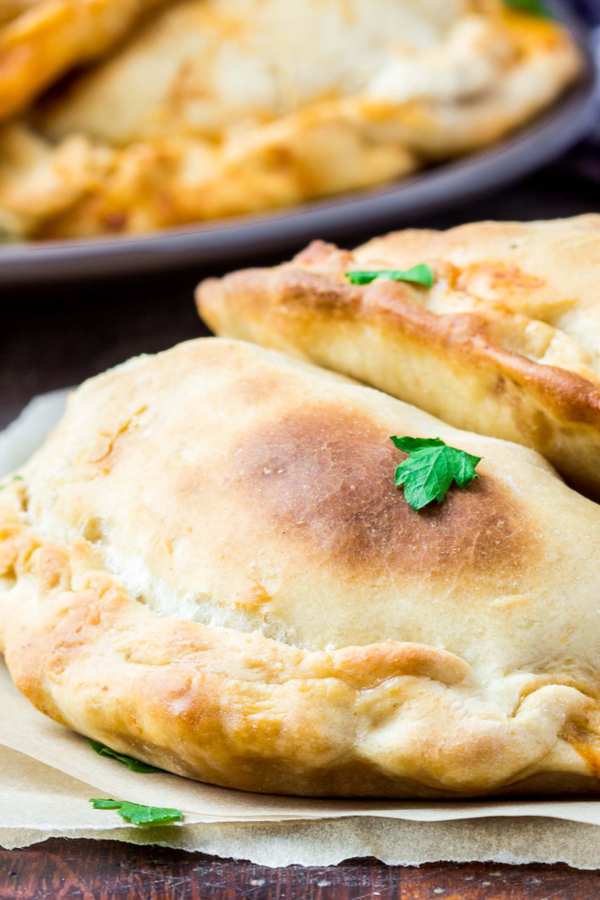 Once they are nice and golden brown, remove the Calzones from the Air Fryer and serve with marinara sauce for dipping!
And if you love this recipe, you are going to love our easy to make Air Fryer Pizza Sticks!


To receive our 3 Recipe Articles in your inbox each week, sign up for our free email list located in the middle of each recipe or email me at contact@makeyourmeals.com. You can also follow us on Facebook and Pinterest. This article may contain affiliate links where a small commission is paid if you purchase a product at no additional cost to you.
Air Fryer Calzones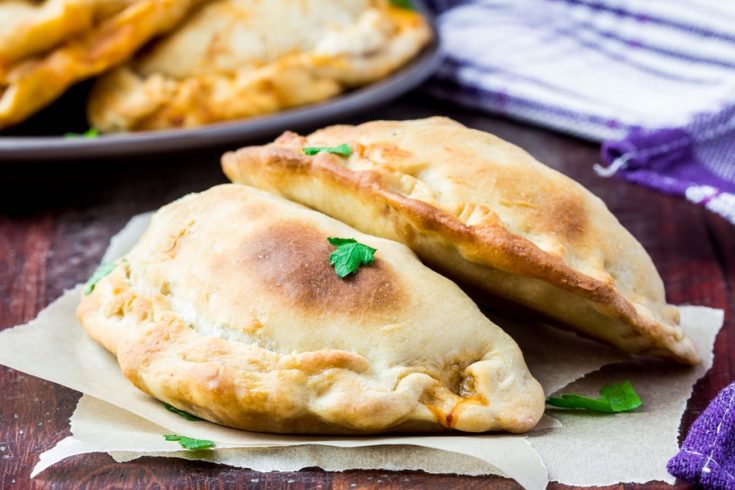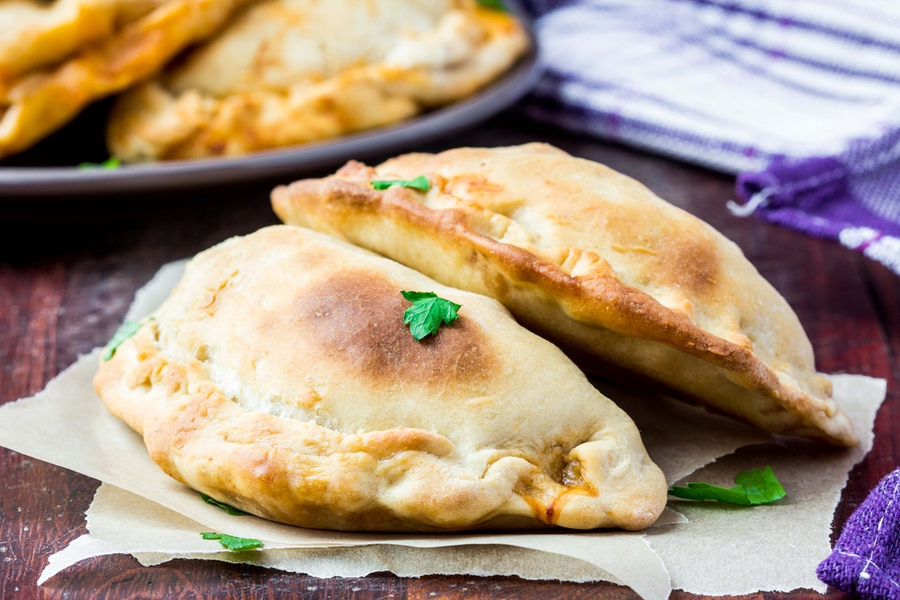 Pizza pockets filled with your favorite pizza toppings and cooked in the Air Fryer.
Ingredients
1 - 13.8 oz can refrigerated pizza dough
1/4 cup pizza sauce
3 Tbsp. diced red onion
1/4 cup chopped pepperoni
1/4 cup Mozzarella cheese
Instructions
Roll out the pizza dough in a rectangle and use a circle cutter or a large glass to cut the dough into circles.
On one side of each circle add 1-2 teaspoons of pizza sauce and sprinkle on toppings. Do not overfill!
Preheat your Air Fryer at 400 degrees F for 3 minutes. Spray the basket with olive oil spray.
Working in batches as needed, add the calzones to the basket, leaving at least 1/2 inch space between them.
Cook at 400 degrees F for 6 minutes or until the pizza crust becomes golden brown.
Remove and serve immediately with marinara sauce.
Notes
Recipe provided by Make Your Meals
Nutrition Information:
Serving Size:
1 grams
Amount Per Serving:
Unsaturated Fat:

0g