Air Fryer Calzones are easy to make and are a favorite meal or snack among my family and friends. Of course they are because you have all of your favorite pizza fillings stuffed inside a pocket of pizza dough.
Then they are cooked in the air fryer until the pizza dough is cooked and golden brown. Serve them with warm marinara sauce and you have a delicious pizza inspired snack, lunch or dinner!
It is a great alternative to pizza night. Especially when everyone in the house prefers different pizza toppings.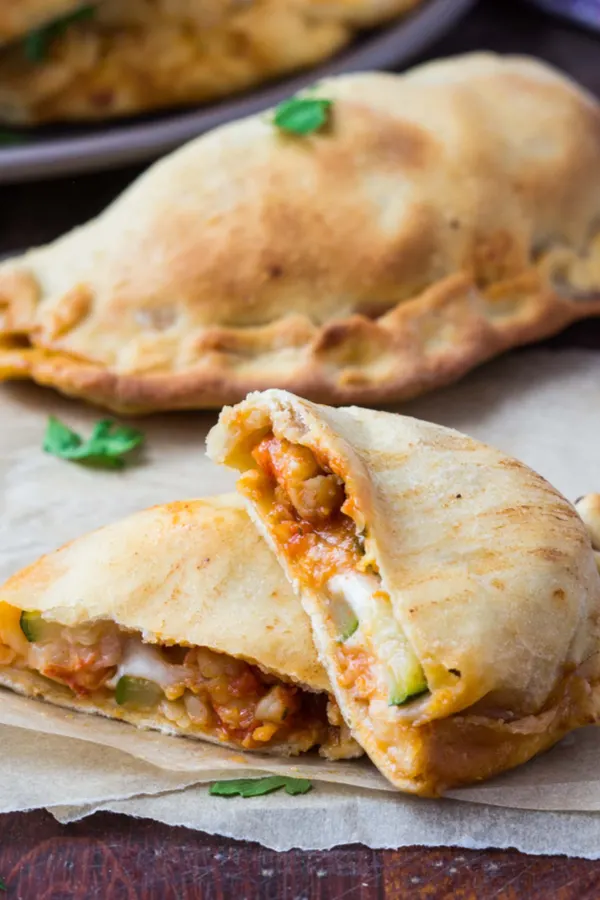 Like many Americans, we have pizza night 3-4 times a month. Although we all love to order a traditional pizza, there are times where I prefer to make something different at home.
However, I always keep the pizza theme at the forefront. Whether I make Pizza Rolls, Pizza Muffin Bites, or Bubble Up Pizza Casserole, we always have some sort of meal that focuses on a starch that is combined with pizza sauce, cheese and toppings.
And that is when I got the idea to make Calzones. However, instead of cooking them in the oven, I cook them in the air fryer instead.
It takes less time than cooking them in the oven. In fact, in the time that it takes your oven to preheat the calzones will be cooked and ready to serve!
However, before I get to the actual recipe, let me first explain the difference between a Calzone and Stromboli.
What Is The Difference Between Calzones and Stromboli
Although both a calzone and stromboli involve pizza dough stuffed with various pizza ingredients, there is a difference between the two.
A calzone begins with a circle of pizza dough that's folded in half over the filling. Then the edges are sealed by crimping the dough sheets together, like an empanada.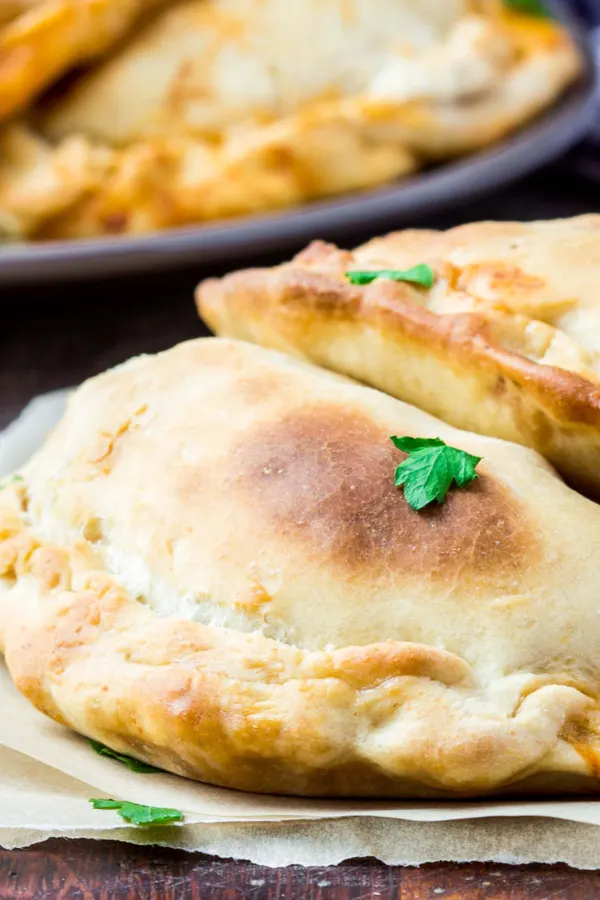 A stromboli starts with a rectangular piece of pizza dough. Once the toppings are added it is either folded like an envelope or rolled into a large burrito shape.
A stromboli is larger and longer than a calzone. Once a stromboli is baked it is then cut into slices to make several servings.
Both are delicious, however because each member of my family likes different pizza toppings, calzones are often the better choice.
Tips For Making Air Fryer Calzones
1. Don't Add Too Many Toppings
The first time making calzones, my results were less than desirable. That is because I put way too many toppings on the pizza dough.
Once they cooked in the air fryer basket the toppings oozed out of the dough and made a complete mess. Therefore place a little less toppings than you think you should add.
Once you cook your first couple calzones, you will know exactly how much you can add the next time.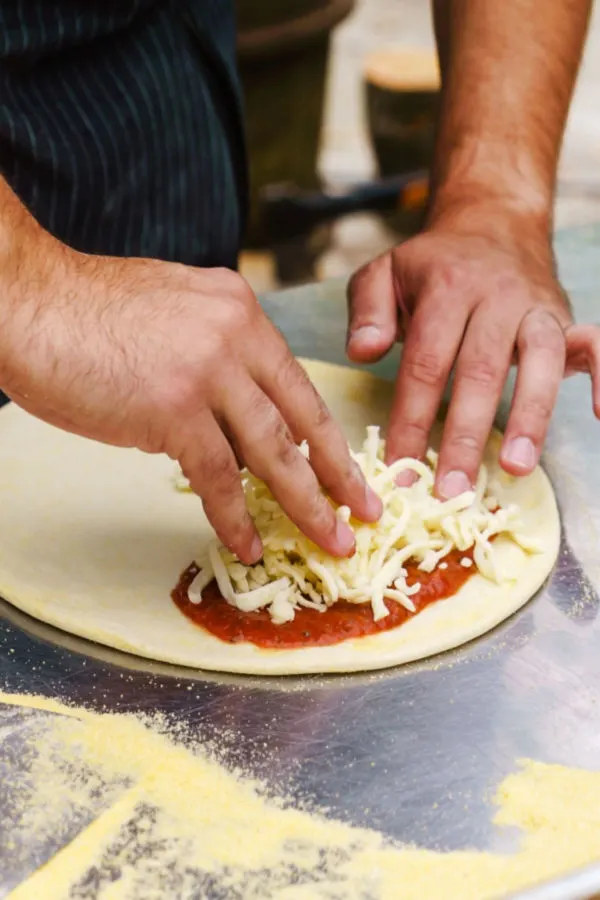 2. Use Refrigerator Pizza Crust Dough
Although you could make your own homemade pizza dough you will get more consistent results if you use refrigerator pizza crust dough. The homemade dough is often thinner and more difficult to manipulate than the store bought dough.
In addition, the consistency and texture of the refrigerator pizza crust will cook up perfectly in the air fryer. You can find the long slender tubes of refrigerator pizza crust next to the cans of cinnamon rolls and biscuits at the grocery store.
3. Crimp The Edges
It is vital that you crimp the edges of the dough to prevent the fillings from coming out during the cooking process. Do this by pressing the tines of a fork into the edge of the dough until it makes the two sheets compress together.
Although you could also roll the bottom dough over top dough and pinch it with your fingers to make it seal and look extra fancy.
However you can take one additional step to help the dough seal together. Before folding the dough dip your finger in water and run your damp fingertip around the inside edge of the circle of dough.
The water will help bind the two sheets of pizza crust together. You could also do this with an egg wash, but I find that water works just fine.
Air Fryer Calzones Recipe
*Specific measurements and complete recipe instructions are located in a printable recipe card at the bottom of this article. However, be sure to continue to read the tips and tricks to making this recipe below.
INGREDIENTS
1 – 13.8 oz can refrigerated pizza dough
1/4 cup pizza sauce
3 Tbsp. diced red onion
1/4 cup chopped pepperoni
1/4 cup Mozzarella cheese
INSTRUCTIONS
Roll out the large rectangular piece of pizza dough so that it becomes a little bigger and thinner.
Then use a large biscuit cutter to cut out circles to make your Air Fryer Calzones. Don't worry, if you don't have a biscuit cutter, you can use a large round cookie cutter or even a wide rimmed mouth of a drinking glass or a small bowl to make your circles.
Once you have your circles cut out, add 1-2 teaspoons of pizza or marinara sauce on one side of the circle. If you don't like traditional pizza sauce, you could use Alfredo or Garlic sauce instead.
Next, add any toppings that you prefer. Just remember, don't add too many fillings or the calzones won't seal properly.
Once you have all of your toppings on half of the circle, carefully fold the other half over creating a semi-circle shape. Seal the edges of each Calzone by pinching them together and/or pressing them with a fork before putting them in the Air Fryer.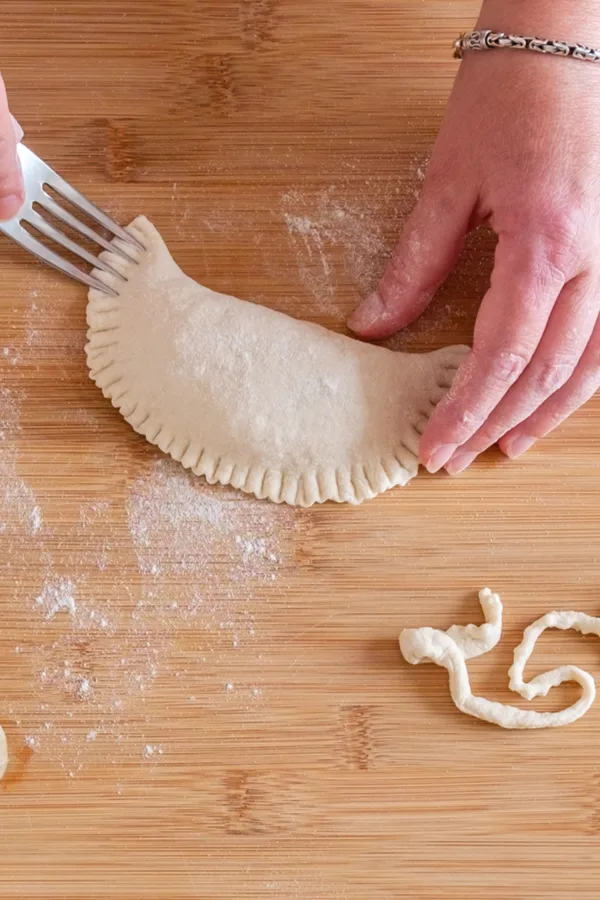 Air Fryer Instructions
Preheat your Air Fryer for 3 minutes at 400°F (200°C). Even if your brand of air fryer doesn't require preheating, it is important to do so.
Then spray your basket with olive oil non-stick spray. Place as many Calzones as you can in the basket, in a single layer.
However, be sure to leave at least 1/2 inch space between each one so that they can cook properly. I was able to fit 4 Calzones in the basket of my Ninja Foodi 6.5 quart Multi-cooker.
Air fry for approximately 6 minutes. However, as always keep in mind that Air Fryers cook at different rates. Be sure to check them frequently to prevent the crust from burning.
Once they are nice and golden brown, remove the Calzones from the Air Fryer and serve with marinara sauce for dipping!
If this recipe sounds delicious, be sure to check out these other pizza inspired air fryer recipes:
Enjoy! Mary

To receive our 3 Recipe Articles in your inbox each week, sign up for our free email list located in the middle of each recipe or email me at contact@makeyourmeals.com. You can also follow us on Facebook and Pinterest. This article may contain affiliate links where a small commission is paid if you purchase a product at no additional cost to you.
Air Fryer Calzones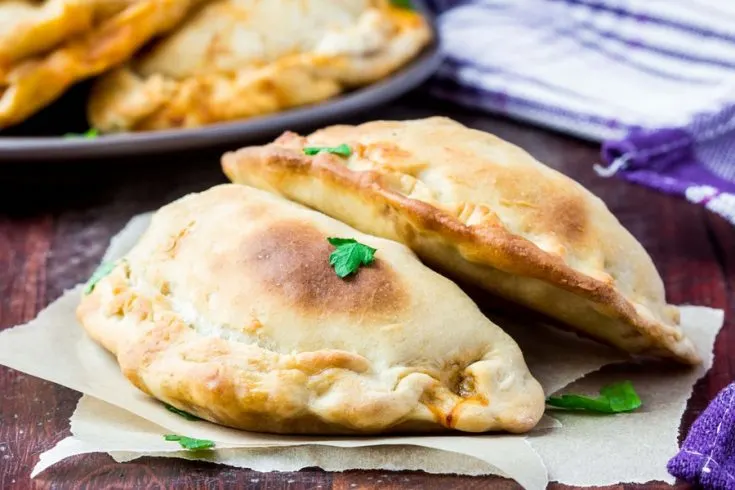 Pizza pockets filled with your favorite pizza toppings and cooked in the Air Fryer.
Ingredients
1 - 13.8 oz can refrigerated pizza dough
1/4 cup pizza sauce
3 Tbsp. diced red onion
1/4 cup chopped pepperoni
1/4 cup Mozzarella cheese
Instructions
Roll out the pizza dough in a rectangle and use a circle cutter or a large glass to cut the dough into circles.
On one side of each circle add 1-2 teaspoons of pizza sauce and sprinkle on toppings. Do not overfill!
Preheat your Air Fryer at 400 degrees F for 3 minutes. Spray the basket with olive oil spray.
Working in batches as needed, add the calzones to the basket, leaving at least 1/2 inch space between them.
Cook at 400 degrees F for 6 minutes or until the pizza crust becomes golden brown.
Remove and serve immediately with marinara sauce.
Notes
Recipe provided by Make Your Meals
Nutrition Information:
Serving Size:
1 grams
Amount Per Serving:
Unsaturated Fat:

0g