When I searched for a recipe on how to make homemade marinara sauce from fresh tomatoes, I had a difficult time finding one.
Almost every recipe that I found used canned tomatoes. Which is a great recipe to have when you want to make it in the middle of the winter.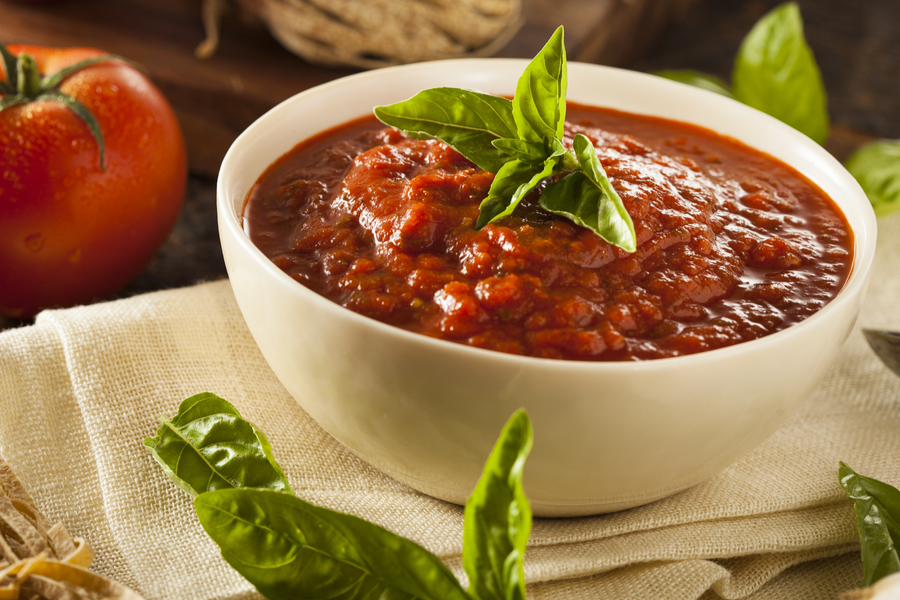 However, it is garden season here and I have ripe tomatoes being picked every day. And that means that I need to use them before they go bad.
Yes, I have made fresh salsa. And I have even made Instant Pot Pasta Sauce and Pizza Sauce. However, this time I was looking to use some of the tomatoes for homemade marinara sauce.
I wanted to make Chicken Parmesan in our air fryer and I wanted to make a small batch to use on top.
In addition, I had some leftover breadsticks from the night before that I thought would be perfect to dip into the sauce.
So I decided to give it a try using our fresh tomatoes from the garden.
How to Make Homemade Marinara Sauce
First you must decided what tomatoes to use. Paste tomatoes are the preferred variety here.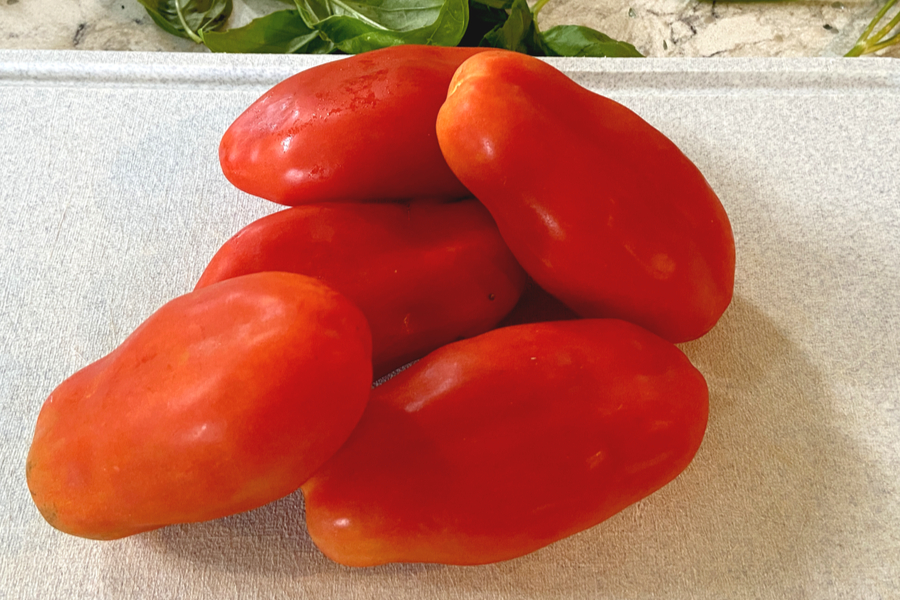 They contain less moisture and have thicker walls. If you aren't familiar with them, you will see them labeled as Roma or San Marzano tomatoes at the market.
And best of all, there is no need to peel the tomatoes! The skins will break down during the cooking process. Plus, the final step of blending will puree any remaining traces of the skin.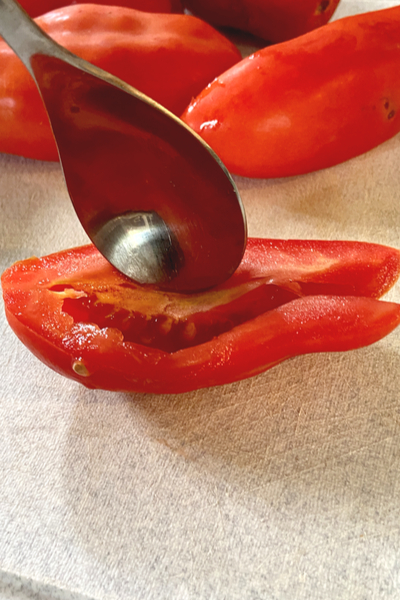 Although it is necessary to remove the seeds. For paste tomatoes, it is very easy. Simply slice the tomato lengthwise in half and use a spoon to remove the seed pods.
However, if you are using slicing tomatoes, you will need to cut the tomato in half and squeeze out the seeds and some of the juice. Don't worry, it is okay if a few seeds remain in your homemade marinara sauce.
Then coarsely dice the tomatoes and set aside.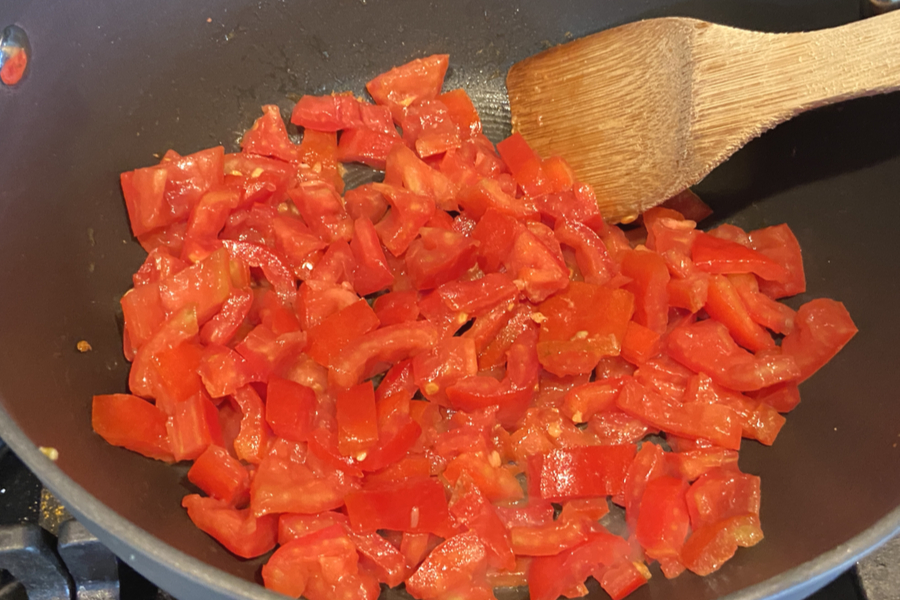 Heat a medium saucepan and add the extra virgin olive oil. Once hot, add the garlic and saute until fragrant.
Next add in the tomatoes. Continue to simmer for about 15 minutes, stirring frequently to prevent any burning. If you have used slicing tomatoes, you will need to cook a little longer for the liquid to evaporate.
As the tomatoes cook, use a wooden spatula to help break down the chunks of tomatoes.
Add the Spices & Puree
Once the mixture is nice and thick, add the remaining ingredients in the pot. Continue to simmer for 10 minutes so that the flavors can meld together.
Now it is time to puree the homemade marinara sauce. You can do this using three different methods.
Use an Immersion Blender
Place the mixture in a Food Processor, being sure not to fill the container more than half full.
Place the mixture in a High Speed Blender, being sure not to fill the container more than half full.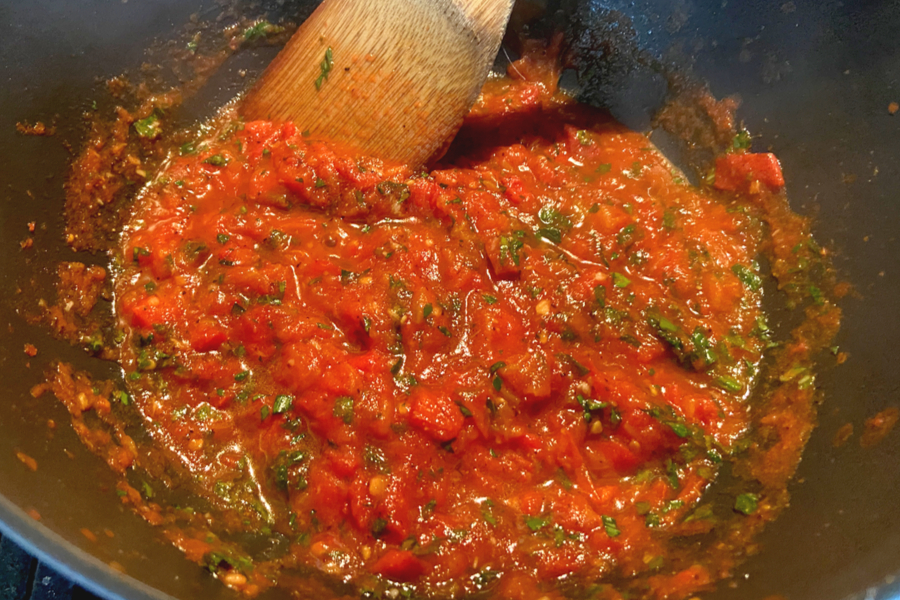 Once the sauce has been pureed, place in a serving bowl and serve. Or use on top of noodles, Chicken Parmesan or with your favorite Italian recipe such as Calzones, Pizza Rolls, Pizza Pockets, etc.
Enjoy!

To receive our 3 Recipe Articles in your inbox each week, sign up for our free email list located in the middle of each recipe or email me at contact@makeyourmeals.com. You can also follow us on Facebook and Pinterest. This article may contain affiliate links where a small commission is paid if you purchase a product at no additional cost to you.
Yield: 2 cups
Homemade Marinara Sauce - Made From Fresh Tomatoes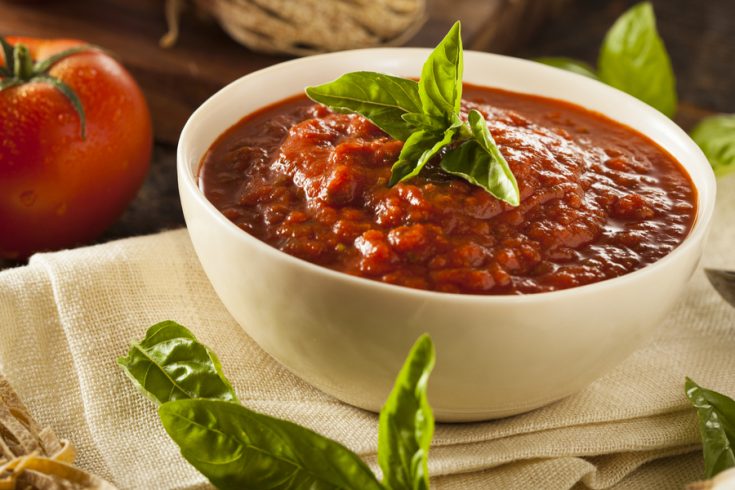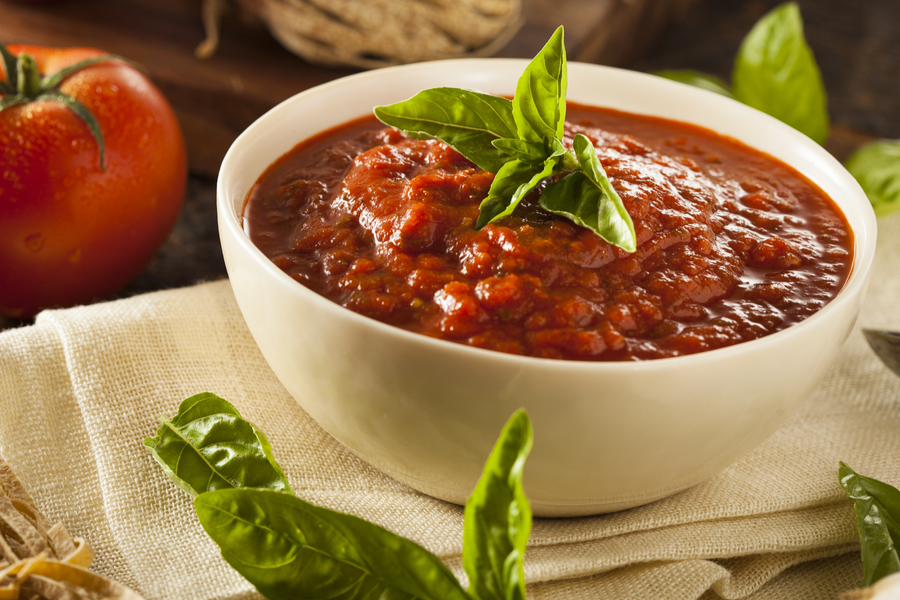 Light and refreshing marinara sauce made from fresh tomatoes, garlic, herbs and spices. A great addition to pasta or to use as a dipping sauce.
Ingredients
1 Tbsp olive oil
4 cloves garlic minced
10 fresh paste tomatoes , seeded and coarsely chopped
3 Tbsp fresh basil , finely chopped
1 1/2 tsp. sugar
1/2 tsp. salt
1/4 tsp. ground black pepper
1/4 cup fresh parsley leaves, diced
Instructions
In a medium saucepan heat the oil over medium-low heat. Add garlic and cook until soft and fragrant, about 1 minute. Add tomatoes and simmer uncovered for about 15 minutes so the tomatoes begin to break down, stirring often to prevent burning.
Stir in basil, sugar, salt, pepper, and parsley. Continue to simmer for about 10 minutes.
Use an immersion blender or food processor/blender to puree into a smooth sauce. Add any additional salt and pepper as desired.
Serve immediately or refrigerate.
Notes
If you are using slicing tomatoes, the marinara will need to cook about 10 minutes longer for the liquid to evaporate to make a thicker sauce.
Recipe provided by Make Your Meals
Nutrition Information:
Yield:
2
Serving Size:
1 grams
Amount Per Serving:
Unsaturated Fat:

0g