Now that we are in the middle of football season, we thought we would share one of our favorite game day appetizers that we make in the Air Fryer, Jalapeno Popper Bites.
As much as we love our Air Fryer Jalapeno Poppers and our Jalapeno Popper Dip, this appetizer is one of our favorites. Crunchy and cheesy bite size balls filled with bits of bacon, diced jalapeños green onions, and cheese. Then they are rolled into small balls and coated with Panko breadcrumbs and air fried until golden brown.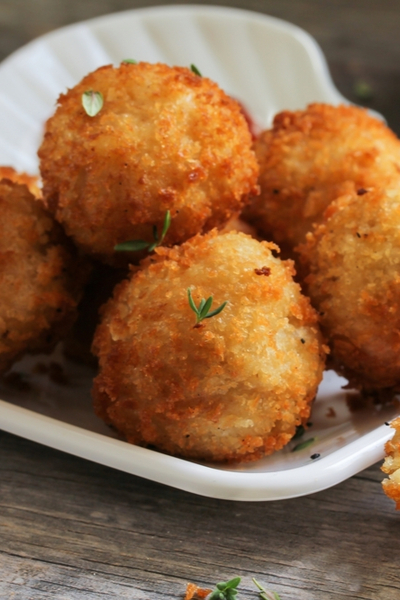 And the best part of all, when you are ready to serve them there are no utensils required! Simply pick up the bites and pop them in your mouth. Or, if you are like many of my friends, dip them in Ranch Dressing or Chipotle Mayo before taking the first bite.
How to Make Air Fryer Jalapeno Popper Bites
The first step in making this delicious appetizer is to dice the jalapeños. This recipe requires a cup of diced peppers.
However, it is up to you whether or not that you want to remove the ribs and seeds. This is where the majority of the heat is located. So if you want a milder taste, be sure to remove them. On the contrary, if you like it hot, keep them all!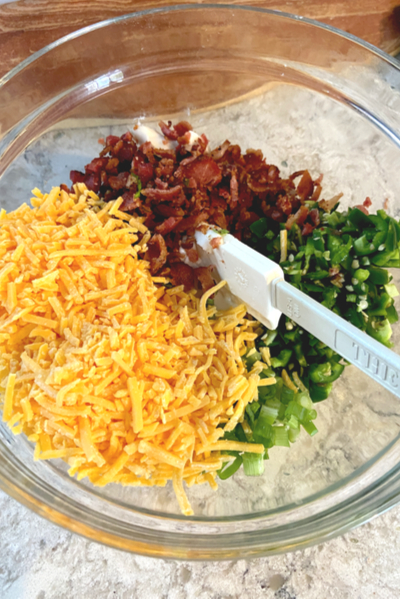 Next, dice up your cooked bacon and green onions. When it comes to the green onions be sure to use both the white and green sections.
Now mix the jalapeno peppers, bacon, and green onion with the softened cream cheese and shredded cheddar cheese. Add in the spices and mix the jalapeno popper bites mixture until well incorporated. Set aside.
Next, line a baking sheet with wax paper. Using a small cookie scoop, place the mixture in your hands and roll into small, 1-2 inch balls. Set on the prepared baking sheet.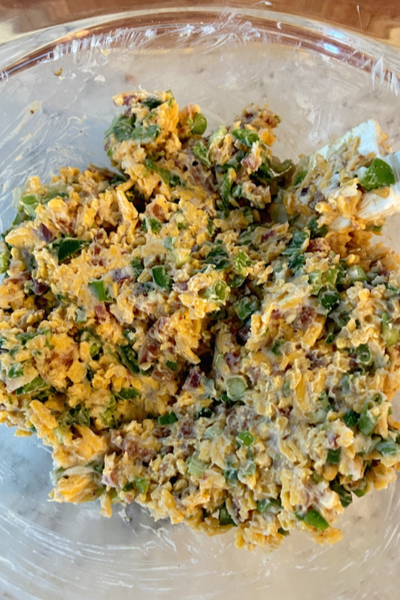 Then repeat until the mixture has been completely transformed into jalapeno popper bites. Now it is time to prepare the dredging station.
Dredging Station
You will need three shallow bowls to make a dredging station. In the first bowl add the flour. Then in the second bowl, whisk together the egg and milk.
Finally, in the third bowl add the Panko breadcrumbs. This will become the exterior crunchy coating when you cook your Air Fryer Jalapeno Popper Bites.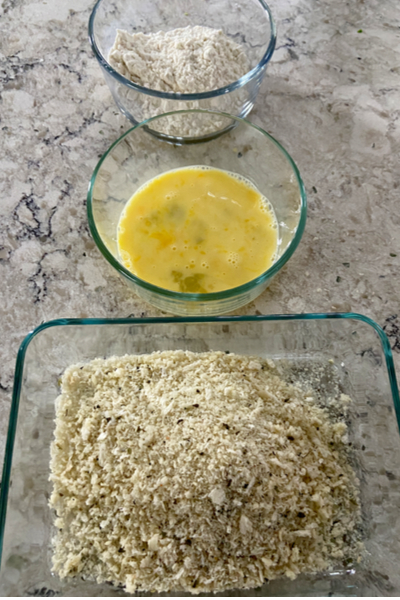 Working one at a time, dip each ball in the flour, then egg mixture, and then coat it entirely in the breadcrumbs. If you want to have an extra crispy coating, dip the Panko coated balls back in the egg mixture and coat with another layer of breadcrumbs.
Pat the breadcrumbs lightly so that they adhere. Then place the balls in the Air Fryer basket that has been sprayed with baking spray or lined with parchment paper.
If you choose parchment paper, there are several brands that make pre-cut sizes that are designed for Air Fryer Baskets. However, you can also cut a piece of parchment from a standard roll as well.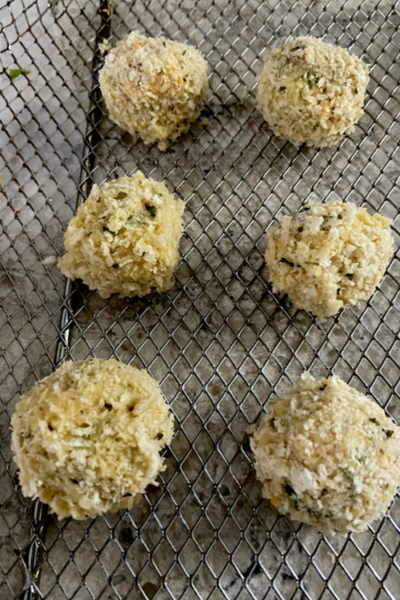 Working in batches, place the Jalapeno Popper Bites in a preheated Air Fryer until golden brown. After you remove the basket allow the bites to sit for 3-5 minutes so that they firm up before transferring them to a serving plate.
Serve as a stand alone appetizer or with your favorite dipping sauce. We like to dip our Jalapeno Popper Bites in Ranch dressing, Chipotle Mayo and Yum-Yum sauce.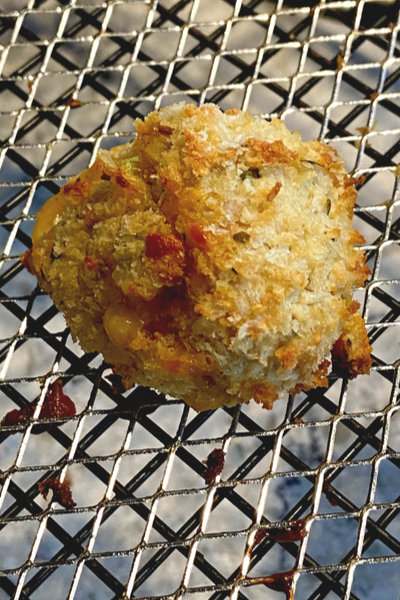 Enjoy!
To receive our 3 Recipe Articles in your inbox each week, sign up for our free email list located on the side and bottom of each recipe. You can also follow us on Facebook, and Pinterest. This article may contain affiliate links where a small commission is paid if you purchase a product at no additional cost to you.
Air Fryer Jalapeño Popper Bites