These Air Fryer Zucchini Chips have become my new favorite snack and side dish this summer.
They are easy to make and you don't have to heat up the kitchen or stand over a hot stove to make them.
Just pop them in the Air Fryer, and within minutes, you have 'fried' zucchini chips without all the oil and grease.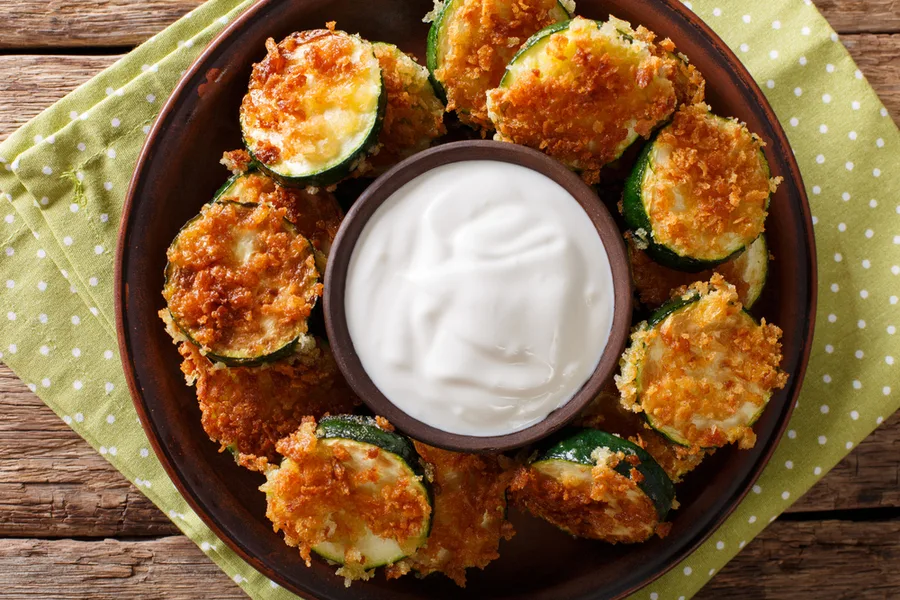 We started making these when we were searching for ways to use up the zucchini from the garden.
Although we love making Zucchini Bread and Lemon Zucchini Bread, there is only so much baking that you can do in the middle of summer. Especially when the temperatures have been in the mid 90's for weeks now.
Although we do shred and freeze the zucchini for recipes to make in the middle of winter, we tend to always have a half dozen or so sitting on our counter during the entire month of July.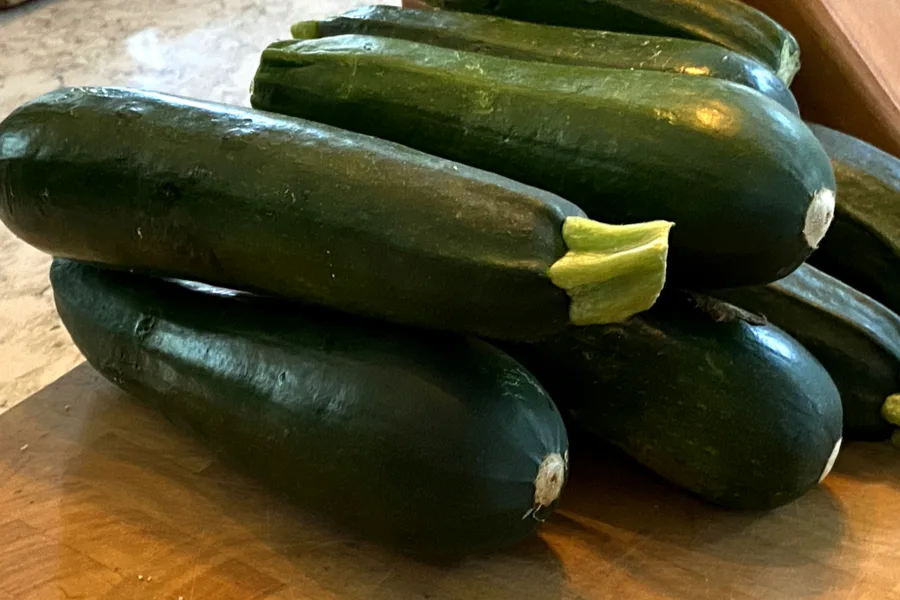 We eat it for dinner in Stir Fry recipes and we make Zucchini and Ground Beef Skillet Casserole.
But our new favorite way to enjoy it is to make Zucchini Chips in the Air Fryer.
How To Make Zucchini Chips in the Air Fryer
First start by selecting the zucchini that you want to turn into chips. It is best to use a medium size, firm zucchini.
This way you can make several chips in one batch. On the contrary, if you pick a large, over ripe zucchini, you are only going to be able to fit a few inside of your basket.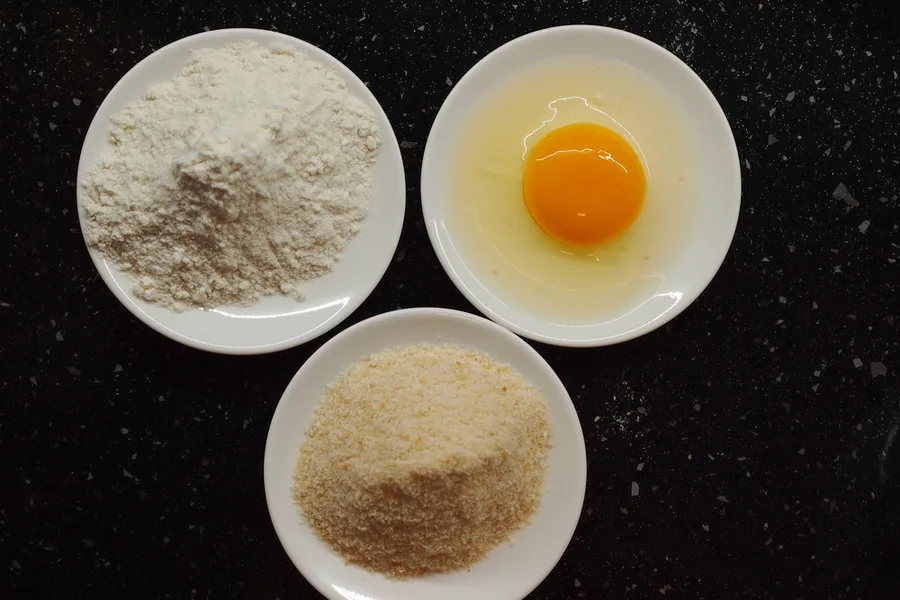 Next, set up your dredging station. First place the flour and seasonings in a shallow dish. Then place the beaten eggs in another shallow dish. And finally, add the breadcrumbs and Parmesan cheese in the third dish.
Then slice the zucchini into even size, thin slices. If you have a mandoline slicer, it makes easy work of this process.
Now is the time to decide whether or not you want super crispy zucchini chips. If you do, then spread the zucchini out on a baking sheet and sprinkle both sides with salt. Let it sit for about 30 minutes and the salt will draw out a lot of moisture. Then pat dry before proceeding to the breading station.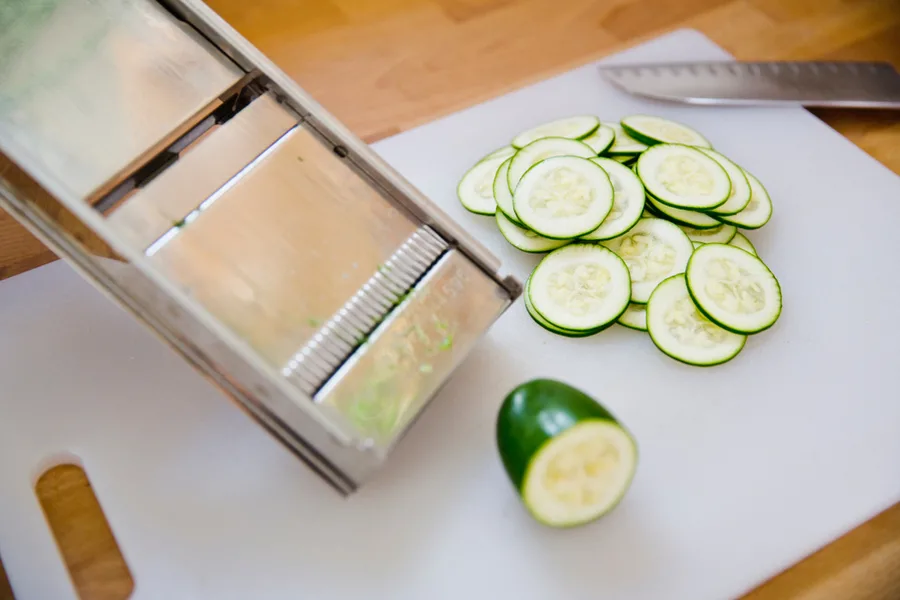 Breading Station
Take a slice of zucchini and coat each side in flour. Then dip it in the egg, being sure to coat it completely.
Finally, place the zucchini in the breadcrumb mixture and lightly pat it so that it sticks.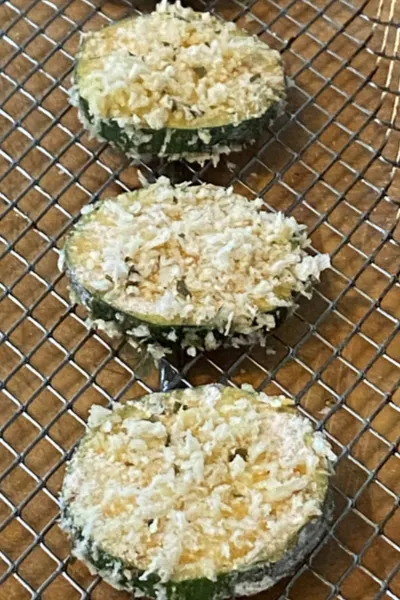 Then place it in your air fryer basket that has been sprayed with a high heat oil.
Repeat until you have a single layer in the bottom of the basket. Now spritz the top of the the zucchini chips with the oil.
Air Fry at 400°F for 5 minutes. Then flip the zucchini chips over, spritz with oil and continue to air fry for an additional 4-7 minutes.
Serve immediately with your favorite dipping sauce!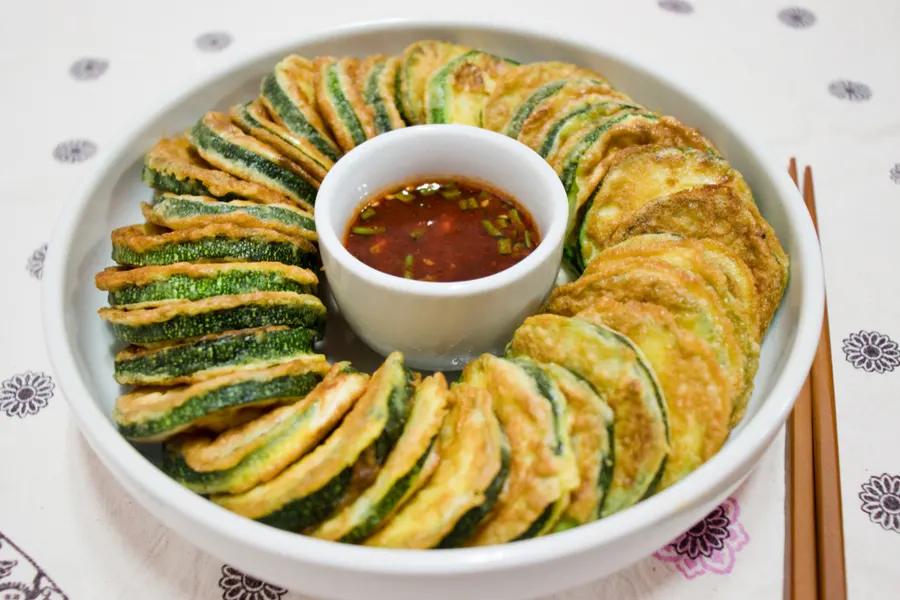 To receive our 3 Recipe Articles in your inbox each week, sign up for our free email list located in the middle of each recipe or email me at contact@makeyourmeals.com. You can also follow us on Facebook and Pinterest. This article may contain affiliate links where a small commission is paid if you purchase a product at no additional cost to you.
Air Fryer Zucchini Chips Recipe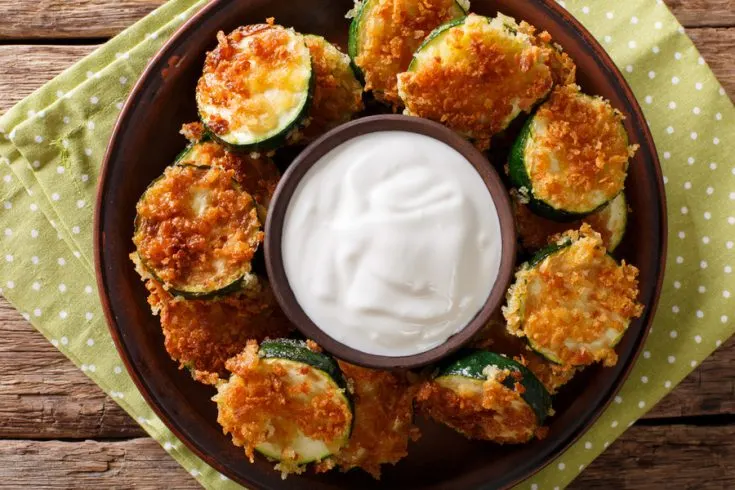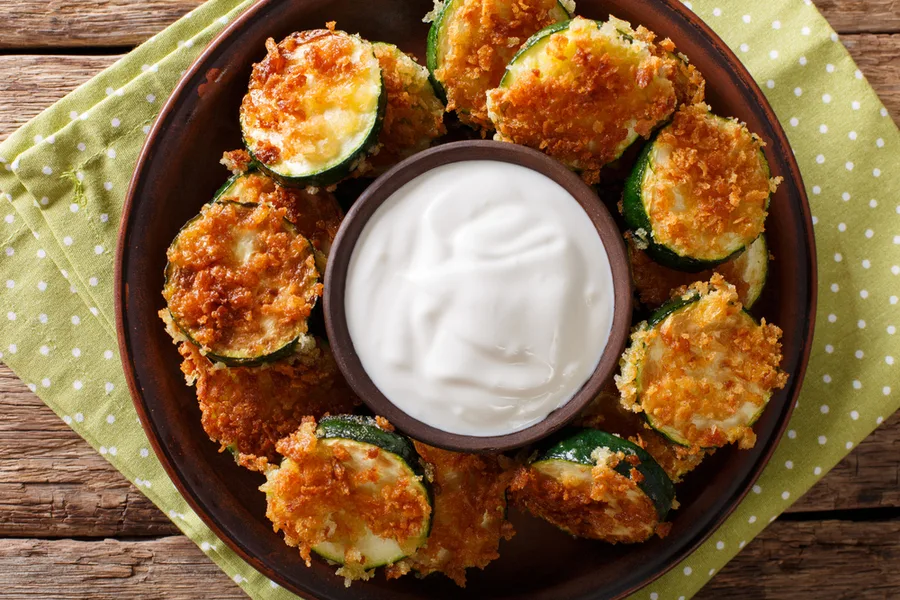 Breaded zucchini chips cooked in an air fryer for a healthier alternative side dish than deep fried zucchini. A great use for your extra garden fresh zucchini in the middle of summer!
Ingredients
1 medium size zucchini
1/2 cup all-purpose flour
1 teaspoon Italian Seasoning
1 teaspoon Smoked Paprik
1/4 cup finely shredded parmesan cheese
salt and pepper to taste
2 eggs, beaten
1 1/2-2 cups breadcrumbs or crushed pork rinds
cooking oil spray
Instructions
Prepare your dredging station by adding eggs, flour, and breadcrumbs to separate, shallow bowls. In the flour bowl add salt and pepper to taste, paprika and add Parmesan cheese.
Slice the zucchini into 1/4 inch thick slices. Be sure to slice evenly for even cooking.
Dip the zucchini in the flour mixture, then egg, and then the breadcrumbs and place in the air fryer basket.
Spray the zucchini chips with cooking oil spray.
Preheat Air Fryer per your manufacturers instructions at 400°F. Air Fry for 5 minutes on 400°.
Turn the zucchini chips over and spray with additional oil and cook for an additional 4-7 minutes, depending on how crispy you like them.
Notes
If you would like extra crispy zucchini chips, sprinkle the sliced zucchini with salt and let them sit to drain out some of the moisture. Then pat dry and apply the breading as instructed. Recipe provided by Make Your Meals
Nutrition Information:
Serving Size:
1 grams
Amount Per Serving:
Unsaturated Fat:

0g