This Firecracker Shrimp recipe is one of my favorite summertime meals. It is easy to prepare and requires just a few minutes of cooking time.
However, what I like most about this recipe is the flavor of the sauce. A tangy, spicy sauce that is used as both the marinade and the liquid that the shrimp sits in while it cooks.
The combination of Sriracha sauce and chipotle peppers in adobo sauce provide a heat level that I would describe as a medium-hot. However, the spiciness can easily be adjusted to your liking.
Although the shrimp definitely has a little bite to it, the addition of lime juice provides a refreshing and light flavor that really brightens up the dish!
So next time that you are looking for an easy to prepare, low-carb recipe that has a ton of flavor, be sure to give this recipe a try!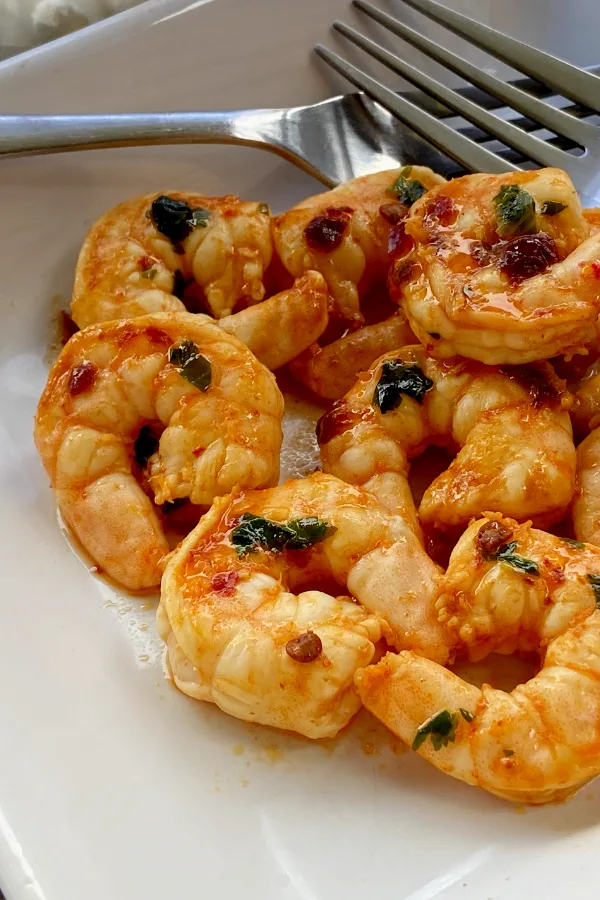 Firecracker Shrimp Recipe
Ingredients
Butter
Olive oil
Lime juice
Chipotle peppers in adobo sauce
Sriracha sauce
Salt
Shrimp
Cilantro
Instructions
The first step in making Firecracker Shrimp is to prepare the marinade.
In a medium bowl, add the melted butter, olive oil, lime juice, diced chipotle peppers, Sriracha sauce and salt. Mix well and set aside while you prepare the shrimp.
This recipe calls for one pound of shrimp. If you are planning to make this recipe for an appetizer or main dish, I suggest using jumbo shrimp.
Shrimp in the United States is sold by count per pound. Therefore, on a bag of frozen shrimp that you find at the grocery you will see that it is labeled with the approximate count of shrimp.
Jumbo shrimp will typically have a count of 21/25. This means that there are anywhere from 21-25 shrimp in the bag. Which makes it perfect for serving 4 people.
However, if you are planning to use this firecracker shrimp recipe for shrimp tacos or to place on a bed of rice, you can definitely purchase medium or large shrimp instead of the jumbo size.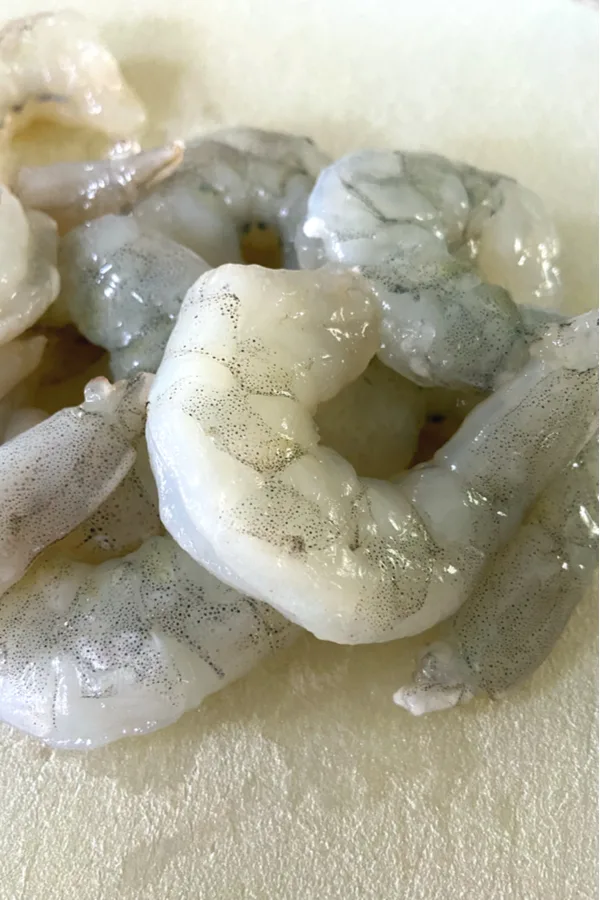 Peel & Devein The Shrimp
No matter what size that you choose, you will need to peel and devein the shrimp. Do this by cracking the outer shell and then peel it off.
I prefer to remove the tail, however, you could keep it on if serving the shrimp as an appetizer.
Then hold the shrimp with the back side up and make a thin slice down the middle. There will be a dark vein that is exposed once you make the cut.
Use a small pairing knife and remove the vein and discard. This is the digestive tract of the shrimp and if left in it will provide an adverse taste when eaten.
Although, if you are like me and want to save time, you can purchase shrimp that is already peeled and deveined. You can find them already prepared this way in both the freezer section of the grocery store and in the butcher case.
Now that the shrimp is ready, add them to the bowl with the marinade. Toss and coat the shrimp on both sides and let them sit in the marinade for at least 30 minutes.
If you are going to prepare the shrimp right away, you don't have to refrigerate the shrimp while it marinades. However, if you are going to wait longer than the 30 minutes, cover the bowl and refrigerate it until you are ready to cook them.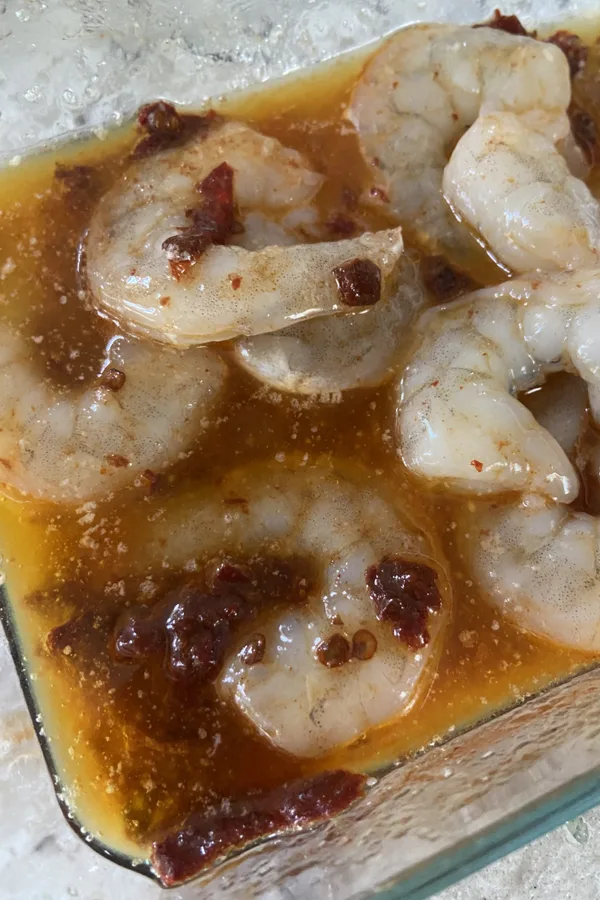 Cooking Instructions
Once it is time to cook the Firecracker shrimp heat a skillet or flat top griddle over medium-high heat. Once it is hot add the shrimp and the marinade.
There is no need to add additional oil or non-stick spray to the pan because the marinade already contains both butter and oil.
Cook the shrimp for 2 minutes, then flip and cook until the thickest part of the shrimp turns opaque. This will take approximately another 2 minutes, for a total cook time of only 4 minutes.
You definitely don't want to overcook the shrimp as it will get tough and chewy. However, it is easy to tell when shrimp is cooked through because it changes colors.
Remove the shrimp from the skillet and garnish with diced cilantro.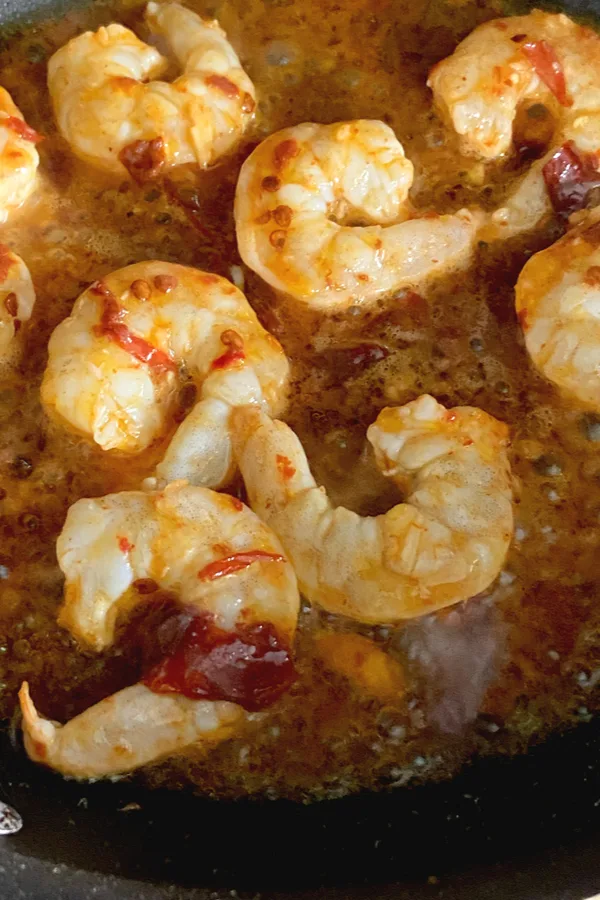 Serving Recommendations
Serve the Firecracker Shrimp as an appetizer at your next party, potluck or holiday gathering.
Put the shrimp on a bed of rice for a complete meal. Or keep it Keto friendly by serving it on cauliflower rice instead of steamed white rice.
Make shrimp tacos! Put a few shrimp inside a corn tortilla and add shredded purple cabbage, sliced avocados, cilantro and sour cream. No need for additional taco sauce because the shrimp is already so flavorful.
They also make for a great low-carb, high protein snack! Keep extras in your refrigerator and eat them cold whenever the urge strikes you.
Enjoy! Mary
Other Shrimp Recipes

To receive our 3 Recipe Articles in your inbox each week, sign up for our free email list located in the middle of each recipe or email me at contact@makeyourmeals.com. You can also follow us on Facebook and Pinterest. This article may contain affiliate links where a small commission is paid if you purchase a product at no additional cost to you.
Yield: 4
Firecracker Shrimp Recipe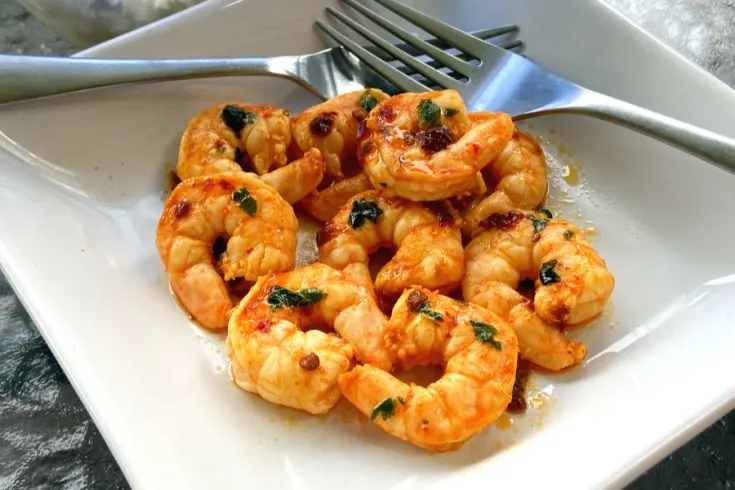 Shrimp marinated in a tangy and spicy sauce and cooked in minutes in a skillet or on a grill. Serve as an appetizer or main dish with rice or in tacos.
Additional Time
30 minutes
Ingredients
2 tablespoons butter, melted
2 tablespoons olive oil
4 tablespoons lime juice
2 chipotle peppers in adobo sauce, diced
2 teaspoons sriracha sauce
1/2 teaspoon salt
1 pound shrimp, peeled & deveined
1 teaspoon cilantro, diced
Instructions
In a medium bowl, add the melted butter, olive oil, lime juice, diced chipotle peppers, sriracha sauce and salt. Mix well
Add the peeled and deveined shrimp to the bowl and toss until the shrimp is well coated on both sides. Let the shrimp soak in the marinade for 30 minutes.
In a skillet over medium-high heat, add the shrimp and marinade. Cook on one side for 2 minutes, flip and cook for approximately another 2 minutes, or until the shrimp has turned opaque in color.
Remove the shrimp from the skillet and garnish with cilantro.
Serve warm.
Notes
Serve as a stand alone main dish or appetizer. Or serve over a bed of rice or in tacos.
Recipe provided by Make Your Meals
Nutrition Information:
Yield:
4
Serving Size:
1
Amount Per Serving:
Calories:

276
Total Fat:

15g
Saturated Fat:

5g
Trans Fat:

0g
Unsaturated Fat:

9g
Cholesterol:

255mg
Sodium:

1600mg
Carbohydrates:

8g
Fiber:

1g
Sugar:

3g
Protein:

27g
Nutritional Information is to be used as a general guideline only . Nutritional calculations will vary from the types and brands of the products used.