Honey Sriracha Shrimp and Pineapple Recipe
Tired of the same old recipes on the grill? Or are you looking for something different and maybe healthier for dinner that still tastes good?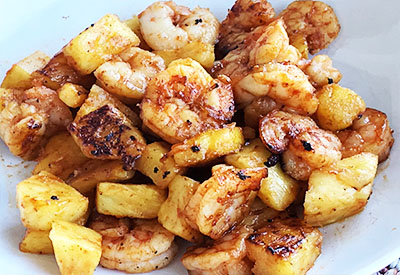 If so, than honey sriracha grilled shrimp is your answer!
I fell in love with sriracha sauce several years ago when I was at my favorite Thai restaurant and they had it sitting next to the Hoisin sauce on the table.
Curious as to what this unfamiliar condiment was, I put a little drop on my chopsticks and gave it a taste.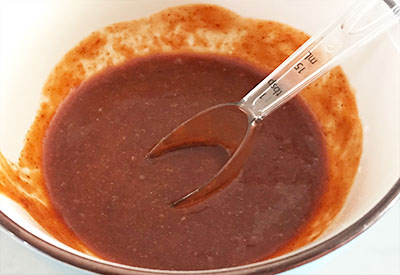 I was hooked!!!!  Where had sriracha sauce been all my life?
I now use sriracha sauce on a large majority of my dishes. It has such terrific flavor and it pairs well with sweeter recipes.
I had first combined honey and sriracha sauce together when I ran out of buffalo sauce for my Instant Pot chicken wing recipe.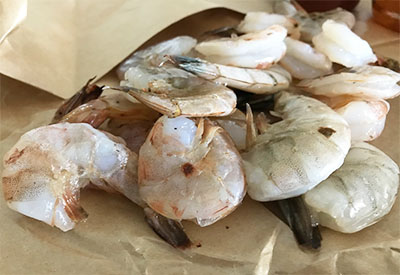 I looked in the refrigerator to see what I could use instead and the sriracha bottle practically jumped out at me. I didn't want it to be too spicy so I combined it with some local honey and magic was made!
The wings were just spicy enough to let you know that they were there, but the sweetness of the honey quickly balanced out any threat of a leftover burn in my mouth.
It was absolutely delicious!
So when I picked up some raw shrimp at the market, and was looking to marinade them, I knew that I needed to try the combination again and make honey sriracha shrimp!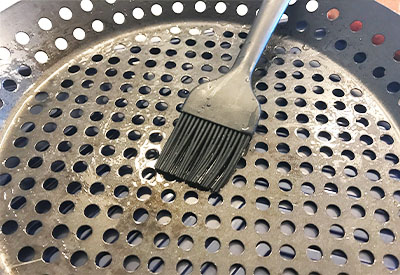 I added a few extra spices to the marinade this time. I wanted the shrimp to have a little bit of smoke flavor because I knew that I would be grilling them.
Smoked paprika is a great additional to any dry rub or marinade if you are looking for the taste that it has been in a smoker for hours.
And to enhance the sweetness of the honey, I grabbed a fresh pineapple off my counter and decided to grill that as well.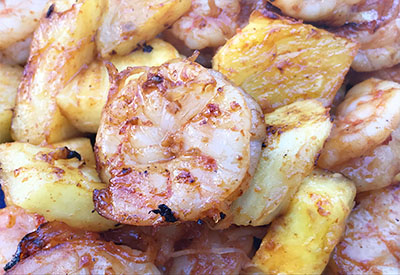 You could take the time to place each shrimp and pineapple on a water-soaked wooden skewer if you wish.
However, I find it much easier to use a grill pan and throw both the honey sriracha shrimp and pineapple together in the same pan!
It takes much less time to prepare, and I don't risk burning my hand as I try to turn the skewers over while grilling!
But if you aren't ready to grill your shrimp, try one of our favorite stove top recipes – Shrimp & Arugula Risotto!
Check out the printable recipe below and all of our recipes and let me know what you think!
To receive our 3 Recipe Articles in your inbox each week, sign up for our free email list. You can also follow us on Facebook, Twitter, Pinterest, and Instagram. This article may contain affiliate links.
Sweet and Spicy Honey Sriracha Shrimp and Pineapple Recipe