I never thought I would be able to make Pizza Sauce in the Instant Pot using fresh tomatoes.
Every recipe that calls for tomatoes, or tomato based products, always warns you to place the tomatoes on top of other ingredients.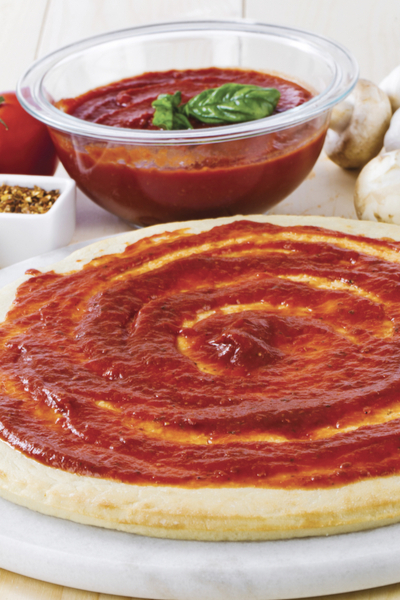 Otherwise you will most likely get the dreaded BURN notice.
So when I was successful at making Instant Pot Pasta Sauce using fresh tomatoes, I knew that I needed to try to make Pizza Sauce.
And now, I will never make it any other way!
Fresh Tomato Recipes
Every summer, when the garden is in full production, we pick about a bushel of tomatoes every day.
We eat them fresh, put them on sandwiches, and add them to other grilled vegetables for a healthy side dish.
We also use them to make Tomato Basil Bruschetta, Cucumber, Onion & Tomato Salad, Pico de Gallo, and we even put them on our 7 Layer Mexican Dip recipe.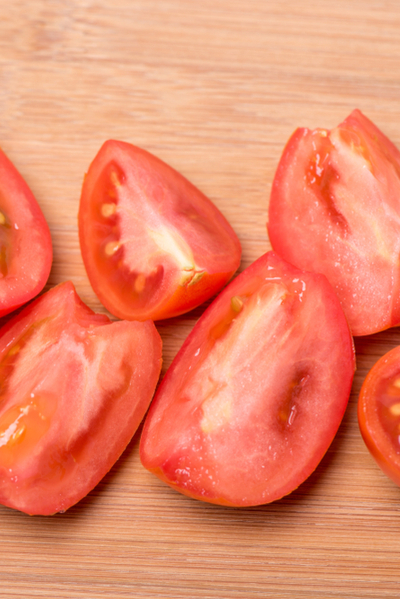 But when you have that many tomatoes, you have to find other uses for them.
Therefore we also make and can tomato juice, diced tomatoes, salsa, picante sauce, pasta sauce and pizza sauce.
Although it is rewarding, the process of canning can be quite cumbersome.
And in the middle of summer, when the tomatoes are ripe, it can get quite hot. The last thing that we want to do is to stand over a hot stove cooking a big pot of pizza sauce.
Therefore, we often turn to the Instant Pot for not only dinner, but also to preserve our tomatoes.
Pizza Sauce
And one of the easiest tomato recipes that you can make is Pizza Sauce.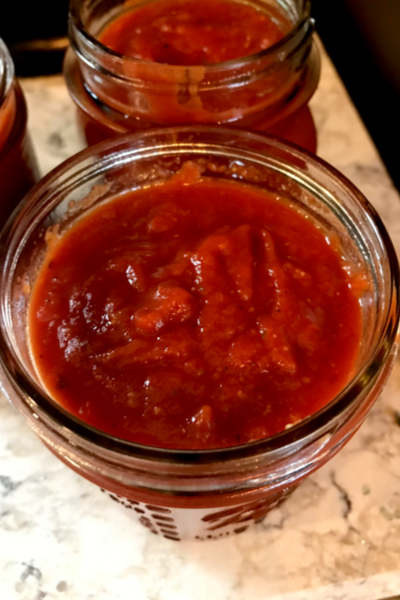 It sounds too good to be true, but Instant Pot Pizza Sauce only requires tomatoes and spices.
No added water or chicken broth. Simply just tomatoes and spices.
And it is absolutely delicious!!!
However, there are a few quick hints to make sure that your pizza sauce turns out perfect.
Preparing The Tomatoes
First, you want to use as many paste tomatoes as possible. These are often called Roma, Amish Paste and San Marzano tomatoes.
Paste tomatoes are oblong and smaller than standard slicing tomatoes. However, they also have thicker walls which makes them ideal for making a thick pizza sauce.
But if you only have slicing tomatoes, you can certainly use them. Although your sauce may turn out a little thinner, it will still taste amazing!
No matter what type of tomatoes that you use, be sure to squeeze the juice and seeds out of them before adding them to the Instant Pot.
This will help thicken the sauce even before they cook down.
Adding The Seasonings
But the most important part of all is to add the seasonings on top of the tomatoes and DO NOT STIR.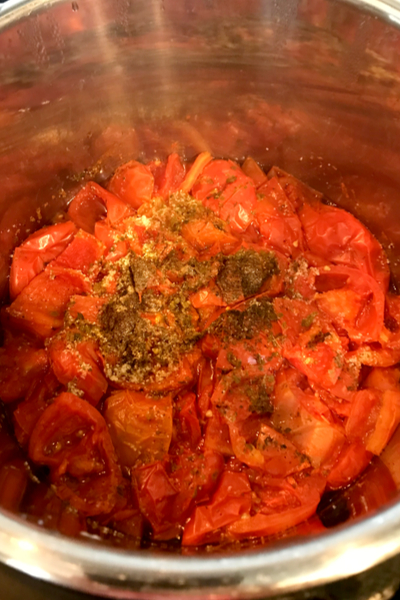 Because we are not adding any additional liquid, the seasonings must remain off the bottom of the pot.
Otherwise, you risk getting the dreaded BURN notice.
Just sprinkle the spices on top of the tomatoes. During the cooking process, the tomatoes will begin to break down and the seasonings will get incorporated into the tomato juice.
Use an Immersion Blender
Once the cooking and natural pressure release time has expired, it is time to puree the sauce.
The easiest way to do this is by using an Immersion Blender. Although you could also transfer batches of the hot mixture to high speed blender if you didn't have an immersion blender.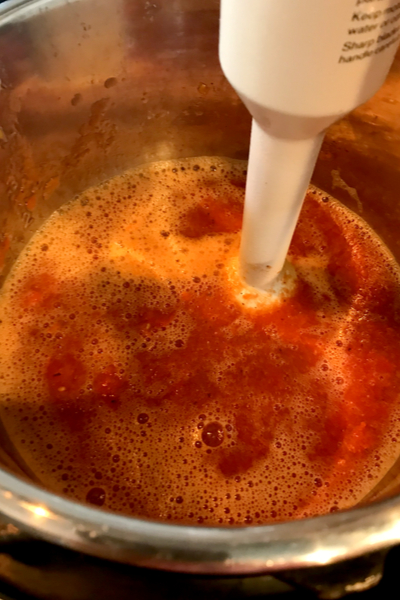 But I would highly recommend getting one instead. You can puree the mixture right in the Instant Pot.
That means less mess, less dishes, and less of a chance that you burn yourself!
First blend the mixture until the skins of the tomatoes have been pureed. Next, add the tomato paste and puree again until well incorporated.
And finally, add additional seasonings to taste and blend one last time.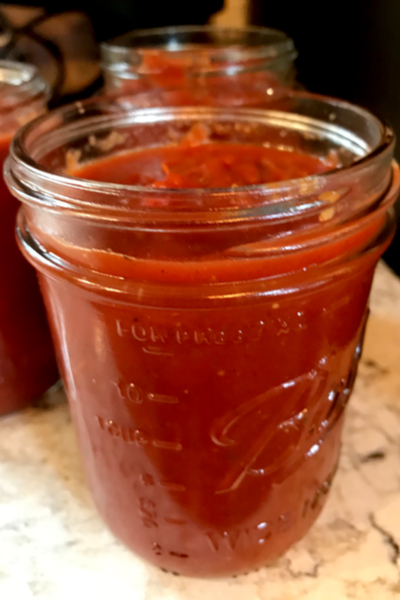 The result – easy to make, homemade Pizza Sauce that you made in a fraction of the time by using an Instant Pot!
Storing Pizza Sauce
The pizza sauce can be stored in refrigerator for up to two weeks.
But you can also freeze it for up to 1 year if in an air-tight container. There is nothing better than eating something that you made from the garden in the middle of winter!


To receive our 3 Recipe Articles in your inbox each week, sign up for our free email list located in the middle of each recipe or email me at contact@makeyourmeals.com. You can also follow us on Facebook and Pinterest. This article may contain affiliate links where a small commission is paid if you purchase a product at no additional cost to you.
Yield: 3 pints
Instant Pot Pizza Sauce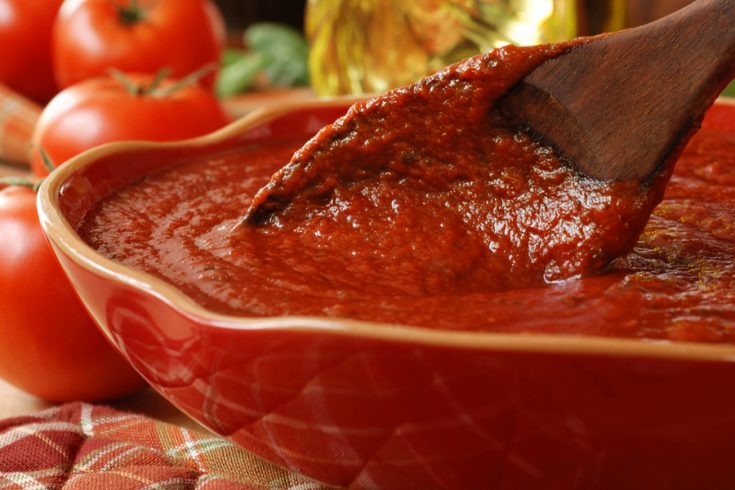 Delicious homemade pizza sauce using fresh tomatoes, made in minutes with your pressure cooker!
Ingredients
4 pounds of paste tomatoes
3 teaspoon dried oregano, divided
1 teaspoon dried basil
3 teaspoon dried Italian Seasoning, divided
2 teaspoon garlic salt, divided
1 teaspoon sugar, optional
12 ounces tomato paste
Instructions
Wash, core and cut tomatoes in half. Over a large bowl, squeeze tomatoes to release juices, pulp and seeds and discard.
Cut tomatoes in half (so each whole tomato has been cut into 4 pieces and place them in the liner of the Instant Pot.
Sprinkle 1 teaspoon each of oregano, basil, Italian seasoning and garlic salt over top of the tomatoes – Do NOT Stir.
Lock the lid and place the valve in the Sealing position. Pressure Cook/Manual on HIGH for 20 minutes.
When cooking time expires, allow for 10 minutes of Natural Pressure Release.
Release any remaining pressure and carefully open the lid.
Using an immersion blender, blend the tomatoes and spices together until smooth.
Add in the sugar (if using) and tomato paste. Use the immersion blender to blend until incorporated.
Add the remaining oregano, Italian seasoning and garlic salt. Blend until incorporated. Taste sauce and add additional seasonings as desired.
Keep Warm with the lid off until desired thickness is achieved. Sauce will continue to thicken as it cools.
Notes
Recipe provided by Make Your Meals
Nutrition Information:
Yield:
3
Serving Size:
1 grams
Amount Per Serving:
Unsaturated Fat:

0g