When I first heard of making pasta sauce in the Instant Pot I was skeptical.
Because the Instant Pot, or any pressure cooker for that matter, requires a thin liquid to come to pressure, I never thought it would work. That is of course without having the pasta sauce turn out super thin.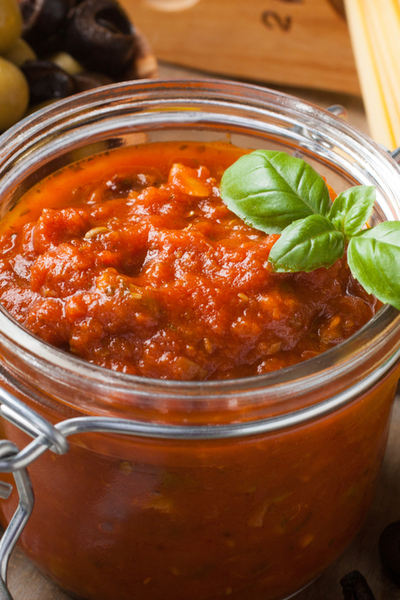 Not to mention, most tomato based recipes specifically instruct you to layer the diced tomatoes or tomato sauce on top of other ingredients to prevent getting the BURN notice.
And since pasta sauce is basically all tomato based I figured there was no way to make it unless I used the pot-in-pot method.
Although I knew that by cooking the sauce in another pot and then placing it into the Instant Pot would work, I hated the thought of losing the extra valuable space.
You see, I had a ton of fresh tomatoes that were ripening in my garden. And I needed a quick way to use them.
Making Pasta Sauce With Fresh Tomatoes
My typical Authentic Italian Pasta Sauce recipe takes at least 2 hours to simmer on the stove.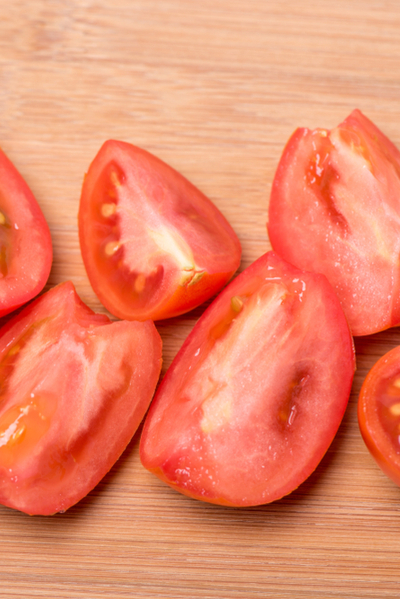 However, because I was pressed for time, I decided to give Pasta Sauce in my 6 quart Instant Pot Duo a try.
What was the worst thing that could happen? I would get the burn notice and have to transfer it to a pot on my stove.
Plus, with the temperatures over 90°F I really didn't want to turn on the stove for a couple of hours.
So I grabbed my tomatoes and hoped for the best!
By using fresh tomatoes there is no need to add any extra thin liquids to the recipe.
Honestly, it may sound crazy, but the tomatoes themselves release enough liquid during the coming to pressure stage that there is no need to add any water or stock.
Which is a great thing when you want the consistency of canned Pasta Sauce rather than a thick tomato juice.
What Type Of Tomatoes To Use
You can use just about any type of tomato that you have on hand. However, I prefer to use paste tomatoes.
These are often called Roma, Amish Paste, or San Marzano tomatoes at the grocery store or Farmer's Market.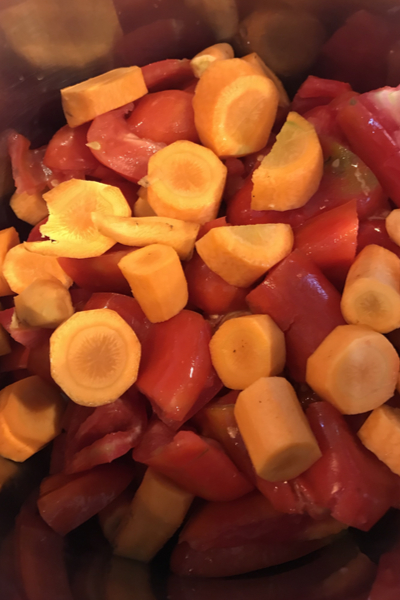 Although they are smaller than slicing tomatoes, they are meatier and make for a thicker Pasta Sauce.
But no matter what type of tomato that you use, there is no need to peel them. Simply remove the core and cut them in 4 sections using a serrated knife.
Then squeeze the tomatoes to release the pulp and seeds and add them to the liner of the Instant Pot.
Other Vegetables To Add To Your Pasta Sauce
In order to enhance the flavor of the Pasta Sauce, there are few other ingredients that are required.
No sauce would be complete without a little onion and garlic. These two ingredients are found in almost every Italian recipe and meld perfectly with the tomatoes.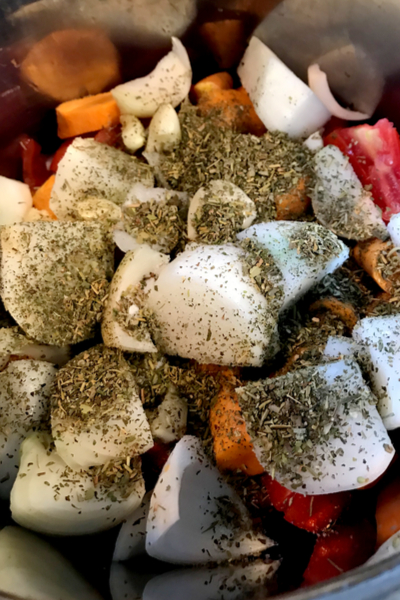 And then there is the secret ingredient – carrots.
Most Pasta Sauce recipes call for the addition of granulated sugar to balance out the acid from the tomatoes.
Trying to keep things all natural, we prefer to use carrots as the sweetener instead of the sugar.
Simply cut them in large chunks and place them along with the onions and garlic, on top of the tomatoes.
Do NOT Stir the Spices
But the most important tip of all when making Pasta Sauce in the Instant Pot is to sprinkle the dried Italian Seasoning and salt on top of the vegetables.
And, DO NOT STIR!
If the spices reach the bottom of the pan, that holds no liquid they will stick and cause you to get the dreaded BURN notice.
Just sprinkle them over the tomatoes, onions, garlic, and carrots and leave it be.
Just lock the lid in place and let the magic happen!
How To Thicken The Pasta Sauce
Once it is time to remove the lid, you are going to see what looks like soft, chunks of vegetables.
Don't worry, it will all come together shortly.
Use an immersion blender and puree to the desired consistency. At this point you could also transfer the mixture to a high speed blender and work in batches to blend it all together.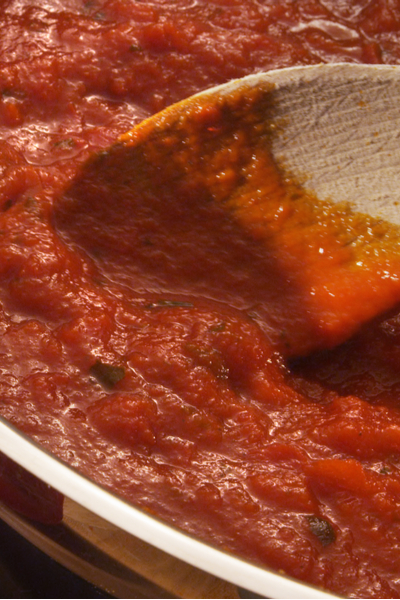 However, it is much easier to use an immersion blender.
Once everything is pureed, add the tomato paste and continue to blend until incorporated.
That is all there is to it! Instant Pot Pasta Sauce made and on the table in less than 45 minutes!
And you can even make Instant Pot Pizza Sauce too!

To receive our 3 Recipe Articles in your inbox each week, sign up for our free email list located in the middle of each recipe or email me at contact@makeyourmeals.com. You can also follow us on Facebook and Pinterest. This article may contain affiliate links where a small commission is paid if you purchase a product at no additional cost to you.
Yield: 2 quarts, approximately
Instant Pot Pasta Sauce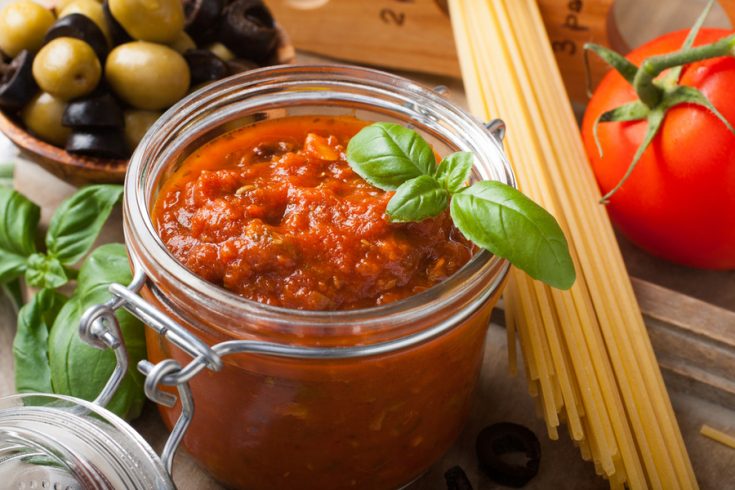 Use fresh tomatoes to make this delicious and classic spaghetti sauce which can be served immediately or stored in the refrigerator or freezer.
Ingredients
4 pounds fresh tomatoes, cut into quarters, pulp and seeds squeezed out and discarded
3 medium onions, cut into quarters
4 large carrots, cut into large chunks
4 cloves garlic, peeled
2 1/2 Tablespoons dried Italian Seasoning
2 teaspoons sea salt
12 ounces tomato paste, no added salt
Instructions
In the liner of the Instant Pot add the tomatoes, onions, carrots, and garlic.
Sprinkle the Italian Season and Sea Salt over the top of the vegetables, and DO NOT STIR.
Lock the lid in place and set the valve to Sealing.
Pressure Cook/Manual on HIGH pressure for 20 minutes.
When the cooking time expires allow for Natural Pressure Release for 10 minutes.
Release any remaining pressure by moving the valve to the Venting position.
Blend the sauce with an immersion blender until smooth.
Add the tomato paste and blend until fully incorporated.
Add any additional seasoning to taste.
Serve immediately.
Notes
Sauce will keep in the refrigerator for up to a week or in the freezer for up to 6 months.
Recipe provided by Make Your Meals
Nutrition Information:
Yield:
2
Serving Size:
1 grams
Amount Per Serving:
Unsaturated Fat:

0g