There is nothing easier to make in your Air Fryer than Tater Tots. Yes, I am talking about the frozen bag of tater tots that you find in the freezer section of the grocery store.
The same tater tots that most people either bake in the oven or cook in a deep fryer.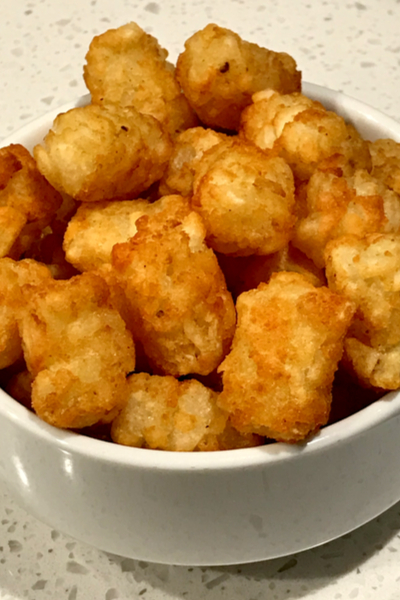 But ever since I tried cooking them in the air fryer, there is no other way that I would recommend making them!
From start to finish, Air Fryer Tater Tots take a total of 20 minutes to make.
If you consider the time that it takes to heat up oil in a deep fryer or to preheat the oven, this is a much quicker and/or healthier method for making tater tots.
Air Fryer Tater Tots
So how do you make Air Fryer Tater Tots?
Although all brands of Air Fryers cook a little differently, the method is basically the same.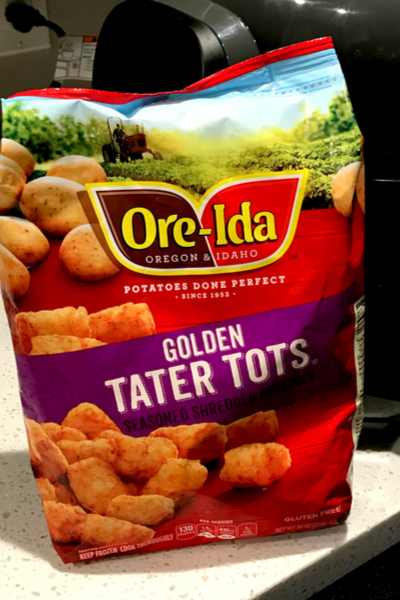 First, determine whether or not that you need to preheat your Air Fryer. Some brands recommend that you preheat for 3-5 minutes at the desired cooking temperature before cooking.
I have owned both the QCP 5.5 quart Air Fryer and the Ninja Foodi Multi-Cooker and I always preheated both brands.
Just like when I make Air Fryer Fried Ravioli, I turn on the air fryer as I gather my ingredients. And by the time that I am ready to cook, the air fryer is preheated and ready to go!
Olive Oil Spray
Next be sure to spray the liner of your basket with non-stick olive oil spray. Most brands do not recommend spraying the basket using typical non-stick cooking spray.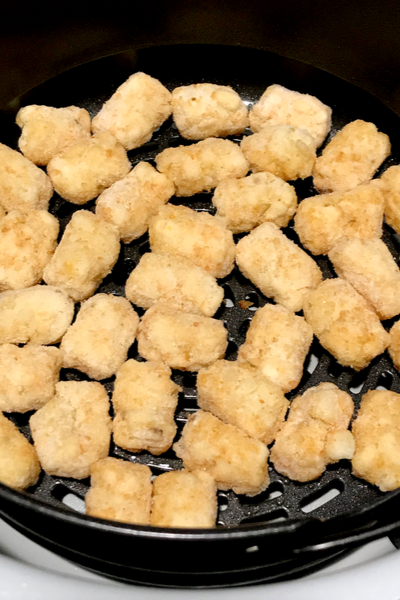 However, the olive oil is safe to use as it can tolerate the high temperatures that is required to make Tater Tots in the Air Fryer.
Either use a mister with olive oil or a can of olive oil spray to coat the bottom of the basket of the air fryer.
Then pour half of the bag of frozen tater tots in the basket and bake at 400 degrees F for 8-10 minutes, flipping half way through.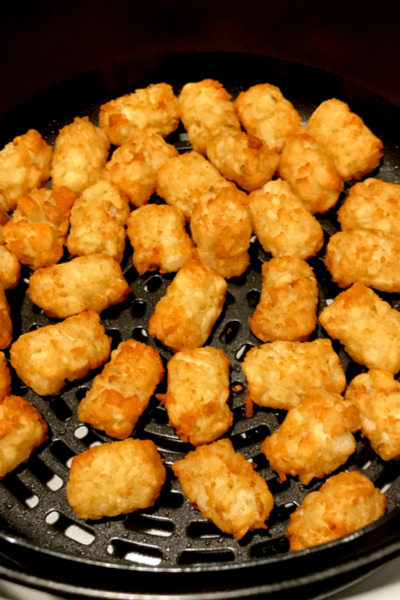 If you want to make the entire bag of tater tots, increase the cooking time to 15 minutes and flip every 5 minutes.
When the outside of the tater tots are deep golden brown in color and crispy, remove and serve.
It is really that simple!
Check out some of our other favorite Air Fryer Recipes:


To receive our 3 Recipe Articles in your inbox each week, sign up for our free email list located in the middle of each recipe or email me at contact@makeyourmeals.com. You can also follow us on Facebook and Pinterest. This article may contain affiliate links where a small commission is paid if you purchase a product at no additional cost to you.
Air Fryer Tater Tots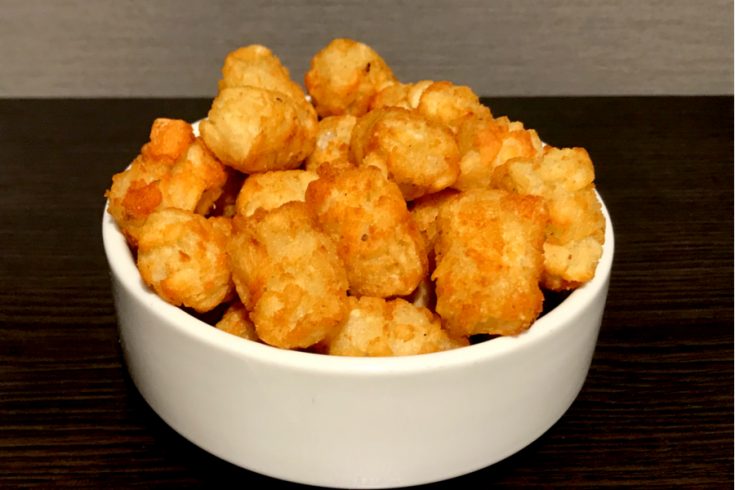 Cook Tater Tots in the air fryer for a quick and easy side dish without heating up your kitchen! Serve with hamburgers, hot dogs, chicken wings and more!
Ingredients
One bag of your frozen tater tots.
Olive Oil cooking spray
Instructions
Spray basket with non-stick cooking spray. Preheat air fryer at 400 degrees F if your air fryer recommends to preheat before cooking.
Pour 1/2 bag of frozen tater tots in the basket.
Air Fryer at 400 degrees F for 8-10 minutes.
Notes
To cook the entire bag increase the cooking time to 15 minutes, flipping every 5 minutes.
Recipe provided by Make Your Meals
Nutrition Information:
Serving Size:
1 grams
Amount Per Serving:
Unsaturated Fat:

0g