Chicken Parmesan made in the Instant Pot is one of my very favorite recipes.
In fact, it is one that I make at least twice a month! And because it cooks so quickly, it is a great meal to add to the weeknight rotation!
However, technically, this is a healthier version of Chicken Parmesan because the pieces of chicken are not breaded.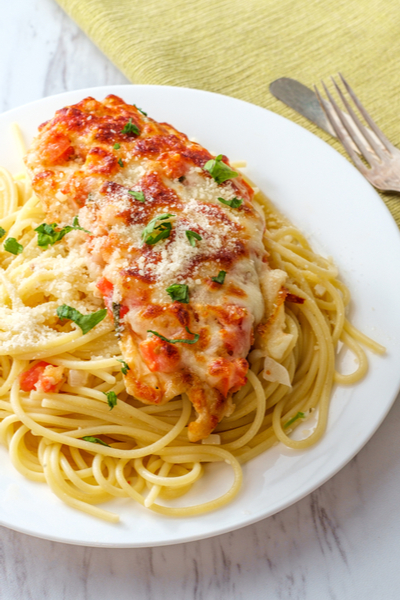 Now don't get me wrong. We absolutely love making our Air Fryer Chicken Parmesan recipe.
It is easy to bread the chicken pieces and cook it right directly in the basket of the Air Fryer. And although it is much healthier than using deep-fried breaded chicken pieces, it still isn't as healthy as using chicken breasts that aren't breaded at all.
In our house, we like to call our Instant Pot Chicken Parmesan, Naked Chicken Parmesan. However, I didn't think that was an appropriate recipe title to put on our website!
Although you use sliced chicken breast without any breading, I promise you, the taste is absolutely amazing!
Tender and juicy piece of chicken breast that is coated with a marinara sauce and topped with cheese.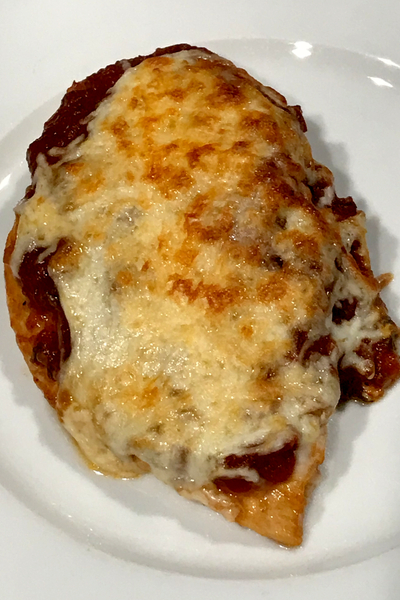 Then it is up to you whether you want to serve it with traditional pasta noodles or not.
If we are trying to eat a low-carb or Keto diet, then we typically choose to eat this Chicken Parmesan over spaghetti squash or zucchini noodles.
And if you choose to do so, check out The Secret To Getting Long Spaghetti Squash noodles.
How To Make Instant Pot Chicken Parmesan
In order for you to make Instant Pot Chicken Parmesan, there are a few tips that you need to follow.
Use Thin Chicken Breasts
First you will want to start with thin chicken breasts. And by thin, I mean no thicker than the side of a woman's hand.
However, don't panic if you only have typical thick-centered chicken breasts. Simply slice two large chicken breasts in half parallel to the cutting board.
Some people refer to this as a complete butterfly cut. And others simply call it thinning a chicken breast.
Regardless of the name, you will want to use thin chicken breasts to make this Instant Pot Chicken Parmesan recipe.
How To Use the Saute Function
Second, be sure to heat your Instant Pot on the Saute mode BEFORE ever adding your oil.
If you add the oil before it heats up, the moisture content decreases and the remaining oil will gather on the sides of the liner. Then once you add your chicken, it will stick to the bottom of the Instant Pot.
Therefore, once you turn your Instant Pot on the Saute setting, be patient and wait until the display reads HOT.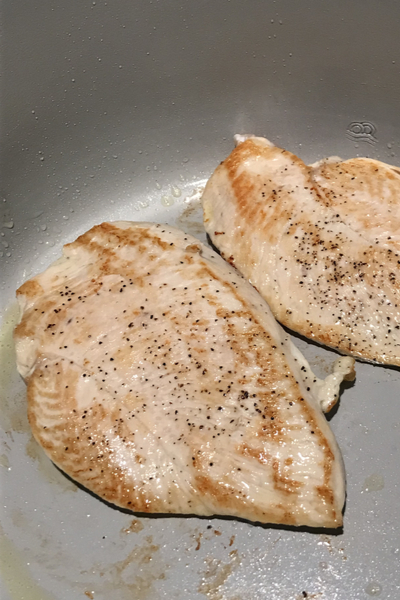 Then add your oil and chicken to brown each side. Once both sides are browned, then add in the garlic and saute it for one minute.
Next, turn your Instant Pot off by hitting the Cancel button.
Adding Marinara Sauce
Now here comes the tricky part. If you have read horror stories about adding a tomato based product to your Instant Pot, you might steer away from this recipe.
The worry of getting the dreaded BURN notice is enough to scare even the veteran cook away.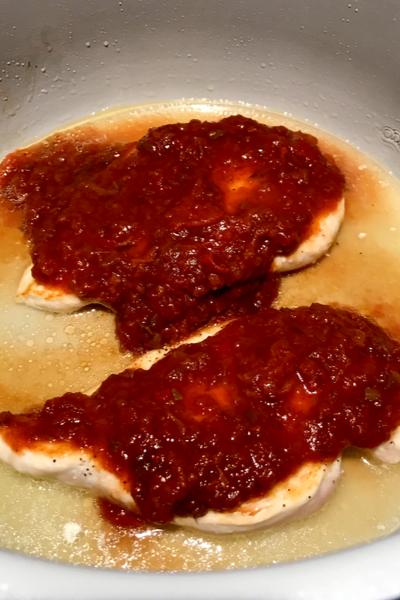 However, there is a simple way to avoid this risk. Add a little bit of water or chicken stock to the bottom of the pot.
This will also help you to deglaze any browned bits that have stuck to the liner of the Instant Pot.
Then add the chicken on top of the garlic and liquid. Finally, add the marinara sauce mixture on top of the chicken breasts. DO NOT STIR!!!
This will help ensure that the chicken will cook adequately without the marinara sauce causing the BURN notice.
Topping for Instant Pot Chicken Parmesan
Of course, no Chicken Parmesan would be complete without adding cheese as a topping.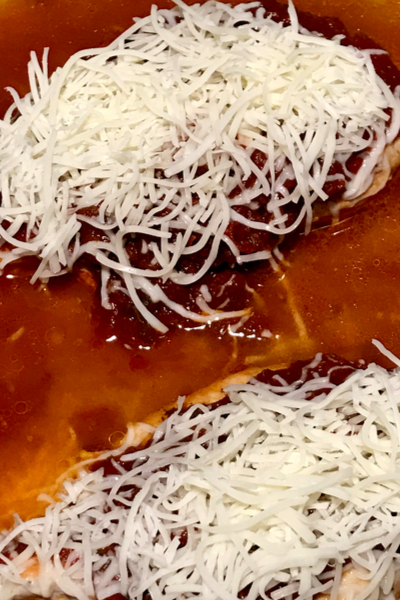 Once the chicken has had time to cook allow for a Natural Pressure Release for at least 5 minutes. This means that you should let the pot sit and not touch it for 5 minutes after the beeper indicates that the cooking cycle is complete.
Once the display on your Instant Pot reads L005, you can carefully move the valve to the venting position to release the remaining pressure.
Then remove the lid and add the cheese to the top of the chicken. With the pot still on the KEEP WARM setting, close the lid and allow the cheese to melt.
If you have the Ninja Foodi multi-cooker, you can place it on Air Crisp at 390 degrees F to help melt and brown the cheese on top.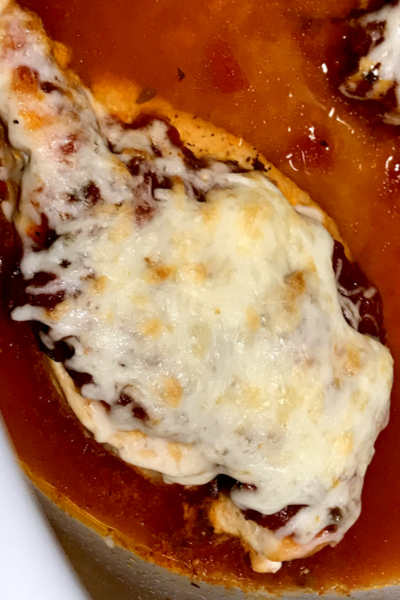 Now you can serve it on top of your pasta, spaghetti squash or zucchini noodles.
Or you can do what my Dad does, and eat it on a sub roll as a sandwich!

To receive our 3 Recipe Articles in your inbox each week, sign up for our free email list located in the middle of each recipe or email me at contact@makeyourmeals.com. You can also follow us on Facebook and Pinterest. This article may contain affiliate links where a small commission is paid if you purchase a product at no additional cost to you.
Yield: 4
Instant Pot Chicken Parmesan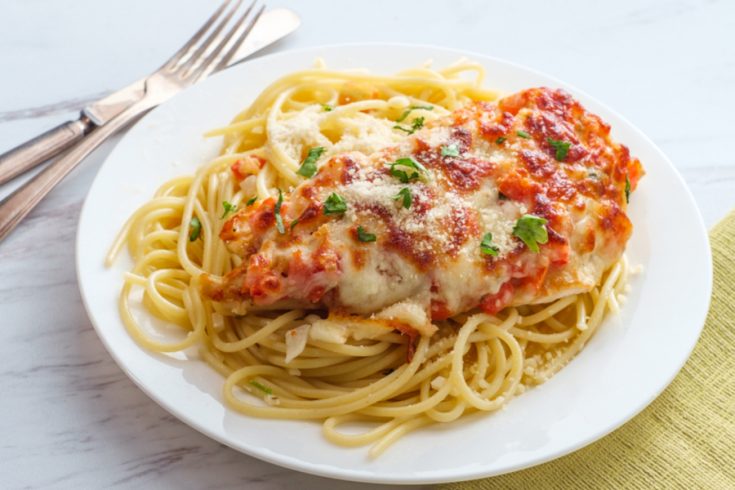 A lighter version of Chicken Parmesan using boneless, skinless chicken breasts cooked in a seasoned marinara sauce and then topped with cheese and cooked in minutes using your Instant Pot multi-cooker.
Ingredients
2 tbsp olive oil
4 thin boneless, skinless chicken breasts
Salt, to season
Ground black pepper, to season
4 garlic cloves, minced
1/2 cup chicken stock or water
1 1/2 cups marinara sauce
1 teaspoon dried basil
1 cup shredded Mozzarella cheese
3 Tbsp fresh grated Parmesan cheese
1 Tbsp chopped fresh basil, optional
Instructions
Season the chicken breasts with salt and pepper and set aside.
Turn on the Instant Pot to the SAUTE mode. Once the display reads HOT, add the olive oil and add the chicken. Once the chicken browns on one side, flip over and lightly brown on the other side. Remove the chicken from the Instant Pot.
While still on the SAUTE mode, add garlic and sauté for 1 minute.
Add the chicken stock/water and scrape any browned bits off the bottom of the pot.
Place the browned chicken breasts into the liquid and pour the marinara sauce on top of each chicken breast. DO NOT STIR! Sprinkle the dried basil on top.
Lock the lid in place and turn the valve to the SEALING position. Pressure Cook/Manual on HIGH pressure for 3 minutes.
When the cooking time is up, allow for the pot to Natural Release Pressure for 5 minutes. Then quick release any remaining pressure. Keep the KEEP WARM function on.
Add Mozzarella cheese, Parmesan cheese, and fresh basil (if using) over each chicken piece.
Close the lid and let the cheese melt for 4-5 minutes. Remove the lid and serve immediately.
Notes
Recipe provided by Make Your Meals
Nutrition Information:
Yield:
4
Serving Size:
1 grams
Amount Per Serving:
Unsaturated Fat:

0g