This time of the year, when the garden is producing a ton of tomatoes and the basil has fully grown, we love to make Tomato Basil Bruschetta.
There is just something refreshing about taking a bite of a toasted baguette topped with tomato and basil. Not to mention that it is tossed in a delicious balsamic vinegar, olive oil, and garlic dressing.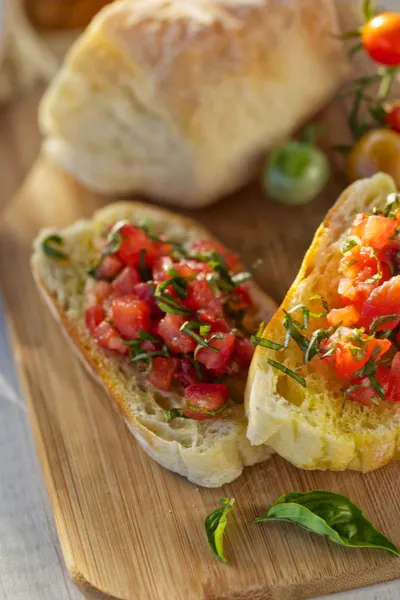 But the best part of all, it is extremely easy to make!
But before we explain how to make the recipe, let's get a few things cleared up about Bruschetta itself.
Bruschetta
My husband is of Italian heritage. And that is where Bruschetta originated.
So every time that I say pronounce Bruschetta like Broo-shet-ta he reminds me that I am saying it the American way.
The Correct Pronunciation
Therefore, I have learned over the years, that the actual pronunciation is Broo-skeh-tu.
So just replace the 'ch' with a 'k' and you will be much closer at pronouncing it correctly.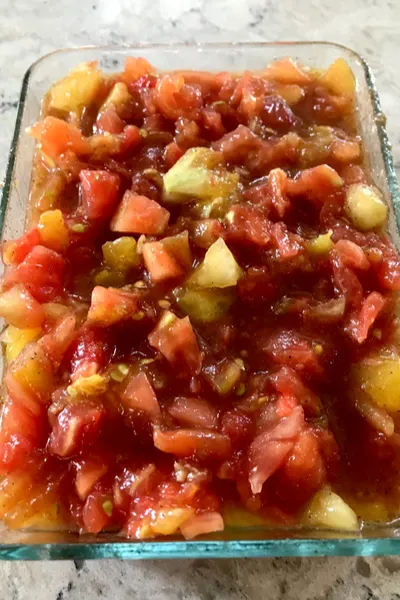 But that's okay, I used to drive him crazy when I used to say I-talian too!
Original Bruschetta
Since the fascination of Bruschetta arrived in America, there have been different takes and twists on this popular recipe.
You see everything from the basic Tomato Basil Bruschetta to slices of toasted baguettes being topped with smoked salmon, arugula and capers. And they are all considered Bruschetta.
However, the original version of Italian Bruschetta is much more basic.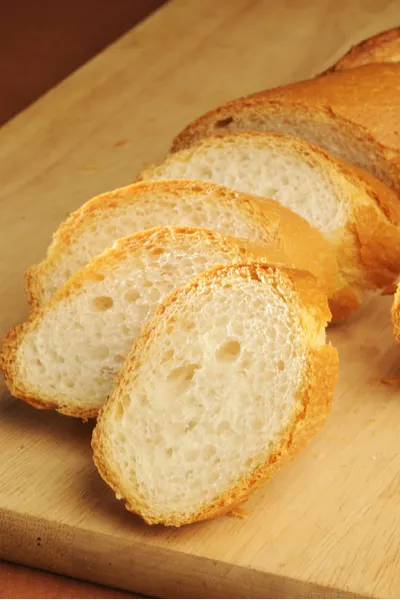 It is served as small slices of Italian bread that have been toasted. Add a little olive oil and rub a clove of garlic off the top and that is it!
No need for fancy toppings. Although in some parts of Italy chopped tomatoes would be served on top if, and only if, they were in season.
But most often it was served more as a garlic bread than anything else.
But fast forward to today. American chefs are always looking for a way to put a new twist on classic dishes.
And Tomato Basic Bruschetta was born!
To Peel or Not To Peel The Tomatoes
Our recipe instructs you to peel the tomatoes before adding them to the remaining ingredients.
The reason is two-fold.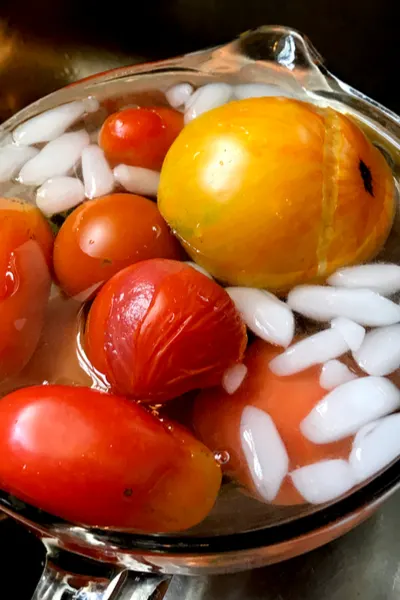 First, peeling the tomatoes allows the flavors of the dressing to penetrate right into the meat of the tomato.
Otherwise, the slippery skin would shed off the majority of the dressing.
But the tomatoes are also peeled because it is the traditional way to serve them in Italy.
You see, in Italian cooking, tomatoes are peeled before they are added to most recipes.
Although, this tradition has faded away somewhat as time has gone by, it was a practice that was taught as standard practice by my husband's grandmother.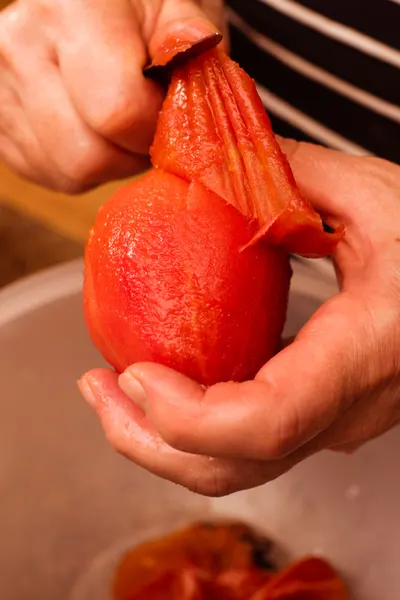 However, the choice is really up to you whether you want to take the extra time to peel the tomatoes or not.
But it really does improve the flavor of the Tomato Basil Bruschetta.
The Easiest Way To Peel Tomatoes
If you choose to peel the tomatoes, the process is quite easy.
Simply bring a large stockpot of water to a boil. Then drop your whole tomatoes in the water and wait one minute.
Next, use a slotted spoon to remove the tomatoes and place them immediately into an ice water bath.
And as soon as they are cool enough to handle, just make a small slice under the skin, and it will peel completely off!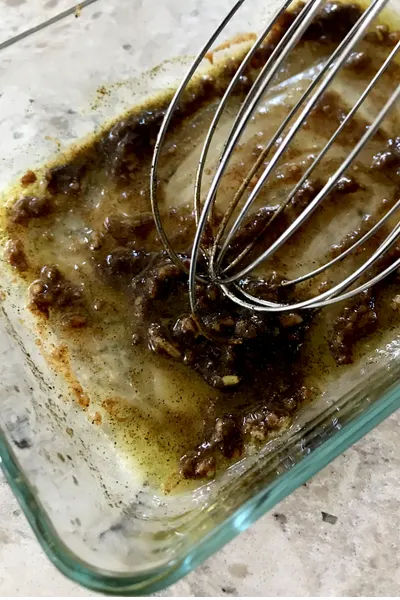 This is much easier than try to peel a tomato with a vegetable peeler or knife.
How To Make Tomato Basil Mixture
All that is left to do is to make the tomato basil mixture to place on top of the baguettes.
First, squeeze out any extra juice and seeds from the tomatoes and discard.
Then dice up the tomatoes into small pieces and set aside.
Next, cut the basil into small strips. In order to julienne basil, it is best to stack the basil leaves on top of each other and roll them lengthwise.
Then take your knife and cut across the short end of the roll. Now you will have little strips of basil, perfect for your appetizer.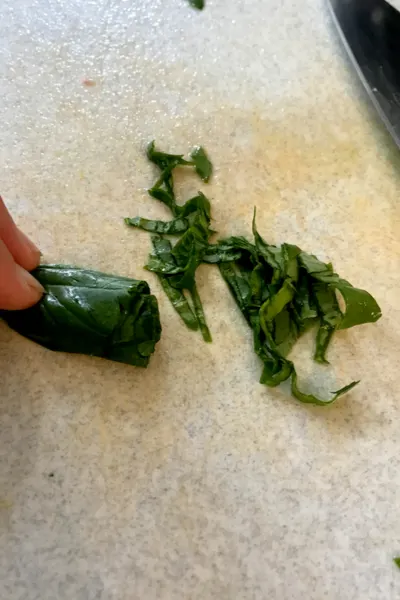 Mix the dressing ingredients together and carefully add the tomatoes and basil until well coated.
Toast Baguettes
Let the Tomato Basil mixture marinate while you toast your bread slices.
You can either toast them in the oven or in the Air Fryer.
I prefer to use our Ninja Foodi to toast our baguettes. It takes a fraction of the time that it takes just to preheat our oven.
Plus, it's a bonus if I don't have to heat up the kitchen on a hot summer day.
But the choice is up to you!
Other Fresh Tomato Recipes To Try:

To receive our 3 Recipe Articles in your inbox each week, sign up for our free email list located in the middle of each recipe or email me at contact@makeyourmeals.com. You can also follow us on Facebook and Pinterest. This article may contain affiliate links where a small commission is paid if you purchase a product at no additional cost to you.
Yield: 12
Tomato Basil Bruschetta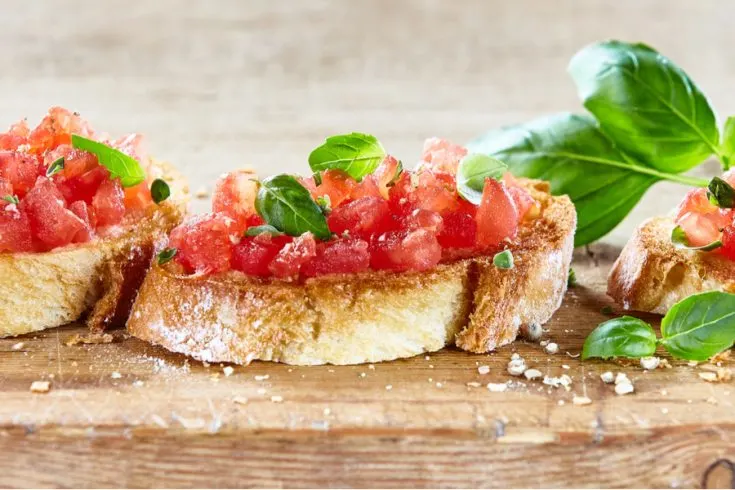 Delicious slices of toasted Italian bread, topped with tomato and basil coated in a balsamic and garlic olive oil dressing.
Ingredients
Tomato Basil Mixture
1 ½ pounds ripe tomatoes, about 6-7 tomatoes
3 cloves garlic, minced
1 Tbsp extra virgin olive oil
1 teaspoon balsamic vinegar
6-8 fresh basil leaves, julienned
3/4 teaspoon sea salt
1/2 teaspoon freshly ground black pepper
Toasted Baguettes
1 baguette Italian or French bread
1 clove of garlic, cut in half
1/4 cup olive oil
Instructions
Prepare the tomatoes: Bring 2 quarts of water to a boil. Place whole tomatoes in the water for 1 minute. Immediately remove to an ice water bath. Once cool enough to handle use a knife to gently pierce and pull off the skin and discard.
Remove the core of the tomatoes and cut them in half. Squeeze out most of the juice and seeds and discard. Dice into small pieces.
In a small bowl, combine garlic, 1 Tablespoon extra virgin olive oil, and vinegar, salt and pepper.
Add the diced tomatoes and basil to the dressing and coat to combine.
Taste the mixture and add more salt and pepper if desired.
Toast the baguette slices in oven
Preheat oven to 450°F with a rack placed at the top of the oven.
Slice the baguette using a serrated knife, preferably with a diagonal cut into half inch slices.
Place the slices in the oven on the top rack and toast for 4 to 5 minutes until lightly browned around the edges.
Cut a clove of garlic in half and rub over one side of each piece of toast. Then brush the same side with olive oil.
Assembly
Arrange the toasted bread on a platter, olive oil side facing up.
Right before serving, gently top each toasted bread slice with some of the tomato basil mixture, leaving enough room on the edges so the pieces can be picked up easily.
Notes
You can also toast the baguette slices in an Air Fryer on 400 degrees for 4-5 minutes. Recipe provided by Make Your Meals
Nutrition Information:
Yield:
12
Serving Size:
1 grams
Amount Per Serving:
Unsaturated Fat:

0g