This is the absolute best oven roasted chicken and vegetables recipe!
It is easy to prepare, the chicken is moist and delicious, and the vegetables are tender and flavorful! The best part of this recipes is that you fix it and forget it, and your entire meal will be ready at once.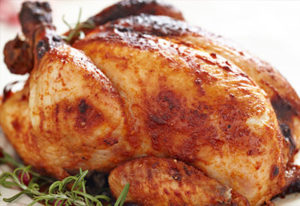 Oven roasted chicken has always been viewed as a comfort meal. There is just something about slicing into a whole chicken with the flavorful juices flowing down onto fresh vegetables.
The good news is that this classic comfort food is actually healthy for you! For another healthy chicken dish, try our Chicken Paprikash recipe.
Just like when making sheet pan chicken and vegetables, you can add whatever vegetables to your roasting pan that you prefer.  We use the standard trio of onions, carrots and potatoes.
But you could also add in other root vegetables as well. Be sure to toss your veggies in olive oil so they become crisp on the outside and soft and tender on the inside.
Then season with salt, pepper and fresh thyme sprigs. The thyme leaves will fall off the stems, leaving you with perfectly seasoned roasted vegetables.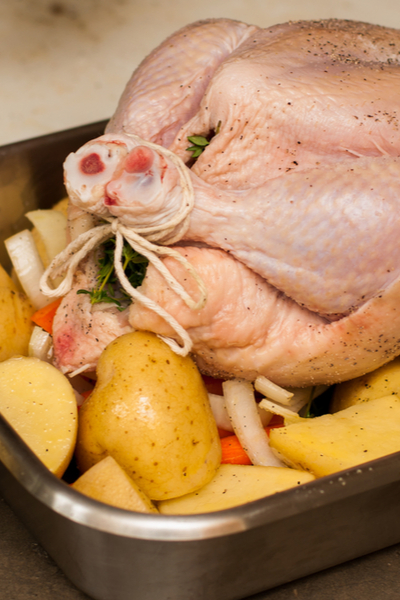 The key to this moist and delicious oven roasted chicken is the addition of lemon, garlic and thyme stuffed in the cavity of the chicken.
The lemon infuses additional flavor and moisture that the meat absorbs. The garlic and thyme add a hint of flavor that will make your mouth water!
With all meat recipes, it is important to cover and let the chicken rest before serving.
The resting allows the liquid to absorb back into the meat and not leak out onto your serving platter when slicing.
If you have any leftover meat, shred and refrigerate for use in other recipes later in the week!
To receive our 3 Recipe Articles in your inbox each week, sign up for our free email list.
You can also follow us on Facebook, Twitter, Pinterest, and Instagram. This article may contain affiliate links.
Moist and Delicious Oven Roasted Chicken and Vegetables