It is almost time that our Slow Cooker Pot Roast and Vegetables recipe becomes a weekly part of our menu rotation.
During the cooler months there is nothing better than taking a few minutes in the morning to throw everything in the slow cooker, and when you come home, dinner is ready!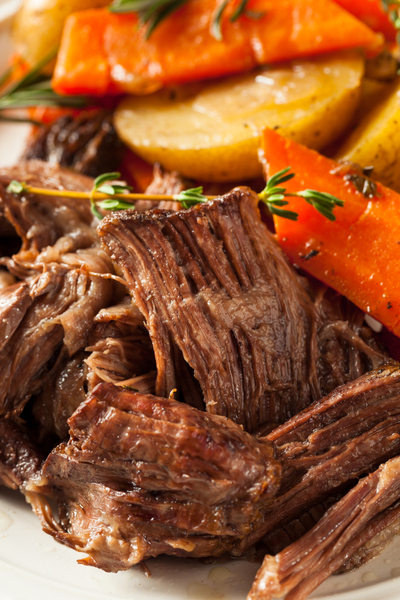 Not to mention the feeling that you get when you smell the aroma of a perfectly cooked pot roast that fills the house as you walk in the door. It is enough to make all your work day worries disappear!
And if you have a Programmable Slow Cooker, you can set the exact cook time that you want. And it will keep it warm without the risk of overcooking the meat and vegetables.
What Cut of Beef Makes The BEST Pot Roast?
Pot roast is a braised beef dish made by browning a roast before slow cooking the meat. And most often times it is cooked with vegetables and over a liquid base.
In order to get fall apart, tender Pot Roast you want to make sure that you purchase the right cut of meat.
Cuts of beef that perform well as a pot roast go by many different names. The most common one is Chuck Roast.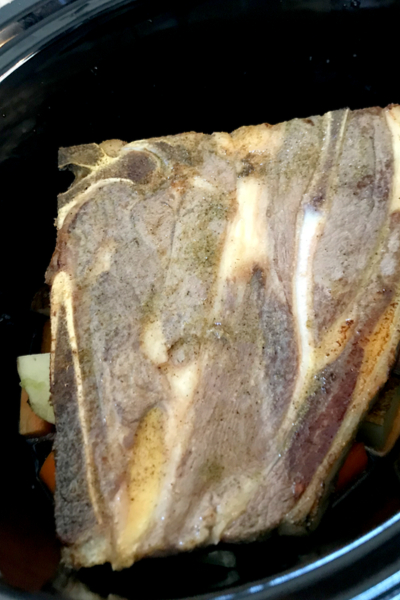 But you can also make Slow Cooker Pot Roast with a blade roast, shoulder roast, seven-bone pot roast, and arm pot roast.
Each one of these roasts are consider a tougher cut of meat. That is why it is important to slow cook the meat so that it breaks down and becomes super tender.
And best of all, they are fairly inexpensive to purchase.
To Braise or Not to Braise?
If you can spare the 10 minutes that it takes to braise the roast, by all means do it!
The additional flavor that it adds to the slow cooker pot roast and vegetables is AMAZING!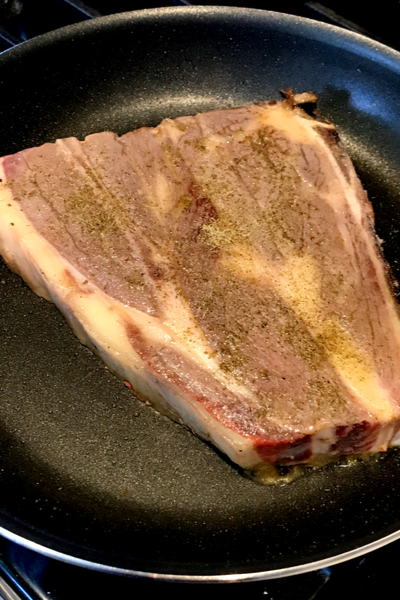 Simply heat up a large skillet and then add olive oil and the roast. Brown it on each side, which typically takes 4-5 minutes per side.
Then you can add it on top of the vegetables in the slow cooker.
However, if you are like me, I often forget to take the roast out of the freezer until I am ready to cook it.
But don't worry. You can brown the meat even if it is still frozen. However the key here is to make sure that each side of the roast is dry and free from ice crystals.
If the roast is wet when put in a hot pan with oil, it will cause the oil to splatter all over the place. Not only will this cause a mess, you risk the chance of burning yourself.
Slow Cooker Pot Roast and Vegetables
Historically, Slow Cooker Pot Roast is cooked with vegetables. And most often those vegetables are carrots and potatoes.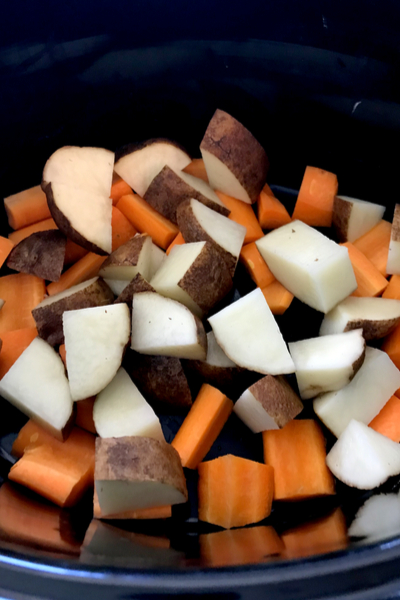 Root vegetables stand up to the long slow cooking process. Although they become tender, they are not so soft that they fall apart when pierced with a fork.
However, if you are looking for a low-carb substitute for potatoes, you can substitute whole radishes or chunks of turnips instead.
And feel free to add in a couple of onions to add even more flavor!
If you love to cook in your slow cooker, try our Scalloped Potatoes and Italian Beef recipe.

To receive our 3 Recipe Articles in your inbox each week, sign up for our free email list located in the middle of each recipe or email me at contact@makeyourmeals.com. You can also follow us on Facebook and Pinterest. This article may contain affiliate links where a small commission is paid if you purchase a product at no additional cost to you.
Yield: 8
Slow Cooker Pot Roast and Vegetables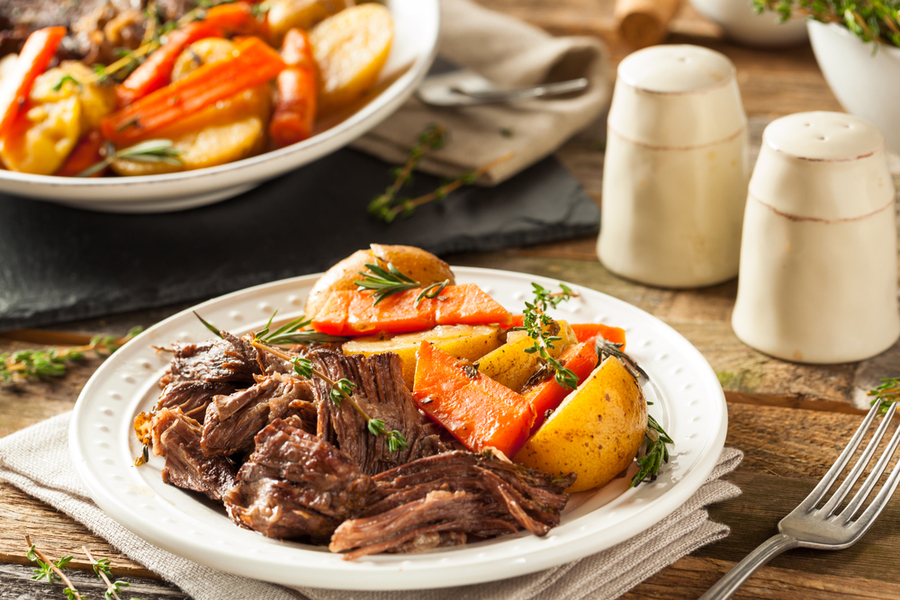 Delicious, fall-apart tender Pot Roast and Vegetables with a thick and succulent gravy made in your slow cooker with just 15 minutes of prep time.
Ingredients
3-4 pound chuck roast
2 tablespoons olive oil
1 teaspoon ground black pepper
1 teaspoon dried thyme
1 pound carrots peeled and cut into 2" chunks
2 pounds potatoes, cut into large chunks
2 cloves garlic, minced
2 cups beef broth, low sodium
2 tablespoons Worcestershire Sauce
2 tablespoons arrowroot powder or corn starch
2 tablespoons cold water
Instructions
Season the chuck roast with pepper and thyme.
In your slow cooker add the carrots, potatoes and garlic.
Place a large skillet over medium high heat and add the olive oil. When it is hot add the roast and brown each side (approximately 4 minutes per side).
Lay the beef on top, then add the beef broth and Worcestershire sauce and cover. Cook on low for 8-10 hours or high for 5-6 hours.
In the last hour of cooking mix together your arrowroot powder and water and add it to the slow cooker to thicken the sauce into a gravy consistency.
Once the cooking time is up, remove the meat and pour the gravy over top.
Serve immediately.
Notes
If you can't add the arrowroot powder/corn starch during the last hour just remove the meat and vegetables once fully cooked and add the liquid to a sauce pan. Then heat and whisk in the slurry until thickened.
Recipe provided by Make Your Meals
Nutrition Information:
Yield:
8
Serving Size:
1 grams
Amount Per Serving:
Unsaturated Fat:

0g