These Candy Corn Cookies are a huge hit at our house! Soft sugar cookies with those famous orange and white stripped Halloween candies scattered randomly throughout each cookie.
And to make it even better, we add dry roasted peanuts to the cookie dough before baking. This sweet and salty mixture will give you a cookie that everyone loves!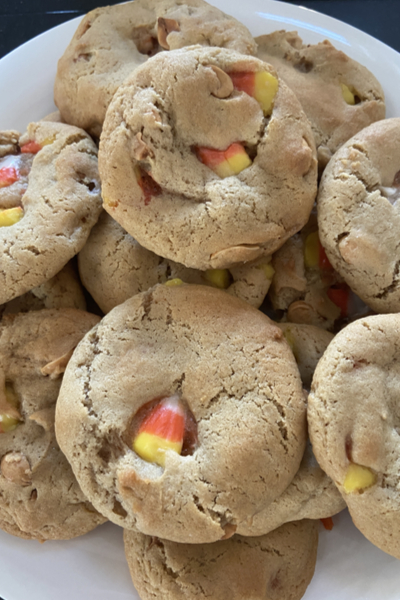 Of course, if you are making them for a crowd, you can omit the peanuts. You don't want to risk an allergy attack when someone takes a bite into a candy corn cookie!
In fact, when I first learned to make these cookies, there were no peanuts added at all. Basically I made an altered version of my sugar cookie recipe and threw in some leftover candy corn that we had around the house.
And once baked, I quickly realized that I had to make one slight adjustment to make them perfect. Instead of just folding the candy into the dough and scooping it out on a baking sheet, I had to roll the dough by hand instead.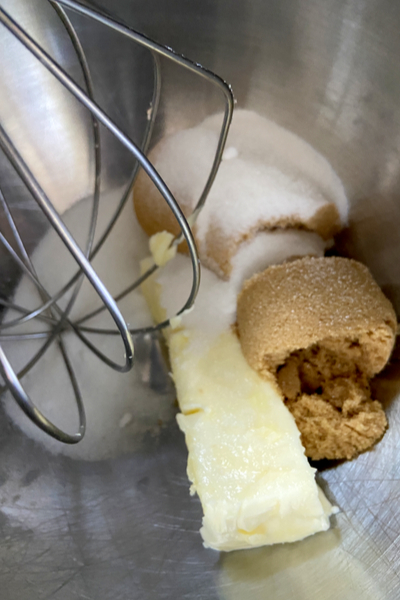 You see, on my first attempt, there were a few candy corn pieces sticking out through the bottom of the dough balls. And when baked, they melted on the bottom of the pan and formed a sticky mess.
So instead, I scoop the dough and make sure the bottom of each cookie has no exposed candy corn. It is okay to have them peeking through the top of the cookie, but definitely not the bottom! A good hint to remember when you are making this recipe.
Candy Corn Cookies
The first step in making these delicious cookies is to make sure that your butter is softened at room temperature. This holds true for almost every cookie recipe out there.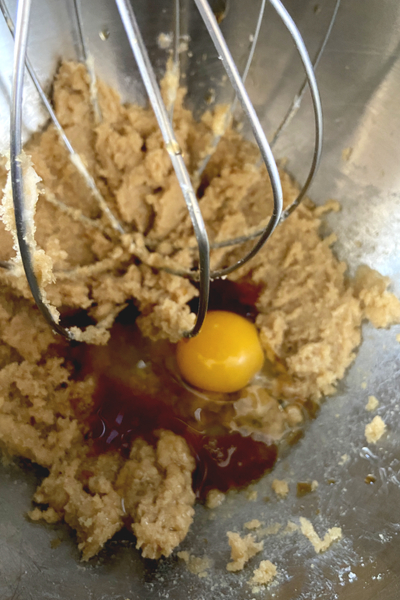 If the butter is not softened, it will not cream with the sugars and you risk lumps of butter in your dough. Although all is not lost if you forget to set the butter out on the counter.
At the very least, microwave the stick of butter in 10 second increments. Remember, you want softened butter, not mushy or melted butter for these candy corn cookies.
Next, place the softened butter, brown sugar and white sugar in a large mixing bowl. Beat with a hand mixer or stand mixer until it becomes nice and creamy.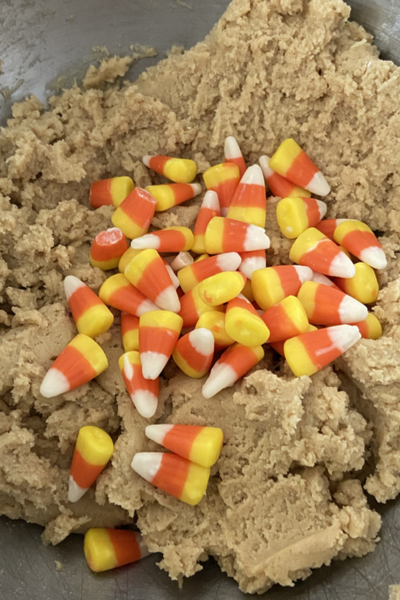 Then add in the egg, vanilla extract and half and half. Beat just until the egg is incorporated. Now slowly add in the dry ingredients and mix on low speed.
Once all of the dry ingredients are mixed evenly, fold in the candy corn and the peanuts (if using). Just a word of caution here – your batter will be thick and it will take some muscles to fold in the extras.
If you prefer no to make this recipe without peanuts, add in additional 1/4-1/2 cup of candy corn to the cookie dough.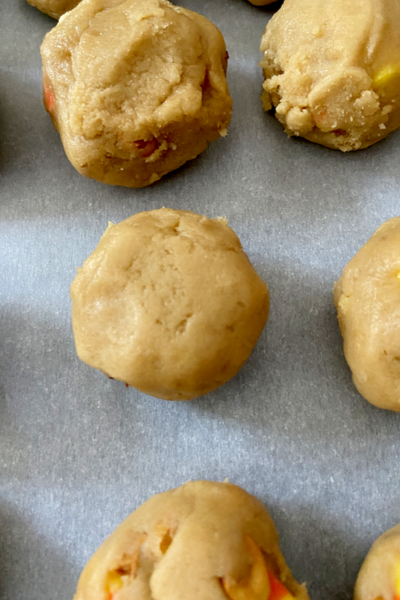 Refrigerate the Dough – Don't Skip This Step!
Once the candy corn cookie dough is complete, refrigerate for at least one hour prior to baking. You can either form the dough balls now and refrigerate. Or you can refrigerate the entire batch and form the dough balls later. The choice is up to you.
The important thing to remember is that the cookies will spread less when baking if the dough has been refrigerated. It really is worth the wait time!
When it is time to form your dough balls, remember to make sure the bottom of each cookie has no exposed candy corn. This is crucial!!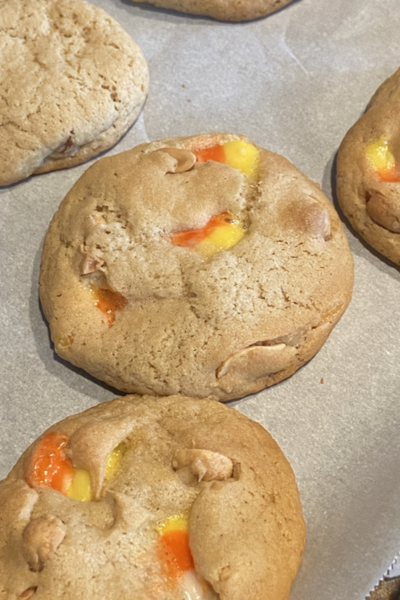 Then place the dough on a baking sheet that has been sprayed with non-stick cooking spray or lined with parchment paper. Depending on the size of your cookies, bake for 8-13 minutes.
I made 30 cookies in this batch and it took 13 minutes for them to start to turn light golden brown. This is not a type of cookie that will turn a deep golden brown when cooked.
Think about what a sugar cookie looks like when it comes out of the oven. That is the color that you are going for here.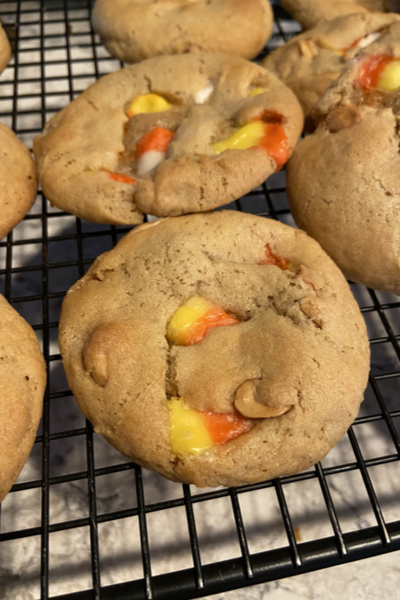 When the cookies are done, remove them from the oven and let them sit on the baking sheet for at least 5 minutes before transferring them to a wire cooling rack. This will allow the cookie to firm up a little before you move them.
Allow the candy corn cookies to cool completely and then store in an air-tight container on the counter or in the refrigerator.
Check out some of our other favorite Halloween treats that the kids will love.
Enjoy!

To receive our 3 Recipe Articles in your inbox each week, sign up for our free email list located in the middle of each recipe or email me at contact@makeyourmeals.com. You can also follow us on Facebook and Pinterest. This article may contain affiliate links where a small commission is paid if you purchase a product at no additional cost to you.
Yield: 30 cookies
Candy Corn Cookies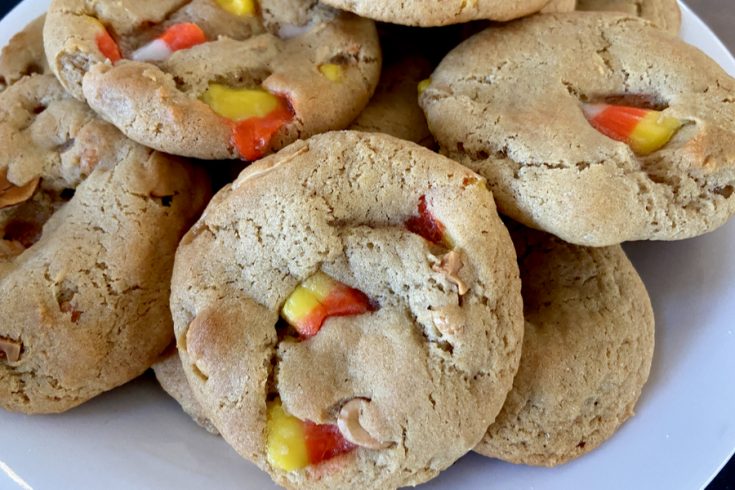 Sugar cookie dough filled with candy corn and peanuts (optional) for the perfect sweet and salty Fall cookie!
Ingredients
2 cups all purpose flour
1/2 cup unsalted butter, room temperature
1/4 cup granulated sugar
3/4 cup brown sugar
1 large egg
1 Tbs vanilla extract
2 Tbs half and half
1 tsp baking soda
1/4 tsp salt
2 tsp corn starch
1 cup candy corn
1 cup dry roasted peanuts
Instructions
In a large bowl, combine butter, sugar and brown sugar and mix using a hand or stand mixer until well incorporated.
Add in vanilla extract, egg, half and half and mix well.
Slowly add in flour, corn starch, baking soda and salt and mix until a soft, thick dough forms
Stir in the candy corn and peanuts
Refrigerate for 1 hour or longer (prevents cookies from spreading when baking)
Preheat oven to 350° F and spray a cookie sheet with non-stick cooking spray or line it with parchment paper
Using your hands, roll a heaping tablespoon of the dough into small balls and place about two inches apart from each other. *Be sure that the bottom of each dough ball does not have any candy corn exposed to prevent melting and scorching on the bottom of the cookie.
Bake for 8-10 minutes for small cookies, or 10-13 minutes for larger cookies. Cookies should be removed when they first begin to turn light golden brown on top.
Allow to cool at least 5 minutes on the baking sheet before transferring the cookies to a wire cooling rack.
Notes
If you prefer, you can form your cookie dough balls before you refrigerate the dough.
Recipe provided by Make Your Meals
Nutrition Information:
Yield:
30
Serving Size:
1 grams
Amount Per Serving:
Calories:

141
Total Fat:

6g
Saturated Fat:

2g
Unsaturated Fat:

0g
Cholesterol:

15mg
Sodium:

116mg
Carbohydrates:

20g
Fiber:

1g
Sugar:

12g
Protein:

2g