Crusty French bread is the perfect compliment to any meal.
Serve it at breakfast with jam or as the toast for your classic bacon and egg meal.
How about dipping it in your soup at lunch or mopping up the salad dressing after your salad is all gone?
It can even be used as an appetizer as part of a fruit and cheese tray or as toasted baguettes for dips.
And who can resist a nice slice of homemade French bread served with pasta, roasts and more?
Making your own bread is very satisfying and this recipe turns out perfect each and every time!
If you have a stand mixer with a dough hook, there is no physical effort required. The stand mixer does all the kneading.
However, if you don't have a mixer, no worries. Just need the dough by hand for 8-10 minutes before it rests. And of course, count that as your workout for the day!
I prefer to use bread flour for this recipe because it allows for the inside of the bread to be light and fluffy.
All-purpose flour can be substituted, although the interior texture might be slightly more dense. But by all means, do not avoid this recipe because all you have is AP flour!
Your homemade bread made with either type of flour will be much better than any store bought French Bread!
Check out the recipe below and all of our recipes and let me know what you think!
To receive our 3 Recipe Articles in your inbox each week, sign up for our free email list.
You can also follow us on Facebook, Twitter, Pinterest, and Instagram. This article may contain affiliate links.
Yield: 1 loaf
French Bread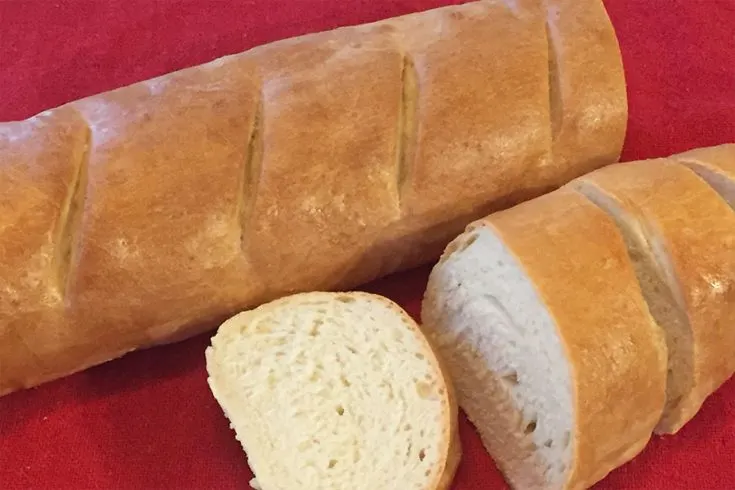 Light and airy bread with a crisp crust. Great to serve with soups, pastas, dips or to make french bread pizza!
Ingredients
2 1/2-3 cups bread flour
1 1/2 tsp sugar
1 package active dry yeast
1/2 tablespoon butter, softened
1 cup warm water, 115-120° F
1 tsp salt
cornmeal
extra virgin olive oil
1 egg white
1 TBSP cold water
Instructions
In large mixing bowl with a dough hook, thoroughly mix ¾ cup flour, sugar, and yeast.
Add butter.
Gradually add warm water to dry ingredients and beat 2 minutes with mixer at medium speed, scraping bowl as needed.
Add salt and 3/4 cup flour.
Beat at high speed for 2 minutes, scraping bowl as needed.
Slowly add in the remaining flour until the dough come off the sides of the mixing bowl.
Knead using the dough hook for 8-10 minutes.
Lift dough out of bowl to lightly oil the sides and bottom of bowl and return dough to the oiled surface.
Cover bowl with a towel and let it rest for 30 minutes.
Roll into a 15x10 inch rectangle.
Starting at the wide side of the dough, roll up tightly and pinch seam and ends to seal.
Lightly Sprinkle cornmeal on bottom of pan and place dough on top of the cornmeal and brush the dough with olive oil. Let rest for 10 minutes.
Preheat oven to 425°F. Place a glass baking dish on the bottom of the rack filled ½ full of water.
Prior to baking, make 6-7 ½ inch slices in the top of the dough.
Bake for 20 minutes.
Whisk together egg white and water. After the initial baking time, brush the top of the bread with the egg wash mixture. Continue to bake for an additional 5 minutes.
Remove from oven and let rest for 5 minutes before slicing.
Notes
Recipe provided by Make Your Meals
Nutrition Information:
Yield:
1
Serving Size:
1 grams
Amount Per Serving:
Unsaturated Fat:

0g