If you have ever traveled to the Southern portion of the United States, you most likely had the pleasure of eating Southern Skillet Cornbread.
It is served at almost every Southern restaurant. And you can be sure that if you ate at a Meat & Three that it was an optional side dish choice.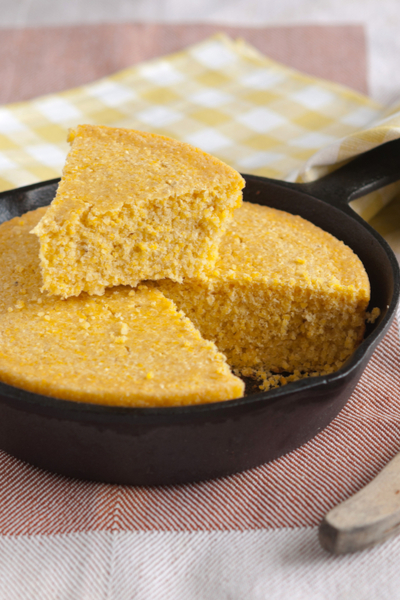 But don't get this recipe confused with Sweet Cornbread. There is no sugar added to classic Southern Skillet Cornbread.
As they say in the South, we will save the sugar for our tea and desserts!
The Keys To Making Southern Skillet Cornbread
Making classic cornbread couldn't be easier!
Cast Iron Skillet
Although, to make the best cornbread that you have ever had, be sure to use a cast iron skillet!
Yes, that skillet in your cupboard that you hardly ever use. Now is the perfect time to pull it out of retirement.
There is just something about cooking in a well-seasoned, cast iron skillet that makes the recipes turn out so much better than when cooked using traditional pans.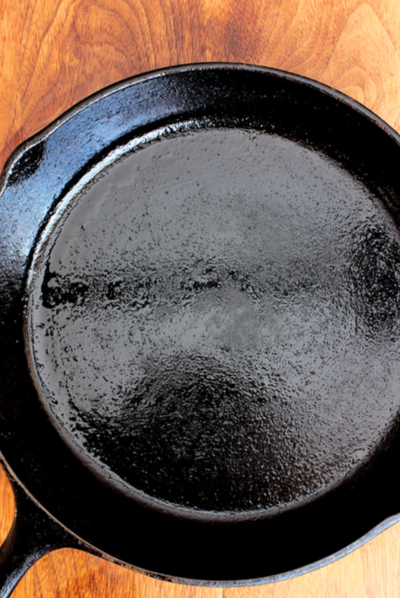 Start by adding a little oil to your skillet and place it in a cold oven. As you preheat your oven the pan will get nice and hot.
Once you are ready to add the batter, be sure to use a well-insulated oven mitt to remove the skillet from the oven.
However, if you don't have a cast iron skillet, you could use a non-stick cake pan for this recipe and it will still taste great.
Cornbread Batter
Southern Skillet Cornbread batter is quick and easy to make.
It starts with a 3:1 ratio of cornmeal to all-purpose flour. For instance, for an 8 inch cast iron skillet, use 3/4 cup of cornmeal to 1/4 cup all purpose flour.
However, if you are feeding a crowd, you can increase the ingredients proportionally.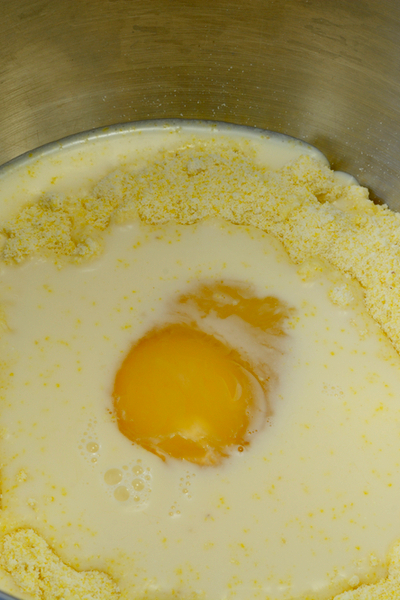 Next add in a little baking powder and salt to make the cornbread rise.
As a side note, I have also used self-rising flour in place of the all-purpose and have omitted the baking powder and salt.
Although I actually found this substitution out of necessity. I was at a friend's house and she asked me to make her Southern Skillet Cornbread.
And she only had self-rising flour in her cupboard. But it ended up working perfectly.
But the most important part about making this recipe is to NOT OVERMIX THE BATTER.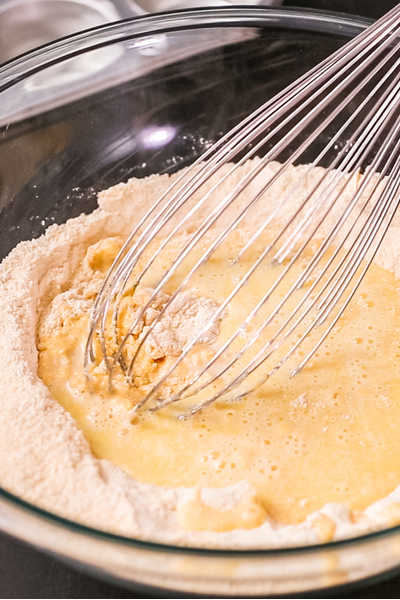 Once you add the egg and buttermilk, just stir until the egg breaks down and the buttermilk is incorporated into the batter.
Although there will be a few little lumps here and there, it will bake up perfectly okay!
Buttermilk Substitute
Speaking of buttermilk, this isn't a staple ingredient that I constantly have in my refrigerator throughout the year.
And if you are like me, you really don't want to run to the store to purchase a half gallon of buttermilk just to make cornbread.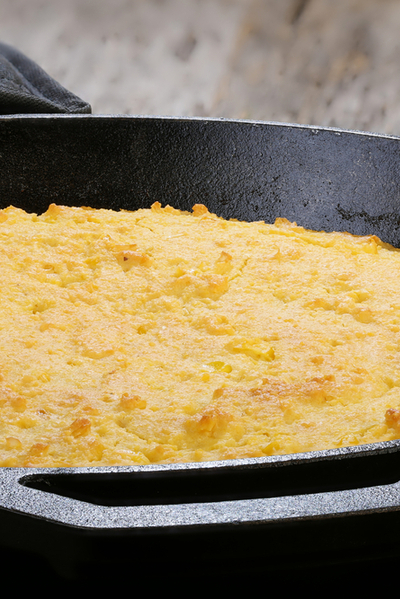 However, there is an easy solution to this dilemma.
Simply add 1 tablespoon of either white vinegar or lemon juice to a measuring cup.
Then add milk to the 1 cup measuring line. Let it sit for 5 minutes and you will see that the milk will begin to curdle.
Finally, give it a quick stir and add it to your recipe as instructed.
What To Serve With Cornbread

To receive our 3 Recipe Articles in your inbox each week, sign up for our free email list located in the middle of each recipe or email me at contact@makeyourmeals.com. You can also follow us on Facebook and Pinterest. This article may contain affiliate links where a small commission is paid if you purchase a product at no additional cost to you.
Yield: 6
Southern Skillet Cornbread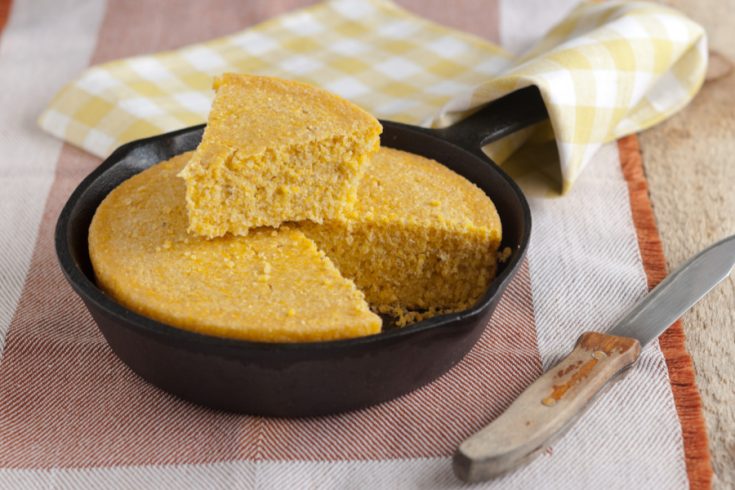 Savory cornbread made in and served from a cast iron skillet – a true Southern staple recipe.
Ingredients
1 tablespoon oil
1/4 cup all-purpose flour
3/4 cup cornmeal
1 teaspoon baking powder
1/2 teaspoon salt
1 egg
1 cup buttermilk
Instructions
Add the oil to a 8 inch cast iron skillet, and place in a cold oven. Preheat oven to 425°F.
In a medium bowl, add flour, cornmeal, baking powder and salt. Whisk to combine.
Add the buttermilk and egg, stir until just combined. Do not over mix!
Once the oven is preheated, carefully remove the cast iron skillet, and swish the oil around to make sure the pan is covered both on the bottom and sides of the pan.
Pour the batter into the hot pan.
Return the skillet to the oven, and bake for approximately 22-24 minutes, or until lightly golden brown.
Slice and serve immediately.
Notes
Buttermilk substitute – Add 1 tablespoon of white vinegar or lemon juice to a measuring cup. Then pour in milk until it reaches 1 cup. Wait 5 minutes and stir. Add to the recipe as directed for buttermilk. Recipe provided by Make Your Meals
Nutrition Information:
Yield:
6
Serving Size:
1 grams
Amount Per Serving:
Unsaturated Fat:

0g