Instant Pot BBQ Pulled Pork Recipe
Are you looking for a quick and easy pulled pork recipe? Look no further!
This Instant Pot BBQ Pulled Pork recipe is easy to make and tastes like it has been slow cooking all day long!
I used to make pulled pork for about every picnic, pot-luck or family get together that we had. It was so easy to make and the delicious meat could be used from anything from sandwiches to tacos to burrito bowls.
However, it was nearly impossible to have it prepared for a lunch time party when I made it in my slow cooker. It would require 8-10 hours of cooking before it was pull-apart tender using this method.
I would have to either start it the night before, or get up in the middle of the night to start it. Either way, this wasn't an ideal way to cook it for a mid-day picnic.
That was all before the Instant Pot cooking days!
Now I can make Instant Pot BBQ Pulled Pork in under 2 hours and it tastes even better than when made in the slow cooker!
The dry rub ingredients get absorbed into the meat as the liquid breaks down the fibers during the pressure cooking process. This combination results in delicious and tender pulled pork each and every time!
If you have extra time, you could brown the outside of the chunks of pork prior to pressure cooking. I have tried it with and without browning, and I honestly don't taste a significant difference between the two methods.
And feel free to experiment with the type of cooking liquid that you use. I prefer the flavor of Dr. Pepper, however, I have used Coca-Cola, beer, and even a stock and apple cider vinegar mixture in a pinch.
You just want to make sure that you use something strong enough to penetrate through the meat and break it down so that it becomes nice and tender.
As for the barbecue sauce, use what you like best! Sweet Baby Ray's is always a great choice in our house!
And when you are looking for a little Mexican twist on pulled pork, try our Carnitas recipe – it is sooooo flavorful!
Check out the printable recipe below and all of our recipes and let me know what you think!
To receive our 3 Recipe Articles in your inbox each week, sign up for our free email list. You can also follow us on Facebook, Twitter, Pinterest, and Instagram. This article may contain affiliate links.
Yield: 8
Instant Pot BBQ Pulled Pork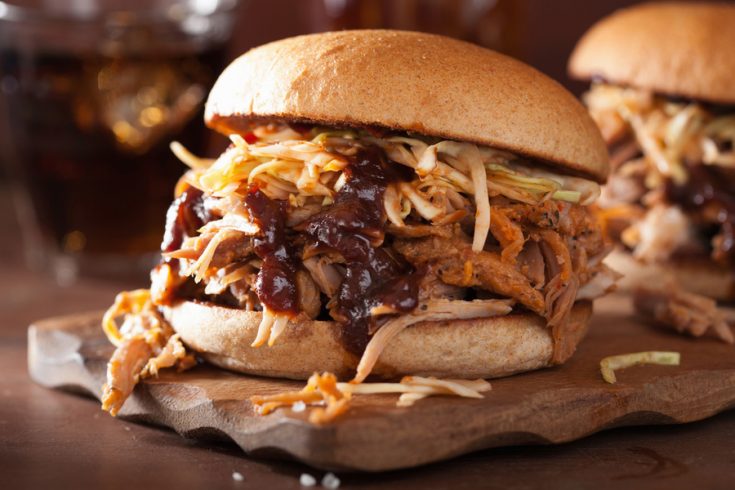 Tender and juicy Instant Pot pulled pork recipe flavored with your favorite barbecue sauce.
Ingredients
Dry Rub
3 Tbsp brown sugar
2 Tbsp smoked paprika
1 Tbsp chili powder
1 Tbsp garlic powder
1 Tbsp mustard powder
2 tsp cumin
2 tsp salt
1 tsp pepper
1/4 tsp cayenne powder
Other
3-4 lbs Pork Shoulder Roast/Pork Butt
1 large onion
1 12 oz can Dr. Pepper or Coca Cola
barbecue sauce of your choice
Instructions
In a small bowl mix together the dry rub spices, set aside.
Cut off most of the fat from the pork roast and cut into 1 pound chunks (for a 3 lb roast, cut into 3 sections).
Rub and pat all sides of the pork roast chunks with the spice rub and set aside.
Cut the onion into 8 large chunks and place inside of the liner of the Instant Pot.
Pour the Dr. Pepper/Coke over the top of the onion.
Place the seasoned chunks of meat on top of the onions.
Cover with lid in the locked and sealing position.
Pressure Cook/Manual on High Pressure for 90 minutes.
After the cooking time has expired, allow for natural pressure release (NPR).
Carefully remove meat to a bowl and shred with 2 forks.
Add ¼ cup of juice to the shredded meat and toss well.
Add barbecue sauce as desired.
Notes
Recipe provided by Make Your Meals
Nutrition Information:
Yield:
8
Serving Size:
1 grams
Amount Per Serving:
Unsaturated Fat:

0g