Instant Pot Baby Back Ribs are so easy to make and tastes like they have been cooking all day! They are fall apart tender and with a few minutes under the broiler, the barbecue sauce caramelizes perfectly on top!
Baby back pork ribs are fairly inexpensive to buy at the store. However there is something about ordering ribs at a restaurant that seems so special.
It must be the knowledge of the time and preparation that it takes to make fall apart, smoky, barbecue ribs.
First of all, you marinade them for at least a couple of hours, and maybe even overnight. Next, you let them rest to come to room temperature before seasoning them.
An hour or two to get the smoker ready, and you can finally start cooking your ribs. But don't be in a hurry, it will at least be 4 hours before you can dive in to a juicy bite.
Then there is Instant Pot Baby Back Ribs…..
You will have your ribs from refrigerator to table in less than an hour! That's right, less than one hour!
Pull out the ribs and remove the back membrane (1 minute). Spread some seasoning on both sides (3 minutes). Add liquid in the Instant Pot and place the ribs on the trivet. Let it come to pressure (approx. 10 minutes) and let it cook (25 minutes).
Let the pressure naturally release for 10 minutes and place on cookie sheet. Brush barbecue sauce on the top and broil for 5 minutes.
Total time — 54 minutes!
Our secret to Instant Pot Baby Back Ribs – use prepared mustard to spread on the ribs before adding your seasoning of choice. Just coat the ribs with yellow mustard and sprinkle on your favorite rib seasoning. Our favorite – Applewood Spice Rub!
If you love that smoky flavor, add a little liquid smoke before cooking. 1/4 teaspoon will give you a subtle hint of smoke, and 1/2 teaspoon will provide a stronger smoky flavor.
And as for the barbecue sauce – use your favorite brand or make your own!
Serve these ribs with our famous Instant Pot Baked Beans or our Air Fryer Mac and Cheese – so delicious!
Ready to purchase an Instant Pot??? Here is an affiliate link to the Instant Pot that we own.
Can't have pork? Don't worry, you will love our Instant Pot Beef Ribs recipe!
Check out the printable recipe below and all of our recipes and let me know what you think!
To receive our 3 Recipe Articles in your inbox each week, sign up for our free email list.
You can also follow us on Facebook, Twitter, Pinterest, and Instagram. This article may contain affiliate links.
Yield: 4
Instant Pot Barbecue Baby Back Pork Ribs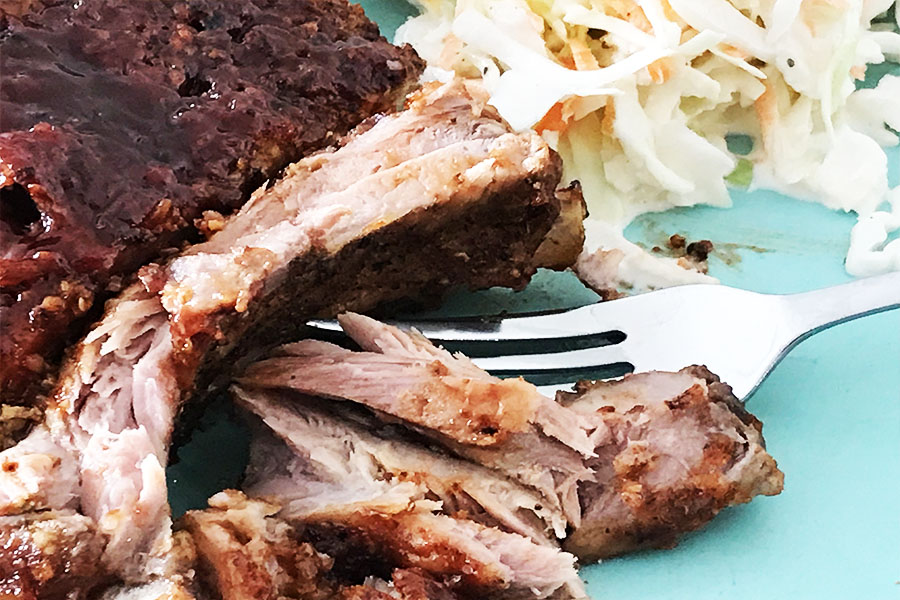 Fall apart barbecue baby back pork ribs made in the Instant Pot with liquid smoke. Tastes like they have been on the smoker all day long!
Ingredients
1 rack of baby back pork ribs
1/4 cup of yellow prepared mustard
Pork rub seasoning of your choice
1/2 cup apple juice, or water
1/2 cup apple cider vinegar
1/4 tsp liquid smoke, optional
1/2 cup barbecue sauce of your choice
Instructions
Remove the lining from the bottom side of the ribs by running a knife under the skin and pull back to remove completely.
Spread the mustard on both sides of the ribs.
Sprinkle seasoning of your choice on both sides and pat into the mustard.
In the liner of the Instant Pot pour in the apple juice (or water), apple cider and liquid smoke. Place the trivet in the liner and place the ribs on top of the trivet, standing on its side and wrapped around the inside of the pot.
Secure the lid, making sure the vent is closed. Pressure cook/manual on high for 25 minutes. Use natural pressure release for 10 minutes, then quick release any remaining pressure.
Prepare a large baking sheet with foil.
Using tongs, or by lifting up the trivet, carefully remove the ribs and spread out on the prepared baking sheet.
Using a pastry brush apply your favorite barbecue sauce on the top side. Broil in the oven for approximately 5 minutes or until the barbecue sauce has begun to caramelize.
Notes
*Can do 2-3 small racks of ribs using the same amount of cooking time. Recipe provided by Make Your Meals
Nutrition Information:
Yield:
4
Serving Size:
1 grams
Amount Per Serving:
Unsaturated Fat:

0g